12 • 14 • 2021
Activist Spotlight: KC Fockler With the Huntington Beach/Seal Beach Chapter
Q: What is your current job or role?
Currently I am the Co-Chair of the Huntington Beach / Seal Beach Chapter, along with Roberta Wynashe, but I also hold the position of Education Coordinator. This allows me the opportunity to not only do outreach to the community on behalf of the chapter at the chair level, but also to do outreach to universities, schools, adventure guides and scouting programs on behalf of the Surfrider Foundation.
Q: Why and when did you get involved with the Surfrider Foundation?
I love Surfrider's core mission statement: "...protecting the world's ocean, waves and beaches, for all people…" That is what drew me to become actively involved after I retired from business and the education world. While coaching a local Huntington Beach middle school surf team for 17 years, I had the opportunity to invite members of the chapter to our school on a number of occasions to discuss their mission to our surfing groms and their parents. My friend Bob Miller introduced me to Surfrider back in the 90's, he is a longtime member, but outside of working cleanups and being a member and donating myself, I wasn't actively involved.
After I retired early, I was looking for something that would consume my passion for the ocean and environment, and, by happen-chance, I ran into 'Samoa Joe' and Tony Soriano at a beach cleanup. One thing led to another and I started working on the education team with Joe and one-and-only Pam Conti. If it wasn't for them, I wouldn't be here now. The knowledge they have about the environment is amazing.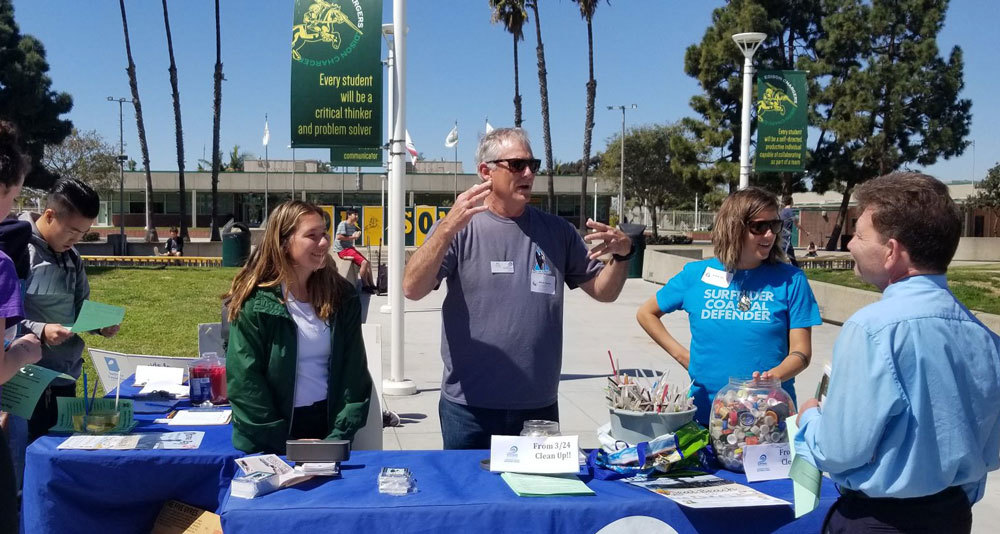 Q: What are some local issues that are affecting your ocean, waves and beaches?
Being on the City of Huntington Beach's Environmental Board has given me insight into the many projects that happen here in the city, and to actively participate in what the city does to remedy and mitigate problems that may harm our greatest treasure… our ocean. The biggest issue we have is trying to implement changes to plasticware and EPS foam ordinances in a city that does not like to ban things. So it takes a village to educate people about the harms it does to the environment, and without the support of people like: Manny Flores, Jeff Coffman, Shane Coons, Laurie Hammond, Norma and Alex Sellers and Elyse Toal, who run programs geared toward rising above plastics, we would not be the preferred environmental NGO that many people in the city turn to for help.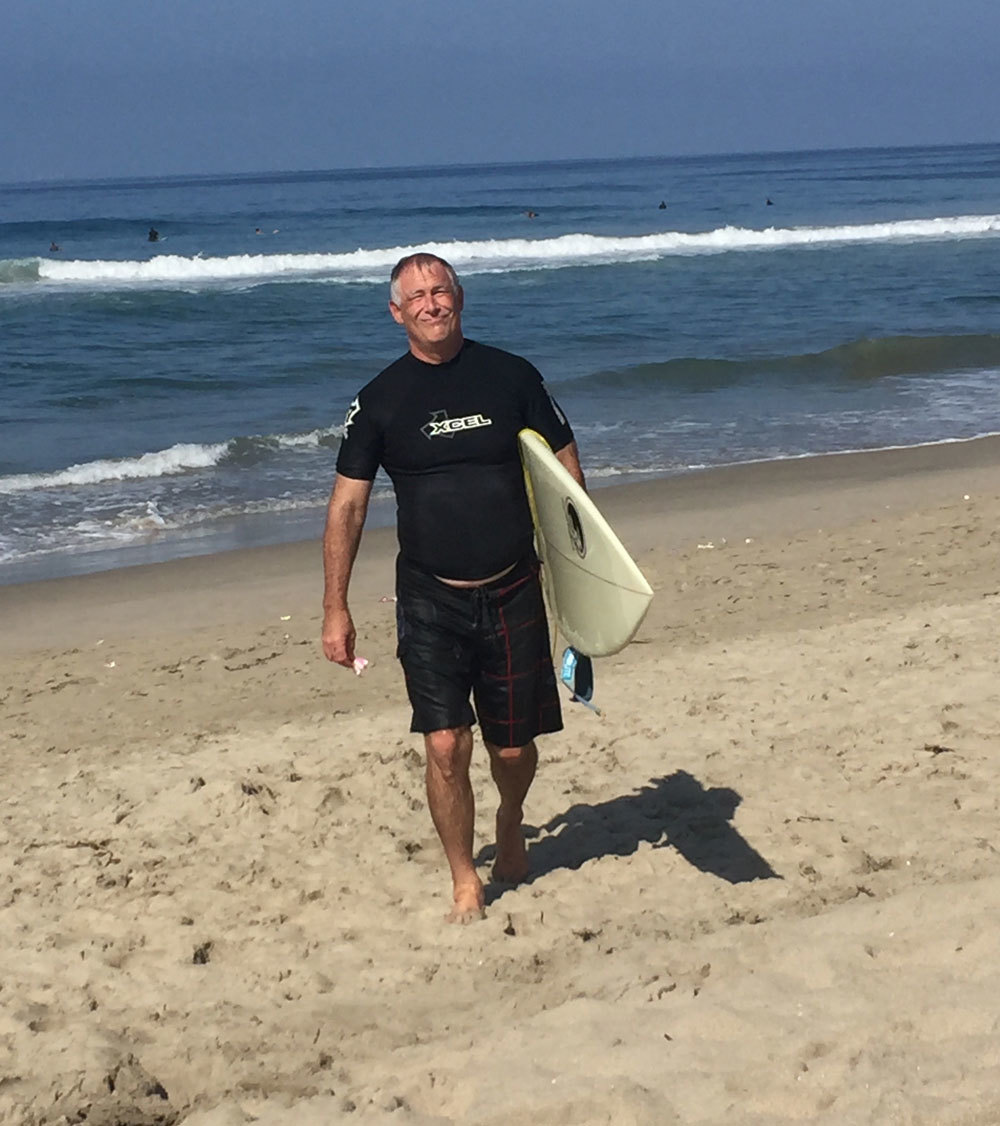 Q: What Surfrider projects have you worked on?
Imagine this… less than two months into becoming involved with Surfrider, I was handed a megaphone at the "Drilling is Killing" demonstration at Main Beach in Laguna! I didn't even know anyone and then I was leading hundreds in chants.. "Drilling… is Killing. Drilling…is Killing" as cars passed by honking at us. I think they were honks of support.
Anyway, soon after that, the HB City Council did not take up a resolution which would have shown support for banning new offshore oil rigs off the coast of California and other federal waters around the U.S. On several different occasions over the last two years, I spoke to council members on the floor and in private about resurrecting the resolution supporting the Ban of New Offshore Oil and Gas Rigs off our coast. The last thing we need in HB is another rig!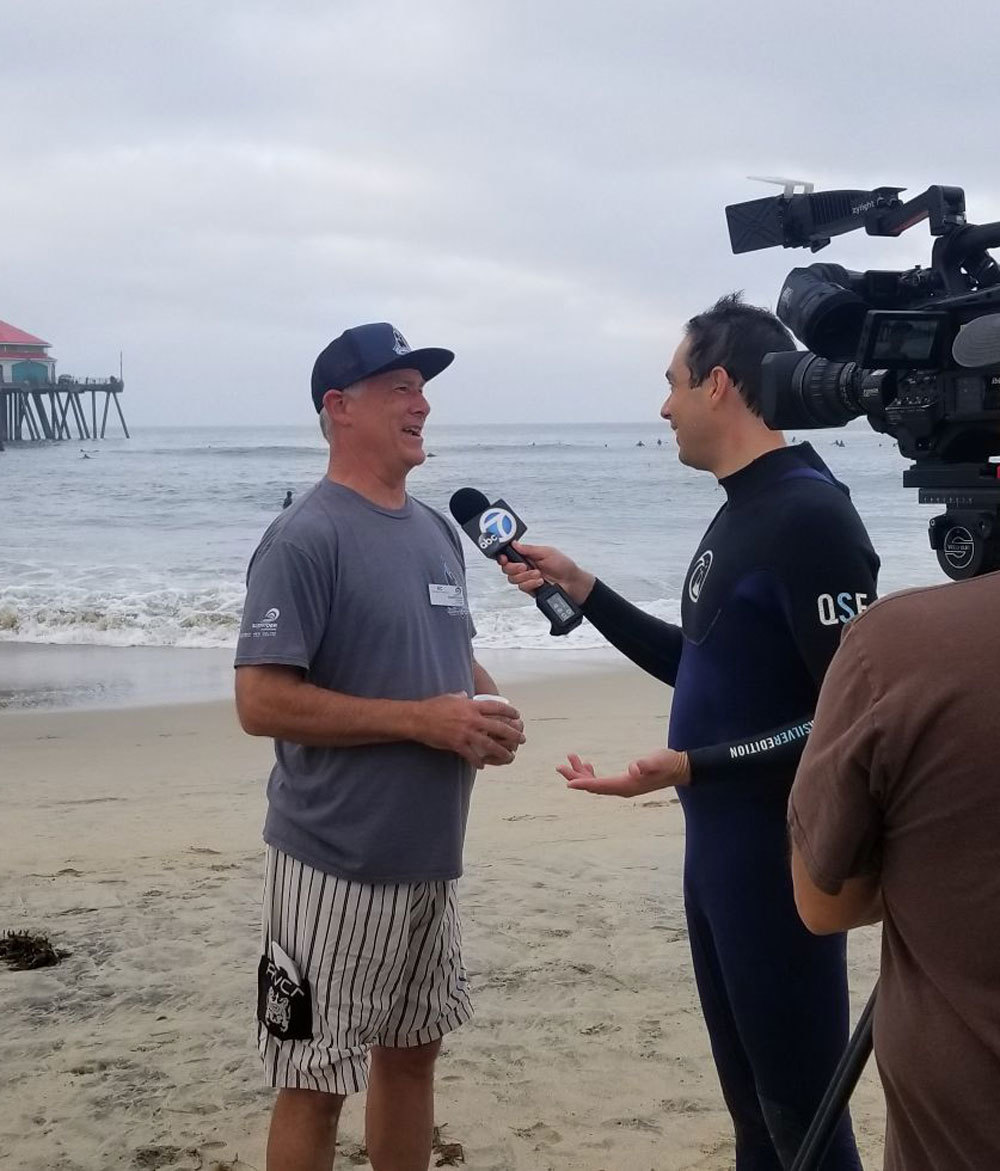 Q: What has been the highlight of your Surfrider experience (i.e., campaign, program, victory)?
This is where the story above comes to a resolution. On October 2, 2021, an oil pipeline rupture caused an emergency here in Huntington Beach and Newport Beach. On October 3, 2021, I received a text from City Council members and from Surfrider asking me to go to the emergency response HQ and help be the eyes for Surfrider on the spill. We were asked to help come up with a plan on what we could do for the spill. What a heavy experience!
The news media was wanting answers, the wetlands people were sweating things out, HB City Public Information Officers were scrambling for up-to-date-information, it was crazy at times. I was the information middle-person to the city and state for what we at Surfrider could do for them during this crisis. During that time the OILSPILL @ 51555 text option came out, up-to-date information was passed along, the Oil Spill Tool Kit was released, and a Zoom meeting that included local, state and congressional personnel was planned for the next day.
So, two nights later, at the City Council emergency meeting, along with Richard Busch, we asked the Council if they would now entertain passing a resolution in support of Banning New Oil and Gas Rigs off Federal Waters. Well, they took it to heart and we gave them a draft (Thanks Nancy Downes, Denise Erkeneff, Pete Stauffer, and Bill Hickman). It was presented at the October 19, 2021 Regular Council Meeting where many from our chapter spoke, and where many citizens spoke in favor of the resolution. It was the last item on the agenda (#36) and they did not get around to it until 11:30PM.
The final result… it passed! Almost unanimously…5-1-1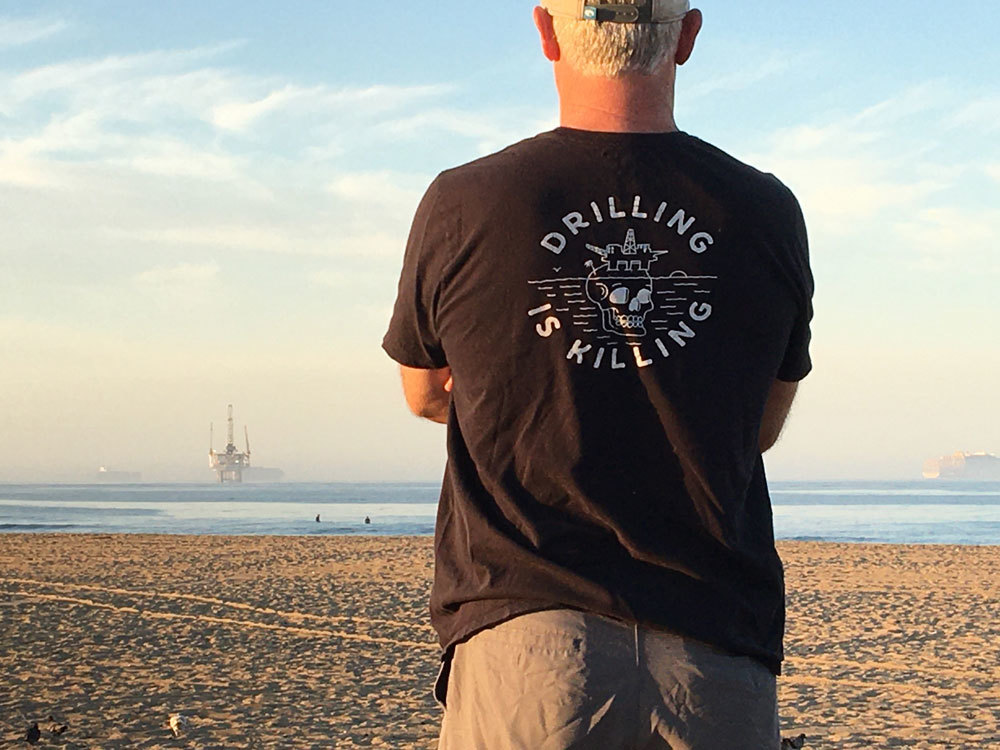 Q: What is the most important thing you tell others about Surfrider?
Well, as you can see, this is not about me. I appreciate the shout out here, but the real heavy-lifters are the people I've mentioned here. Surfrider is a tribe… it is a community… it is family. We love the ocean and we want it saved for future generations to enjoy. This is a fight everyone should be involved in. The ocean is our planet's greatest gift and we need to take care of it so it can continue to take care of us.
Q: Why are you a Surfrider coastal defender (or why is being a Surfrider coastal defender important to you)?
I am a coastal defender so I can protect the thing I love for others to enjoy in the future.
Q: Anything else?
Yes, if you can't donate in these tough times, pick up a few pieces of trash you see on the ground… after all, that drain does go to the ocean.