03 • 01 • 2022
Activist Spotlight: Trisha Mejia With the San Diego County Chapter
Q: What is your current role with the Surfrider Foundation?
Hi, my name is Trisha Mejia. My current role with the Surfrider Foundation is the Clean Border Water Now (CBWN) Campaign manager. CBWN is a campaign dedicated to addressing transboundary pollution that travels along the US/Mexico border and flows onto several Southern San Diego County beaches.
P: ¿Cuál es su función actual en la Fundación Surfrider?
Hola, mi nombre es Trisha Mejía. Mi puesto actual en Surfrider Foundation es el de gerente de la campaña Clean Border Water Now (CBWN). CBWN es una campaña dedicada a abordar la contaminación transfronteriza que viaja a lo largo de la frontera entre EE. UU. y México y desemboca en varias playas del sur del condado de San Diego.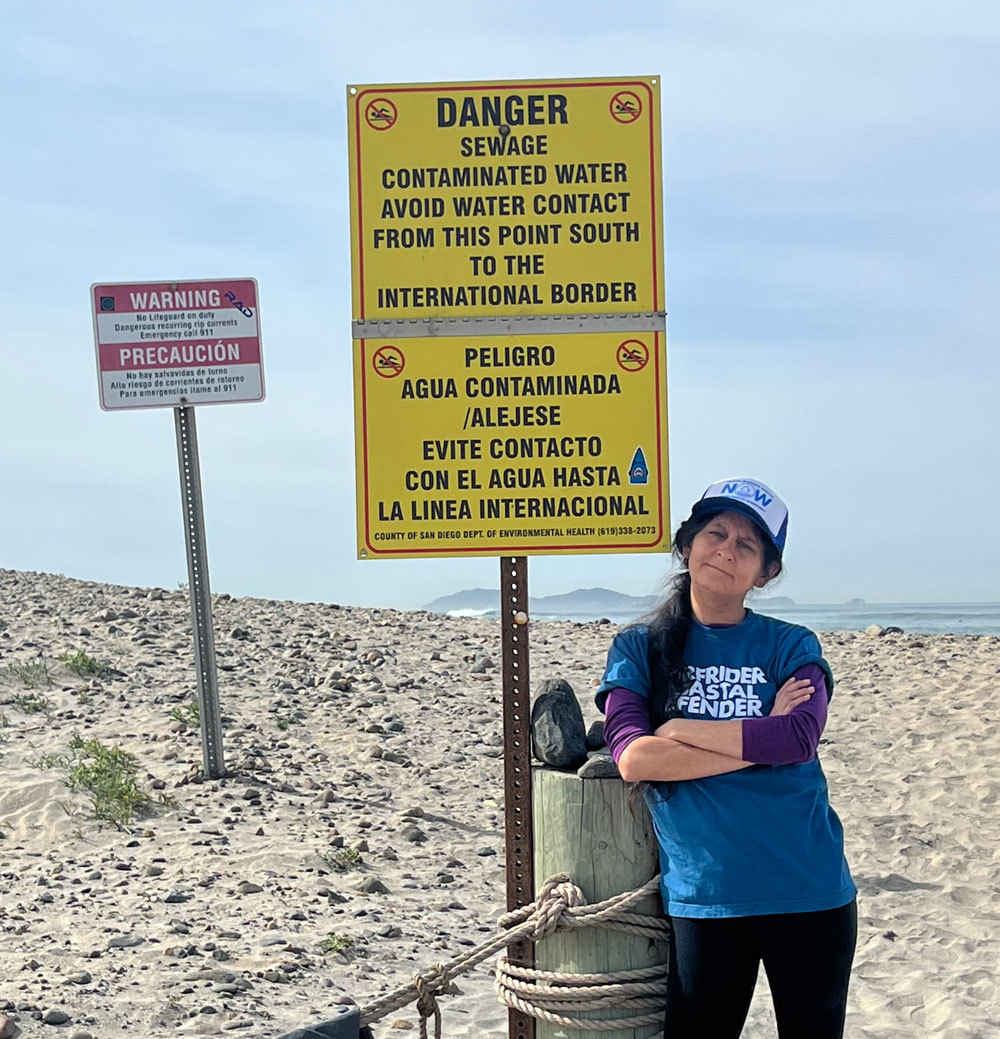 Q: Why and when did you get involved with the Surfrider Foundation?
I joined the Surfrider Team in the Fall of last year. It was actually like a dream come true. I was looking for a job at a non-profit organization that was doing great things and aligned with my values. I wanted to work at a place where I could use my education in science, public health, and law to make a difference in the community.
The Surfrider Foundation shares my love for the water. I've been a swimmer since I was a child and a surfer since graduate school. I've always felt that water is the foundation of life, it's what our bodies are made from, and it's where our food comes from. When we have a relationship with the ocean, we can improve our physical and mental health. I believe the ocean heals, provides food, gives us a place to recreate, and we should protect it.
P: ¿Por qué y cuándo te involucraste con The Surfrider Foundation
Me uní al equipo de Surfrider en el otoño del año pasado. En realidad fue como un sueño hecho realidad. Estaba buscando trabajo en una organización sin fines de lucro que estaba haciendo grandes cosas y alineada con mis valores. Quería trabajar en un lugar donde pudiera usar mi educación en ciencias, salud pública y derecho para marcar una diferencia en la comunidad.
The Surfrider Foundation comparte mi amor por el agua. He sido nadadora desde que era niña y surfista desde la escuela de posgrado. Siempre he sentido que el agua es la base de la vida, es de lo que están hechos nuestros cuerpos y de donde proviene nuestra comida. Cuando tenemos una relación con el océano, podemos mejorar nuestra salud física y mental. Creo que el océano cura, proporciona alimento, nos brinda un lugar para recrearnos y debemos protegerlo.
Q: What are some environmental issues that are affecting your local community?
The transboundary pollution along the US/Mexico border results in beach closures in Southern San Diego County. Last year the Tijuana Slough Shoreline was closed for 246 days and this has been happening year after year. This is an environmental justice issue because the beaches in Southern San Diego border cities with large minority populations with less affluence than other parts of the county.
P: ¿Cuáles son algunos de los problemas ambientales que están afectando a su comunidad local?
La contaminación transfronteriza a lo largo de la frontera entre EE. UU. y México provoca el cierre de playas en el sur del condado de San Diego. El año pasado, Tijuana Slough Shoreline estuvo cerrado por 246 días, y esto ha venido ocurriendo año tras año. Estos cierres de playas en el condado de San Diego son un problema de justicia ambiental porque afectan de manera desproporcionada a las comunidades minoritarias.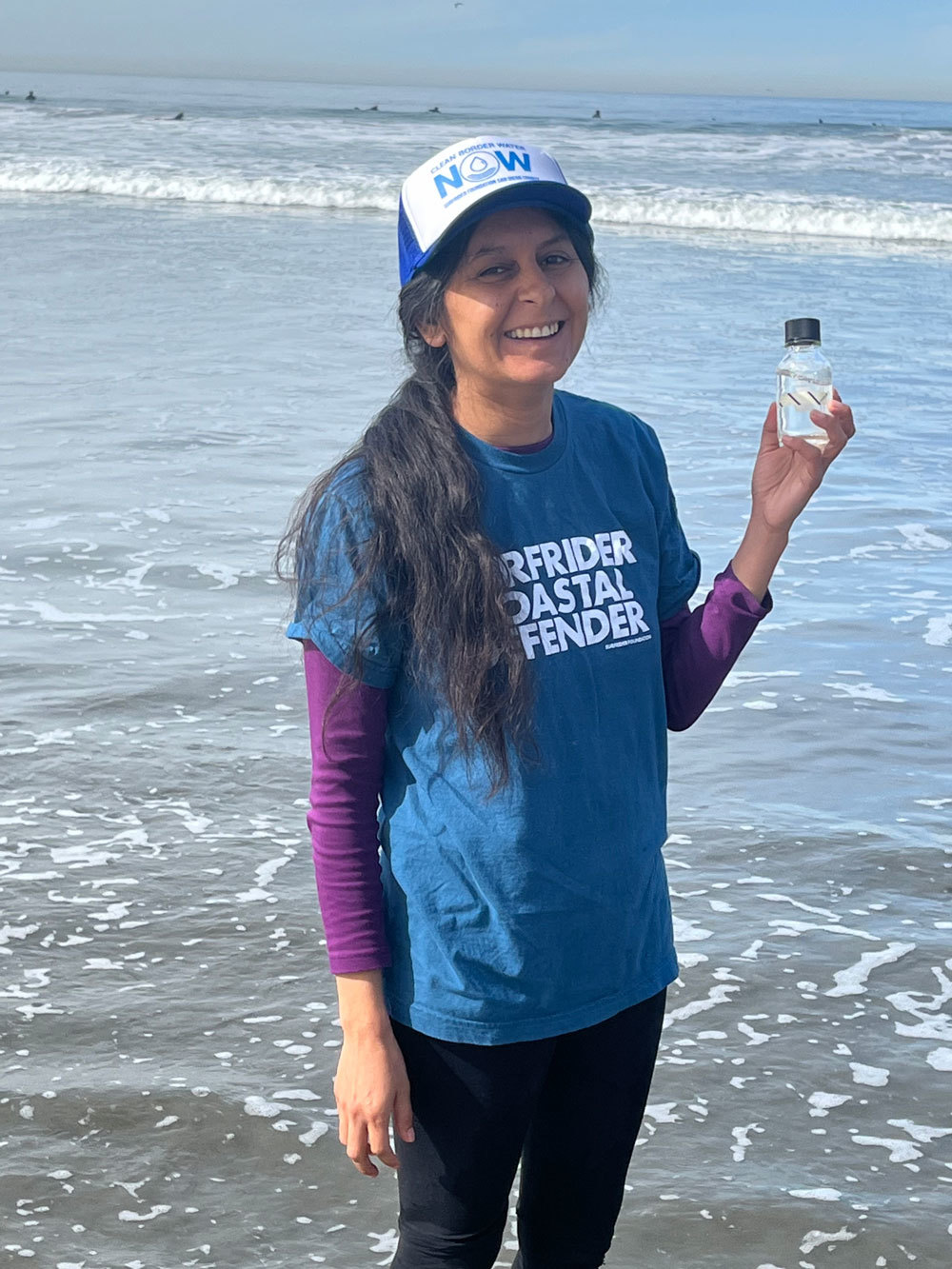 Q: What Surfrider projects have you worked on?
I've been advocating for the funding and construction of a comprehensive infrastructure solution known as "Alternative I-2" that will reduce transboundary pollution at the beach in the summer by 95% and during the rainy season by 76%. The Environmental Protection Agency is leading the project, and the initial funding will come from $300 million allocated through the signing of the United States Mexico Canada Agreement (USMCA). I'm excited about this project because it will clean up beaches on both sides of the border and will last until 2050.
P: ¿En qué proyectos de Surfrider has trabajado?
He estado abogando por el financiamiento y la construcción de una solución de infraestructura integral conocida como "Alternative I-2" que reducirá la contaminación transfronteriza en la playa en el verano en un 95% y durante la temporada de lluvias en un 76%. The Environmental Protection Agency lidera el proyecto y el financiamiento inicial provendrá de $300 millones asignados a través de la firma del Tratado entre México, Estados Unidos y Canadá (USMCA). Estoy entusiasmada con este proyecto porque limpiará las playas en ambos lados de la frontera y durará hasta 2050.
Q: Are there any specific project(s) that you have worked on which benefited your community? If so, can you tell us about that?
I've got to work on the Blue Water Task Force (BWTF) program in south county. The BWTF water monitoring program brings science to the community and can notify surfers, swimmers, and other beachgoers when it's safe to get it in the water. I check our weekly emails before I jump into the surf and love promoting this tool in the community.
Another project I've been involved in is bringing the beach clean-ups back to South San Diego in Imperial Beach. This has been an awesome experience because it gives people entry into conserving our beaches. We collect tons of trash, and we get to enjoy the ocean. It's a great time!
P: ¿Hay algún proyecto específico en el que haya trabajado que haya beneficiado a su comunidad? Si es así, ¿puede contarnos sobre eso?
Tengo que trabajar en el programa Blue Water Task Force (BWTF) en el sur del condado. El programa de monitoreo del agua BWTF acerca la ciencia a la comunidad y puede notificar a los surfistas, nadadores y otros bañistas cuándo es seguro sumergirse en el agua. Reviso nuestros correos electrónicos semanales antes de lanzarme a navegar y me encanta promocionar esta herramienta en la comunidad.
Otro proyecto en el que he estado involucrada es llevar las limpiezas de la playa al sur de San Diego en Imperial Beach. Esta ha sido una experiencia increíble porque le da a la gente la oportunidad de conservar nuestras playas. Recolectamos toneladas de basura y disfrutamos del océano. ¡Nos la pasamos muy bien!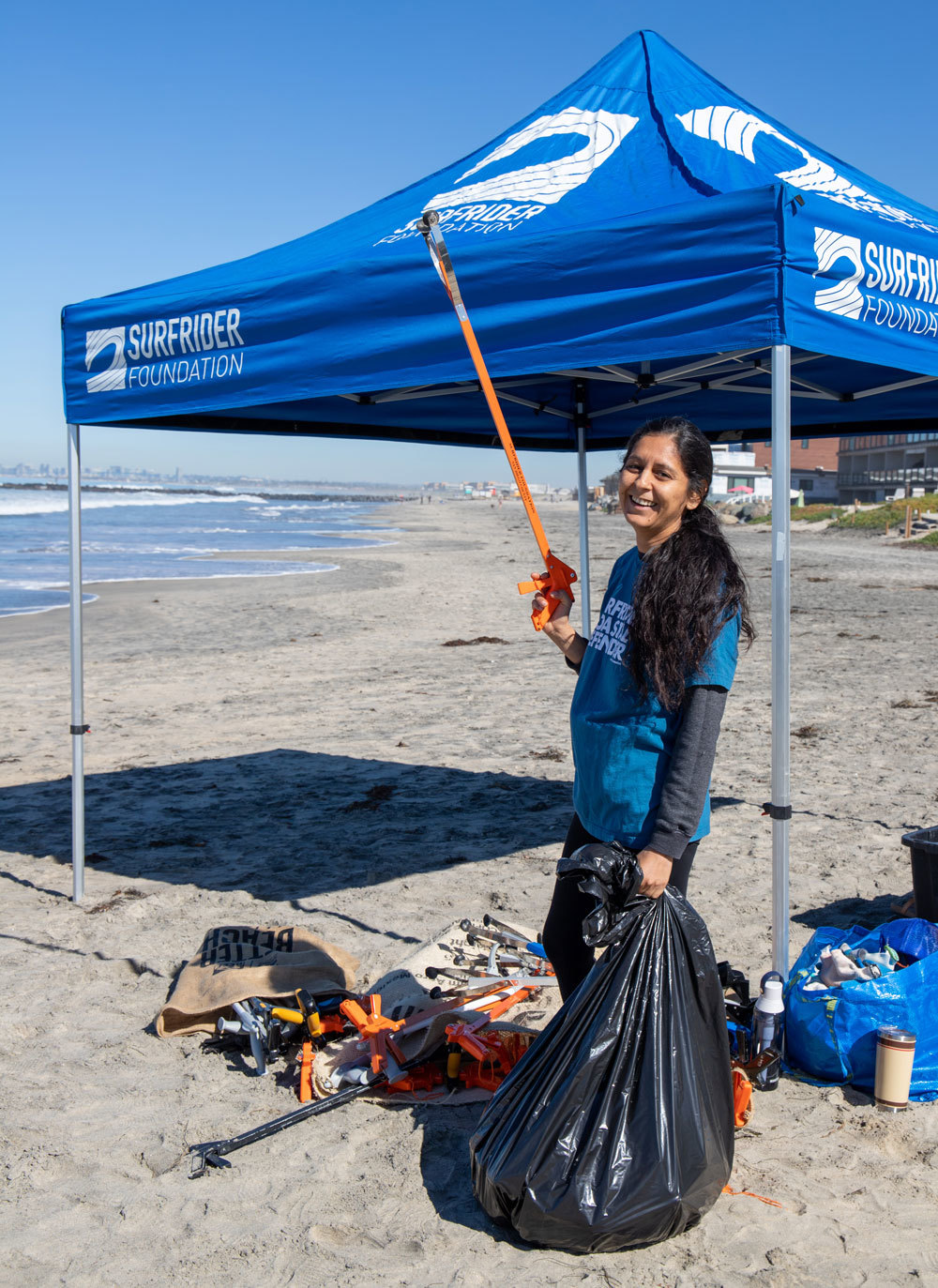 Q: What has been the highlight of your Surfrider experience (i.e., campaign, program, victory)?
Working with the volunteers has been the highlight of my Surfrider experience. From the first week, I met with dedicated individuals who were ready to make a change in their local community. In my first month, we collected over 1,500 signatures supporting the Border Water Quality Restoration and Protection Act. I feel fortunate to work with so many outstanding individuals that are the real reason the Surfrider Foundation is an environmental leader.
P: ¿Qué ha sido lo más destacado de su experiencia Surfrider (es decir, campaña, programa, victoria)?
Trabajar con los voluntarios ha sido lo más destacado de mi experiencia Surfrider. Desde la primera semana, me reuní con personas dedicadas que estaban listas para hacer un cambio en su comunidad local. En mi primer mes, recolectamos más de 1,500 firmas que respaldan la Ley Border Water Quality Restoration and Protection Act. Me siento afortunada de trabajar con tantas personas sobresalientes que son la verdadera razón por la que Surfrider Foundation es un líder ambiental.
Q: Do you have any personal experiences or campaigns/issues that you're passionate about where the social justice and environmental movements have intersected? If so, can you tell us about them?
I identify as being a Chicana. To me, a Chicana is a Mexican-American woman with roots in California. My mother's family line can be traced to the Spanish missions. Despite having ancestors that were on this land before it was California, I am the first in my family to obtain a four-year college degree. I am also an unlikely statistic because I was also a teenage mother who gave birth to her first daughter as a senior in high school. My educational career has been long… I started at community college, where I earned an Associates' degree. Then, I transferred to the University of California, San Diego, for my Bachelor of Science. I went on to graduate school in Public Health at San Diego State University. Recently I finished my law degree in Public Interest Law from Golden Gate University School of Law. That's a lot of education, but I felt it was needed to break glass ceilings and to be firmly equipped to fight battles on behalf of the community.
I am passionate about fighting against injustice and for access to clean water, soil, and air for all. Historically, communities of color have been disproportionately affected by pollution in the environment. The CBWN campaign is a casebook example of this. It's terrible that the people have had to put up with sewage and other contaminants closing their beaches year after year. This sewage water contains a variety of pathogens that can make beach-goers very sick, causing respiratory infections, staph infections, norovirus and more. The County got it right when they declared the area a public health crisis. Furthermore, beach closures deny the local community access to the healing properties of the ocean. It's time to create a new legacy of cleaning the border waters so that the people on both sides of the border can have their beaches back.
P: ¿Tiene alguna experiencia personal o campañas/temas que le apasionen en los que se hayan cruzado los movimientos de justicia social y ambiental? Si es así, ¿puede hablarnos de ellos?
Me identifico como chicana. Para mí, una chicana es una mujer Mexico-Americana con raíces en California. La línea familiar de mi madre se remonta a las misiones españolas. A pesar de tener antepasados ​​que estuvieron en esta tierra antes de que fuera California, soy la primera en mi familia en ir a la universidad. También soy una estadística improbable porque también fui una madre adolescente que dio a luz a su primera hija en el último año de la escuela secundaria. Mi carrera educativa ha sido larga… Empecé en un colegio comunitario, donde obtuve un título de Associates Degree. Luego, fui a la Universidad de California, San Dego, para obtener mi Bachelor's of Science. Fui a la escuela de posgrado en Salud Pública en la San Diego State University. Recientemente terminé mi licenciatura en Derecho de Interés Público de la Facultad de Derecho de la Universidad Golden Gate School of Law. Eso es mucha educación, sentí que era necesario estar equipada para pelear batallas en nombre de la comunidad.
Me apasiona luchar contra la injusticia y por el acceso a agua, suelo y aire limpios para todos. Históricamente, las comunidades de color se han visto afectadas de manera desproporcionada por la contaminación del medio ambiente. La campaña CBWN es un ejemplo de libro de casos de esto. Es terrible que la gente haya tenido que aguantar que las aguas residuales y otros contaminantes cierren sus playas año tras año. Estas aguas residuales contienen una variedad de patógenos que pueden enfermar gravemente a los bañistas, causando infecciones respiratorias, infecciones por estafilococos, norovirus y más. El Condado acertó cuando declaró el área como una crisis de salud pública. Además, el cierre de playas niega a la comunidad local el acceso a las propiedades curativas del océano. Es hora de crear un nuevo legado de limpieza de las aguas fronterizas para que la gente pueda recuperar sus playas.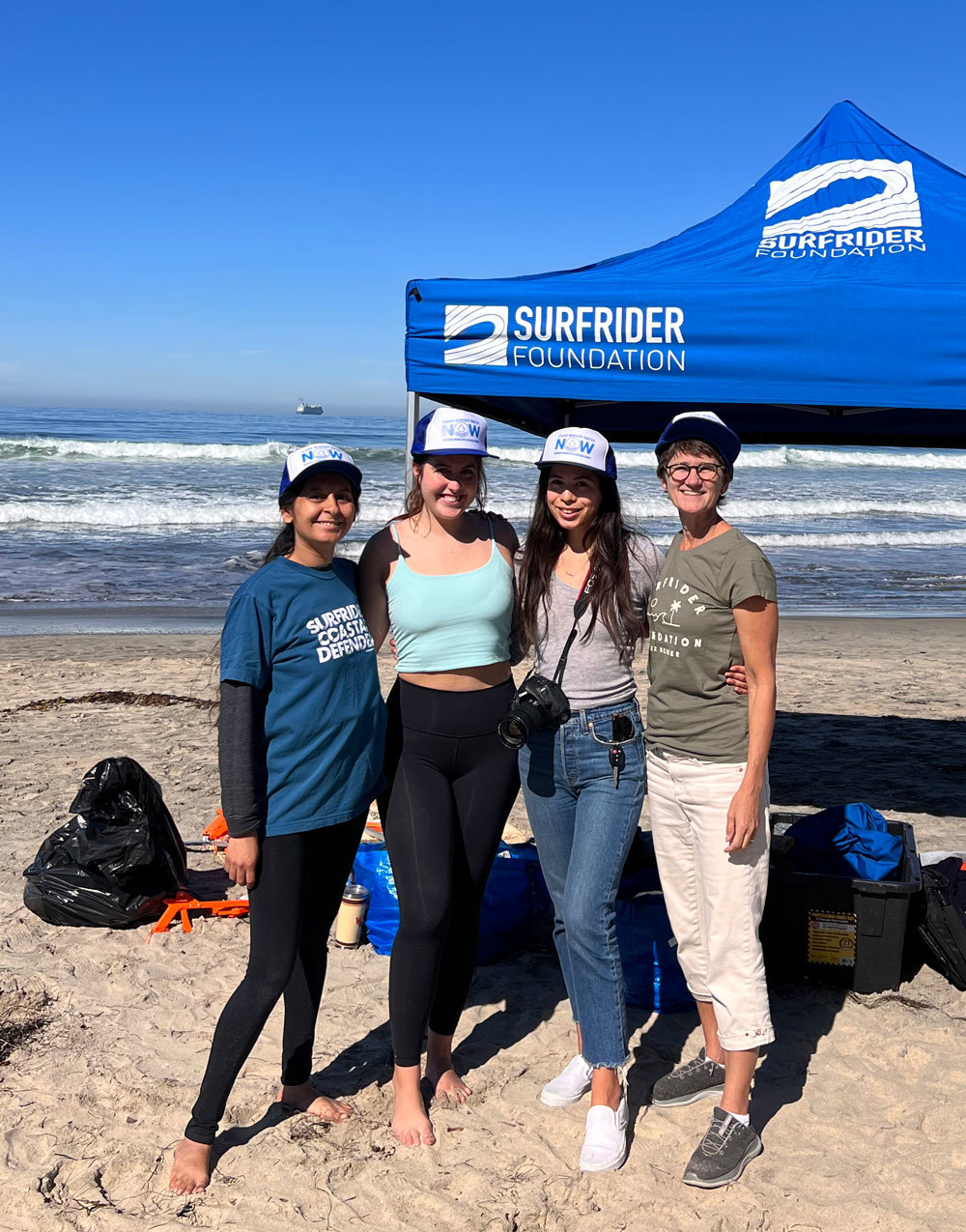 Q: What can Surfrider do (or continue doing) to foster an inclusive and welcoming experience? Do you have any examples from your experience where this is successfully happening?
Surfrider can continue to be inclusive and welcoming by supporting campaigns like the CBWN. I would one day like to see Surfrider more in Latin American countries protecting epic surf spots in Baja California or Costa Rica.
P: ¿Qué puede hacer (o seguir haciendo) Surfrider para fomentar una experiencia inclusiva y acogedora? ¿Tiene algún ejemplo de su experiencia en el que esto esté sucediendo con éxito?
Surfrider puede seguir siendo inclusivo y acogedor apoyando campañas como la CBWN. Algún día me gustaría ver a Surfrider más en países latinoamericanos protegiendo spots de surf épicos en Baja California o Costa Rica.
Q: What is the most important thing you tell others about Surfrider?
The Surfrider Foundation is a legit organization that has given me hope that we can tackle some of the biggest environmental issues facing our generation and the generation to follow.
P: ¿Qué es lo más importante que les cuentas a los demás sobre Surfrider?
La Surfrider Foundation es una organización legítima que me ha dado la esperanza de que podemos abordar algunos de los problemas ambientales más importantes que enfrenta nuestra generación y la generación venidera.
Q: Why is being a part of the Surfrider ocean conservation community important to you?
Being a part of the Surfrider ocean conservation community is important to me because it connects me with other people who feel as passionately about clean water as I do.
P: ¿Por qué es importante para ti ser parte de la comunidad de conservación del océano Surfrider?
Ser parte de la comunidad de conservación del océano de Surfrider es importante para mí porque me conecta con otras personas que sienten tanta pasión por el agua limpia como yo.
Q: Anything else?
This article is dedicated to my Yaqui ancestors. Thank you!
P: ¿Algo más?
Este artículo está dedicado a mis antepasados ​​yaquis. ¡Gracias!