06 • 08 • 2021
Billabong x Surfrider Present The Ocean Connects Us All Collection
In celebration of World Ocean Day, we are pleased to introduce the "Ocean Connects Us All" capsule collection in collaboration with longtime supporter and Surfrider Surf Industry Coastal Defender, Billabong. The Ocean Connects Us All collection is a limited edition offering of recycled boardshorts and organic cotton tees, featuring designs that underscore the importance of the ocean as a great unifier and resource that we must protect for future generations to enjoy.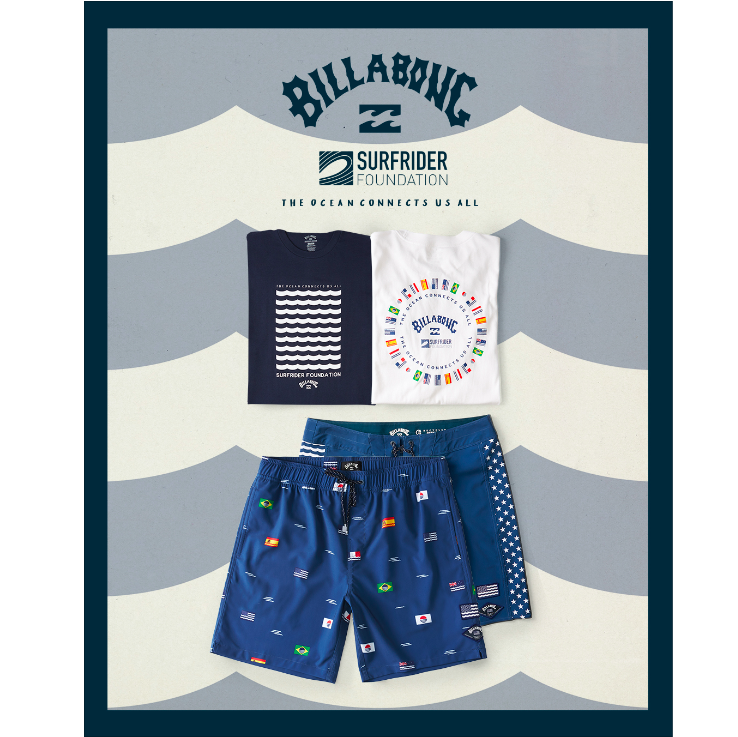 Founded in 1973 in Australia by visionary surfboard shaper and designer Gordon Merchant, Billabong seeks to share the magic feeling of waveriding with the world. In Billabong's 23 years of supporting the Surfrider Foundation they have donated almost one million dollars in support of our mission and with the launch of this product collaboration, our intent is to engage and inspire our global community. The Ocean Connects Us All collection features two boardshorts and two tees, with a connecting "wave" design flowing through the flags of various countries, uniting the four styles and drawing on the universal connection we all share with and through the ocean. Check out the collection video below!
This collection was designed with the intention of reminding our global communities how we can, and should, each play a part in protecting what we love. "The ocean is a central connective force in so many of our lives, both in our connection to nature and our connection to others," said Evan Slater, Billabong VP of Marketing. "We're proud to be partnering with the Surfrider Foundation on this collection to remind people that the ocean— now more than ever— needs our help to ensure these life-defining connections for generations to come."
The Ocean Connects Us All collection is available now at select specialty retailers and online at billabong.com. Thanks to Billabong for their support and collaboration!
To learn more about Billabong, visit billabong.com.
To find your local chapter and check out upcoming events near you, visit surfrider.org/chapters.