10 • 27 • 2022
Could Giant Sea Gates be Coming to Your Coast?
Climate change induced sea level rise and stronger storms are forcing coastal communities around the globe to adapt to higher storm surges and more frequent flooding. While many communities turn to seawalls and other armoring, some are pulling back from vulnerable areas or enlisting natural barriers to help defend their coastlines. On the U.S. East Coast, another water control method has been proposed: the sea gate.

In response to the destructive storm surge of superstorm Sandy, the U.S. Army Corps of Engineers (USACE) proposed a plan in 2019 that included a six mile long sea gate spanning from Sandy Hook, NJ, to Breezy Point, NY. This sea gate, detailed in the NY & NJ Harbor & Tributaries Focus Area Feasibility Study, would completely close the NY/NJ Harbor in the event of a major storm.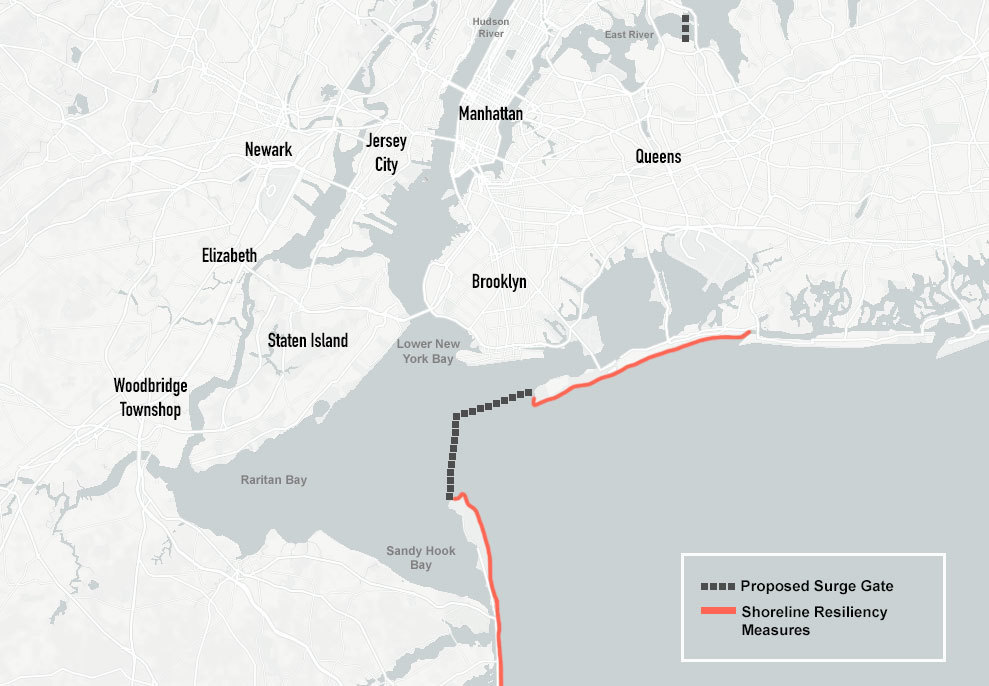 Surfrider's New York City and Jersey Shore Chapters joined a coalition of organizations opposing that plan, because of environmental and community impact concerns. The NY/NJ Harbor is a highly dynamic and productive area, home to many estuarine animals that are dependent on the daily movement of freshwater and ocean tides. A miles-long sea gate, even if left open most of the time, would have major negative environmental effects.
Surfrider was also concerned that nearby communities like the Rockaways would be negatively impacted from the sea gate (by pushing extra water onto the Rockaways), and the possibility of flooding behind the gate in the event of heavy rainfall.
Luckily, the USACE responded to our concerns and has since taken the six mile long sea gate off the table, and are now looking at a plan that calls for 12 much smaller sea gates (plus other shore based barriers, natural and hardened) located throughout the Harbor. The details on that plan can be found in the Draft Integrated Feasibility Report and Tier 1 Environmental Impact Statement, released September 24, 2022.
So sea gates are still a possibility (albeit at a much smaller scale), and could be in place in the NY/NJ Harbor by 2045 if the USACE timeline proves correct. These gates will also have negative impacts to the environment and communities, and Surfrider will be monitoring these closely. The USACE estimates that the impacts on wildlife, fish, and endangered species from this new plan would generally be low to moderate, with the exception of impacts to Jamaica Bay, where the impacts are estimated to be moderately high.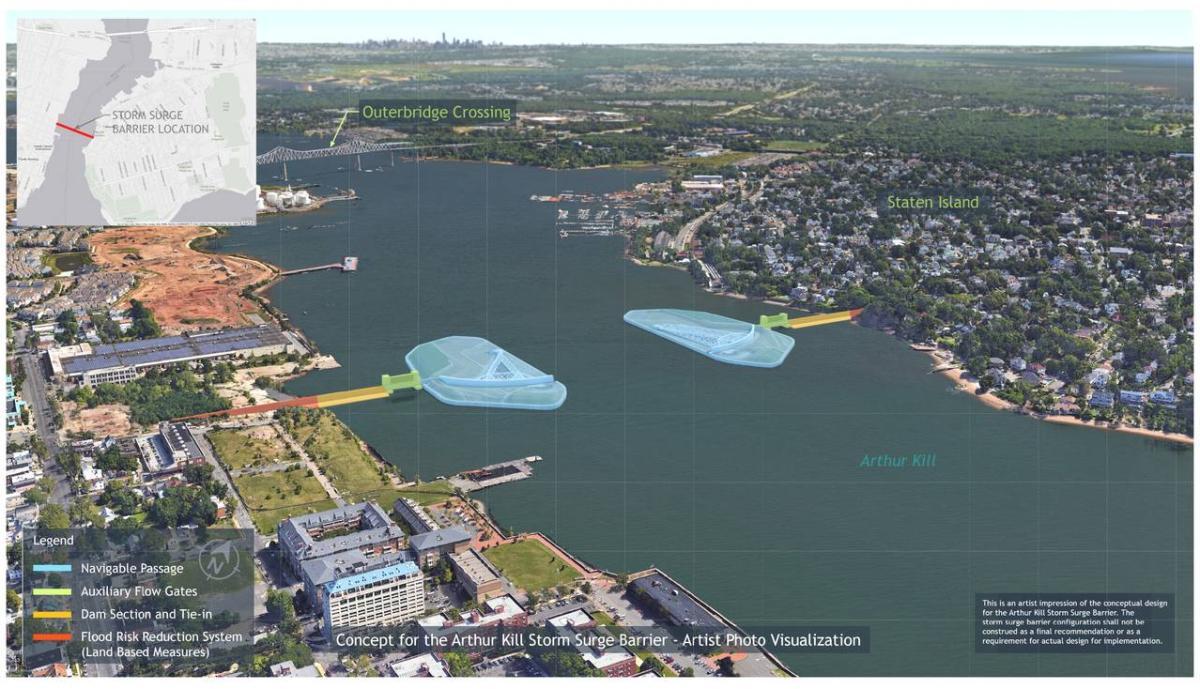 The other wrinkle in the USACE plan is that the sea gates are only meant to be deployed to protect communities from flooding in storm surge situations like what happened during Sandy, and not for everyday sea level rise induced flooding, also known as "sunny day flooding".
This is in contrast to sea gates currently operating in London, England, and Venice, Italy. Venice completed their sea gate in 2020 and proceeded to close it 20 times in 2021, responding to high tides. The sea gate on the river Thames, which was built in 1982, closes about five times a year to prevent flooding in London. The Netherlands operates a system of six large storm surge sea gates that appears to operate similarly to the ones proposed in NYC. These gates are only closed during storm surge events, and have rarely closed since their construction in the late 1990s.
As sea levels continue to rise, Surfrider expects to confront more proposed sea gate projects, as well as other methods of adapting to rising seas such as hardened sea walls, and the endless pumping of sand onto beaches. We will continue to call for less harmful methods of protecting our coastal communities and habitats, such as natural "living" shorelines, protecting and restoring wetlands and dunes, and stronger and smarter development rules. Of course, the most effective method of adapting to sea level rise is to move vulnerable buildings and infrastructure out of harm's way whenever possible.
We will also continue to demand that frontline and underrepresented communities be collaborative and integral partners in any process that is deciding how their community will be changed by sea level rise resiliency projects.
The USACE is soliciting public feedback on their revised NY/NJ Harbor report through January 6, 2023.