10 • 29 • 2020
Ocean Friendly Restaurant Spotlight: Juliet in Sommerville, MA
Surfrider sits down with Joshua Lewin, chef and co-owner of Massachusetts' first Ocean Friendly Restaurant, Juliet, to chat about their commitment to environmentally-sustainable practices and the local community.
Tell us about Juliet's history and mission.
Juliet (now Juliet + Company) is about continual practice toward technical excellence…in cooking, service, storytelling, training, mentorship, and more. And we are about careers. At Juliet we work toward showcasing the best work we are capable of, while respecting every person and product throughout the process. This starts with full wages, great training, and an emphasis on coaching and mentorship for the purpose of building careers and new opportunities.
Putting people first, always, Juliet + Company engages in socially responsible business practices, successfully scaling businesses to health and sustainability, and beyond, through a multi stakeholder approach to business development. Career oriented training is heavily emphasized, at all levels, and with care taken to hire, train, and promote with purposeful inclusivity, and accessibility.
Why did you sign up to become a Surfrider Ocean Friendly Restaurant?
We signed up to be the [first in Massachusetts] Surfrider Ocean Friendly Restaurant because Surfrider asked us to! Ha. It's kind of a funny story. I thought it was a mistake at first, like someone thought we were a restaurant in California or something. Nothing about surfing, or surfing adjacent, had ever been on our business radar before. We worked through the fact that it was not a mistake, reviewed the programs, and got pretty immediately enthusiastically on board with helping to kick off the program locally. We joined up, threw a big party with the local chapter in our restaurant, and all the members strolled in with their surfboards and snowy New England surfing stories… we were hooked! The idea and practice of surfing, especially winter surfing, has become a part of our restaurant story!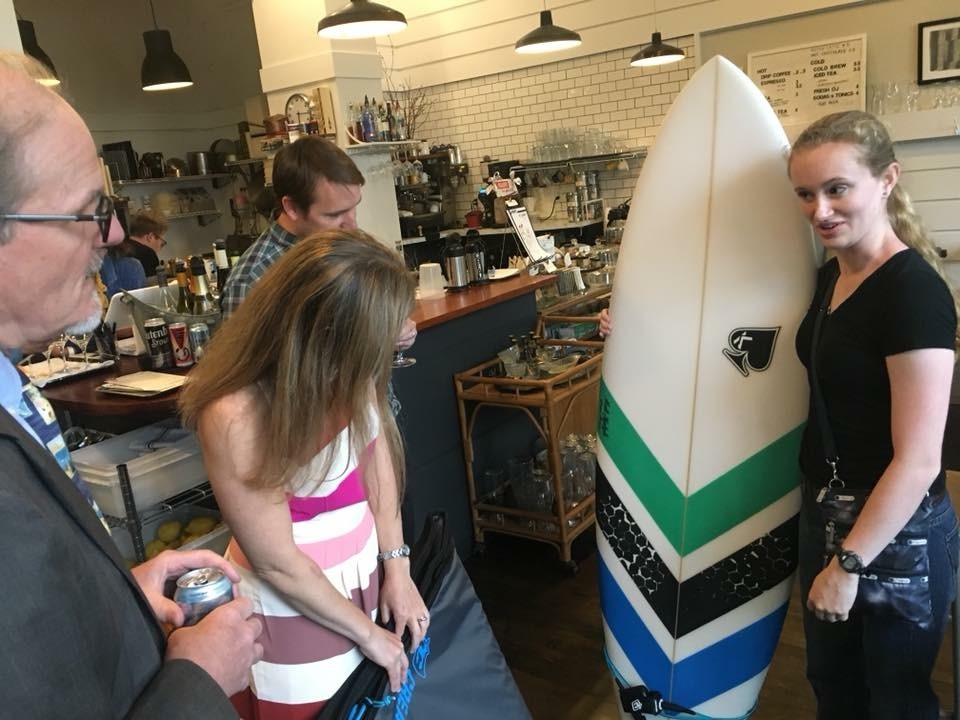 Photo Credit: Brian Samuels Photography
What are some of the sustainability efforts at Juliet that you're most proud of?
Sustainability is core to our programs. Our primary mission, as discussed above, is first and foremost about people. So we can't have this conversation without talking about people! Largely in the restaurant industry, environmental sustainability and food supply issues have been big topics for many years…but until fairly recently, the people in the process were largely not talked about. Our primary purpose is about creating careers, and jobs that are sustainable, fair, supporting, AND challenging from day one! So you can't get me off that topic. But I realize the question here is primarily an environmental one, and an ocean one at that. And this is also incredibly important. We could go on for pages and pages about this, but we'll keep it brief, and focused on the oceans. We rely on, and appreciate, the oceans in our work. We source carefully, and are often looking for alternatives to the most popular sources of seafood. This is very important to us. And then we get into the choices we can make about how waste is handled that affect our oceans. We minimize packaging, especially plastics, and water consumption wherever we can. A tragedy of the oceans is how much they are affected by what we choose not to see, or to forget…the constant waste that is part of our modern lives…it all ends up somewhere, and that somewhere is often the ocean. There is only so much we can do about that after the waste has happened, so the key is eliminating it as much as possible in the first place.
This is an attitude, a practice, a habit, as much as it is an item on a Standard Operating Procedure. We practice non waste in everything we do. Do we reach 100% success in this…not even close…but through daily practice we have large and long term impact, even when we aren't directly focused on it. It's a lifestyle change. And a constant practice.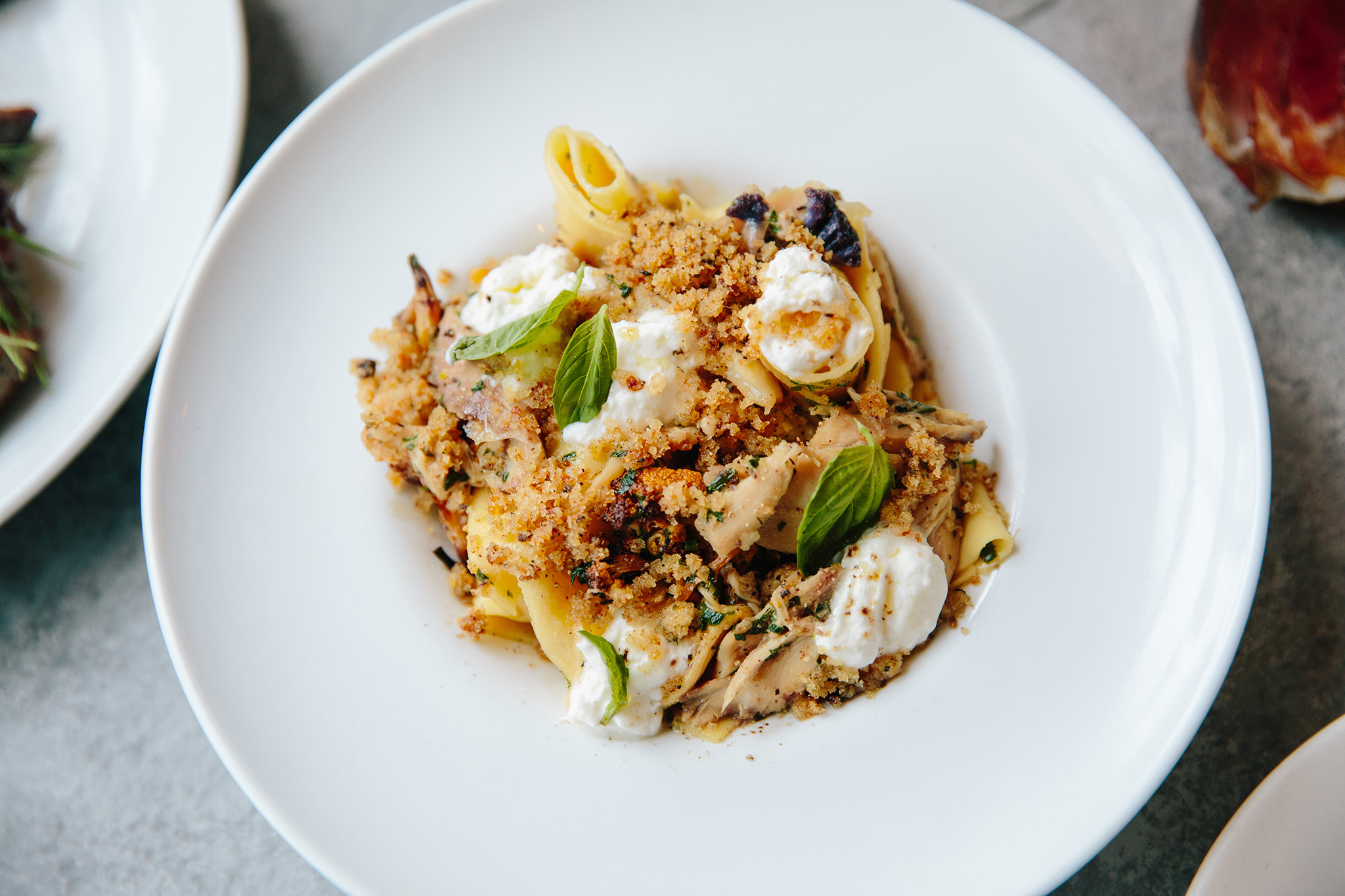 Photo Credit: Brian Samuels Photography
What are some of the ways you have had to adapt during the pandemic?
Oh, so so many ways! For one, we had to shift our revenue models to include more than just food service. There is only so much takeout that can be done. So we've moved into other areas entirely. Most notably…we increased our media operations. Juliet + Company now produces a magazine three times each year (which Surfrider members have been featured in, by the way), we have two cookbooks out, and a third on the way, and our first children's book! We have also begun video programming under of Juliet TV. You can see all this and more at ofJuliet.com where we'd LOVE to simply encourage you to join our email list, for which we'll give you a free 100 page electronic cookbook! But if you really want to get on board you can subscribe to our magazine and TV programming at patreon.com/ofJuliet
The other huge change is a weekly dining event we've been holding since mid summer, which we call Restaurant Without Walls. This takes many shapes, from cooking classes, to wine appreciation and tasting events, to cook along master classes where guests prepare their own three course dinner with our help, and more. In our STYLE, there is always a story. Notably the current season of Restaurant Without Walls includes an original movie by our staff, screened across five consectutive weeks, and we have a Halloween event which is an interactive dinner party murder mystery.
In both of these efforts (and many more…it's a little different here every day now), in large part we are trusting and counting on the public to support…our business and our staff (through our continued ability to create meaningful jobs), but we aren't just sitting here with our hands out, that just isn't our Way. The world is changed, but we are here working for it. Putting ourselves out there every day to do our best work, to iterate publicly toward a better result constantly, all for the purpose of creating meaningful, and sustainable, opportunity for our teams (which include our farmers and other producers who are also counting on us)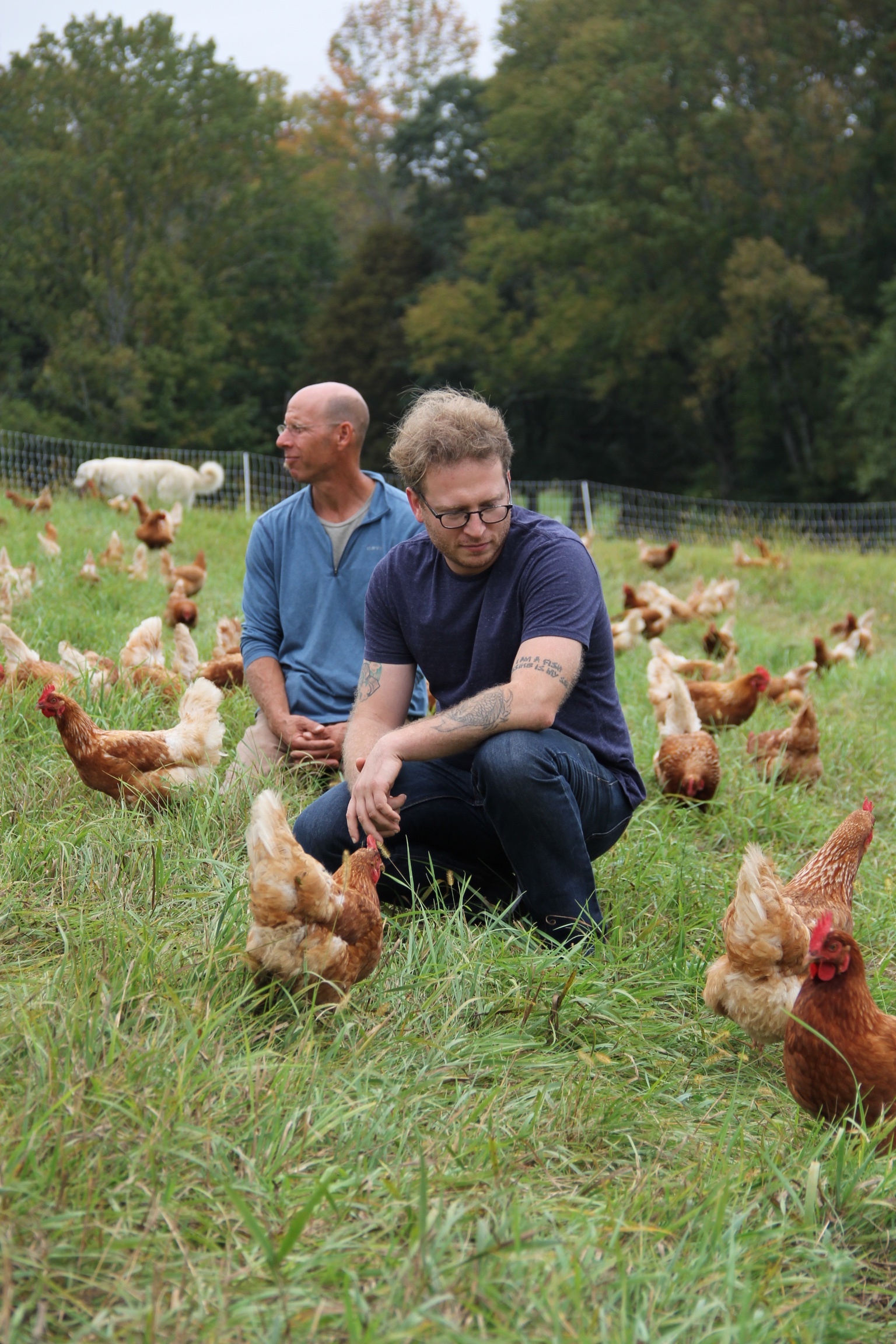 Photo Credit: Brian Samuels Photography
What makes Juliet stand out in the local community?
Juliet is a neighborhood place. There is something for everyone here. At many price points. This particular effort is not currently running because dining isn't anything like it used to be, but it will be back. Although we have a reputation for being kind of a special occasion place, on the higher priced side, especially at dinner, we always kept one table available nightly for Pay What You Can dining. Most people discover Juliet not for a once a year style dinner, but over a morning cup of coffee. We serve breakfast all day, too, and serve a la carte menu items right alongside our more involved (read: costly) "tasting menus". This is a place for everyone at once. We are careful about that. And when we say everyone, that applies to our team as well. These are things that, like the sustainability questions above, are not boxes to be checked, but practices that continue forever…ideally with each day a little better than the last.
Is your local eatery an Ocean Friendly Restaurant? If not, encourage them to sign up and join the movement to end single-use plastics!