06 • 30 • 2021
Ocean Friendly Restaurants Spotlight: Snooze A.M. Eatery in Laguna Niguel, CA
Tyral Starkey, GM at Snooze, an A.M. Eatery in Laguna Niguel, CA speaks passionately about Snooze and environmental sustainability.
"Restaurants can be so wasteful in nature, it's more important than ever to make responsible decisions that do not negatively impact the environment," he told Surfrider. " At Snooze, we compost because turning old food into new soil is a no-brainer, recycling is second nature, and eliminating the need for single-use plastics just makes sense."
Although a new addition to the Ocean Friendly Restaurants program in South Orange County, CA, Snooze is not at all new at implementing sustainable practices. Since opening in 2006 in Denver, CO Snooze has gone on to set the green restaurant standard in Denver and other major cities.
Their Change Makers Report released in 2019 outlines an impressive array of forward-thinking initiatives that they've met in their 15 years in business — as well as the goals they strive to meet by 2025. Like operating 100% zero landfill waste kitchens across all 40+ locations, and ditching disposables in impactful ways wherever possible. The popular orange reusable coffee mug program at their "while-you-wait stations" has successfully diverted from landfills over 50,000 disposable coffee cups per Snooze restaurant each year. In 2018, they eliminated plastic straws. Today, they are close to reaching their goal of using 100% responsibly sourced food. And by 2025, they aim to purchase 50% electricity from renewable sources.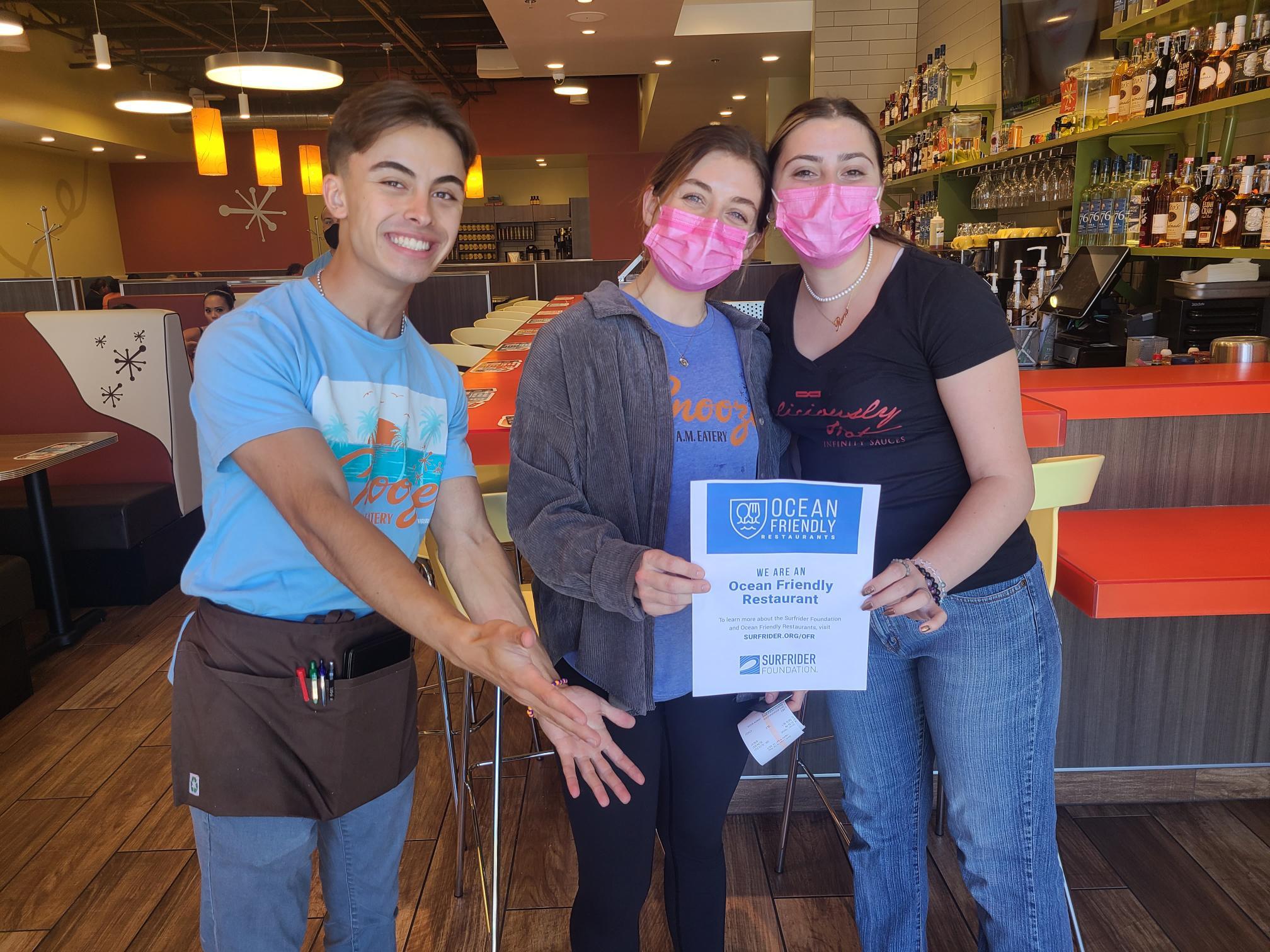 "We strive to push ourselves to be greener not to be the best in the industry, but to be a leader so others will gravitate towards making their businesses be the same," Starkey notes.
This "green by example" mentality is a key ingredient to what makes Snooze Eatery unique. In an April 2021 interview with Forbes Magazine, Andrew Jaffe, Snooze Eatery's Chief Marketing Officer, notes that their purpose-driven business model attracts higher caliber team members which trickle down to a better experience for both guests and restaurant staff.
Every new "Snoozer" goes through Sustainability 101 during their onboarding process to go through the whys and hows of why they do what they do. Each Snooze has hourly Snoozers dedicated to focusing on sustainability. And, there are 8 Green Captain Mentors who work solely on improving sustainable measures company-wide.
This past May, Snooze partnered with Surfrider South Orange County for a soft-opening benefit for their newest location in Laguna Niguel, CA. "While some restaurant soft-openings are meant to work out the kinks," the Change Makers Report notes, "ours are meant to work in the community."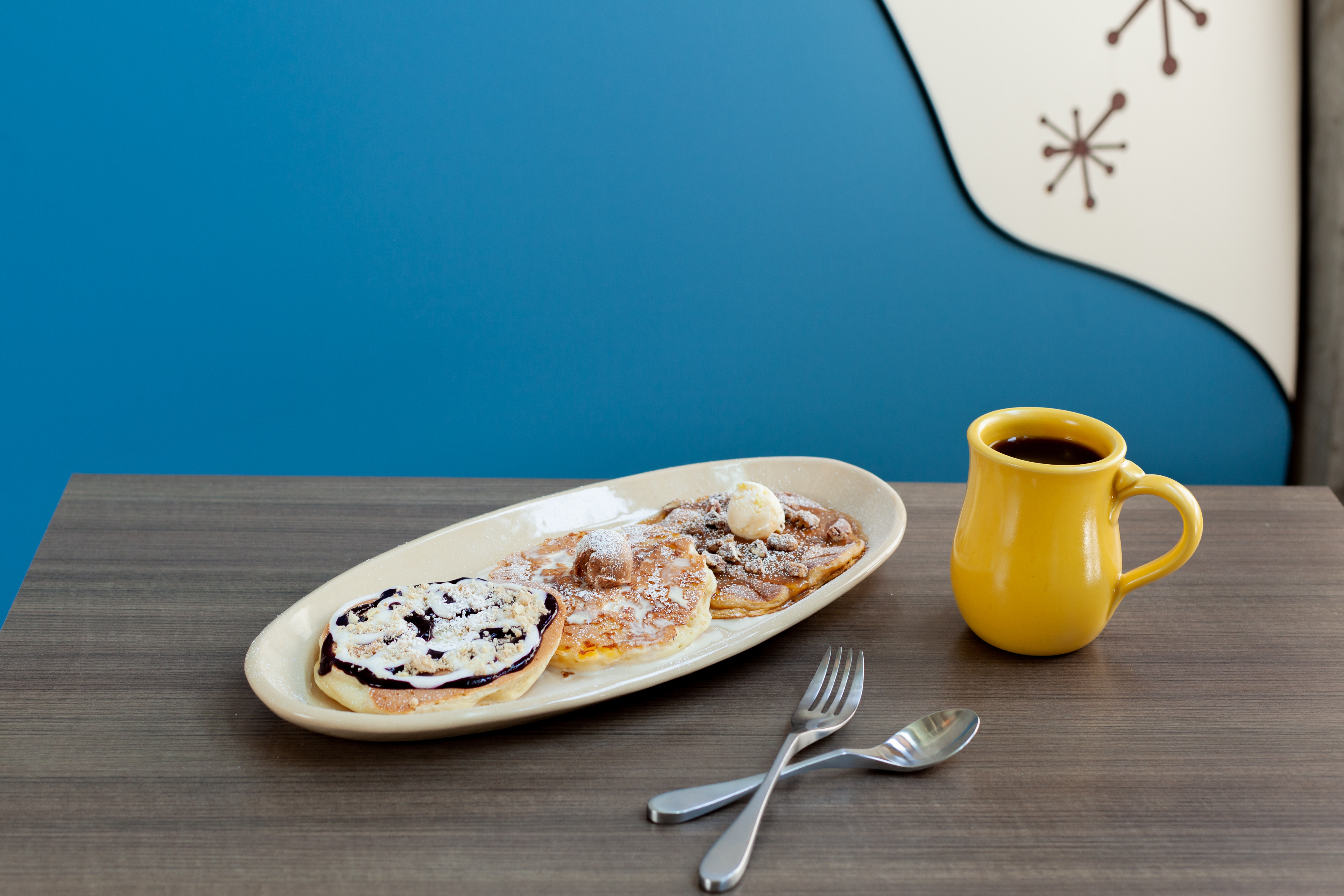 When entering a new market, Snooze scouts incredible non-profits that align with their beliefs and are within 10 miles of their front door. Then they invite that non-profit community over for free breakfast in lieu of donations. Recent donations at community soft-opening events have totaled well over $100,000 per year. Surfrider is humbled to join the Snooze family to push forward progressive practices in restaurant sustainability.
"We value partnerships like Surfrider that are truly making a difference for the planet. One person can make a difference by inspiring others to do more, so when organizations like Surfrider and Snooze join forces we create big change, " says Starkey.
To gain inspiration about how Snooze is setting the gold standard in restaurant sustainability, view the Change Makers Report.