03 • 06 • 2023
San Luis Obispo Chapter sheds light on chronically high bacteria levels
San Luis Obispo, CA beaches are known for their rocky bluffs and shining waters, where many families enjoy swimming, surfing, and paddleboarding. Despite the beautiful blue waters, however, some families may be unknowingly swimming in water contaminated with fecal bacteria. The San Luis Obispo Chapter, which partners with Cal Poly Surfrider Student Club, has been monitoring water quality in the area since 2012 in its Blue Water Task Force (BWTF) lab, in an effort to provide critical information to protect public health at the beach. Chapter water testing programs are designed to fill in the gaps and extend the coverage of state and local agency beach programs, so there is more information available to inform safe recreation in coastal waterways.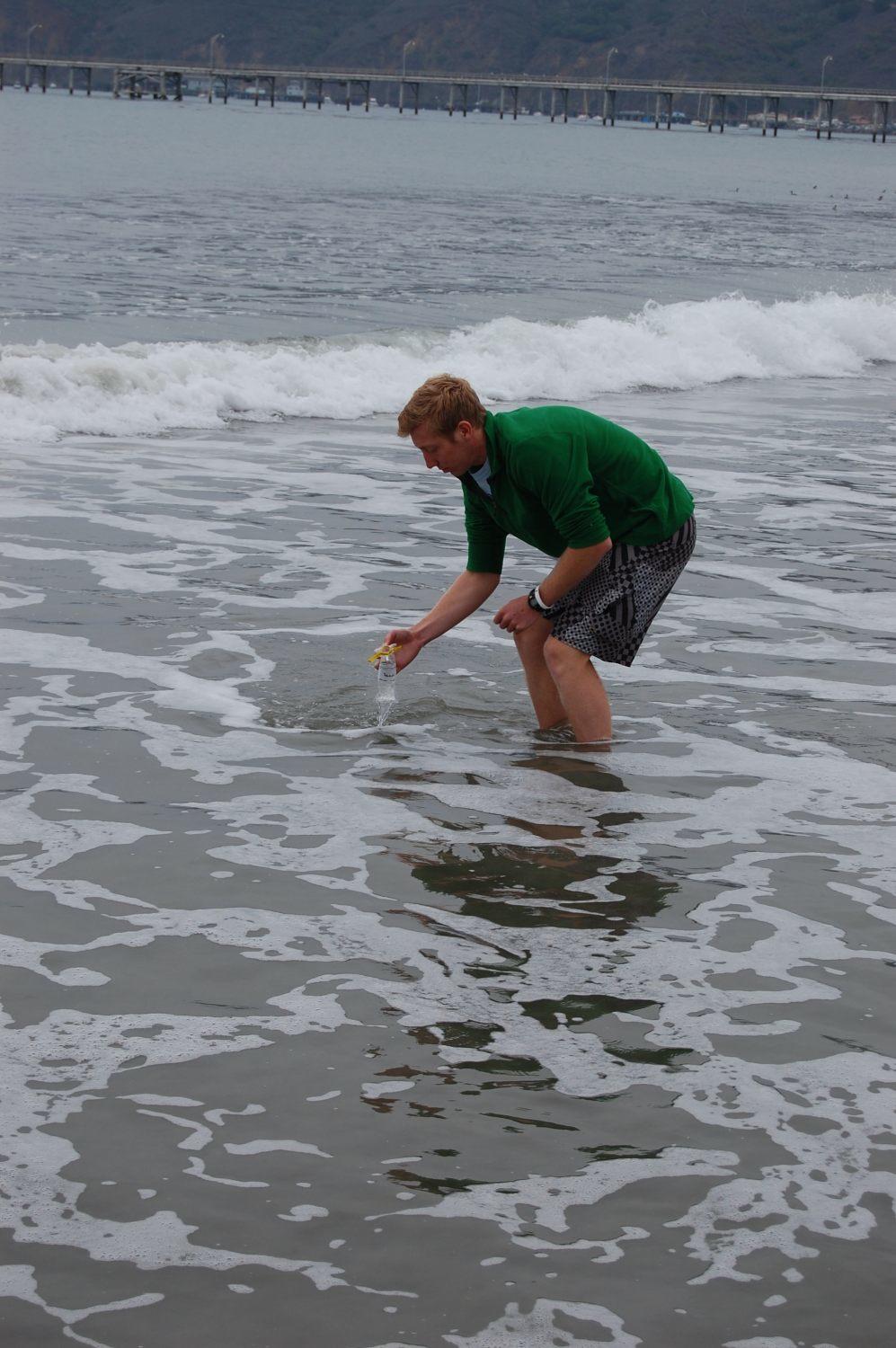 The San Luis Obispo BWTF monitors 21 sampling sites for water quality on a weekly basis from Pismo Beach in the south to San Simeon Cove in the north. Over the last ten years, the chapter's BWTF has become increasingly concerned with high bacteria levels at their sampling sites along San Luis Obispo Creek. San Luis Obispo (SLO) Creek flows through a natural channel on the east side of US 101, before spilling out into the Pacific Ocean at San Luis Obispo Bay, just west of Avila Beach. The chapter initially began testing Avila Pier at Avila beach - one of the most popular beaches in the area - and slowly added sites along the SLO creek in hopes of identifying some bacteria hot spots that might help illuminate where the pollution they were measuring downstream was coming from. Each additional site they added, however, simply led to more questions rather than answers, as all creek sites show consistently high bacteria levels that frequently exceed the state health standard for recreational waters.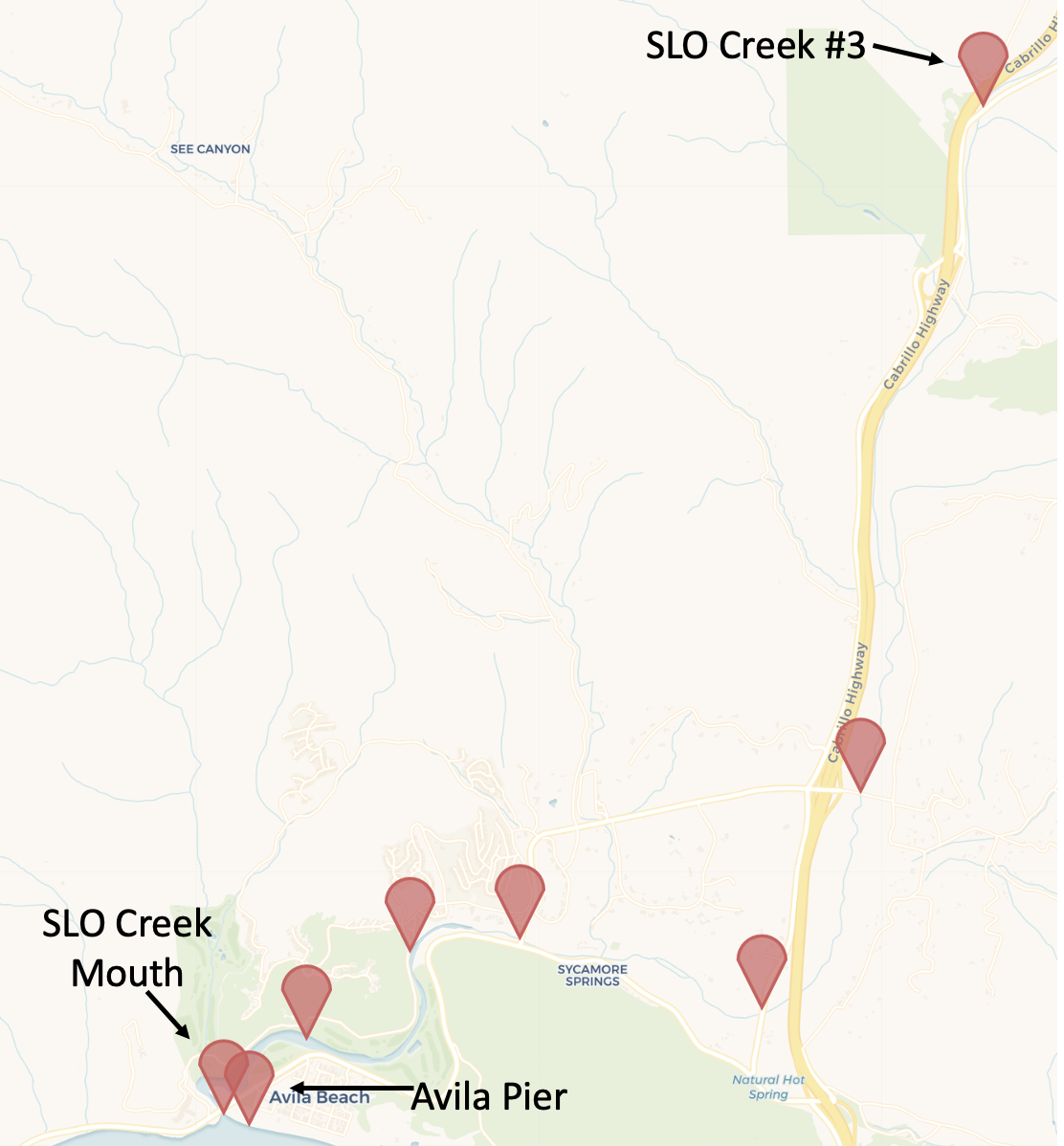 Equipped with a long-term dataset showing consistently high bacteria readings from their testing sites located within SLO Creek, the chapter decided it was time to take the next steps to build the awareness needed to pinpoint and fix the sources of pollution. The first thing they did was reach out to schedule a meeting with their local officials to share their findings. To prepare for this meeting, they first discussed the history of their local water quality problems with Surfrider's Clean Water staff, and brainstormed best approaches to engage local authorities in helping to solve these issues. This collaborative approach is critical for outlining next steps and needed actions to bring together all the stakeholders necessary to solve local water quality problems. Local volunteers share their on-the-ground knowledge and experience, while Surfrider staff offer professional expertise built upon the shared experience of our national network as well as government, academic, and conservation partners. To best present the chapter's data and illustrate the long-term water quality trends they are concerned about, it was decided that the chapter would release a BWTF water quality report detailing their findings over the last ten years. Utilizing a template developed for chapter BWTF annual reports through collaboration between staff and chapters in New York and Hawai'i, the San Luis Obispo 10-year water quality report illustrates just how serious the water quality woes in San Luis Obispo are. Ten years worth of data show that 72% of samples collected from an upper SLO Creek sampling site exceeded state health standards. In 2022 alone, 85% of samples taken at this site exceeded the state standard of 104 CFU/100mL. When the chapter presented the report to local officials in their meeting, the response was very positive. The San Luis Obispo Chapter's BWTF Coordinator, Niel Dilworth reflected that "everyone in the room went quiet as they were looking over our results!"

After meeting with officials, the chapter is now taking their advocacy a step further by conducting some initial DNA tests to provide more information on potential sources of pollution. This will hopefully convince local authorities to conduct a full source tracking study in the watershed. Moving forward, the chapter plans on creating an annual report each year to update officials and the public on their water quality data.
To view the San Luis Obispo Chapter's 10-year report, click here. To keep up to date with the chapter's BWTF water quality results, check out the BWTF online map.