Rise Above Plastics
Rise Above Plastics is designed to eliminate the impacts of plastics in the marine environment by raising awareness about the dangers of plastic pollution and by advocating for a reduction of single-use plastics and the recycling of all plastics.
Plastic Pollution
Most plastic pollution at sea starts out on land as litter on beaches, streets and sidewalks. Rain or overwatering flushes that litter through a storm drain system or directly to creeks, streams and rivers that lead to the ocean. After plastics enter the marine environment they slowly photodegrade into smaller pieces that marine life can mistake for food, sometimes with fatal results. Ocean gyres concentrate plastic pollution in five main areas of the world's ocean and various research groups are bringing back alarming data documenting plastics impacts.
Simple local actions can help make an impact to solve this global issue. Join us in protecting the coast and Rise Above Plastics! Check out the resources on this page, then get involved with your local Surfrider Foundation Chapter to help protect the coasts and oceans.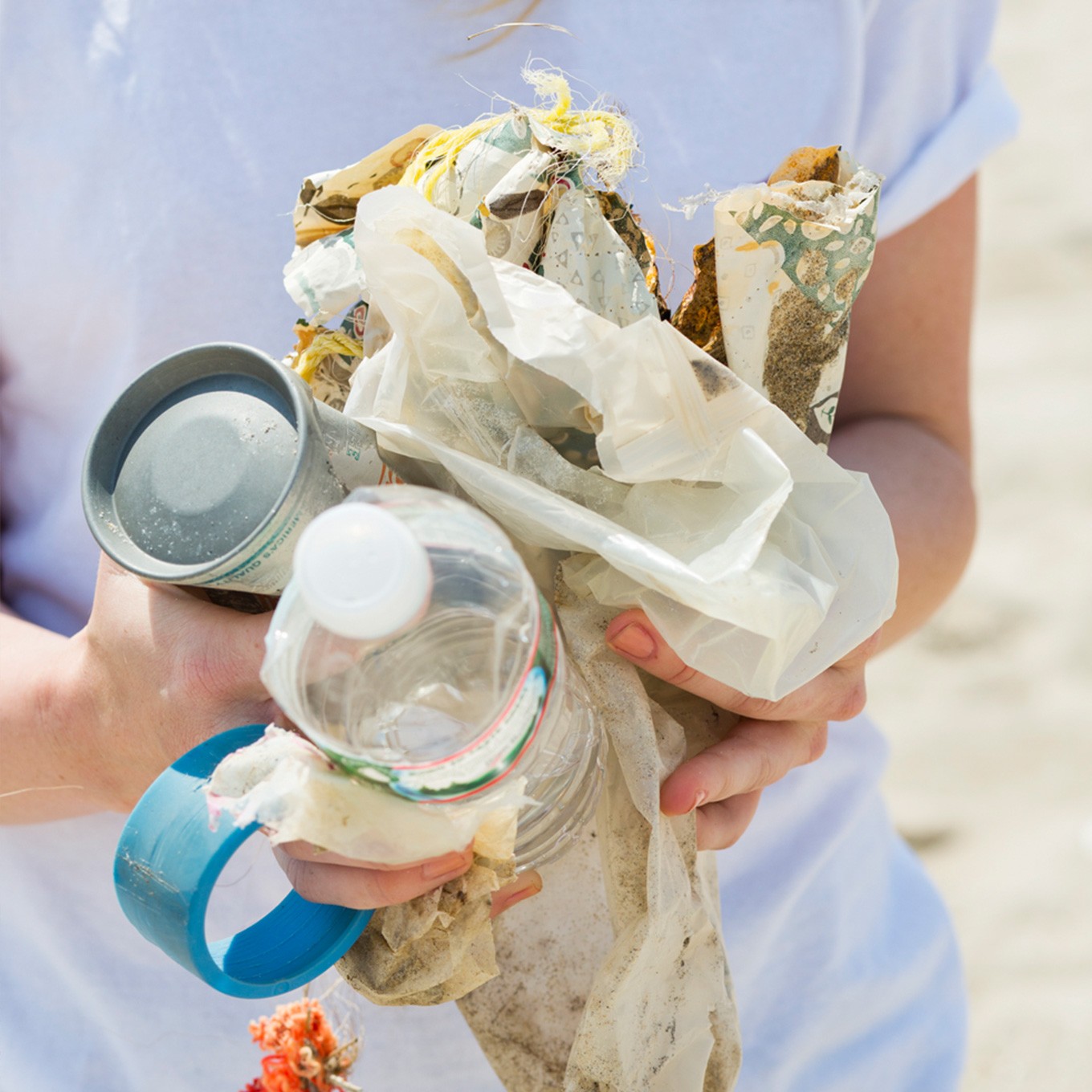 Plastic Is All Around Us
It's in our homes, our offices, our vehicles, our yards, our playgrounds. We make and use it to package food, bottle products, bag produce, dinnerware and utensils, toys….
Plastics have undoubtedly helped us to manufacture, package and ship goods more easily, for less money, and in some cases more safely than ever before.
But, plastics pose a significant threat to our planet as well.
Part of the problem is plastic itself. The very qualities that make it an adaptable and durable product to use, also make plastic an environmental nightmare. You see, plastics do not biodegrade. Instead they photodegrade - breaking down under exposure to the sun's ultraviolet rays, into smaller and smaller pieces.
Bottom line: with the exception of the small amount that has been incinerated, virtually every piece of plastic that was ever made still exists in some shape or form.
Program Mission And Goals
Our mission is to reduce the impacts of plastics in the marine environment by raising awareness about the dangers of plastic pollution and by advocating for a reduction of single-use plastics and the recycling of all plastics.
We encourage YOU to help address these global issues locally with plastic reductions at home, school, work, and for your entire community:
Connect with Rise Above Plastics by attending a Surfrider Foundation Chapter meeting.

Get involved with your local chapter and/or spread the word to friends and family about the problems with plastics.

Be a leader and have the biggest impact by directing a plastic reduction program at school/work or a plastic reduction ordinance with your local city council.
Check out our toolkits under the Resources section for detailed tips and ideas.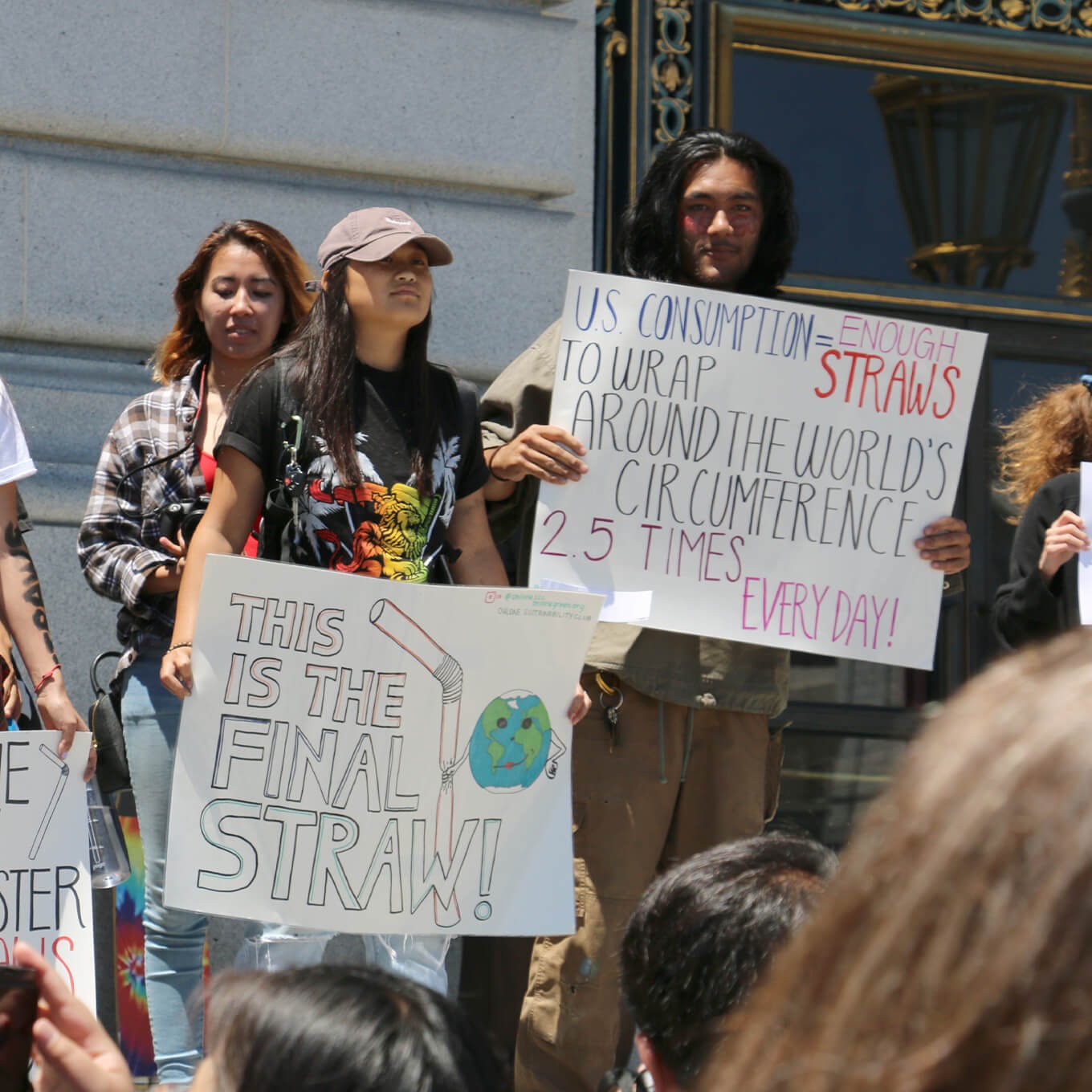 10 Quick Tips To Reduce Your Plastic Footprint
Choose to reuse when it comes to shopping bags and bottled water. Cloth bags and metal or glass reusable bottles are available locally at great prices.

Refuse single-serving packaging, excess packaging, straws and other 'disposable' plastics. Carry reusable utensils in your purse, backpack or car to use at bbq's, potlucks or take-out restaurants.

Reduce everyday plastics such as sandwich bags and juice cartons by replacing them with a reusable lunch bag/box that includes a thermos.

Bring your to-go mug with you to the coffee shop, smoothie shop or restaurants that let you use them. A great way to reduce lids, plastic cups and/or plastic-lined cups.

Hungry? Support an Ocean Friendly Restaurant! Find an OFR near you.
Seek out alternatives to the plastic items that you rely on.

Recycle. If you must use plastic, try to choose #1 (PETE) or #2 (HDPE), which are the most commonly recycled plastics. Avoid plastic bags and polystyrene foam as both typically have very low recycling rates.

Volunteer at a beach cleanup. Surfrider Foundation Chapters often hold cleanups monthly or more frequently.

Support plastic bag bans, polystyrene foam bans, and bottle recycling bills.

Spread the word. Talk to your family and friends about why it is important to Rise Above Plastics!
Find more tips on how to make your home ocean-friendly and learn about other sneaky sources of plastic!
Comprehensive Foodware Policy Toolkit (2020)
After over a decade of successfully advocating for and passing plastic policies such as bag, straw, and styrofoam bans, the Comprehensive Foodware Policy Toolkit focuses on the next generation of foodware bills that address plastic pollution in a more holistic and innovative manner. Foodware makes up a large proportion of solid waste and litter, and we see comprehensive foodware laws as the next step in making a larger impact.
Plastic Bag Law Activist Toolkit (2019) and Addendum (2020)
This toolkit is a supplement to Surfrider's Rise Above Plastics Activist Toolkit, which gives an overview of the problems of single-use plastics and outlines plastics reduction laws. It provides a comprehensive look at the harms of plastic carryout bags, recommended ordinance structures, important clauses to include, effectiveness data, how to spearhead a community movement, and the threat of preemption.
The Addendum expands upon the How Should "Reusable Bag" be Defined? section of the Plastic Bag Law Activist Toolkit. This definition is especially important if there is no fee mandated for reusable bags because it sets a minimum standard for bags that can be given away for free at checkout.
Plastic Straws Activist Toolkit (2018)
This toolkit was created to provide resources, strategies, and examples for Surfrider chapters and clubs to start or move forward with a straw program in their community. In this guide, you will find a process to achieve straw reduction goals that is based on the work that many chapters have started to carry out across the country.
Rise Above Plastics Activist Toolkit
Help reduce plastic waste in your community with the Rise Above Plastics Activist Toolkit! This is a step by step guide to creating positive change in your community through reducing single-use plastics. The RAP Toolkit is focused on establishing a plastic bag ban or similar ordinance and it also offers insight on increasing awareness of plastic pollution issues through education and outreach. Click here for the E-mag version.
Statewide Preemption
There is a trend happening in the United States that halts local ordinances to address plastic pollution through a mechanism called "preemption", which is effectively when the state government takes the power to regulate on a certain area away from the local municipalities. Over 10 states have already preempted local regulation of single-use bags and/or expanded polystyrene foam and other plastic pollution. However, there are ways to defend local rule and the right to a cleaner community. Find out more here.
RAP Facts
See even more Plastic Pollution Facts & Figures here.
Ocean Friendly Restaurants
Surfrider Foundation's Ocean Friendly Restaurants program recognizes restaurants that employ practices friendly to our ocean and coasts. It offers restaurants an easy way to show their commitment to making sustainable choices for our ocean. A main goal is eliminating EPS foam foodware (aka Styrofoam) because it is a top item found at our beach cleanups. There are other types of pollution and issues that restaurants can help with so we added criteria such as conserving water and serving responsible food. One restaurant, one customer at a time, it increases awareness, drives behavior change, and ultimately creates scalable impact to reduce our plastic footprint. To learn more please visit our Ocean Friendly Restaurants website.
Beach Cleanups
Surfrider Foundation's Beach Cleanup program provides a fun and easy way to volunteer and engage with our mission to protect our ocean, waves and beaches. Volunteers of all ages, community groups, tourists, clubs, local and corporate businesses and elected officials around the country contribute to the success of this program and are essential to keep our beaches and coastline clean. When volunteers inform Surfrider about the trash picked up during their cleanup, they are contributing to plastic pollution research and helping to influence legislation. Check out our beach cleanup results and 2019 Beach Clean Up Report to learn more!
COVID-19 Resources
The COVID-19 pandemic has impacted many facets of our lives. It's important to remember that reusables are safe when proper precautions are taken. We've been promoting and providing guidance to our Ocean Friendly Restaurants during this difficult time and shedding light on the plastic industry's ploy in promoting single-use plastics:
Hold On To Your Butt
Surfrider Foundation's Hold On To Your Butt program aims to raise awareness about the environmental impact of cigarette butt litter on our ocean, waves and beaches, and to help eliminate cigarette butt litter at the beach and in the ocean. Cigarette butts account for approximately one in every five items collected during beach cleanups. Often littered on our sidewalks and streets, they end up in our storm drains, flowing to our streams, rivers, bays, lagoons and ultimately the ocean. To learn more please visit our Beachapedia page.
RAP on the Web
Rise Above Plastics (RAP) likes to stay connected with our supporters as much as possible and we welcome your feedback and ideas. Here are some of the main places you can find more info and stay connected:
Learn more about Rise Above Plastics on the Coastal Blog and Beachapedia.
Check out Surfrider Foundation 'RAP' Campaigns across the county here (click on Plastics Pollution campaigns).
Visit the Surfrider Foundation Store for reusable bottles and more!

Partners
Algalita Marine Research Foundation
Citizens Campaign for the Environment
Global Alliance for Incinerator Alternatives - GAIA
Save The Bay - The Bay vs. The Bag
*The Surfrider Foundation is a member of the global Break Free From Plastic movement and the Clean Seas Coalition.
For more information or questions:
Rachael Coccia, Plastic Pollution Manager
Surfrider's Plastic Pollution Initiative and Rise Above Plastics program is supported by our partners
Ways To Get Involved
Volunteer
Join our network and help us tackle the issues that face our ocean, waves and beaches.
Donate
Support Surfrider and our network of coastal defenders.
Take Action
Take action right from your computer by contacting your elected officials.