04 • 13 • 2022
Activist Spotlight: Don & Tracey Fujiyama with the Oʻahu Chapter
Meet Don & Tracey Fujiyama with the O'ahu Chapter
Don and Tracey have been volunteering with the O'ahu Chapter for nearly 10 years, helping out with beach cleanups and leading surf lessons. With many volunteer opportunities shelved during the COVID-19 pandemic, they've been really happy to be able to contribute to the Blue Water Task Force by collecting water samples and contributing to better information about where it's safe to swim, surf and play in the water on Oahu.
What is your current role with the Surfrider Foundation?
Tracey: Every other week we collect water samples from Magic island Canoe Launch and Magic Island Bowls in O'ahu. While we are there, we do a beach cleanup.
Don: We collect samples to be tested for Enterococcus bacteria that can show high levels sometimes after heavy rains.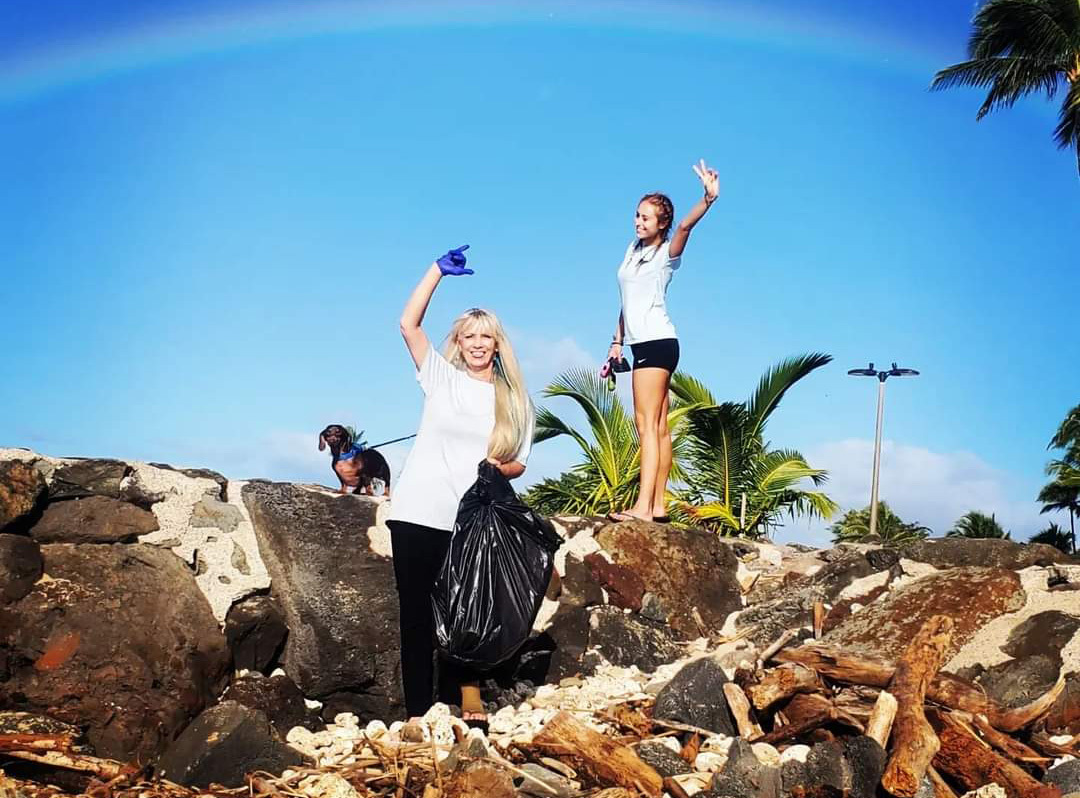 Why and when did you get involved with the Surfrider Foundation?
Tracey: We love the ocean, so we went to a monthly Surfrider meeting about six years ago.
Don: We heard they did water sampling and as I had contracted a staph infection at my job as a surfing instructor at Waikiki, I wanted to learn more.
What are some environmental issues that are affecting your local community?
Overcrowding.
What Surfrider projects have you worked on?
Blue Water Task Force. Dan Amato and Martina Duran got us started and trained in how to take samples and fill out the data sheets that ask for: location, time, date, weather conditions, wind speed and direction, water and air temperature, tide and wave heights and latitude/ longitude.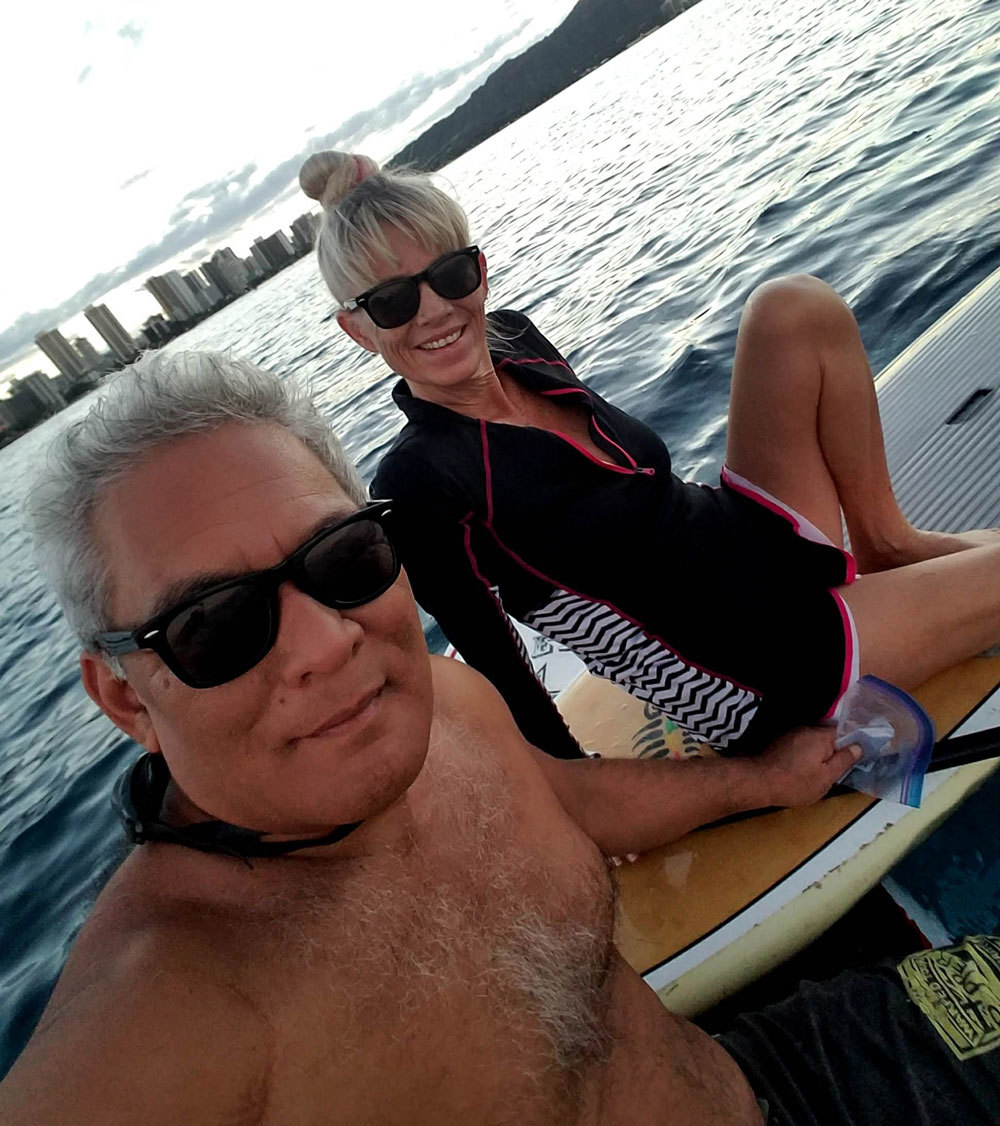 Are there any specific projects that you have worked on which benefited your community?
We used to do free surf lessons on the first Sunday of every month. Everyone picked up trash on the beach first, then we took everyone surfing for an hour. During the pandemic, the beach was usually clean because there were less people here. We still took a bunch of kids surfing though. We'd like to start it up again in 2022.
Can you guess what I find most floating in the water? Surgical masks! It used to be plastic straws, but thanks to Stuart Coleman and Surfrider's team efforts to recognize a lot of Ocean Friendly Restaurants that have switched to paper straws, we've seen a shift. The plastic bag ban that was enacted was also a huge victory. ✌️
What do you think we need to have an even bigger impact?
We need more people to engage their community to Malama Honua, care for the earth, from Mauka (the mountain) to Makai (the sea). We have a responsibility in Hawaii. Its called Kuleana. If we don't engage, who will? We really can and should do better to protect our land and sea.
Do you have any personal experiences or campaigns/issues that you're passionate about where the social justice and environmental movements have intersected? If so, can you tell us about them??
YEAH! Clean drinking water and our absolute responsibility (Kuleana) to protect our drinking water. The U.S. Navy needs to address the horrible pollution problem at Red Hill and protect their soldiers and their families. STAT!
Late last year, a 14,000 gallon spill from underground tanks used by the Navy to store fuel contaminated the drinking water of nearby military housing. To make matters worse, in December 2021, this contaminated water was released into our storm drain system, which illegally polluted our downstream, coastal waters of Oahu with toxic fuel. We're now calling on the Honolulu City Council to pass Bill 48 to decommission the Navy's Red Hill fuel tanks. Join us and say something to stand up for clean drinking water. Everyone! Ka Wai Ola! Water is Life!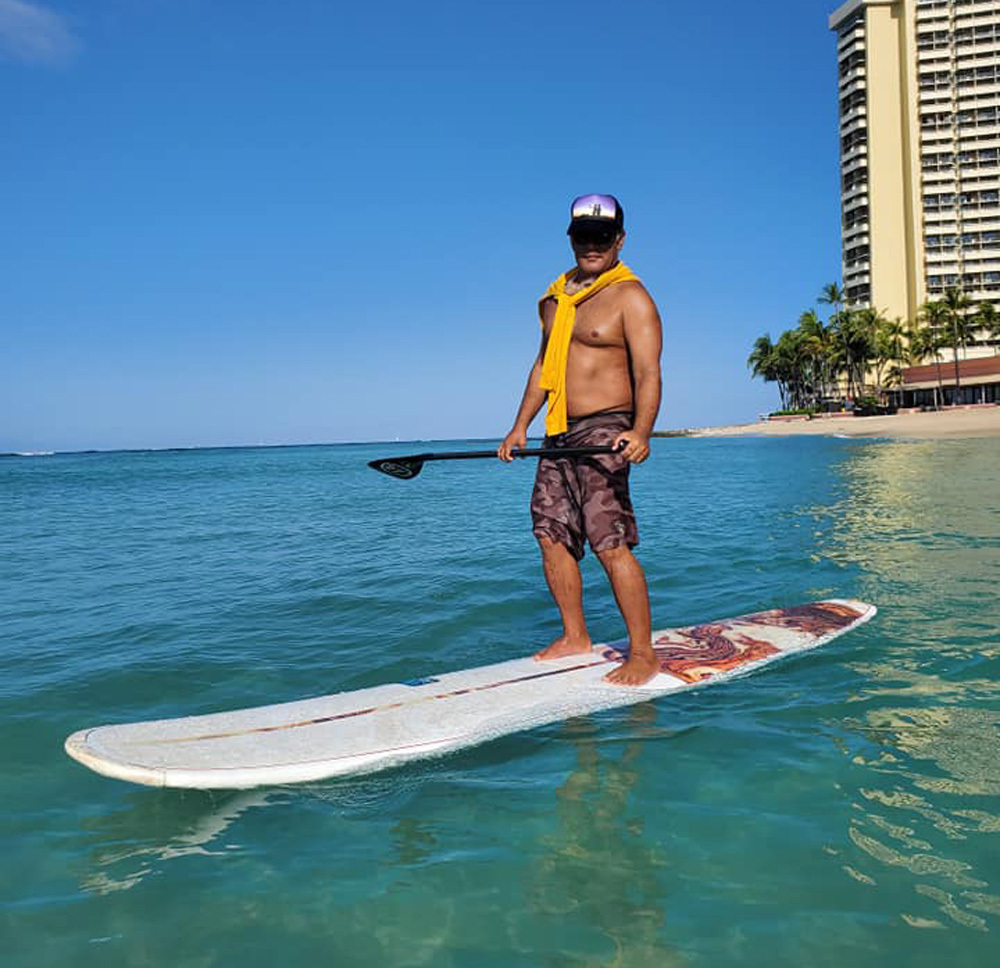 What can Surfrider do to foster an inclusive and welcoming experience? Do you have any examples from your experience where this is successfully happening?
Yes, there are a lot of great volunteer opportunities with the Blue Water Task Force and the Ocean Friendly Gardens project that Surfrider Foundation O'ahu Chapter is developing in Kaka'ako. This garden has transformed almost an acre of commercial property into a thriving and productive community garden. It's also a great place for the families in this densely developed urban area to connect with the land, or aina.
What is the most important thing you tell others about Surfrider?
JOIN ... JUMP IN… AND BE THE CHANGE YOU WANT TO SEE IN THE WORLD. Malama Honua. Once a month, once a week, once a day. Every little bit helps.
Why is being a part of the Surfrider ocean conservation community important to you?
Because the Surfrider Foundation is necessary to protect our vital environment. If not us, who will?
Anything else?
Tracey: Yeah, Love each other.
Don: Spread Da Aloha!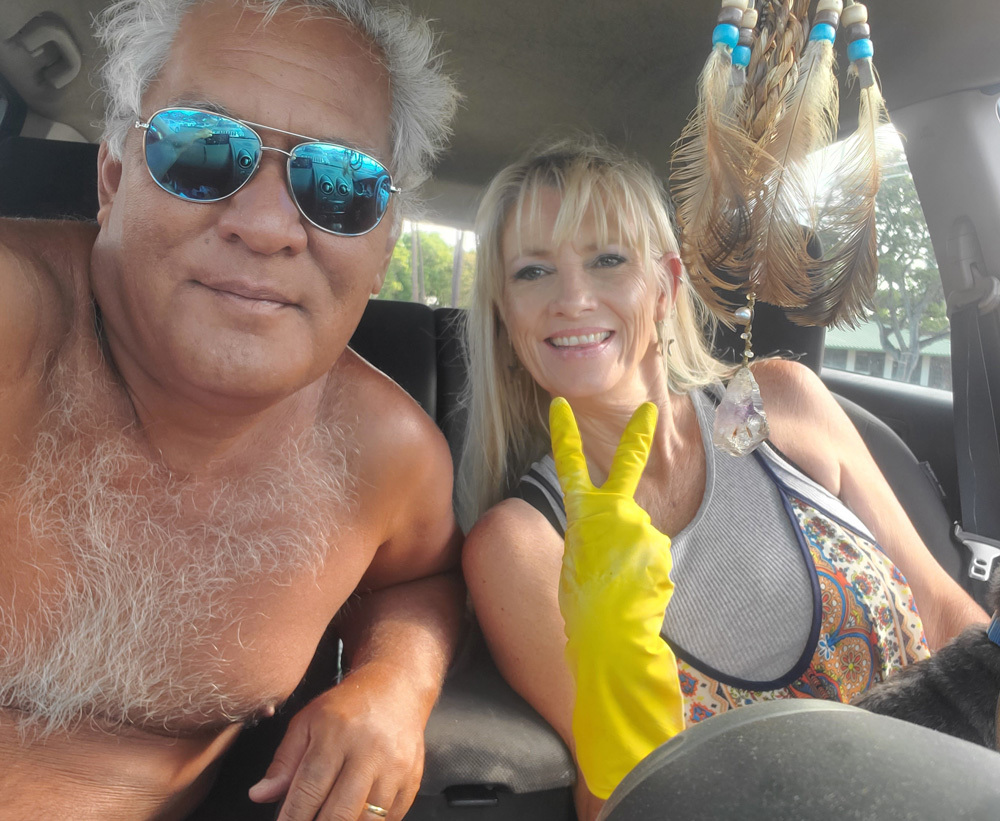 Watch this new film featuring Don and other volunteers in Florida and Hawai'i as they work to protect clean water and stop sewage pollution.