04 • 07 • 2021
Activist Spotlight: Laura Cruz with the Rincón Blue Water Task Force
Meet Laura Cruz, a volunteer with Surfrider Rincón. Laura plugged into the Rincón Chapter during her graduate studies to become a veterinarian, and since has gotten involved with the Blue Water Task Force Program, which is one of the largest water quality monitoring programs in Puerto Rico. Learn more about Laura's experience with the Rincon BWTF and why being involved in the Surfrider Foundation is important to her!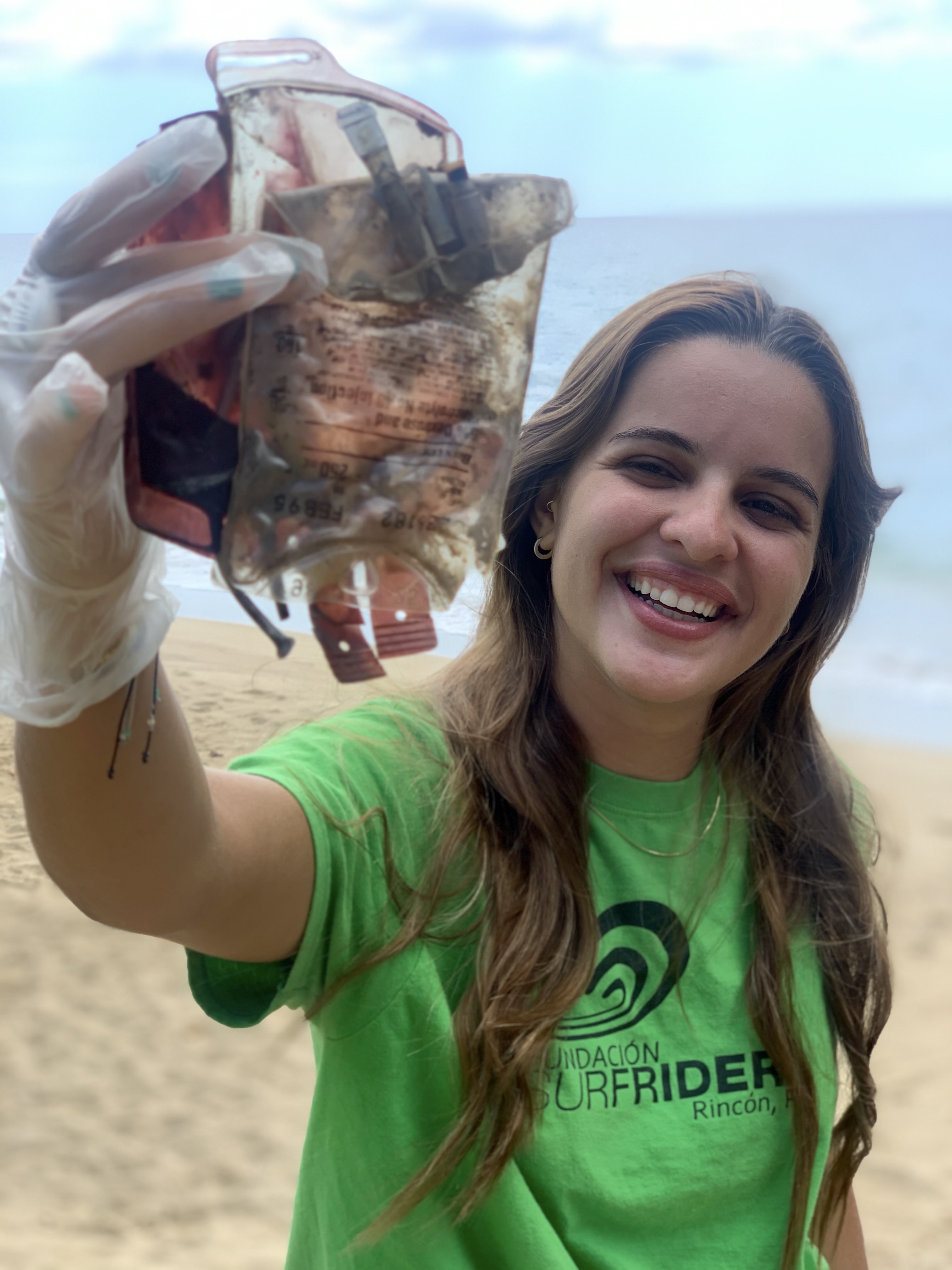 How has your relationship to the ocean and coast shaped your life?
English: When I developed a closer relationship with the ocean, it defined what I would do for the rest of my life, which is to study and care for it. It's incredible how, throughout our daily life, each decision we make can affect our marine ecosystem. Therefore, I've learned to understand better that it's never too late to unlearn habits and live consciously, contributing your grain of sand for protecting this global resource.
Español: Al desarrollar una relación más cercana con el mar, comencé a definifir lo que haría profesionalmente por el resto de mi vida: estudiar y cuidarlo. Es increíble cómo, a lo largo de nuestra vida diaria, cada decisión que tomamos puede afectar nuestro ecosistema marino. Por esto, he aprendido a entender mejor que nunca es tarde para desaprender hábitos y vivir conscientemente, aportando tu granito de arena para proteger este recurso global.
Tell us about your community and what you love most about it.
English: I currently live in Cabo Rojo, but Rincón is where I do my volunteer work with the Surfrider Team. With this said, Rincón is a unique community filled with locals, travelers, and snowbirds. The people here believe in the concept of community and unity in everything they do. What I love most about this eccentric town is how people let the ocean shape their way of living. The community's dedication to ending plastic pollution is inspiring, but we still have a long way to go.
Español: Actualmente vivo en Cabo Rojo, pero Rincón es donde hago mi trabajo voluntario con el equipo de Surfrider. Dicho esto, Rincón es una comunidad única llena de lugareños, viajeros y "snowbirds". Aquí las personas creen en el concepto de comunidad y unidad en todo lo que hacen. Lo que más me gusta de esta excéntrica ciudad es cómo las personas dejan que el océano dé forma a su vida. La dedicación de la comunidad para acabar con la contaminación plástica es inspiradora, pero aún nos queda un largo camino por recorrer.
Why did you get involved in the Rincon Blue Water Task Force program? What water quality issues affect your community?
English Translation: I became involved with Surfrider Foundation in the summer of 2020 after attending a Summer Field Course led by the Isla Mar Research Expedition Team. Initially, I contacted the Rincón Surfrider Foundation Chapter to help the community and ocean environment in innovative ways. Since I'm an Animal Science/ Pre-Veterinary graduate, I got involved with the project documenting medical waste debris affecting the shores of Añasco. I advised on the laboratory items and the associated discarded lab supply containers that continue to be found there. After that, I somehow got involved with the BWTF and developed an interest in water quality, starting that particular journey.
At first, I sincerely had a naive point of view regarding water quality issues on our Island. Like most people, I had just assumed that the agencies and government departments were doing an adequate job of monitoring and protecting our water systems, whether for potable water, sewage infrastructure, or environmental water quality. In a time where pollution and global temperatures continue to rise, ever-changing the ocean environment, Hurricane María hit Puerto Rico and showed us this was not true. It was highly eye-opening to start working with the BWTF and discovering how systemic most of the problems were on a local, regional, and island-wide scale. At the same time, it has been an inspiring journey to learn how communities can take on some of those tasks and work towards correcting them in an efficient and resilient way. Working with the team has taught me so many things, but most importantly, protecting public health is integral to safeguarding environmental health, no matter where you are on this planet.
Español: Me involucré con la Fundación Surfrider en el verano de 2020 después de asistir a un Curso de Campo de Verano dirigido por el equipo de Isla Mar Research Expedition. Inicialmente, me comuniqué con el Capítulo de Rincón de la Fundación para ayudar a la comunidad y al medio ambiente de maneras innovadoras. Como soy una estudiante graduada de Ciencia Animal/ Pre-Veterinaria, me involucré en el proyecto que documenta los desechos médicos que afectan las costas de Añasco. Brinde información sobre los artículos de riesgo biológico y los contenedores de suministros de laboratorio desechados asociados, lo cual se siguen encontrando allí. Después de eso, de alguna manera me involucré con la BWTF y desarrollé un interés en la calidad del agua, comenzando esta aventura.
Al principio, sinceramente tenía un punto de vista ingenuo con respecto a los problemas de calidad del agua en nuestra Isla. Como la mayoría de las personas, asumí que las agencias y los departamentos gubernamentales estaban haciendo un trabajo adecuado al monitorear y proteger nuestros sistemas de agua, ya sea para agua potable, infraestructura de alcantarillado o calidad ambiental. Cuando el huracán María arrazó con Puerto Rico, nos mostró que esto no era cierto. Fue muy revelador comenzar a trabajar con la BWTF y descubrir cuán sistémicos eran la mayoría de los problemas a escala local, regional y en toda la Isla. Al mismo tiempo, ha sido sumamente inspirador aprender cómo las comunidades pueden asumir algunas de esas tareas y trabajar para corregirlas de una manera eficiente y resiliente. Trabajar con el equipo me ha enseñado muchas cosas, pero lo más importante es que proteger la salud pública es fundamental para salvaguardar la salud ambiental, sin importar dónde nos encontremos geográficamente.
You spend so much time protecting our coast and ocean; what is your favorite way to enjoy it?
English: I enjoy the typical beach activities, including snorkeling and paddling. I also love to read, chill and listen to good music while waiting for the sunset. It's the simple things (haha)!
Español: Disfruto de las actividades típicas de la playa, como snorkel y remo. También me encanta leer, relajarme y escuchar música mientras espero el atardecer. ¡Son las cosas simples (jaja)!
What has been the highlight of your Surfrider experience thus far?
English: One of the many highlights is to have worked on various projects related to human/coastal interactions, such as trash contamination documentation and monitoring. Along with these projects, it has been an honor to help develop community-based responses to coastal regulatory or legislative issues and learn what goes behind the scenes. I've met so many good people doing incredible work for our oceans.
Español: Uno de los muchos aspectos destacados es haber trabajado en varios proyectos relacionados con las interacciones humano/costeras, como la documentación y el monitoreo de la contaminación de la basura. Junto con estos proyectos, ha sido un honor ayudar a desarrollar respuestas basadas en la comunidad a cuestiones normativas o legislativas costeras y aprender lo que sucede entre bastidores. He conocido a tanta gente buena que hace un trabajo increíble por nuestros océanos.
Why is being involved in the Surfrider Foundation important to you?
English: It's significant for me as a future Marine Biologist to be engaged with Surfrider because they're more than a Foundation but a community. Here is where I have learned to work on different projects towards mitigating pollution effects and the importance of water quality accessibility.
Español: Es importante para mí, como futura bióloga marina, estar comprometida con Surfrider porque son más que una Fundación, sino una comunidad. Aquí es donde he aprendido a trabajar en diferentes proyectos para mitigar los efectos de la contaminación y la importancia de la accesibilidad de la calidad del agua.
What advice do you have for aspiring activists and volunteers?
English: What you do makes a difference. There's no unimportant action, big or small. Get yourself out there; it's worth the while. You'll meet extraordinary and inspiring people along the way.
Español: Lo que haces marca la diferencia. No hay ninguna acción sin importancia, grande o pequeña. Atrévete y actúa; vale la pena el tiempo y la dedicación. Conocerás a personas extraordinarias e inspiradoras en el camino.