05 • 16 • 2022
Activist Spotlight: Risa Bell With The San Diego Chapter
Q: What is your current role with the Surfrider Foundation?
I currently sit on the Executive Committee for the San Diego County Chapter and I am helping out with the Justice, Diversity, Equity and Inclusion (JEDI) committee.
Q: Why and when did you get involved with the Surfrider Foundation?
I got involved with Surfrider in 2018 as a volunteer. I spent a lot of time at the beach and would constantly see trash. I thought to myself, "Why isn't anyone doing anything about this?" I googled "beach cleanup" and came across Surfrider and all of the wonderful work we do. I knew I wanted to be a part of it and make a difference, so three years later, here I am.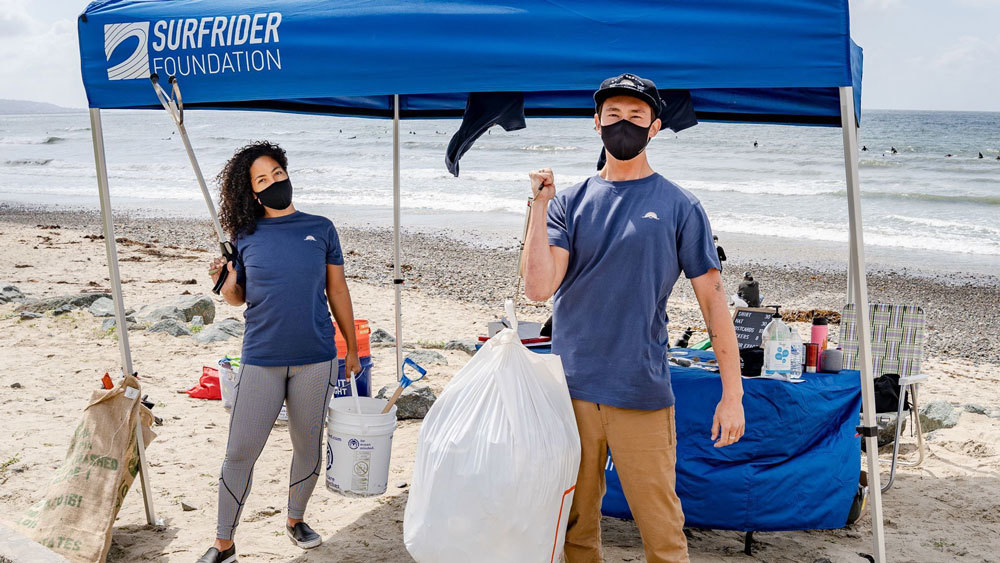 Q: What are some environmental issues that are affecting your local community?
Inner-city pollution that ends up at the beach. We spend so much time cleaning up the beach and surrounding areas with like-minded people. But what most have failed to realize is that a lot of people in the inner cities lack resources to get to the beach to participate or learn. The inner cities are where we need to focus to make a big impact because activist-minded people who grew up with the privilege of access to the coast will seek out ways to participate or further educate themselves on environmental issues whereas other demographics may not want to or care, and for valid reasons. We also fail to realize that a lot of the inner-city trash makes its way to the beach at some point or another, so instead of cleaning it up when it makes its way to the shore, why don't we create a program or work with an existing one to stop it from getting there in the first place?
Q: What Surfrider projects have you worked on?
I've worked on many beach cleanups, some local initiatives for bills and the annual Paddle for Clean Water in San Diego. I have a nonprofit called, Paddle for Peace and I co-hosted an event for International Surfing Day with Surfrider when it fell on June 19.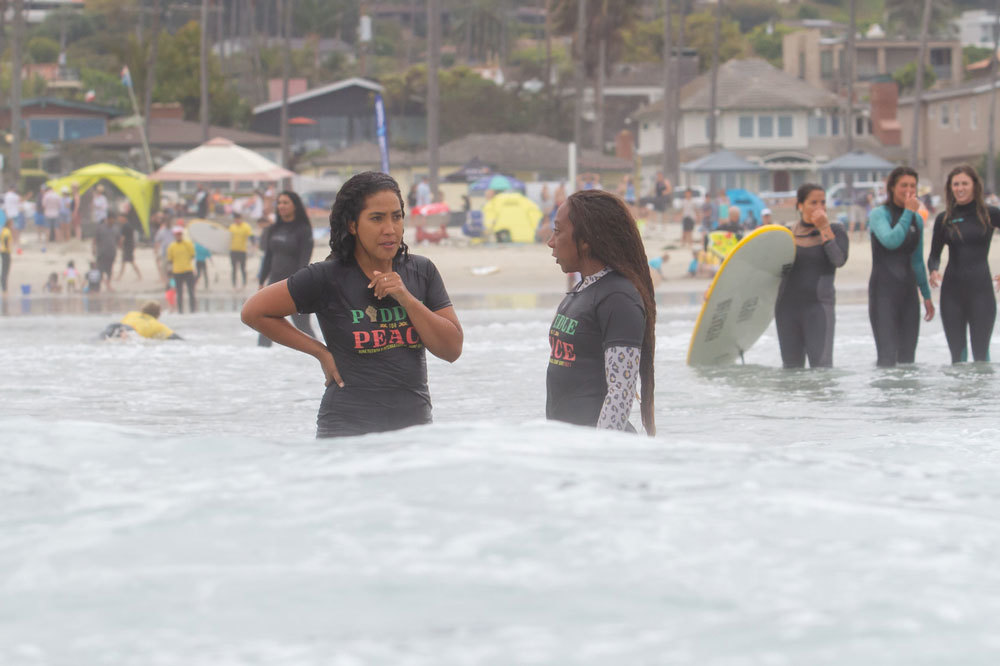 Q: Are there any specific project(s) that you have worked on which benefited your community? If so, can you tell us about that?
I would have to say the Juneteenth and ISD event in 2021. This was an important event for not only the surfing and activist community but also for the BIPOC community as well. It was a day where two organizations with different audiences and participants came together with our resources and talents to provide the community with a meaningful event to celebrate Juneteenth and ISD. The event focused on a beach cleanup, ocean education and surf lessons for BIPOC and underserved members of our community but everyone was welcomed. We ate together, danced together, shared stories and really just bonded as a community. I felt the event set an example of what a community can accomplish when we stick together regardless of race or background.
Q: What has been the highlight of your Surfrider experience (i.e., campaign, program, victory)?
The highlight of my experience would be joining the Executive Committee so that I could learn more about the inner workings of the organization and to have a birds eye view of the organization as a whole and how it runs.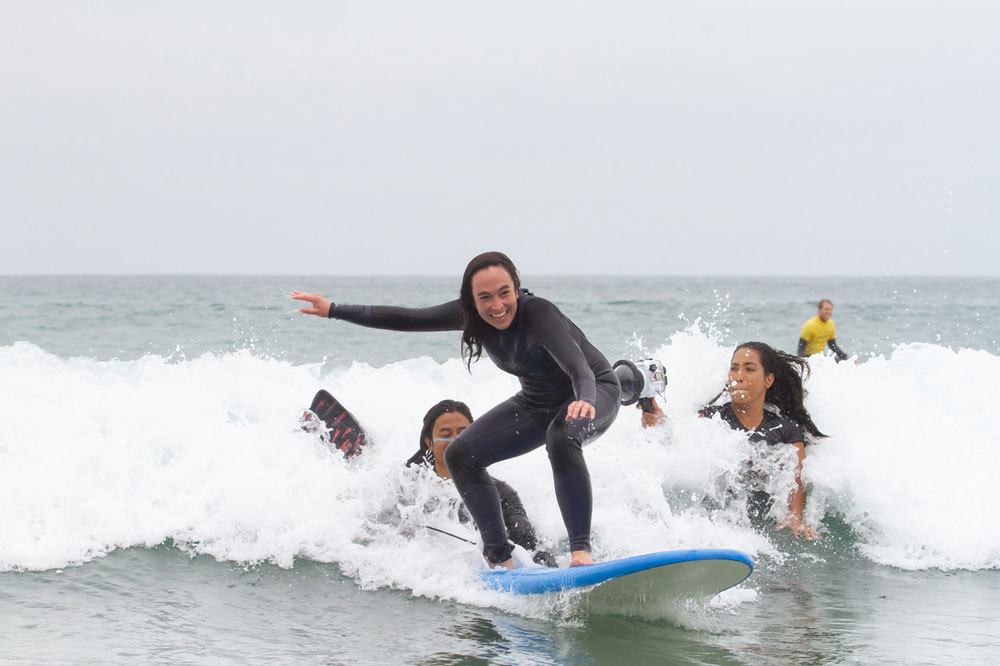 Q: What can Surfrider do (or continue doing) to foster an inclusive and welcoming experience? Do you have any examples from your experience where this is successfully happening?
I think Surfrider has done a great job to foster an inclusive and welcoming environment ever since I have discovered the organization. Most of my experience is with Surfrider San Diego and the chapter has been nothing but inclusive and supportive of different demographics in the community. The surfrider SD County Chapter is really doing the groundwork to be more diverse and inclusive while showing support to other smaller ocean-focused organizations who are made up of BIPOC members which I think is really great.
Q: Have you felt that Surfrider has created a safe/inclusive/welcoming environment? If so, do you have any examples where this successfully happened?
I think Surfrider has done a great job at creating a welcoming environment. I think they are continuing to do so by the JEDI initiatives as well as bringing more people of color and different backgrounds into more prominent roles within the organization as paid staff or volunteers.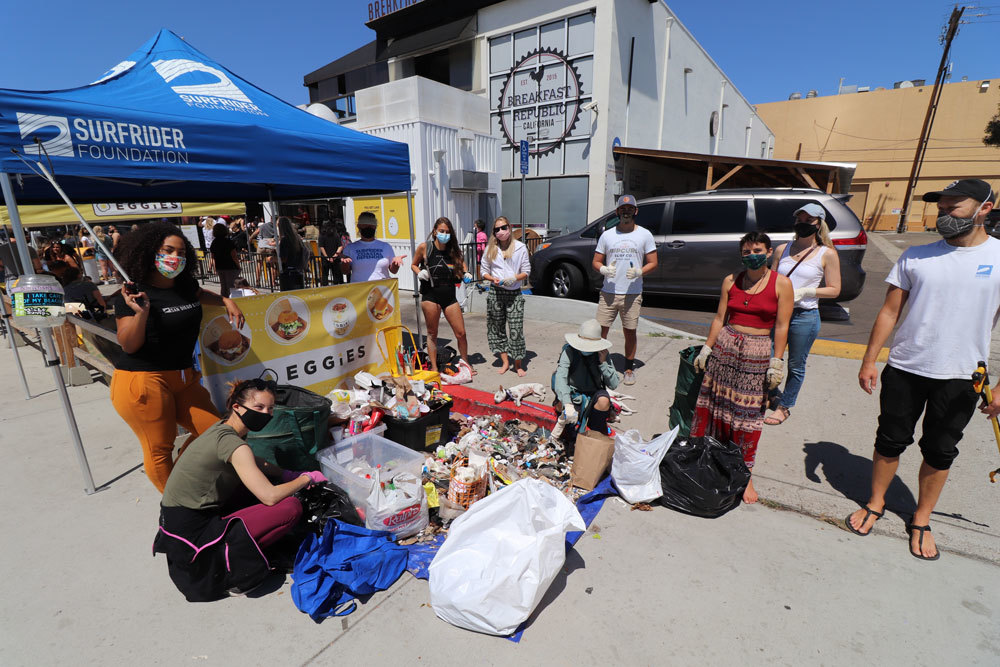 Q: What is the most important thing you tell others about Surfrider?
That Surfrider is an organization not for one, but for all. You truly feel like you're part of a community when you join Surfrider, a community for life, all fighting for the same cause.
Q: Why is being a part of the Surfrider ocean conservation community important to you?
Because the protection of our ocean, waves and beaches are important to me and it is important to Surfrider as well. They have been doing the work for a long time so it's a no-brainer to join the movement and help make a difference.