09 • 10 • 2021
Four Plastic Pollution Bills Pass the California Legislature
The Surfrider Foundation is pleased to celebrate that four significant bills that address plastic pollution have successfully passed the California state legislature and are headed to the Governor's desk. The Surfrider Foundation worked closely with the bill co-sponsors, allies, and coalitions to advocate for this legislation through our chapters and powerful grassroots activist network.These priority bills are SB 343 (truth in labeling for recyclable materials), AB 881 (exporting of mixed plastic waste), AB 1276 (unnecessary foodware accessories), and AB 962 (reusable beverage bottle systems), and are a part of the Circular Economy Package.
SB 343 (Allen), which received bipartisan support, is a historic bill as the nation's strongest law to prevent deceptive recyclable labeling. It aims to help fix the country's broken recycling system and reduce consumer confusion on what can be recycled.
This law expands the existing Truth in Environmental Advertising law that prohibits using the word recyclable on unrecyclable products to include the chasing-arrows symbol or any other suggestion that a material is recyclable. Using the chasing arrow symbol is allowed only on materials that are truly recyclable in most California communities and are routinely sold to manufacturers to make new products. Although SB 343 faced opposition from the plastics, battery, and other product manufacturers, it received support from waste management, waste haulers, environmental organizations, and local governments.
This legislation sets an important precedent for other states and the nation to end deceptive recycling labeling practices. Ultimately, this law will help reduce consumer confusion about which material is suitable for the blue bin, improve the recycling stream and end markets, and decrease taxpayer and municipal government costs.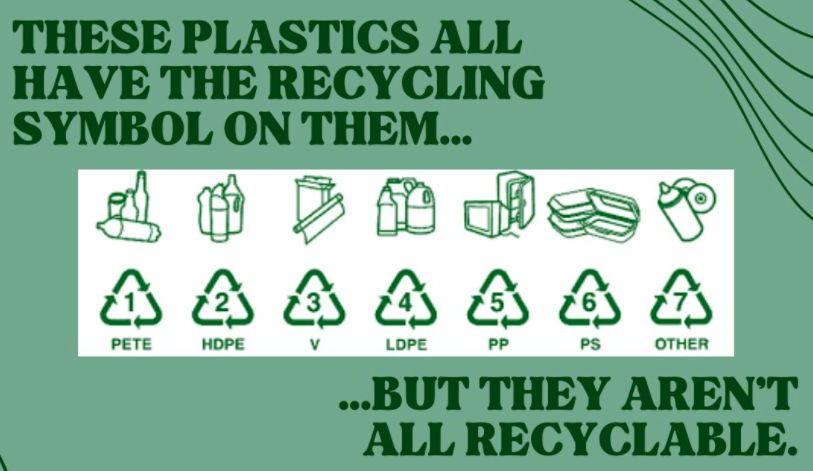 Another precedent-setting legislation that received bipartisan support was AB 881 (Gonzelez). This bill closes the loophole in California law that enables exported mixed plastic waste to be deemed recycled even when it is landfilled, burned, dumped, or otherwise improperly managed. AB 881 reclassifies the export of mixed plastic waste as disposal while allowing truly recyclable plastic to continue to count towards the state's recycling goals. This bill increases transparency in our waste management practices and helps prevent California from simply exporting our environmental problems.
Building off of local successes, AB 1276 (Carillo) expands the straw upon request law to include other single-use food accessories such as plates, cups, utensils, and condiments to be given to consumers only upon request. These policies are common sense solutions. Restaurants save money, consumers avoid getting what they don't want or need, and it helps reduce single-use plastic waste that pollutes our communities, gets incinerated, or goes to the landfill (very little is actually recycled).
Finally, AB 962 (Kamlager) creates returnable bottle systems in California to preserve bottles so that they can be washed and refilled by beverage producers rather than being crushed for recycling. It also allows for returnable bottles to flow through the state's Beverage Container Recycling Program (CRV/Bottle Bill). This bill evens out the playing field between bottle washers and recyclers by paying the same amount. A returnable bottle operation creates new jobs, reduces waste, and is better for our community and environment.
The Governor must now sign or veto these bills by October 10, 2021.
The Surfrider Foundation is excited about these pending victories but our work continues. The Governor must now sign or veto these bills by October 10, 2021. Using this momentum, Surfrider is also advocating to pass the 2022 ballot initiative, the California Recycling and Plastic Pollution Reduction Act. A vote for this initiative will reduce plastic pollution, restore and protect environments harmed by plastic pollution, and increase recycling.
To learn more about these bills go to Surfrider's campaign page and to get involved, visit Surfrider.org.