02 • 03 • 2022
Maine Chapter launches water testing program in January
We are excited to announce that another Blue Water Task Force (BWTF) program has been launched in the Northeast! The Maine Chapter is currently testing one pilot site at Higgins Beach on a monthly basis, while they build their program and recruit more volunteers to cover additional sites. Each month, Chapter volunteers will collect samples and bring them to Katahdin Analytical Services, a lab certified for testing enterococcus, for processing. Since the State only tests during the summer swimming season - Memorial day to Labor day- the Chapter's program will provide valuable water quality information to inform safe ocean recreation during the colder months, when public use remains high.
The Maine BWTF has kicked off their sampling beta-run at Higgins Beach with strong support from staff at the Maine Healthy Beaches Program (MHBP). Earlier this month, MHBP staff trained Chapter volunteers on the State's beach sampling protocol, to ensure the Chapter was following the State's methodology, to help provide a seamless transition between the State's in-season sampling and the Chapter's shoulder season BWTF program. A week later, the Chapter's BWTF volunteers bundled up and hit the beach to collect their first sample. During sampling, a winter surfer emerged from the water, demonstrating the importance of the Chapter's sampling efforts!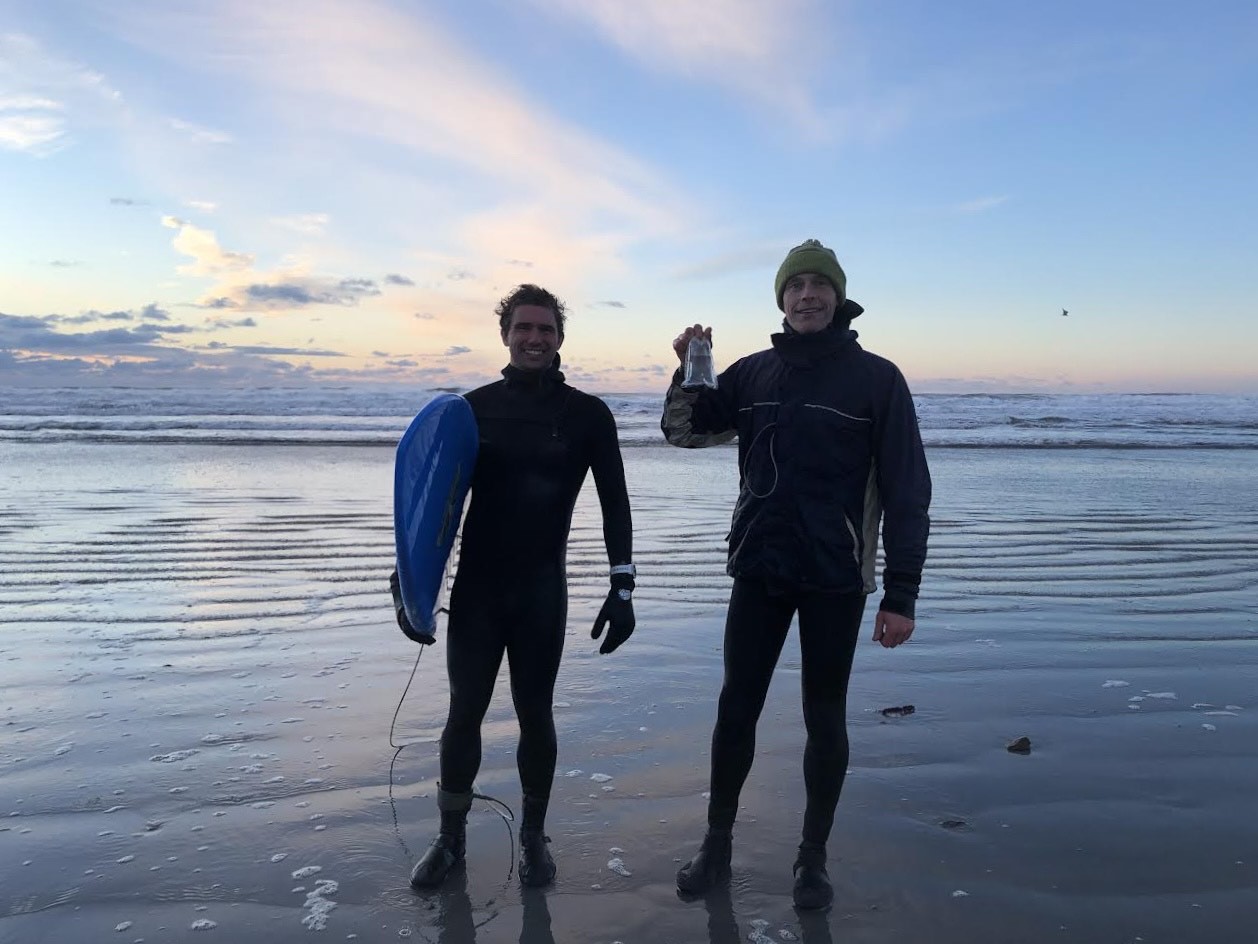 Above: Philip Sands collects the Chapter's first water sample at Higgins Beach in Scarborough, Maine, as a winter surfer emerges from the water. Photo credit: Surfrider Maine volunteer, Tatyana Nossova.
Needless to say, the Maine Chapter is excited to bring the Blue Water Task Force program to their state and take an active role in water quality monitoring. The Maine BWTF is proud to be doing their part to help ensure that people who enjoy the ocean year-round at Higgins will have the information they need to not get sick at the beach, regardless of the season. By establishing a year-round data record, the Maine BWTF can also help identify any new and emerging water quality concerns that might arise at this site, and help inform solutions to protect clean water at this prized beach location. A big shout out to David Moody, who showed up as a passionate new volunteer, and with the Chapter's support, launched this program in the cold of winter! Email David to get involved locally: bwtf@maine.surfrider.org.

To keep up with the Maine BWTF testing sites and results, visit the BWTF online map.