12 • 08 • 2021
Spreading "Moore Aloha" with Carissa Moore and the next generation of surfers
In 2021, after becoming the first Olympic Gold Medalist in women's surfing and winning a historic fifth world title in the sport, Carissa Moore has continued to inspire and ignite the next generation of surfers and coastal stewards through her nonprofit organization, Moore Aloha. Through Moore Aloha, Carissa and her team are dedicated to spreading "Moore Love," by empowering young women to be strong, confident and compassionate individuals. Using surfing as a platform, Moore Aloha programs aim to bring young women together in and around water to share, encourage and inspire each other. This Fall, Surfrider teams in Oceanside, California, and Jacksonville, Florida, joined forces with Carissa and the Moore Aloha team to integrate conservation education and volunteerism into two Moore Aloha events held in tandem with the world's largest annual, bi-coastal women's surfing event, the Super Girl Surf Pro.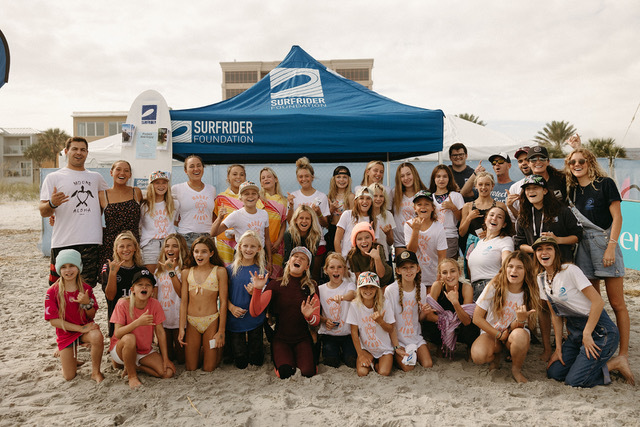 In September, a team from Surfrider including Plastic Pollution Coordinator, Jenny Hart, joined Carissa and the Moore Aloha team to help equip a group of 24 girls aged 10-16 with an understanding of where plastic pollution in our ocean comes from, and how we can all take action to reduce the flow as individuals. "We had an amazing day in Oceanside with the Moore Aloha crew," Jenny said. "Witnessing young female athletes be so excited about protecting the ocean was inspiring. I've never seen a group of people more excited to clean the beach and collect data!"
After a brief discussion about the impacts of plastic pollution and how we can all take small steps to be a part of the solution, the group set out to clean their local beach at the Oceanside Pier, where the West Coast Super Girl Surf Pro was ongoing. Together, the girls removed 5 pounds of waste from the beach in a short while — which is especially significant when we consider the breakdown of litter collected: primarily small and very lightweight fragments of plastic and foam, followed by cigarette butts. Check out more data from the cleanup here!
"It was awesome seeing them learn about plastic pollution, get first hand experience seeing all the trash on the beach, and then use that to feel empowered to make changes in their lives," Jenny said. "Carissa came down to hang with the girls and clean the beach alongside them. Her commitment to protecting our oceans and to providing a space for young girls to learn is incredible and we are so thankful to have been part of such a powerful day!"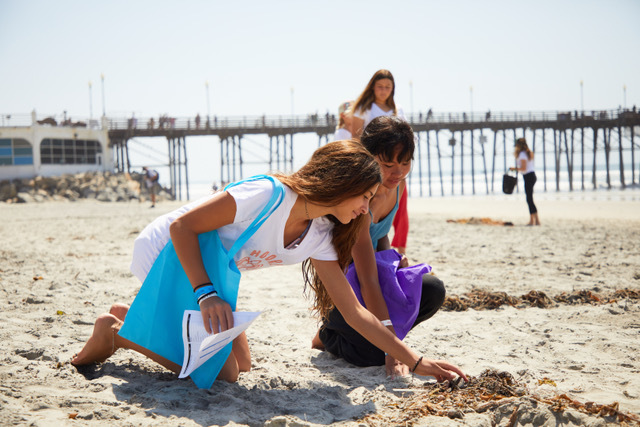 In November, the Surfrider First Coast Chapter joined Carissa, alongside professional surfers Sage Erickson and Caroline Marks, for another day of activities, this time in Jacksonville, Florida at the East Coast Super Girl Surf Pro event. Surfrider Florida Policy Manager, Nicole de Venoge led a beach cleanup and discussion of what it means to be a coastal steward in and out of the water.
"It was an awesome day of radical female empowerment and surfing where Carissa gave back to the community by showing them so much 'Moore Aloha' than we could ever imagine," Nicole said. "The First Coast Surfrider Chapter continued the conversation by hosting a beach clean up and teaching the girls how to be good stewards of our beaches and beautiful ocean that gives us so much. We were honored to be part of such an encouraging and transformative day for young female surfers."
In Jacksonville, the group cleaned up over 53 pounds of trash, including plastic bottles and food wrappers, as well as single-use masks and gloves. See more data from the Jacksonville cleanup here!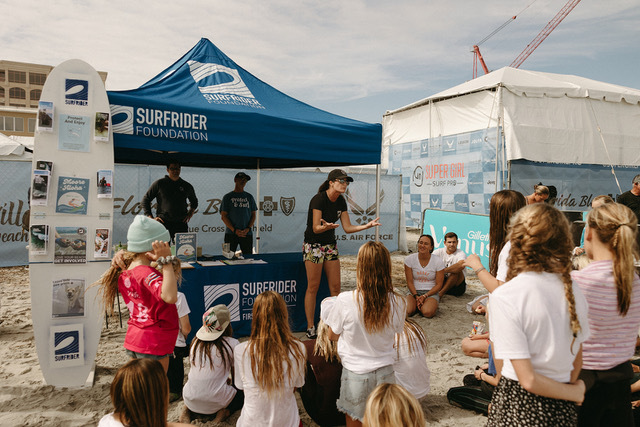 These two cleanups exemplify that whether we remove one pound of trash from our local beaches or twenty pounds, our efforts make an impact! The larger packaging items found in Jacksonville and the small foam fragments found in Oceanside are both harmful pollutants that can threaten the health of our ocean, as well as marine and coastal wildlife. The next time you head out to your favorite beach or surf break, help spread "Moore Aloha" by taking a moment to leave your happy place it a little better than you found it.
Huge thanks to Carissa and the rest of the Moore Aloha crew for all of their work inspiring the next generation of surfers and coastal stewards!
To learn more about Moore Aloha, check out their website here.
Learn about Surfrider events in your community by finding your local chapter here.