The federal government has released a new plan to decommission California's offshore drilling rigs. Making it happen will be another matter.
In October of 2022, the Department of Interior released a draft plan for removing the 23 offshore oil and gas platforms and related pipelines off the California coast. The government's proposal is a key first step toward ending offshore drilling in the state and expelling an industry that has produced two major oil spills in the last seven years. The 2021 Amplify Energy oil spill off Huntington Beach was just the latest reminder that offshore drilling is incompatible with protecting southern California's environment, economy and way of life.
California's offshore drilling rigs were all constructed between 1967 and 1989 and are nearing, or have already reached, the end of their lifespan. In fact, eight oil and gas platforms off California already have terminated leases and no longer produce oil and gas. The other fifteen platforms are still operational but production levels are in decline. The presence of aging oil and gas infrastructure only increases the risks of spills or other accidents, underscoring the need to remove these rigs from California's coastline.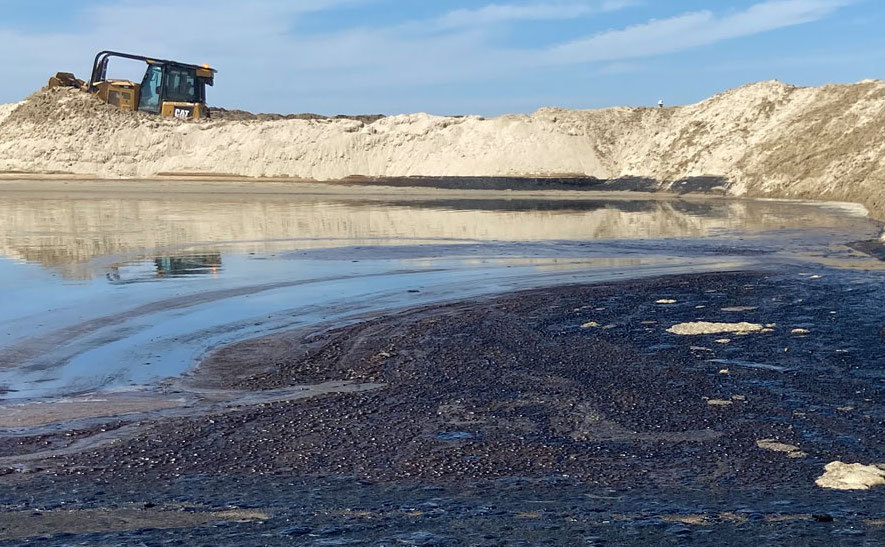 The 2021 Amplify Energy Spill highlighted the risks of aging oil and gas infrastructure
The federal government's draft plan, authored by the Bureau of Safety and Environmental Enforcement (BSEE) analyzes different alternatives for decommissioning California's oil rigs. These alternatives range from requiring the complete dismantling of the offshore oil platforms to options that would allow a portion of the rig to be left underwater contingent on demonstrated ecological value (a concept known informally as "rigs to reef"). Once finalized, the environmental impact statement will guide the removal of individual platforms in accordance with federal, state and local laws.
The Surfrider Foundation supports the timely and comprehensive decommissioning of offshore oil and gas infrastructure off the California coast.
Such decommissioning must be carried by the responsible lease holders in full compliance with all environmental laws and regulations. Surfrider recognizes that California passed a law in 2010 that stipulates that the state may approve partial platform removal if it will "result in a net benefit to the marine environment compared to full removal." All elements of this law must be followed, meaning that a careful scientific review should occur for each proposed project, and potential impacts and issues should be addressed through scientific study.
In response to BSEE's release of the draft decommissioning plan, Surfrider collaborated with the Environmental Defense Center and other partners to submit comments to the agency as part of the public comment period. These comments focus on key issues that must be further addressed in the EIS including: impacts to endangered and threatened species; removal of debris mounds; environmental justice issues; water quality impacts from flushing pipelines; leaking or release of pollutants from corroding pipelines; the legal basis for partial infrastructure removal; and navigational and safety issues with partial removal. To read the full comment letter click here.
Ending offshore drilling in California and beyond will protect our environment, communities and businesses from the ongoing impacts of this damaging industry. Halting oil and gas production is also necessary to reduce greenhouse gas emissions that are driving climate change, and which threaten the future viability of our planet. Please see the resources below and stay tuned for how you can help end offshore drilling in California and beyond!
BOEM Citizen's Guide to Decommissioning