Meet Joy Riley with the Ventura County Chapter
A few years ago, Joy joined the Surfrider Ventura County Chapter as a passionate environmentalist and marine mammal rescuer and rehabilitator. Now, she leads the charge on two important programs in the Chapter to ensure a healthy environment for these marine mammals- the Blue Water Task Force and Respect the Rincon Parkway (RRP). Joy was paramount in getting the Chapter to start up the RRP program, which ensures keeping a 14-mile stretch of coast clean and safe for people and wildlife. When not volunteering, Joy enjoys kayaking (while picking up any trash she sees!), and watching seals and sea lions.
Q: What is your current role with the Surfrider Foundation?
I am the Ventura County Chapter Coordinator for Blue Water Task Force (BWTF) and the Program Lead for Respect the Rincon Parkway (RRP). The Rincon Parkway is a 14-mile stretch of coastal Highway 1- home to three county parks, a state park, beach homes, and oil and agricultural access. RRP is a program unique to our Chapter, which is dedicated to addressing coastal maintenance and resilience issues through beach clean ups, public education on social media, solo and group clean ups, and holding county and state officials accountable for maintenance issues.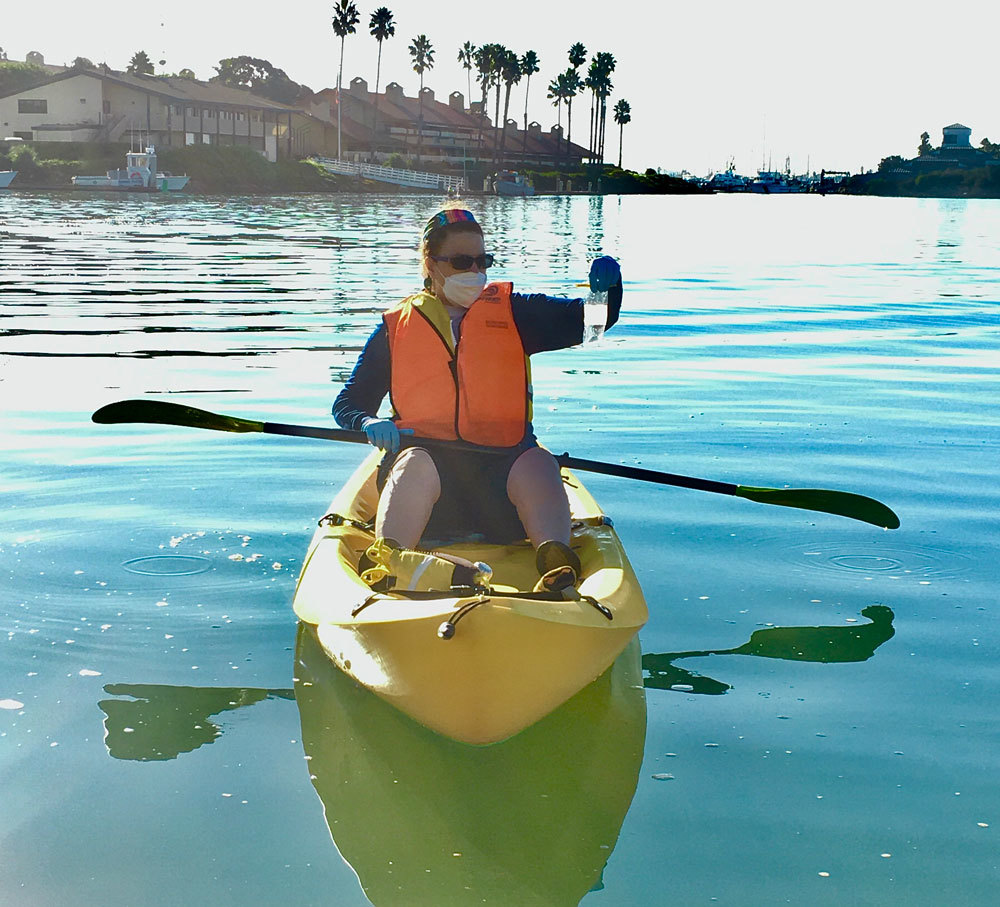 Q: Why and when did you get involved with the Surfrider Foundation?
Starting in 2020, I sampled ocean water with Surfrider's Blue Water Task Force from my kayak in Ventura Harbor. In the Spring of 2017, I first saw two magnificent California sea lions seizure and drown in front of me in Ventura Harbor. I then joined Channel Island Marine and Wildlife Institute as a volunteer to help address the rescue and rehabilitation needs of our local sea mammals. Once I learned that impaired water quality impacting our local California sea lion population in 2017 was a result of harmful algae blooms fed by agricultural fertilizers through heavy storm water run-off, I wanted to advocate for cleaner oceans - both for public health and sea mammal vitality. I joined the BWTF to learn more about what was in the ocean water that I kayak in to observe our local wildlife.
Q: What are some issues that affect water quality in your community?
Ventura County hosts an agricultural, oil, and tourist economy due to our coastal desert environment and ocean floor oil deposits. Our weather is ideal for citrus and avocado growing, and oil well drilling in our hillsides and offshore have had a long history of oil extraction. Our oil drilling is based on an outdated permitting system, which allows for wells to remain uncapped. Like other parts of our state, we face aging water infrastructure, which carries field, freeway, and underground city culvert runoff, along with occasional sewage and oil production runoff directly to the oceans after a major rain.
Q: How is your Chapter responding to those issues?
Ventura County was one of the first Surfrider chapters to start testing ocean water quality back in 1994. Our chapter has also long been an advocate for clean and healthy water, and lobbied our County officials successfully for six years to begin a County year-round water quality testing program. The County now tests 40 sites along our Ventura County coast from April through October, and 19 sites from November through March.
Our Chapter BWTF samples and tests at 9 sites that the County stops testing but are still highly used recreational areas. At one time last season, our County lost their water quality testing license due to a clerical error, and our BWTF was the only water sampling program active in the County for about a month and a half.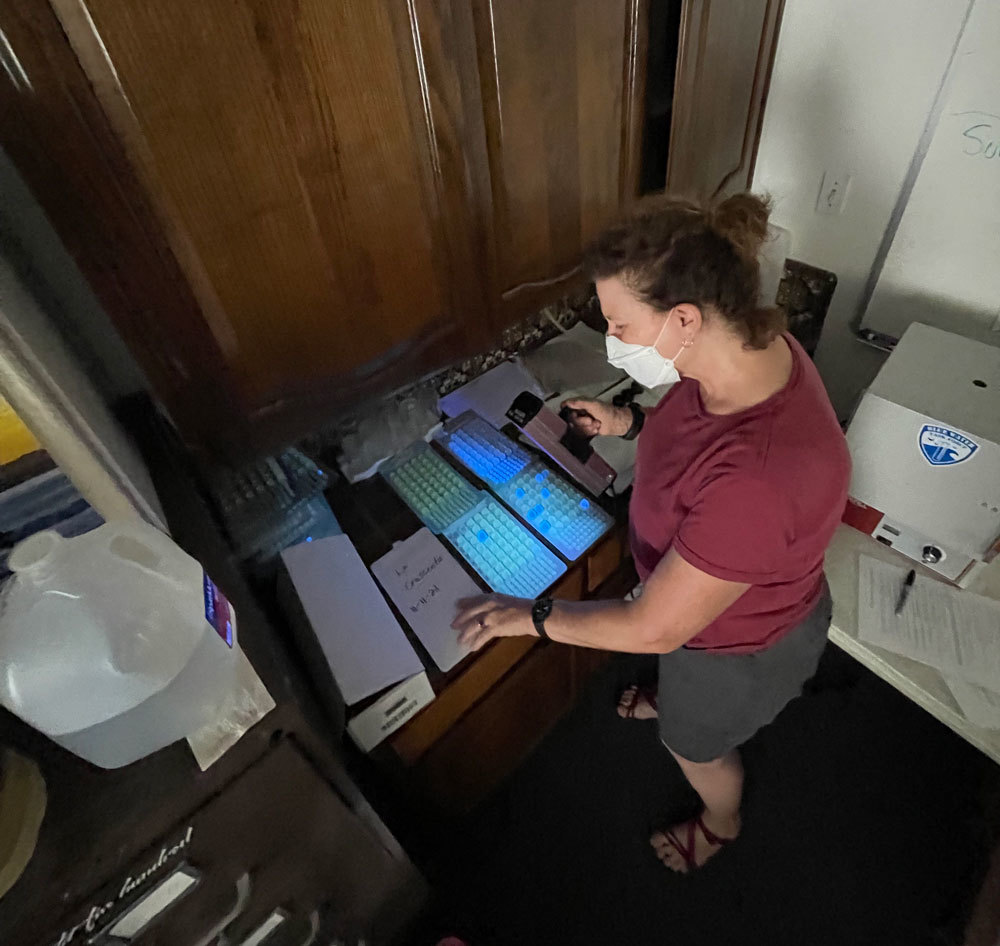 Q: What has been the highlight of your Surfrider experience ?
Teaching beachgoers about water quality issues, and hearing that our data helped protect public health by keeping people out of the water when our water sampling indicated high levels of indicator bacteria at certain beaches.
I am also grateful for our Chapter Executive Committee who supported my vision to address the coastal degradation along a 14-mile stretch of coastal Highway. Our Executive Committee helped me form Respect the Rincon Parkway to advocate for the clean-up of a poorly maintained portion of our coastline which is also known as "The Queen." My major victory was getting the County and Union Pacific Railroad to remove a football field's worth of debris left by homeless encampments, which was blowing and washing up on the beach.
The County also gave us a special permit to install 8 cigarette butt ashcans to address the number one source of pollution in the wildlife corridor. We routinely pick up 150 – 400 cigarette butts a week from the 2.5 miles of the Parkway. Cigarette butt pollution is toxic to marine life.
Q: Why is being a part of the Surfrider ocean conservation community important to you?
I want to help bring awareness to the importance of preserving ocean wildlife corridors for both animal and human well-being, through ocean conservation. We impact our health and our local economies when we disrupt marine ecosystems with pollution and debris, in particular, plastic and cigarette pollution. Last Thursday, I rescued a California sea lion yearling with a deep wound from Sycamore Cove Beach near Malibu. I had to clean up trash around the yearling to rescue it safely. With other ocean stewards, I am able to join other like-minded people of all ages through beach clean ups to address beach litter and other sources of pollution.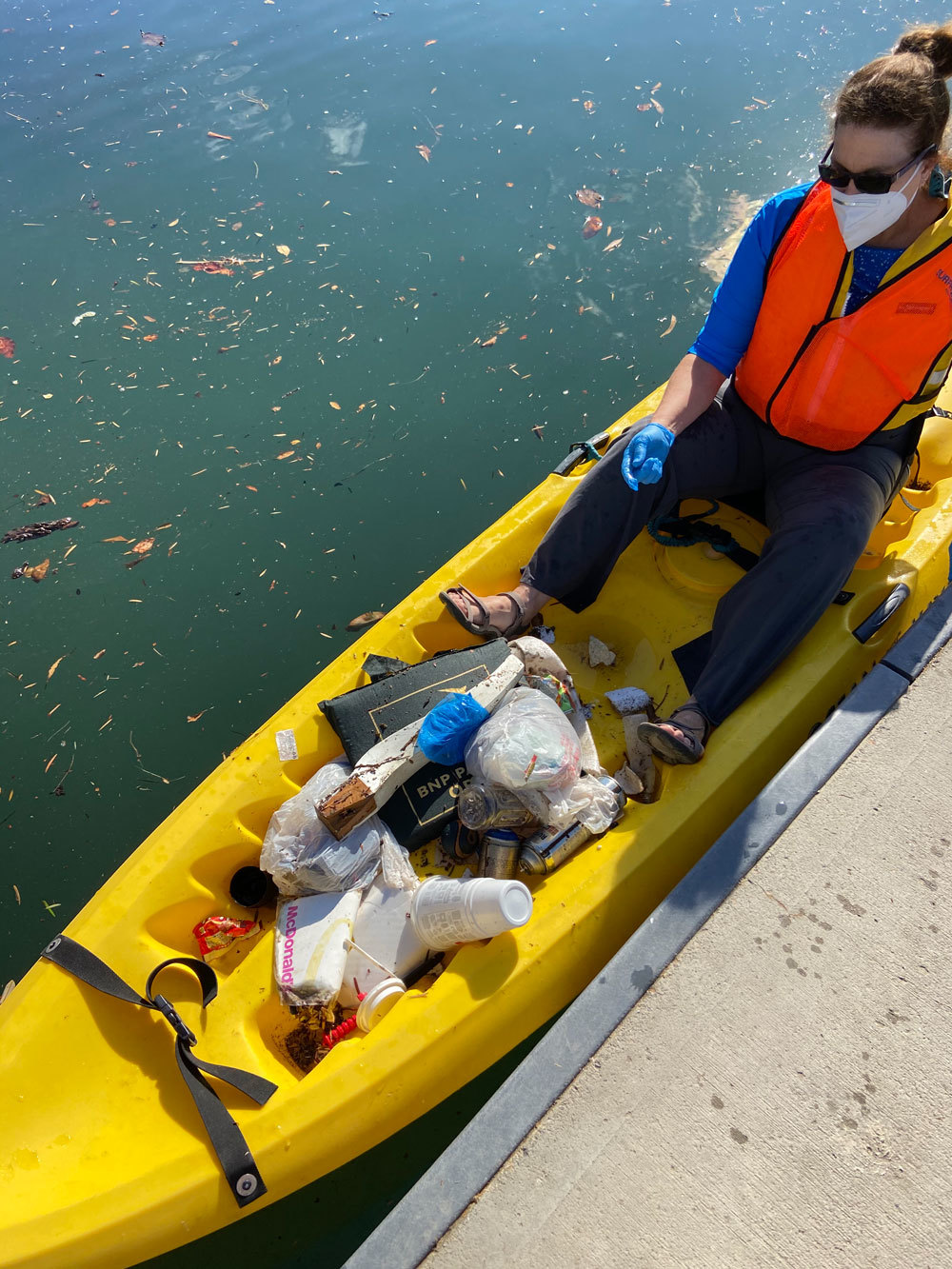 Q: What is the most important thing you tell others about Surfrider?
Surfrider is not just for surfers, although "surf" is in the non-profit's name. There is a place for everyone of every age who desires clean and healthy oceans to maintain the "lungs" of our earth for human health.
Q: Remember when you learned the first safety rule when visiting the ocean?
"Don't turn your back on the ocean."
We need to remember to not turn our back on the ocean as ocean stewards. We need to be effective advocates in the next 8 – 30 years to mitigate our warming oceans, as well as save the residents of the oceans who are under threat.
As oceans warm, fish migrate to deeper, cooler waters, causing young marine mammals to starve, as they are too small to dive deeply to feed. On our coast, California sea lions, in particular, are sentinel mammals, and may serve as effective sentinels for public health problems. Worldwide, however, marine mammals deserve protection from human caused pollution and other stressors that impair their long life spans and our ability to learn from them what toxins lie in our oceans. We save the oceans, we save our quality of life.
Q: Anything else you'd like to add?
Come visit. Ventura County is a gateway to access Channel Islands National Park, "The Gallapegos of the West," where flora and fauna are found nowhere else in the world. Some of North America's biggest sea lion and seal rookeries are found at Santa Cruz Island, Santa Rosa Island, San Miguel and Santa Barbara Island.