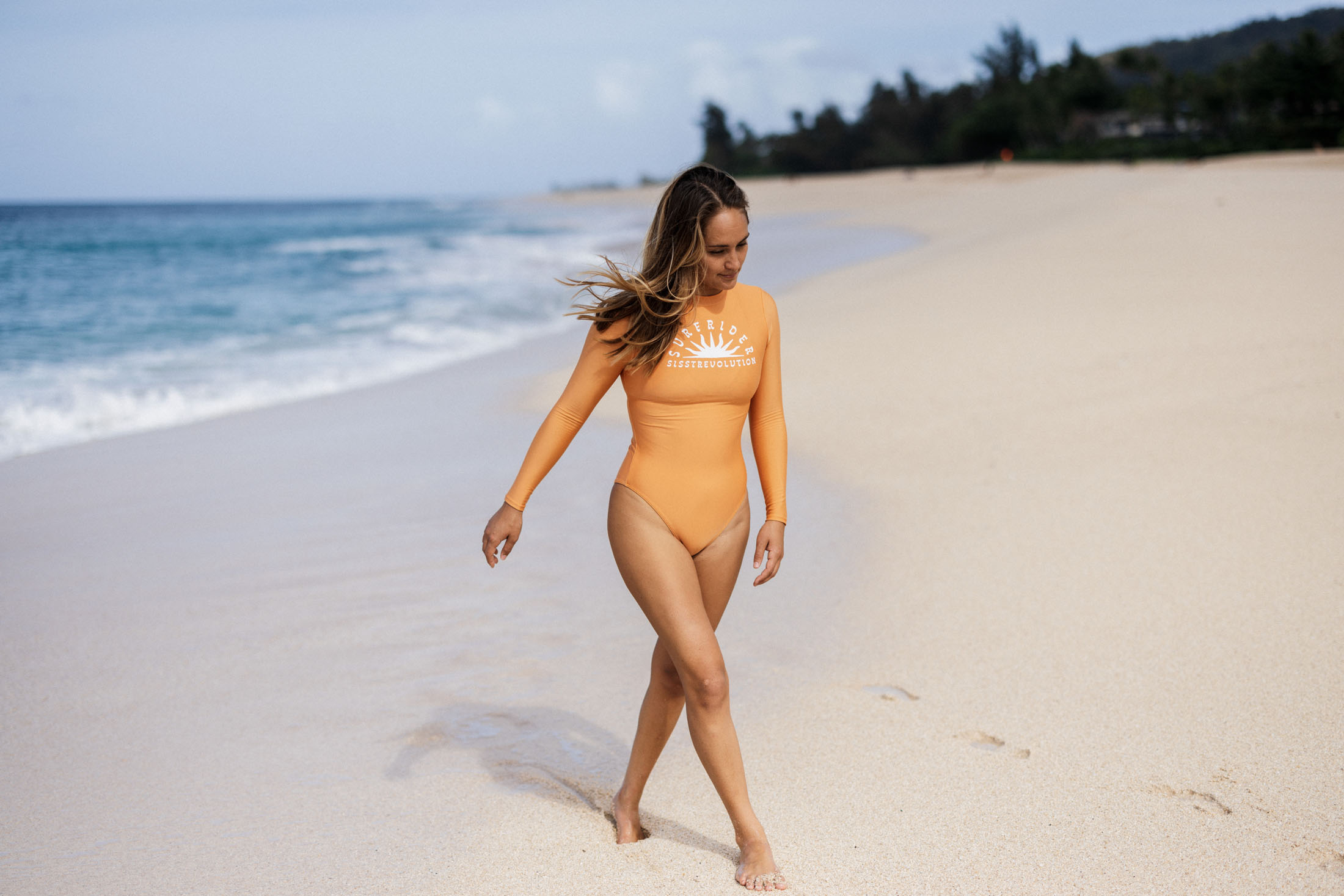 The Surfrider Foundation is pleased to join forces with Sisstrevolution for the release of a women's specific surf apparel collection. Fall 2023 marks the first time Surfrider has released a dedicated women's collection and the first time since our partnership began with the women's only surf brand from Stokehouse back in 2019 that we've collaborated -making it all the more momentous! As a Surf Industry Coastal Defender one of Sisstrevolution's main areas of focus has been to encourage and empower female surfers to take ownership and accountability for the protection of the beaches and surf breaks they enjoy. Sisstr surf and sustainability ambassador, and longtime Surfrider activist and former Surfrider Student Club leader, Marissa Miller sat down with us to chat about her involvement in this intersection of conservation and the empowerment of women in surf.
Surfrider: Tell us a little about yourself. We know you grew up surfing in the waters of O'ahu, but what triggered your desire to get involved and become an activist?
Marissa: Growing up on O'ahu played a big part in pushing me to get involved in sustainability and conservation. I realized from a pretty young age how reliant we are on the ecosystems and the communities surrounding us–especially growing up on an island in the middle of a vast expanse of ocean. I was raised to have a lot of respect and appreciation for the tight-knit community and culture around me, as well as the lands and waters that give us life. It made me really conscious about nourishing those relationships and shaped me into who I am and what I do today. As I got older, I became much more aware of both the direct and indirect impacts we have on the environment around us, and I remember just feeling so strongly that I had to do everything I could to be part of the solution, not the problem. The more I learned, the more my passion grew.
Surfrider: While attending Cal Poly in San Luis Obispo you became very active in the Surfrider network through the Cal Poly Surfrider Club. Was there a specific issue you were most passionate to be working on or any achievement you are particularly proud of from that time?
Marissa: I'd say I was most passionate and proud of the community that we built around caring for our coastlines. The impact of the club went way beyond the amount of pollution we collected at cleanups or the campaigns we carried out. In my mind, the most far-reaching impact the club had while I was there was the amount of people we reached -and hopefully inspired. People really wanted to be part of what we were doing! That goes a long way, because it impacts the way each of those people care for coastlines long after the end of any campaign, cleanup, or project we worked on.
Surfrider: How have you continued to stay involved with Surfrider since graduating?
Marissa: After graduating, I dedicated some time volunteering on Surfrider's Youth Leadership Council and Surfrider's Justice, Equity, Diversity, and Inclusion Committee. I stay in contact with a lot of the people I met through Surfrider and stay up-to-date with the campaigns so I can show up to support whenever I can. I'm now working full time for Surf Conservation at Conservation International, so my work still has some overlap with Surfrider's mission and programs, and I'm always stoked when I get to partner up with Surfrider on something or support in whatever way I can!
Surfrider: How did you get involved with Sisstr?
Marissa: I'm really grateful to have been part of the Sisstr family since the brand was created in 2018. I love that they're really committed to both sustainability and supporting women and girls in surfing. I'm super excited about this collaboration …I love seeing surf brands support environmental causes, and I have such a longstanding relationship and involvement with both Sisstr and Surfrider.
Surfriders: What makes you most stoked about this Sisstr x Surfrider collection?
Marissa: As surfers, we have the privilege of experiencing some of the most incredible places on the planet through surfing, and in return, we have an immensely important responsibility to protect those places. I'm most stoked about this collection because it's made for the amazing community of women and girls across the globe who love surfing and who are passionate about caring for their favorite waves and coastlines. This collection is made for women and girls to look good, feel good, and have fun while protecting and enjoying the ocean.
Surfrider: Which piece from the collection are we sure to find you wearing?
Marissa: The green spring suit from the collection is definitely my favorite piece! I'm excited that I can wear it both on the warm days on the Central Coast and the colder winter days back home in Hawai'i.
Surfrider: Last one. If you could use your voice to reach females of all ages and encourage them to get involved in their local communities, what would your message to them be?
Marissa: We all have a part to play in protecting clean water and healthy beaches. Change starts with all of us, and together we can do so much more than any one of us can do alone. Your voice and your actions matter, and when we work together as a community to care for this world that we all love, we can achieve anything we set out to do. I hope women and girls (and all people) everywhere feel empowered and inspired to be part of the solution and know that they each bring so much value to their community. While some problems we face can feel so overwhelming and scary, the solutions all start by doing something small and just taking the first step.
Check out the 2023 Sisstr x Surfrider Collection available in the shop HERE