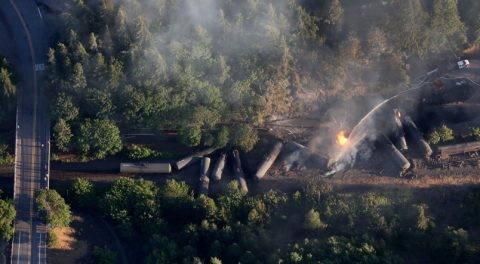 01.12.17
Surfrider Foundation Intervenes in Phillips 66 Suit against San Luis Obispo County
By Surfrider Foundation
Surfrider Foundation joined an important lawsuit against dangerous crude oil transport today in an effort to safeguard the environmental resources of California's central coast. The San Luis Obispo County Chapter of the Surfrider Foundation has been fighting an extensive rail spur expansion project that would bring three to five mile-long tanker trains carrying 2.4 million gallons of crude oil to the Phillips 66 Refinery in Santa Maria each week over the next 20 years. The train route goes through the County and sensitive coastal areas along California's central coast, which would be susceptible to increased derailments and accidents.
The Superior Court for the County of San Luis Obispo granted Surfrider Foundation and our coalition partners (Environmental Defense Center, Communities for Better Environment, Center for Biological Diversity, Sierra Club and Stand.earth) intervention today in the lawsuit brought by the oil company against the County. Phillips 66 brought the suit immediately after denial of their permit application by the Planning Commission in September 2016. Because Phillips 66 must challenge the Planning Commission decision to the full Board of Supervisors before challenging the decision in court, we argue that this case was brought in a premature fashion. Additionally, Phillips 66's lawsuit should fail on substantive grounds because the Planning Commission's decision was in conformance with required environmental protection laws.
With the decision to grant the Motion to Intervene, the court acknowledged the coalition's interest in protecting the environment and participating in the trial. "Because the public played such a critical role in convincing the San Luis Obispo County Planning Commission to deny the project, it is important that our organizations be allowed to participate in the court proceedings as well," stated Linda Krop, Chief Counsel for the Environmental Defense Center and attorney for the coalition. "Phillips 66's attempt to reverse the Planning Commission's decision to protect environmentally sensitive habitats should be handled through the normal agency appeal process, not the courts."
Between March 2013 and May 2015, there were more than a dozen separate derailments of oil trains in the US and Canada – with eight of these leading to explosions or wrecks. This major expansion project imposes enormous threats to all the cities and communities along the rail corridor, threatening people, property, public services, business, and tourism, and an oil spill on the coastal rail system would be devastating for coastal environments.. The risk stems not just from potential crashes and explosions but from significantly increased air pollution, threat of spills, and additional greenhouse gas emissions. In addition, many loved beaches and parks including Ventura's Surfer's Point, the Carpinteria Bluffs, Elwood Mesa and the Gaviota Coast are all located within the potential blast and evacuation zones which would stretch one mile from the tracks.
Surfrider will continue to educate the public on this issue, fight in court and in administrative hearings, and strive for permanent protections from crude oil transport threats in this critical grassroots campaign.