We are excited to announce that since January, three new labs have joined the Blue Water Task Force network! The Blue Water Task Force (BWTF) is Surfrider's volunteer water quality monitoring program that provides critical information to protect public health at the beach. Chapter water testing programs are designed to fill in the gaps and extend the coverage of state and local agency beach programs, so there is more information available to inform safe recreation in coastal waterways. So far this year, our BWTF volunteers have performed nearly 5,300 BWTF water tests on over 450 sampling sites. With more labs joining the network, these program stats will only continue to grow!
When more BWTF labs join the network, that translates to:
More volunteers engaging in water quality issues and monitoring in their own communities
More recreational beaches being sampled more frequently
More water quality information available to inform the public about the safety of recreating in their local waterways
More information to identify pollution hot spots and to direct source tracking investigations and pollution solutions
So far this year, we're happy to announce that BWTF water quality testing has expanded to serve these communities:
Delaware- The goal of the Delaware BWTF is to supplement the seasonal recreational water quality data collected by The Delaware Department of Natural Resources and Environmental Control (DNREC), which currently monitors recreational beaches weekly from May to September. The chapter has partnered with University of Delaware College of Earth, Ocean & Environment Citizens Monitoring Program to conduct weekly monitoring on ocean surf beaches in summer, and bay beaches in fall and spring. In early March, the Delaware volunteers started off testing two ocean surf beach sites that DNREC monitors during summer- Herring Point and Indian River Inlet. Then, during the summer when the state took over these sites, the chapter began testing two bay beaches that are not typically covered by DNREC- Tower Road and The Narrows.
If you'd like to see where the chapter is testing and view their results, click here. To get involved with the chapter's BWTF program, contact Emily.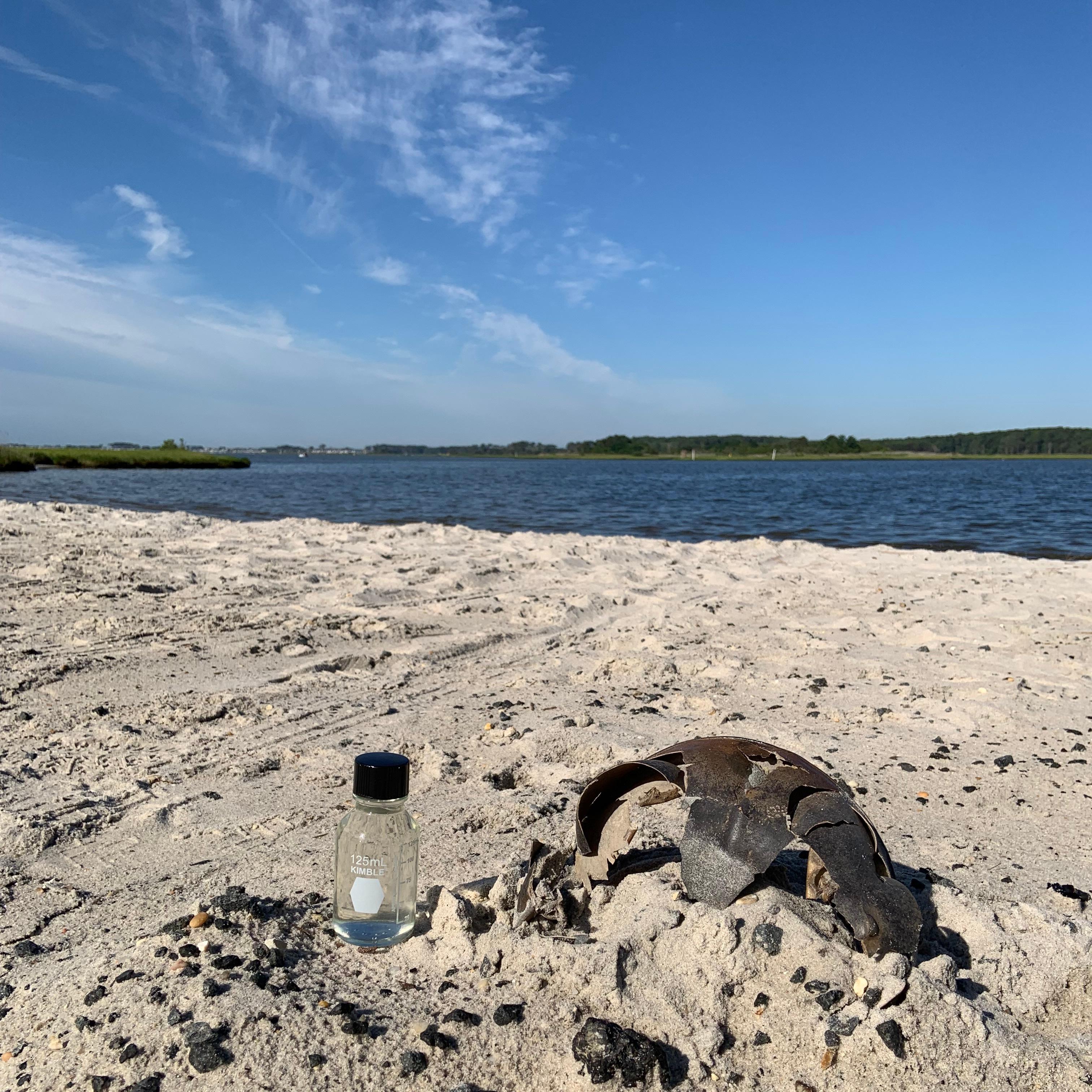 Water sample collected by a DE BWTF volunteer at The Narrows.
Three Capes, OR- Pacific City is known for its sandy beaches, long views, and great surf, so it's no surprise that tourists frequent this coastline. The high tourist traffic, combined with frequent camel tours (and therefore, camel poop) on the beach, spurred the Three Capes chapter into starting a BWTF program in March of this year. The chapter has partnered with Tillamook Estuaries Partnership (TEP) to monitor five recreational beaches along the Pacific City coastline that are not monitored by the State, despite their high recreational use. Three Capes chapter volunteers collect water samples year-round, every other week, and bring them to TEP's state certified lab to be processed. Since TEP is associated with the OR Department of Environmental Quality, the State has agreed to analyze the chapter's data every 2 years. It's great to see Surfrider's volunteers and the state agency collaborate to extend water quality monitoring and public health protection at Oregon's beaches.

If you'd like to see where the chapter is testing and view their results, click here. To get involved with the chapter's BWTF program, contact Lisa.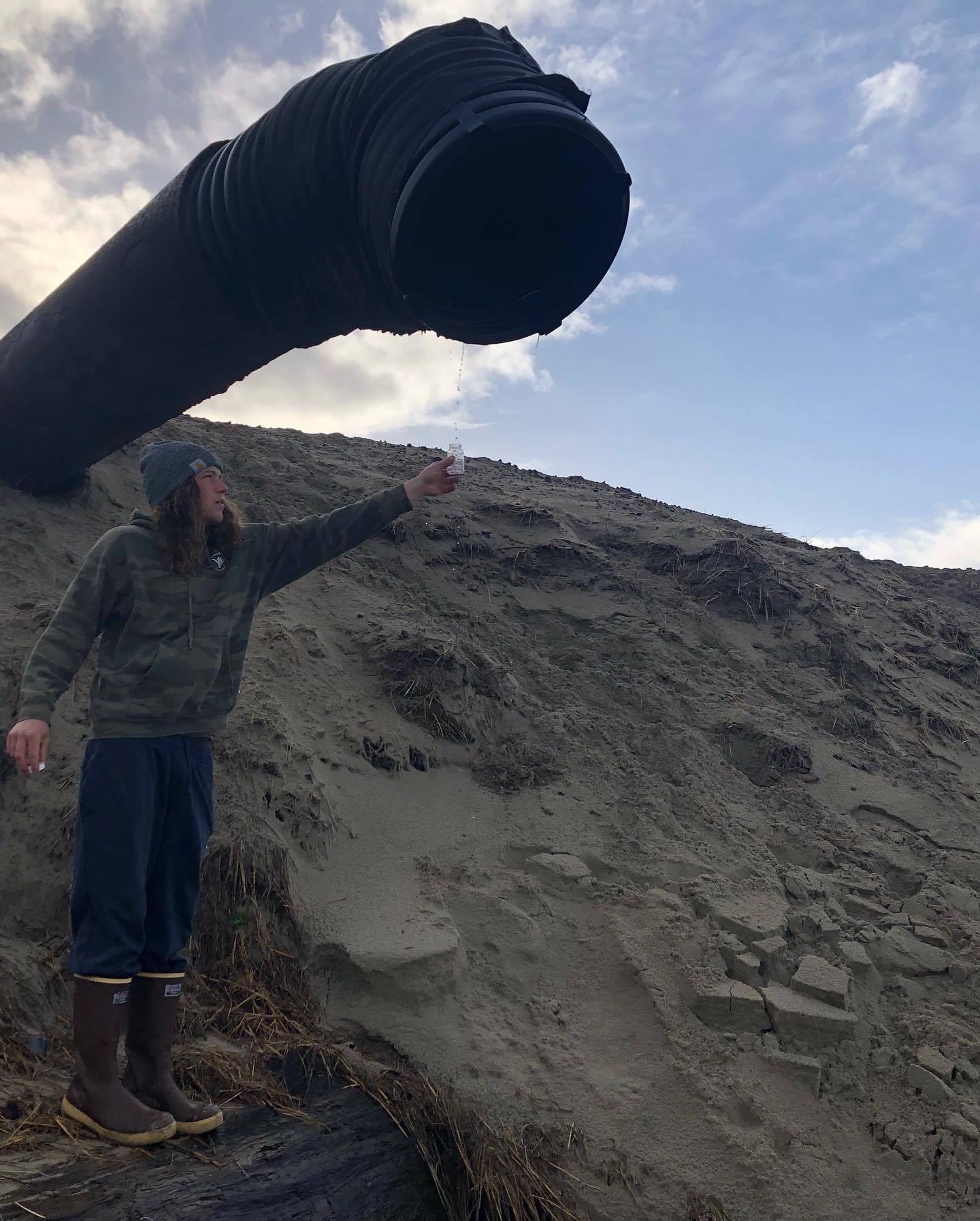 Buddy, a Three Capes BWTF volunteer, collecting a water sample from Cape Kiwanda stormwater pipe.

Coastal Bend, TX- Corpus Christi is nationally famous for its water recreation activities, including kiteboarding, windsurfing, and sailing. Despite the allure of the warm sands and clear waters, recent news articles have highlighted water pollution concerns that the public are largely unaware of. Thus, the TX Coastal Bend chapter launched their BWTF water quality testing program this July to better inform the public of where it's safe to recreate. The Coastal Bend BWTF partners with Texas A&M Corpus Christi to monitor three ocean beach sites on a weekly basis, year-round. Surfrider volunteers collect water samples from Padre Balli Beach and JP Luby Surf Park, and bring them to Texas A&M's microbiology lab for processing.
If you'd like to see where the chapter is testing and view their results, click here. To get involved with the chapter's BWTF program, contact La Dona or Tommy.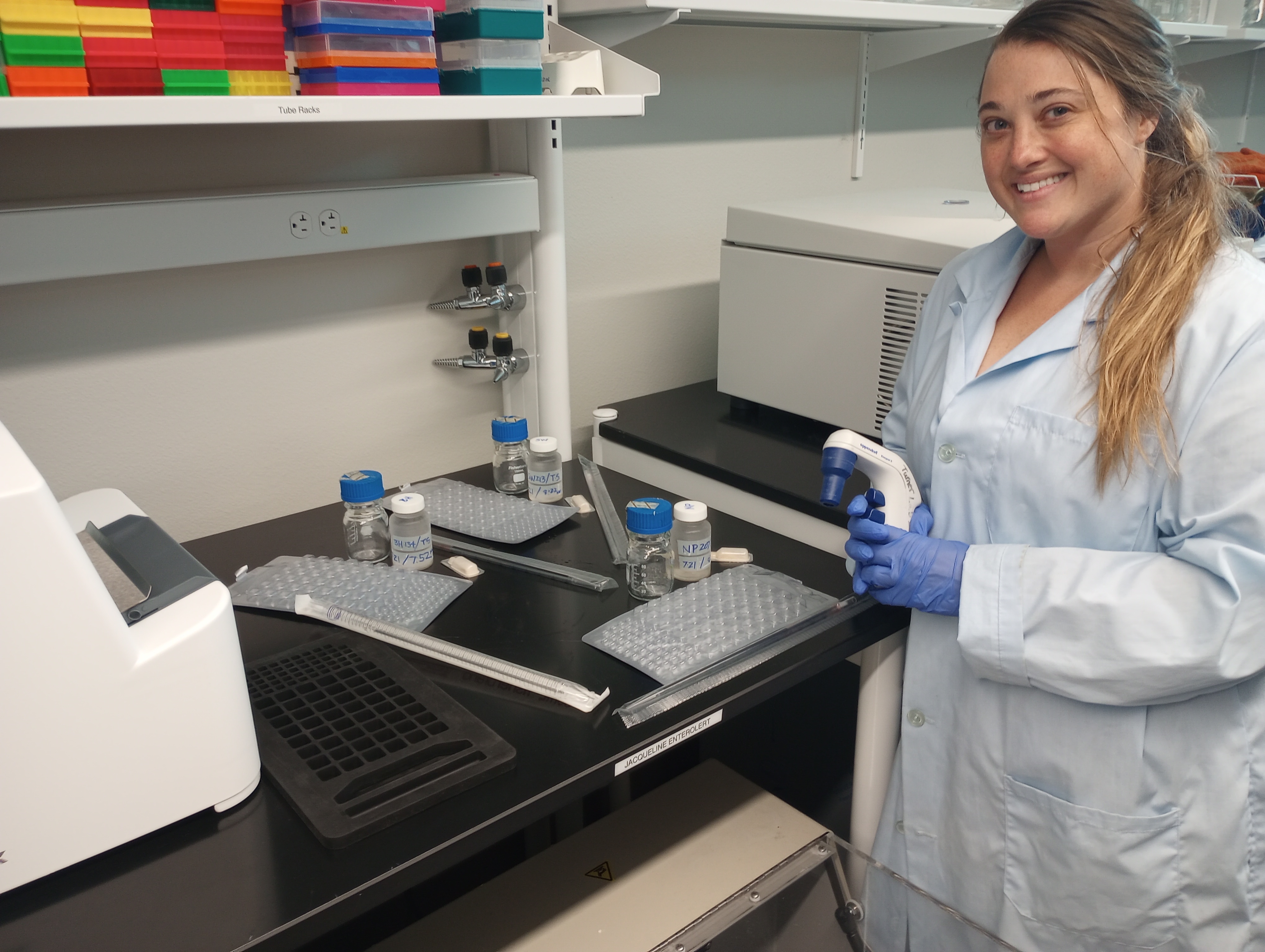 Jackie Nicolay, a lab technician at Texas A&M, processing the first batch of BWTF samples for the chapter.
Congratulations to all of our new BWTF volunteers for starting up this program, and thank you to our existing BWTF volunteers who continue to provide communities with crucial water quality data to protect public health at the beach!
To see if one of Surfrider Foundation's Blue Water Task Force labs are located near you, click here. You can also use this online tool to access agency-provided beach water quality information in every coastal state.
Thank you to our sponsors!
The program's continued success would not be possible without the contributions and engagement of our partner, Dragon Alliance, along with the profound dedication of Surfrider volunteers. Thanks to Dragon Alliance, and to the volunteers who make up the national Blue Water Task Force for their ongoing work to protect clean water in their communities.
Learn more about our partner by visiting their website, dragonalliance.com.