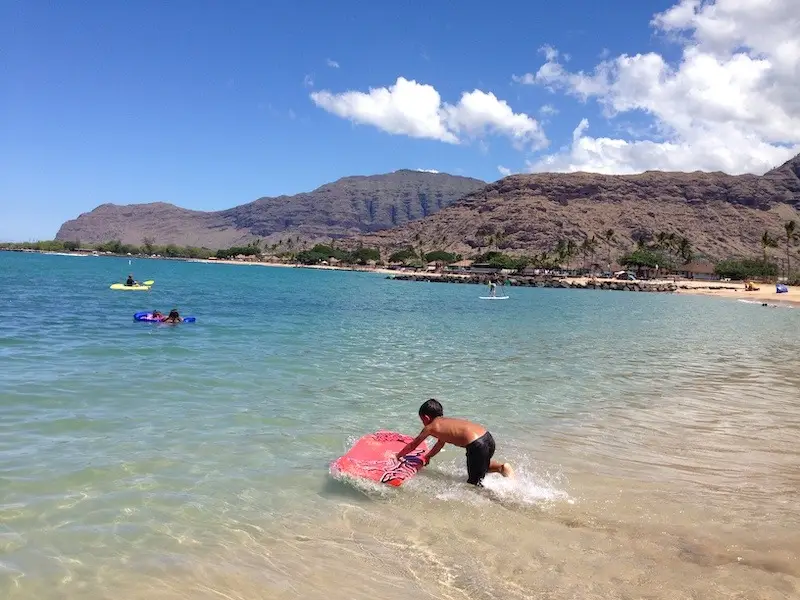 07.07.23
Blue Water Task Force Supports Clean Water & Healthy Communities in Hawaiʻi
By Lauren Blickley
Pōkaʻī Bay sits on the west side of Oʻahu in the town of Waiʻanae. It is an idyllic and protected spot for swimming, fishing, paddling, and surfing. It is also the site of a Native Hawaiian navigation heiau (temple). Yet for years community members have complained about getting sick after swimming in the bay.
The ongoing water quality issues in the bay prompted Senator Maile Shimabukuro of Waiʻanae to reach out to the Surfrider Foundation Oʻahu Chapter and discuss community-based water quality monitoring on the West Side. This led to a partnership between Surfrider Foundation and local Waiʻanae activist Carmen Guzman-Simplicano of Kingdom Pathways who has had members of her own family fall ill after swimming in polluted water. In the summer of 2022, three new Blue Water Task Force water quality testing sites were added to Pōkaʻī Bay. Results from the past year of monitoring reveal some concerning trends. For example, 75% of samples from the mouth of the Kaupuni Stream, which drains into Pōkaʻī Bay, exceeded state health standards.

This story is unfortunately not limited to Pōkaʻī Bay. For over a decade, water quality monitoring by Surfrider Chapters on Oʻahu, Kauaʻi, and most recently Maui, have revealed sites with chronic pollution. Much of this pollution can be blamed on the 88,000 cesspools across the islands. In Hawaiʻi, the Department of Health is responsible for monitoring coastal water quality across the state. Their data, however, is often limited. The Department of Health currently does not test the water when it is brown after it rains, even though these conditions are most likely to cause sickness and human health issues. They also typically do not test at the mouth of streams or rivers, despite the fact that many families with small children and canoe clubs recreate in these waters. The Blue Water Task Force is critical to filling in these statewide monitoring gaps.
The above film describes the water quality challenges in Pōkaʻī Bay, along with the Surfrider Foundation activists who are volunteering throughout Hawaiʻi to collect data that highlights local water quality issues. The Blue Water Task Force is more than just collecting data - it is a program that empowers communities to investigate and understand what is happening in their local waterways. Armed with this data, activists like Carmen Guzman-Simpliciano and her hui of community members on Oʻahu advocate for solutions at the local and state level.
Take Action