02 • 01 • 2021
Activist Spotlight: GiGi Lucas, Founder and Executive Director at SurfearNEGRA
This Black History Month we are celebrating our activists, friends, colleagues and like minded organization's from within the Surfrider network. Throughout the month we will recognize people and organizations who inspire us and celebrate the achievements they've made to help protect our ocean, waves and beaches.
Q: Please give us a brief introduction about yourself
Bona-fide water baby that has returned to ocean life after many years in the big city. Lover of gently peeling waves, hot & humid weather and cereal…Oh, and founder of SurfearNEGRA!
Q: Tell us a little bit about SurfearNegra, its mission, and why you decided to form the organization?
SurfearNEGRA is a 501c3 org focused on bringing more gender & cultural diversity to the sport of surfing. Our ultimate mission is to make surfing accessible to any kid, anywhere.
I started this organization to simply give every kid the ability to experience the magic that is surfing…especially young, black girls. We are often overlooked and under-marketed to in spaces like these.
Q: How have SurfearNegra and Surfrider worked together and how did this relationship come about?
GiGi: Last year, Surfrider hosted a panel in collaboration with SurfearNEGRA in the midst of the Black Lives Matter movement. During it, we were able to share the work of other incredible organizations like Laru Beya, Courage Camps and LatinX Surf Club to show how widespread the need for diversity in surf culture is.
We've also been able to link up with Ryan Cruse (Surfrider's Youth Club Manager) to engage our youth in a few of the activism efforts and educational opportunities Surfrider (and partners) offer. This relationship is very new and I am excited about the potential.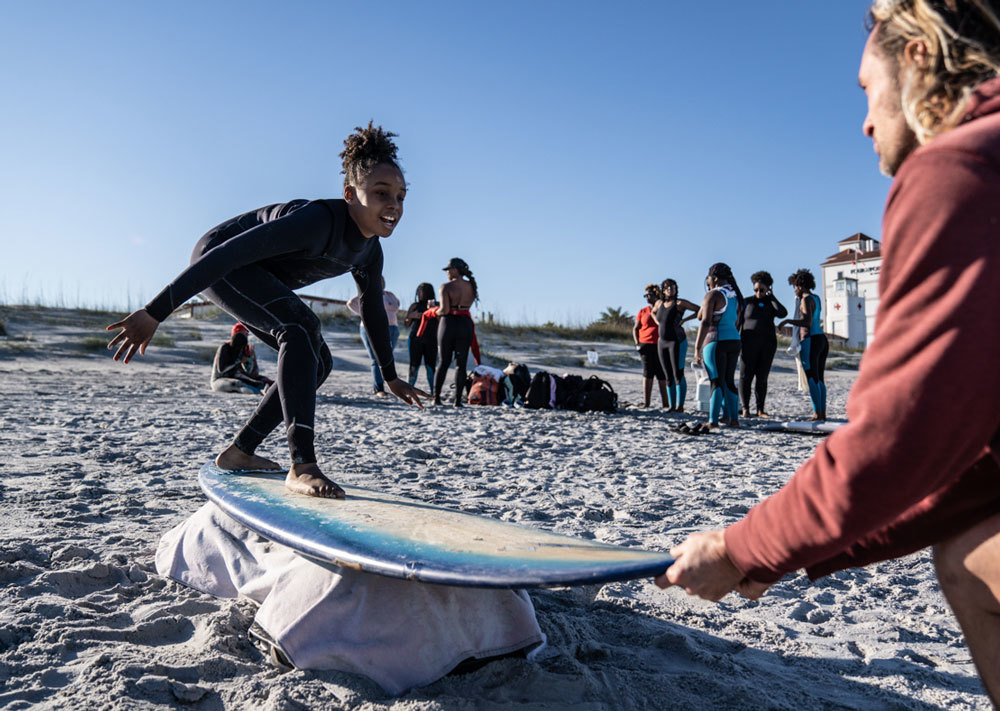 Q: Do you have any experiences where BIPOC communities and environmental movements have intersected?
Yes. SurfearNEGRA sponsors a youth-led activist organization called Spear United. These kids understand the discrepancies of public environmental services afforded to different communities. Unfortunately, the trends of these discrepancies correlate with demographics based on race.
A specific example are the septic tanks that have yet to be converted, are too close to waterways and polluting the St. Johns River here in Jacksonville. A huge concentration of these antiquated sewage systems are in BIPOC neighborhoods where the city hasn't prioritized financial investments to update.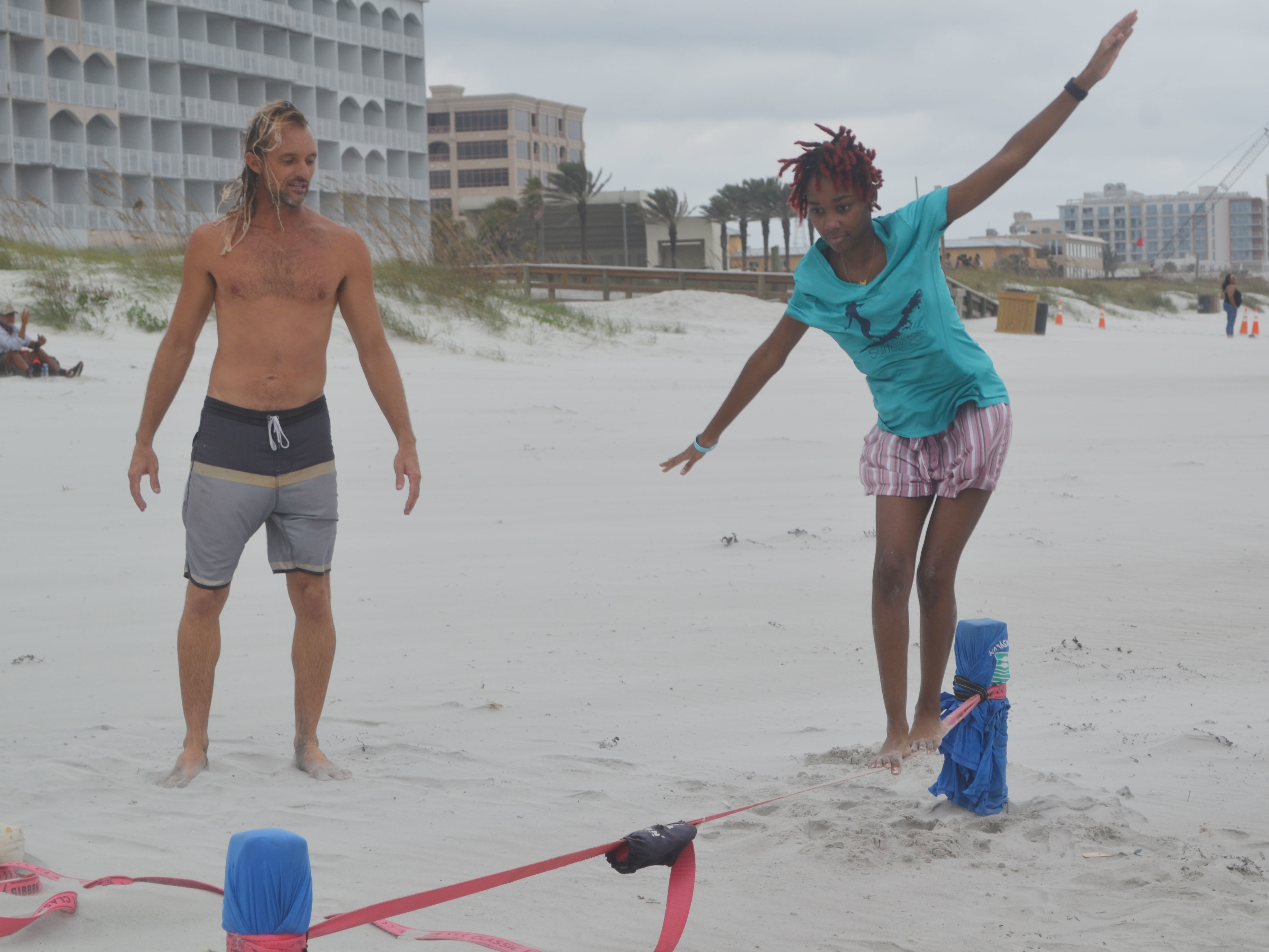 Q: What have been some of the highlights of creating SurfearNegra?
I mean, I get to play in the water most days…and bring really inspiring young people with me! Another highlight is seeing that moment when the lightbulb goes off in some of these kids minds like "Oh, wow! I actually can do this!'
Q: What's been your experience being a surfer and/or ocean enthusiast as someone from the BIPOC community?
I was fortunate to grow up in a household that encouraged exploration. If we had a question, my parents would never give us the answer. They would tell us to look it up. Or, go do it and see. That taught me very early that your experiences in life are just that…yours.
So, my personal experience as a surfer and lover of the ocean has been incredible so far because I always try to come to the ocean as myself sans any titles (black, female, etc.) The ocean doesn't care anyways!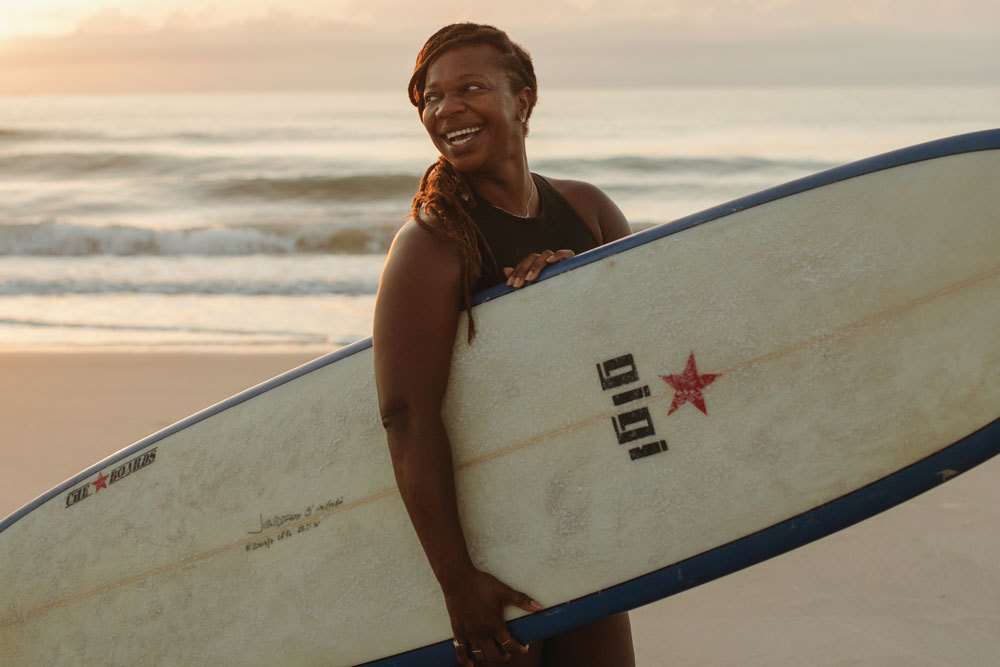 Q: What is the most important thing you tell others about SurfearNegra?
What has been set in motion in the past to create our current reality may not change if we don't actively engage with changing it. So, SurfearNEGRA is just that. A vehicle to actively change the stigmas, traumas and biases that reinforce the notion that surfing and being in the ocean isn't inclusive.
Q: How can our followers get involved and support SurfearNegra?
3 ways:
Join SurfearNEGRA's mailing list to stay up-to-date on events & volunteer opportunities
Connect us with surf camps that may want to join in on the diversity efforts
Participate in our Sponsor-A-Girl campaign