05 • 12 • 2021
Agencies and Volunteers Work Together to Protect Public Health at the Beach in Washington State
Surfrider's Blue Water Task Force (BWTF) volunteers commit so much of their personal time to collecting water samples because they love the beach and want to know that recreating in the water will not put their health or their family's health at risk. Most chapter BWTF programs set up their sampling schedules to complement and extend the coverage of agency-run beach water testing programs to provide water quality information at more beaches than agencies can cover on their own. Chapters often test during the cooler, off-season months, or they collect samples from beaches that are not tested. They also sample freshwater sources, such as streams and stormwater discharges, that flow across the beach and empty into the ocean.

The Surfrider chapters in Washington state enjoy more of a collaborative relationship with their state and county beach programs than most. In Washington, the State Department of Ecology works closely with both local health agencies and citizen groups to provide more health coverage at the beach. Julianne Ruffner, manager of Ecology's Beach Environmental Assessment, Communication, and Health program, explains on their website, "Involving citizen science volunteers is vital to our monitoring program, especially in smaller communities. Ecology's citizen science volunteers collect data and potentially identify pollution issues in areas that may otherwise go unassessed."

Watch this great short video featuring Liz Schotman, formerly a BWTF volunteer with the Olympia Surfrider Chapter and now Surfrider's Washington Regional Manager, explaining this collaboration. She also speaks to why water testing programs are important to her personally, "I'm a big free diver, and so to me being able to go under the water safely and not having to worry about getting sick from it is super important."

Surfrider volunteers from the Olympic Peninsula, Northwest Straits, and Olympia chapters participate directly in their state and county-run beach programs. As described in the above film, the agencies provide the volunteers with the equipment and training needed to collect samples. The volunteers collect samples from beaches that are important to the community for recreation, but where the agencies don't have sufficient staff to monitor on a regular basis themselves. The volunteers sample their assigned beaches on a weekly basis throughout the summer season, from Memorial Day to Labor Day. They then bring those samples to the state lab for processing.
Additionally, the long-established BWTF programs run by the Northwest Straits Chapter in Bellingham and the South Sound Chapter in Tacoma are testing their local beaches through the colder months, from September through May, to extend public health protection at the beach beyond the state's seasonal program. Both chapters have established strong working relationships with the state and county beach staff and have met in the field to align sampling locations and methods. This coordination ensures as much consistency as possible between the agency-run summer testing programs and Surfrider's off-season Blue Water Task Force testing. The chapters do a great job of sharing their results with their county health departments to improve public notification of pollution issues, prioritize sampling locations, and inform collaborative source tracking studies.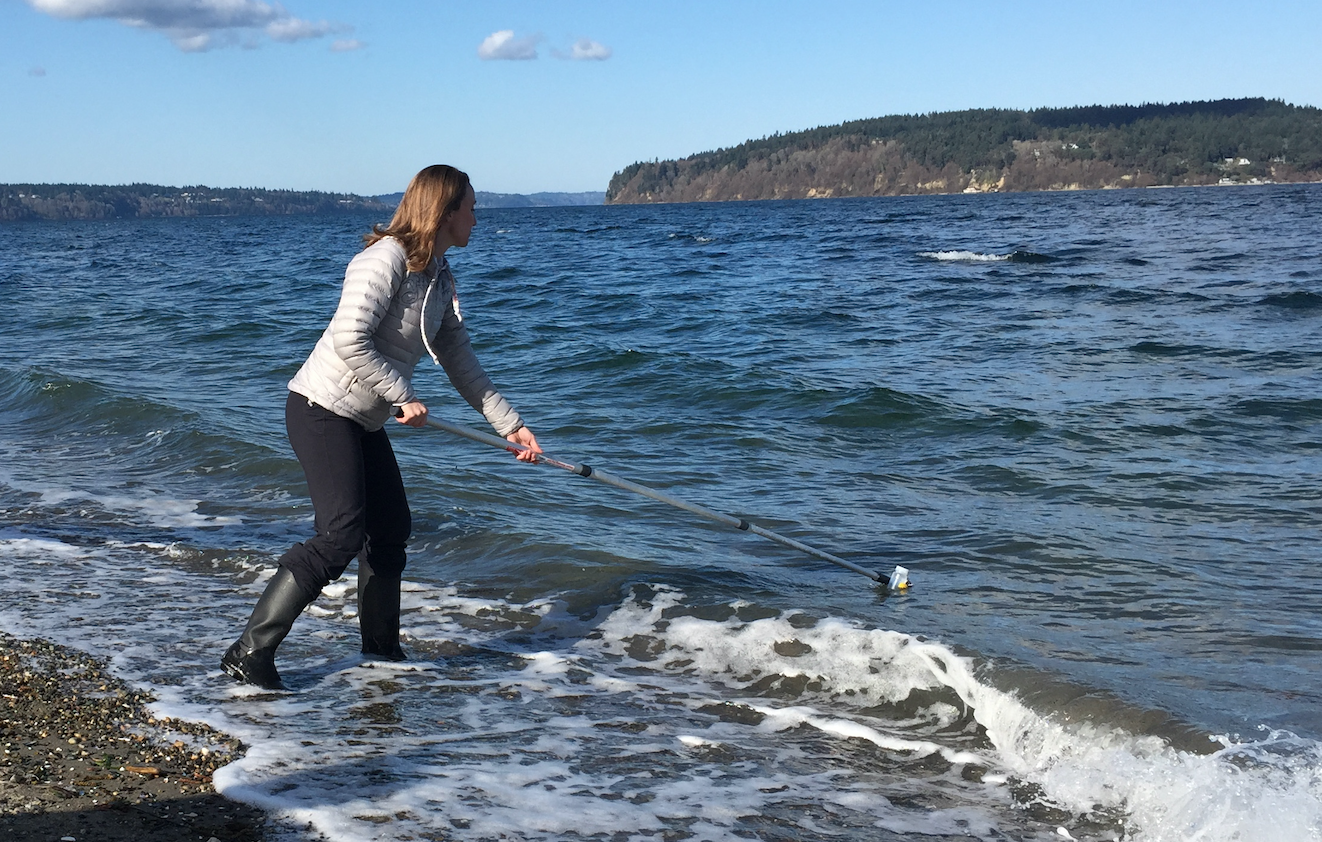 In Tacoma, the South Sound Chapter has even posted permanent signs at eight sampling locations within the Metro Parks system that alert visitors that Surfrider is monitoring water quality and share how to view the results. This type of agency support and appreciation for a volunteer-run water quality monitoring program is really unique and something we'd like to see more of throughout Surfrider's national network. The South Sound Chapter certainly values the positive relationships and support offered by their partners at Metro Parks Tacoma, the Washington Department of Ecology and the Tacoma Public Schools Science and Math Institute, where all their samples are processed.
To view advisories and closures before you hit the beach in Washington, visit the Washington State Coastal Atlas. To see where Surfrider is testing and to view our results, visit the BWTF website. Finally, for more information on the programs and campaigns run by the Surfrider Foundation in Washington, please visit Washington.surfrider.org.