12 • 21 • 2021
Record-Breaking Year For Blue Water Task Force
This year has proven challenging for our Surfrider chapters to manage the complicated logistics of a water testing program during a global pandemic. Many chapters have had to find new homes for their Blue Water Task Force (BWTF) labs, and adjust sampling and lab protocols to provide safe access for their volunteers. Since March 2020 - when all testing operations were suspended - 44 BWTF labs have resumed testing. Despite the odds, our total testing is up nearly 40% this year, with a record-breaking 8,000+ tests performed on water samples collected from 464 sampling sites so far this year.
Welcoming back BWTF labs
Since school started this fall, 5 labs were able to start testing again as students in California were allowed back in the classroom due to easing COVID restrictions. Many chapters have established long-standing collaborations with local highschools to host their lab equipment and process water samples, and these relationships depend on students and teachers being in-school. The students, teachers, and chapter leaders involved in these school-based programs have all been very excited to get back out on the water and into the lab. Welcome back:
South Bay Chapter with participating high schools: El Segundo HS, Lawndale, Mira Costa, Palos Verdes, Parras MS, Redondo Union, & West Torrance

Newport Beach Chapter @ Corona del Mar High School

Huntington Beach Chapter @ Pegasus School

Marin County @ Marin Academy & Tamalpais High School
Thank you to all of our dedicated Blue Water Task Force volunteers who have gone above and beyond during these trying times to continue to provide crucial water quality data to protect public health in our local communities.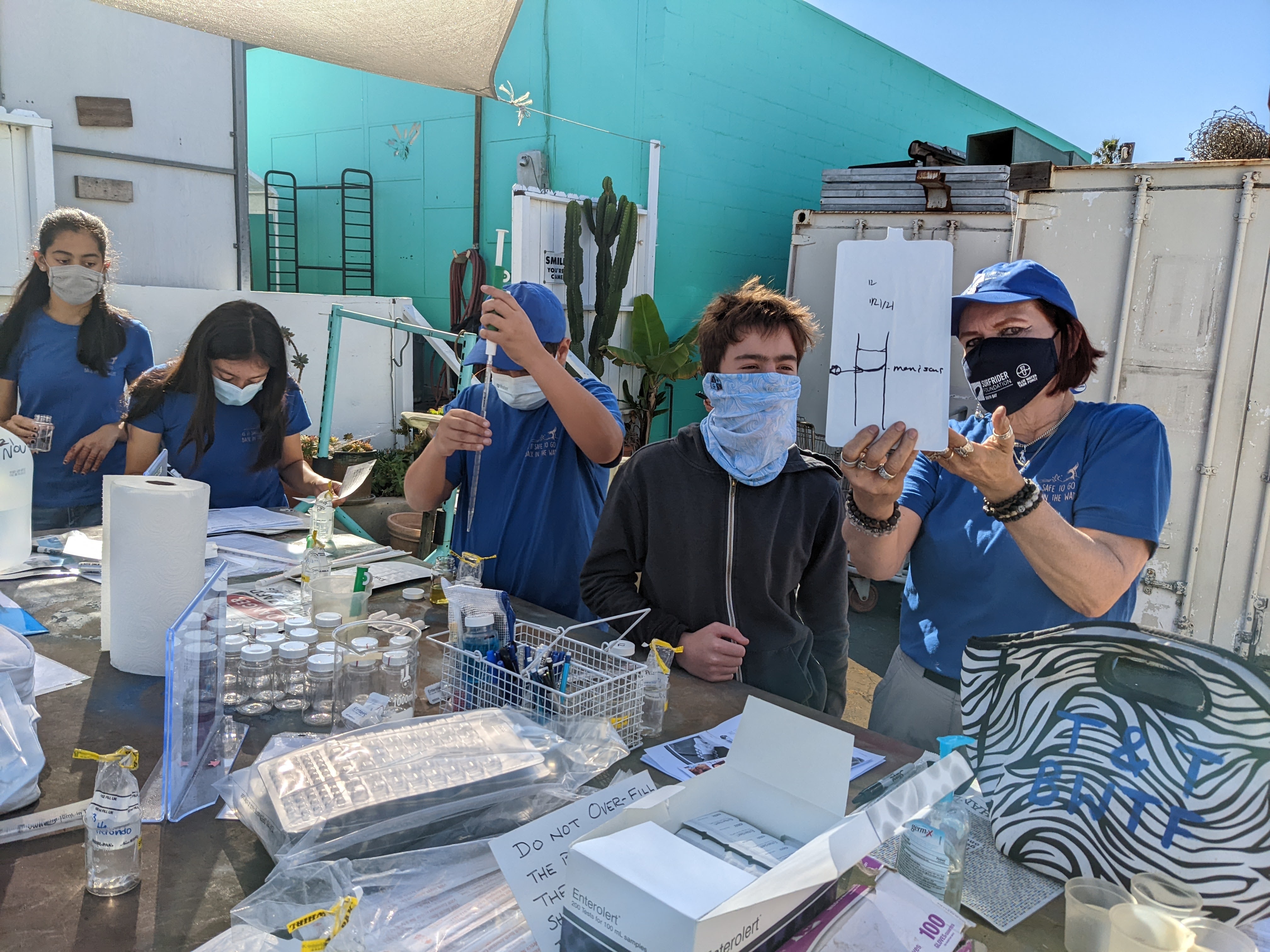 Above: Students process samples at Dive n' Surf lab with the South Bay BWTF Coordinator overlooking.
Tracking the source of pollution along the Space Coast in Florida
The Space Coast Surfrider Chapter partners with the Marine Resource Council, another local NGO that is dedicated to protecting and restoring the Indian River Lagoon, to implement its BWTF water testing program. This collaborative program supplements the beach monitoring performed by the Florida Healthy Beaches Program to provide the public with year-round water quality information at ocean and intracoastal recreational locations.This fall, the partners presented their water quality data to the FL Department of Environmental Protection to illustrate some consistent pollution problems measured at a number of their sites. In response, the State has initiated a source tracking investigation in the Turkey Creek watershed that includes testing for a suite of parameters and genetic markers such as human/dog/ruminant/bird waste, chemicals excreted through human waste (i.e. pharmaceuticals), pesticides, and herbicides. Preliminary results show that all 4 sites tested contain markers for bird waste. Ruminant waste, pharmaceuticals, pesticides, and herbicides were also detected at some sites. The chapter looks forward to follow-up testing to provide more definitive evidence on sources of pollution in this watershed.
See all the beaches and sites monitored by the Space Coast BWTF, and view their data on the BWTF online map.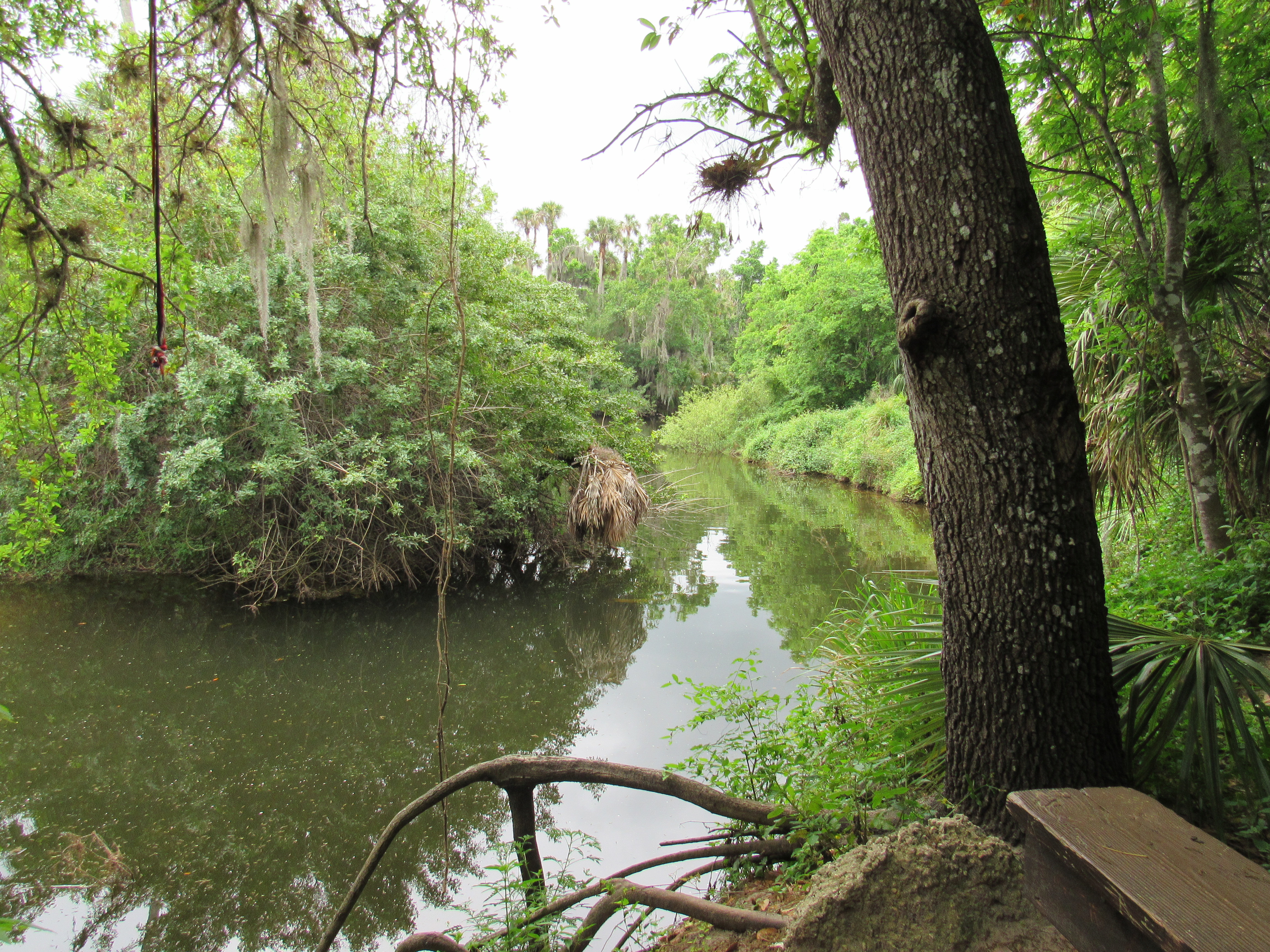 Above: Turkey Creek, Florida. Photo courtesy of Kara McGuirk Woods.
Engaging the local business community in San Diego County, CA
The San Diego Blue Water Task Force recently held a volunteer celebration to thank their BWTF volunteers for all the time and effort they've put into the program throughout the year. The event was held at Green Flash Brewing Company in Mira Mesa, and volunteers showed up from North SD County, City of San Diego, and Imperial Beach crews. The attendees enjoyed pizza, drinks, great company, and new t-shirts provided by the chapter.
The San Diego chapter currently operates two labs- one at the chapter's office in the City of San Diego, and another at REEF's headquarters in Carlsbad, North County. The chapter keeps BWTF volunteers actively engaged by holding monthly volunteer program meetings, where guest speakers from the community come to discuss important issues related to water quality. The chapter hopes to relaunch its BWTF labs at Mar Vista and Coronado High Schools soon.
You can keep track of all BWTF water quality test results in San Diego by subscribing to the chapter's Weekend Beach Report, which is posted every Friday.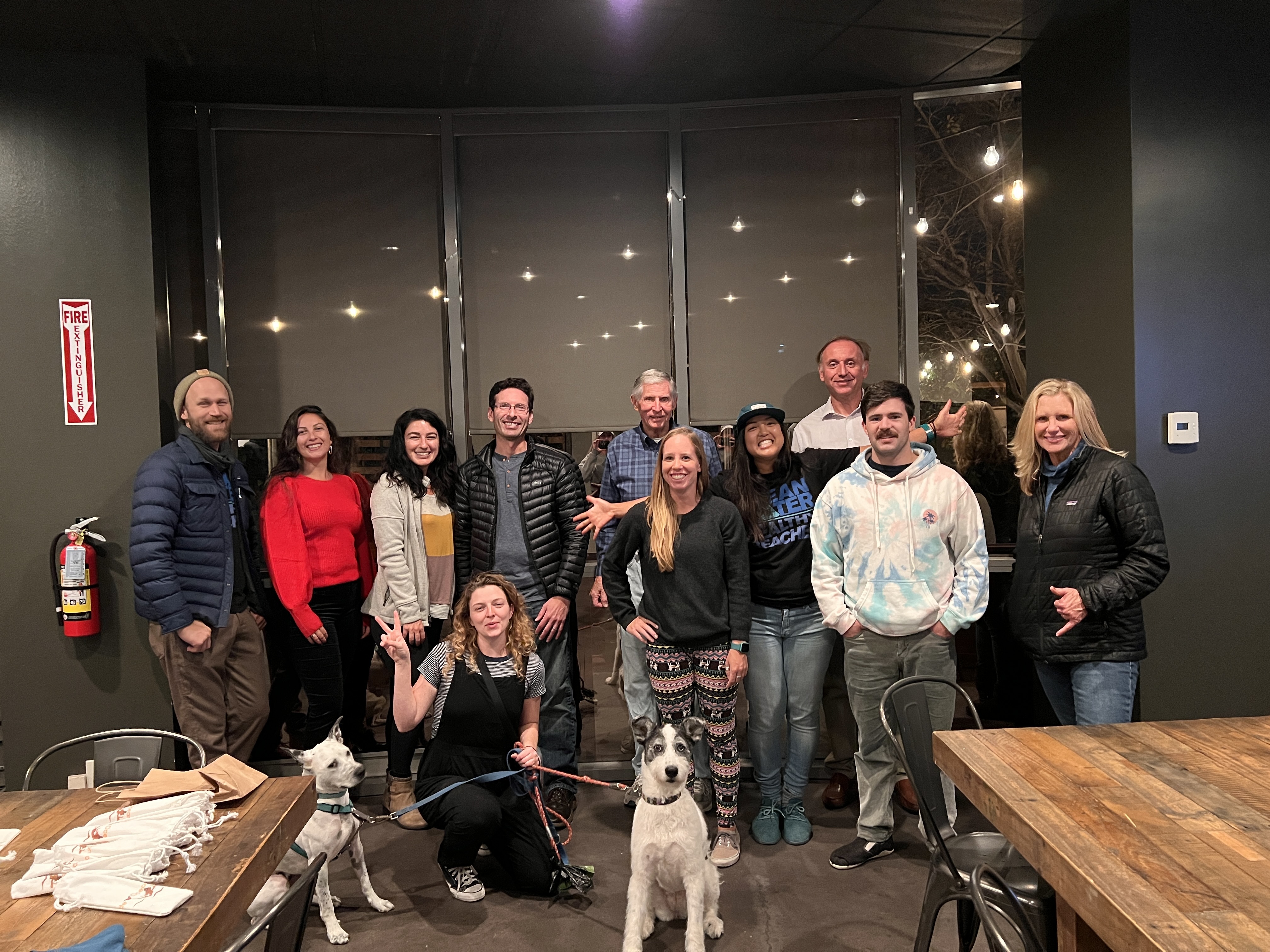 Above: San Diego Chapter Blue Water Task Force Volunteers and pups!
Thank you to our volunteers and sponsors!
We applaud our volunteers for being so nimble and continuing to persevere through this challenging year. The program's ongoing success would not be possible without the contributions and engagement of our partners at Dragon Alliance, and support from House of Marley, along with the profound dedication of Surfrider volunteers. Thanks to our partners, and to the volunteers who make up the national Blue Water Task Force for their ongoing work to protect clean water in their communities.
Learn more about the Blue Water Task Force, check water quality data and get involved here!
Learn more about our partners by visiting their websites, dragonalliance.com and thehouseofmarley.com.