03 • 22 • 2021
Department of Interior Seeks Public Input on Oil and Gas Drilling
Surfrider urges our supporters to submit comments opposing new offshore drilling and other oil and gas development.
On January 27th, President Biden signed a sweeping executive order to tackle the climate crisis just days after assuming office. The order included a "temporary pause" on new oil and gas leasing on public lands and waters, and effectively killed the Trump administration's plans for new offshore drilling off every major U.S. coast. Now, as the Department of Interior evaluates the future of the federal oil and gas leasing program, it has invited the public to submit written comments via email to energyreview@ios.doi.gov until April 15th (take action).
Public comments received by the Department of Interior will inform a report to be published in early summer with recommendations for the Department and Congress to improve stewardship of public lands and waters, support economic development, and build an equitable and just energy future. More specifically, it will inform the Biden administration's next 5-year offshore oil and gas drilling plan for 2023 - 2027 which the agency will begin work on later this year.
Tell the Biden administration you oppose oil and gas drilling on public lands and waters
The Department of Interior also hosted a public forum on March 25th as part of its review, with panels featuring industry representatives, environmental justice and conservation groups, and Indigenous organizations. Unfortunately, the voice of the coastal recreation industry was largely absent, despite the massive participation rates and economic benefits across the U.S. To ensure the voice of our community is heard, Surfrider and our industry partners are submitting official comments and have requested a meeting with agency leadership.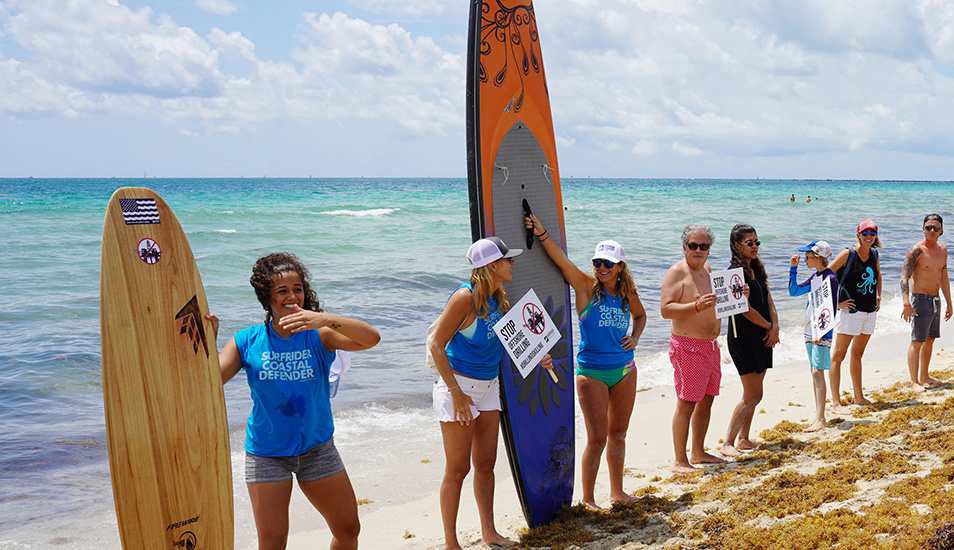 Surfrider activists in Miami, Florida show their opposition to offshore drilling
For decades, the Surfrider Foundation has been fighting to protect U.S. coastlines from new oil and gas development. Offshore drilling is a dirty and dangerous practice that puts our marine environment and coastal communities at unnecessary risk. The industry causes grave impacts through every phase of the process - from exploratory seismic blasting that harms marine animals to the inevitable oil spills that damage the coastal environment and adjacent communities and businesses.
Offshore drilling is also wildly unpopular across the country with members of both political parties opposed to expanded oil and gas development off our coasts. To date, more than 380 municipalities, 2,500 elected officials, 55,000 businesses and 500,000 fishing families have formally opposed new offshore oil and gas development. And, with the climate emergency threatening the future of our planet, we can no longer afford the costs of fossil fuels.
This year offers a critical opportunity to permanently protect U.S. coasts from new offshore drilling. To achieve this goal Surfrider is urging the Biden administration and Congress to reinstate the moratorium on new offshore drilling and to pass legislation that will permanently protect U.S. waters from offshore oil and gas development.
Please submit your comments and join Surfrider's efforts to permanently protect U.S. coasts from offshore drilling!