08 • 03 • 2020
New Virtual Reality Video Shows Future Sea Level Rise
Coastal experts constantly postulate (and downright argue with one another) about how future sea level rise will physically manifest in local communities. Accurately envisaging climate change impacts, including future sea level rise and storms, is like pushing a boulder uphill—it's an elusive concept. Until now! Recently, artistic geniuses from Invisible Thread and Thundercloud produced a video, named "Rise Up," that synthesizes data from the United States Geological Survey (USGS) to illustrate the effects of future sea level rise in Capitola, California.
For years, the "sea level rise planning community"—people who work for nongovernmental organizations, academia, local, state and federal governments, along with various geologists and urban planners—have been trying to accurately demonstrate how climate change will impact coastal communities. While science is the most important element to accurately understand the repercussions of climate change and sea level rise, visually demonstrating these impacts has become equally important.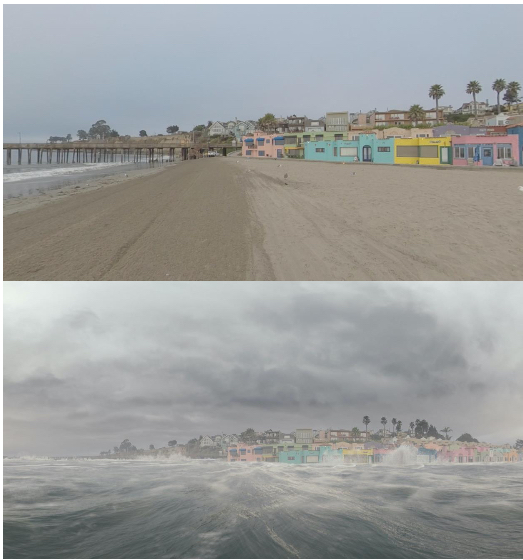 And that is precisely why the Surfrider Foundation was so excited to partner with Invisible Thread's creative artists and experiential designers to help produce "Rise Up," which utilized real-world elevations and sea level rise modeling projections from the USGS. Emily Swallow, the talented actress, graciously provided the 'voiceover' for the simulation.
Clearly, a video of this caliber will assist practitioners, researchers, and advocates who work on sea level rise planning, but most importantly, the "Rise Up" video engages the hearts and minds of the average person and decision makers who must better understand local impacts of climate change and sea level rise. Now, let's explore how this amazing video came together.
The USGS has spent 10 years creating the Coastal Storm Modeling System (CoSMoS), a dynamic modeling system that generates detailed predictions of coastal flooding due to both future sea level rise and storms integrated with long-term coastal evolution. CoSMoS is widely used in California and the program is being built out in other parts of the country.
In order to utilize this one-of-a-kind data accurately, "Rise Up" creators and producers used USGS-collected high-resolution elevation data and imagery, coupled with CoSMoS flood projections for Capitola, CA, to create computer-generated graphics in a 3D space that were overlaid on top of 360-photographic footage. A series of scenarios were run through the 3D model and ultimately a progression of sea levels and conditions emerged to show how Capitola will fare in the future. The 360-video allows the viewer to pan (either on a mobile device or using a desktop mouse) in all directions to see the content. The video can also be viewed through a headset as a Virtual Reality (VR) experience.

This cutting edge video uses an exact geographic location and localized coastal/oceanic data that would not be as meaningful, or factual, without CoSMos. When the USGS created CoSMos, they took sea level rise predictions to a new level. Most sea level rise models use the "bathtub" approach, meaning that sea level rise is equally dispersed around global shorelines, which is not the case. In order to get a finer picture of sea level rise, it is imperative that models simulate coastal storms (big and small), wave action, and oceanic bathymetry (i.e. contours of the ocean floor).
In the future, Surfrider hopes CoSMos will be used along both seaboards to improve how coastlines are managed in light of future climate change and sea level rise impacts. Through our work it has become increasingly clear that we are watching climate change unfold before our eyes, and the impacts to our ocean and coasts are immense. As extreme weather events and other indicators of climate change become more frequent and noticeable, it is important for our nation's decision-makers to take immediate steps to actively plan for climate change impacts utilizing tools like CoSMoS.
Surfrider is extremely grateful to Invisible Thread, Thundercloud, Emily Swallow, and the USGS for helping raise awareness about future sea level rise impacts. To learn more about what Surfrider activists are doing to work on climate change, go here.