01 • 29 • 2021
Ocean Friendly Restaurant Spotlight: Driftwood Kitchen, The Deck and Hendrix in Orange County, CA
Even before joining the Ocean Friendly Restaurants program, John Nye, Operating Partner and General Manager of Driftwood Kitchen and The Deck in Laguna Beach, as well as Hendrix in Ocean Ranch had already been researching ways to operate his businesses more sustainably. The guidelines set forth by the Ocean Friendly Restaurants program helped point him in the right direction. "It's the right thing to do," he said of improving his restaurant's environmental footprint.
Taking care of the ocean, waves and beaches, is important to Nye. Driftwood Kitchen and The Deck are two of Laguna Beach's most premier ocean-front restaurants— sitting just steps from the sand. Cleaning the surrounding beach is a responsibility Nye and his team takes very seriously— They host beach clean-ups and engage in other local initiatives to keep the beach clean. Nye notes that many of his staff members are surfers and ocean-lovers who place importance on preserving the natural landscape. So for Nye, making sustainable changes is not only about doing right by the environment, but its about doing right by his employees as well.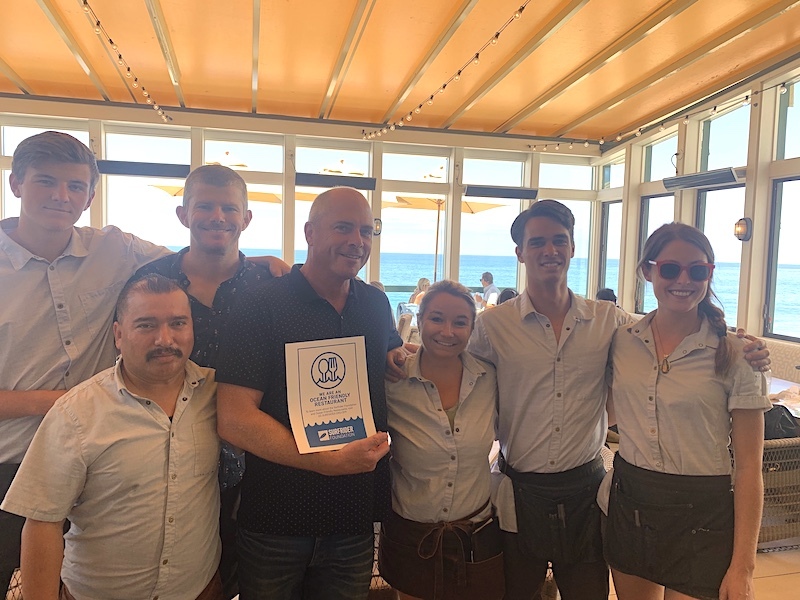 After making a couple of changes, Nye is proud that all three of his restaurants meet the Ocean Friendly Restaurants' criteria— notably, they've eliminated plastic straws and serve Best Choice seafood. In addition, they don't use styrofoam, plastic bags, or non-reusable tableware, and they practice proper recycling.
John's advice to restaurants trying to meet the qualifications to join the Ocean Friendly Restaurants program? "Take the leap, do the research and get on board!"
To learn more about reusables and sustainable to-go options, checkout the Ocean Friendly Foodware Guide. Encourage your favorite restaurants to join the movement as an Ocean Friendly Restaurant and end single-use plastics!