07 • 22 • 2021
Red Tide Decimates Tampa Bay Marinelife, Surfrider Suncoast Demands Change
Thomas Paterek paddles down a canal that is well known to him, for years he's enjoyed these waters, they've brought him peace and relaxation. As Suncoast Chapter Chair, he's fought long and hard for clean water protections in his community, establishing an Ocean Friendly Garden program with his HOA and those of neighboring communities. Educating locals about fertilizers, and working alongside elected officials to pass laws that benefit our marine environments and those who recreate in Florida's typically pristine waters. But if you've followed the headlines recently, you know Florida is grappling with year after year of toxic harmful algal blooms and what were one occasional red tide events are now lasting longer, affecting a larger area and devastating wildlife in its path. It's unsightly, disturbing, and hard to believe unless seen, "this was once a weekly paddle that I cherished. A place filled with dolphins, manatees & countless other sea life. A place of peace. Now, a place of death. Failure to enact policies that protect the environment and long-term climate denial have created the current disaster in Tampa Bay. The Tampa Bay community is demanding that our state leaders declare the current Red Tide crisis a state of emergency."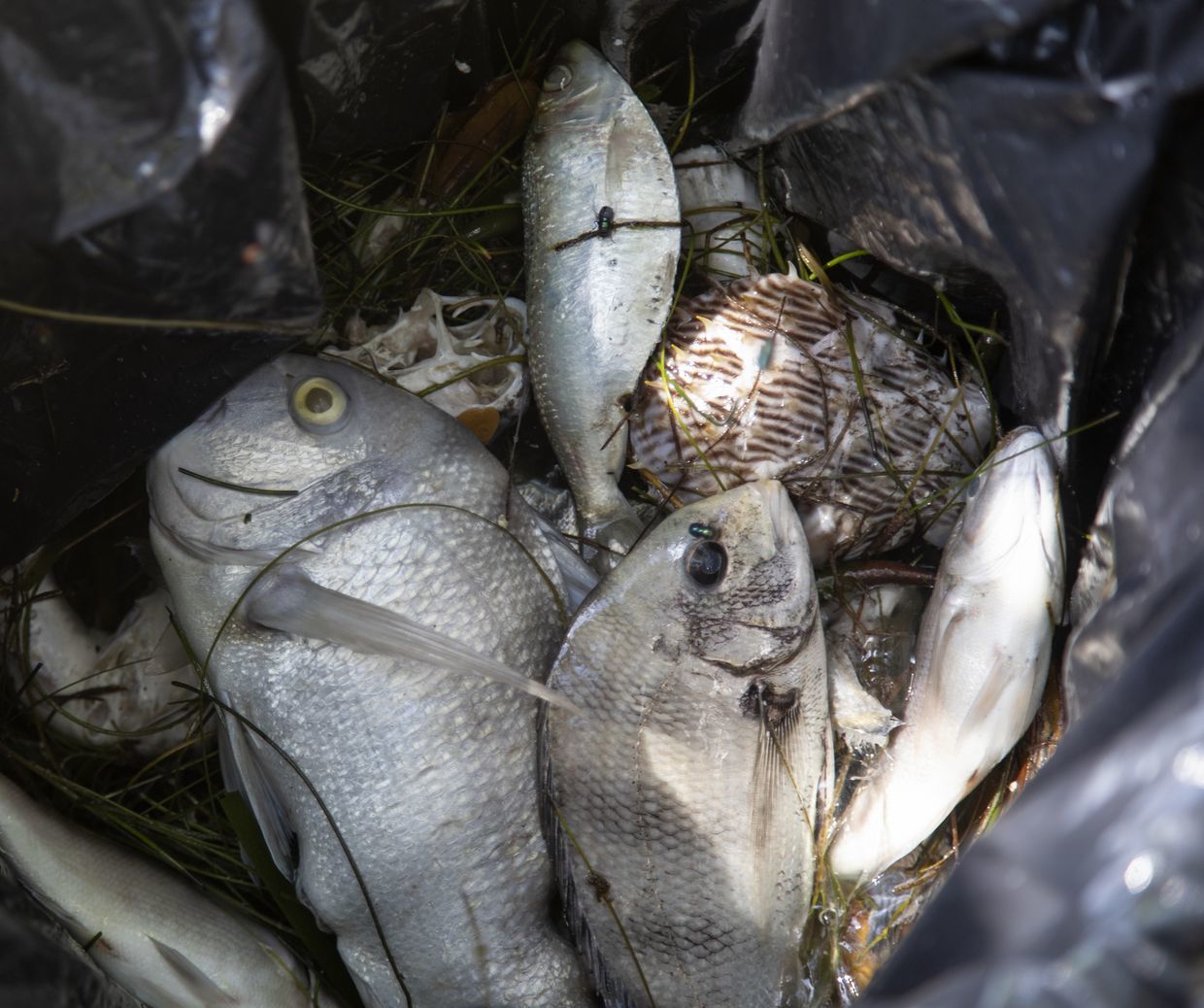 The scenes along Tampa Bay are shocking, tear-inducing and toxic to breathe into one's lungs. In just the past week, crews have cleared away more than 900 tons of dead fish, and officials say their work is far from over. On Saturday, July 17th, the Surfrider Foundation's Suncoast Chapter and the Sierra Club joined forces to "rally against the red tide," they're asking Florida Governor, Ron DeSantis to declare a State of emergency in Tampa Bay and to work alongside them to enact statewide legislation that will help put an end to the death and destruction our marine ecosystems have grappled against since the historic tides and algal blooms began in 2017.
"It's a complex issue, we need action on various fronts. We need to create an action plan and enforce laws that hold polluters accountable. The State needs to protect our water supply and marine environments from toxic runoff and also enforce existing laws. We also need a permanent plan that decommissions Piney Point, and we need to eradicate phosphate mining in the State of Florida. Finally, we need an actionable transition plan to set statewide clean energy targets. It's a tall order, but none of it is impossible and we need our elected officials to make these priorities, immediately" says Marilu Flores, Surfrider's Regional Manager for Florida and Puerto Rico.
The rally was a massive success, over a dozen elected officials came out to support Surfrider's clean water initiatives and demand change on the State level, now Surfrider will work to engage the Governor's office to ask for more to be done, but the public needs to hold the line and keep the pressure coming. Get involved, join Surfrider and if you're in the Tampa / St. Pete area, reach out to our Suncoast Chapter leaders, they're holding rallies, writing letters, and campaigning for change.