05 • 04 • 2021
Surfrider and Recreation Industry Meet with Biden Administration on Oil and Gas Concerns
Surfrider Foundation and Outdoor Alliance organized a recreation industry roundtable with the Department of Interior to discuss the impacts of oil and gas leasing
Earlier this year, the Biden administration announced a "temporary pause" on new oil and gas leasing on public lands and waters. The federal action was part of a larger strategy outlined in Executive Order 14008 to reduce greenhouse gas emissions and tackle climate change. Now the Department of Interior, including the Bureau of Ocean Energy Management (BOEM) and the Bureau of Land Management (BLM), is conducting a comprehensive review of the federal oil and gas leasing program as it determines next steps for U.S. energy development.
To inform this important effort, the Surfrider Foundation, Outdoor Alliance and surf and outdoor industry leaders met with Department of Interior officials including BOEM Director Amanda Lefton and BLM Acting Director Nada Culver. The meeting was a critical opportunity to discuss the enormous socioeconomic benefits of outdoor recreation, and how these uses and values are threatened by oil and gas development including offshore drilling. It also provided a key opportunity to establish our sector's voice in federal decision making moving forward.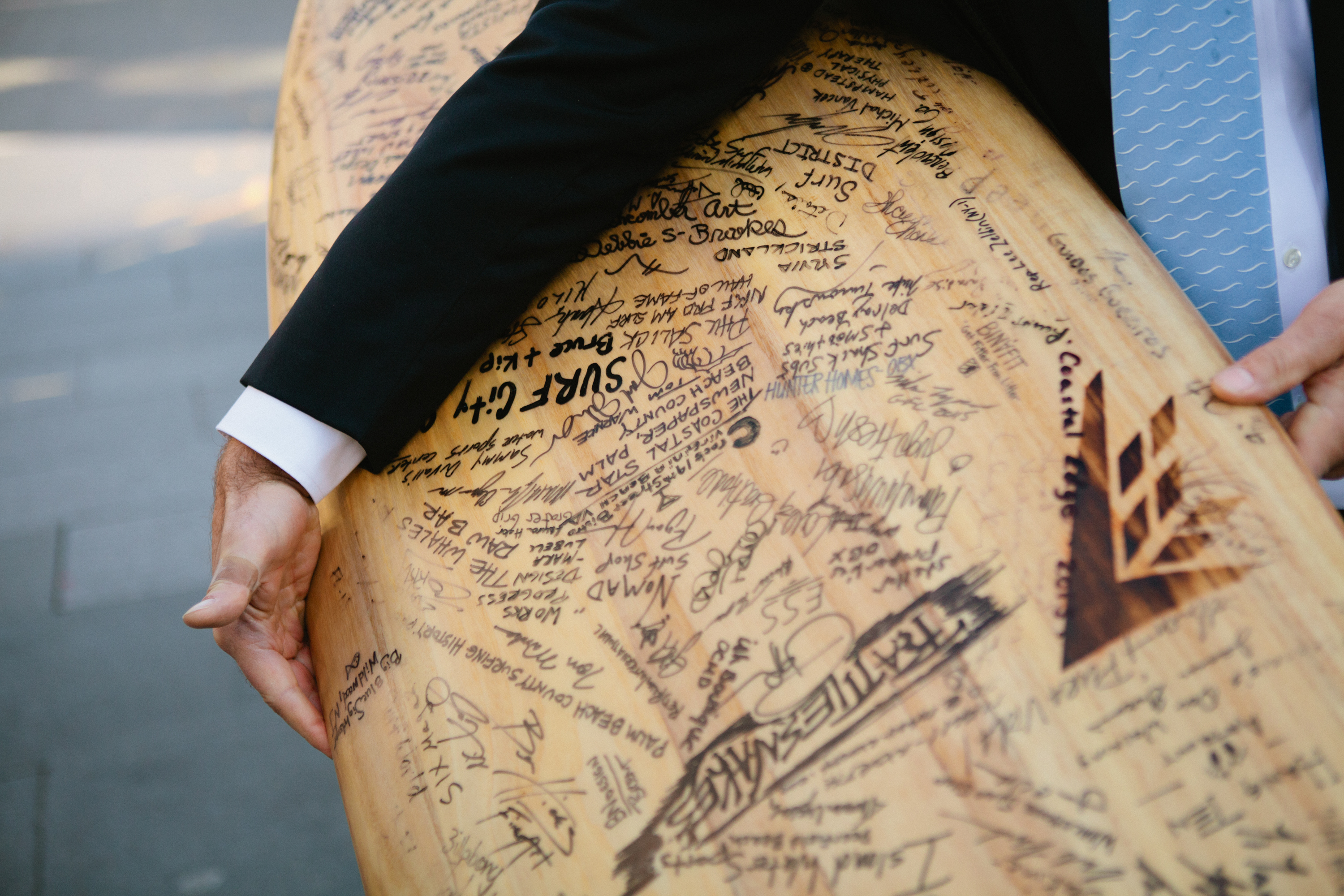 Surfrider's Sign the Surfboard project has galvanized business opposition to offshore drilling
Industry participants in the meeting included chief executives with the Surf Industry Manufacturers Association (SIMA), Outdoor Industry Association, the Business Alliance for Protecting the Pacific Coast (BAPPC), RVCA and Patagonia. During the roundtable, industry leaders explained how their business model depends directly on a clean coastal environment, and how oil and gas development threatens our nation's outdoor recreation economy.
Surfrider and our partners also highlighted opposition to new offshore drilling from nearly 400 communities, 55,000 businesses, and millions of people across the U.S. At the conclusion of the meeting, Surfrider presented Interior leadership with a surfboard and letter signed by thousands of recreation and tourism dependent businesses in opposition to new oil and gas drilling. The "Sign the Surfboard" project has traveled the Atlantic, Pacific and Gulf coasts, generating an enormous response from local businesses and communities.
Make Your Voice Heard
This year offers a critical opportunity to permanently protect U.S. coasts from new offshore drilling. To achieve this goal Surfrider is urging the Biden administration and Congress to reinstate the moratorium on new offshore drilling and to pass legislation that will permanently protect U.S. waters from offshore oil and gas development. Please contact your federal representatives to ask them to protect U.S. coasts from new offshore drilling.
Take Action: Contact your federal representatives
Surfrider is also participating in Hands Across the Sand on May 15th to thank the Biden administration for pausing offshore oil and gas leasing and to urge elected officials to support the growth of clean and renewable energy. The virtual edition will include speakers from across the U.S. and around the globe.
WHEN: Saturday, May 15th at 12:00pm - 1:00pm EST
RSVP: https://oceana-org.zoom.us/webinar/register/WN_tUkFJ6UUQM-UnEZ-3OjwdA?fbclid=IwAR1kATgb7O3sktq-mdS2dvf1xgTEKlhFnP5CKWTmeq8aQfBKt5_FzUrDYz0
Facebook Event: https://www.facebook.com/events/448822153111417