05 • 03 • 2022
Survey Tracks Health Issues From Red Tide Exposure in Southern CA
Did you head to the beach in Southern California between April 26 and April 30, 2022? If so, help us collect important public health and scientific information related to the recent red tides by filling out this quick and easy questionnaire!
The Surfrider Foundation, Southern California Coastal Ocean Observing System (SCCOOS) and researchers at Scripps Institution of Oceanography have collaborated on an effort to collect community anecdotal information on potential respiratory symptoms experienced after being exposed to recent red tides in Southern California. Collected information will be included in future publications and bulletins exploring the impacts of these phytoplankton blooms.
Last week a thick brown-red plume could be seen at beaches and bays across the region. At night, plumes containing the phytoplankton L. polyedra, turn into a bioluminescent show with bright blue glowing waves and shore break (image below by Michael Latz, PhD). Learn more about the current blooms and their locations from SCCOOS here.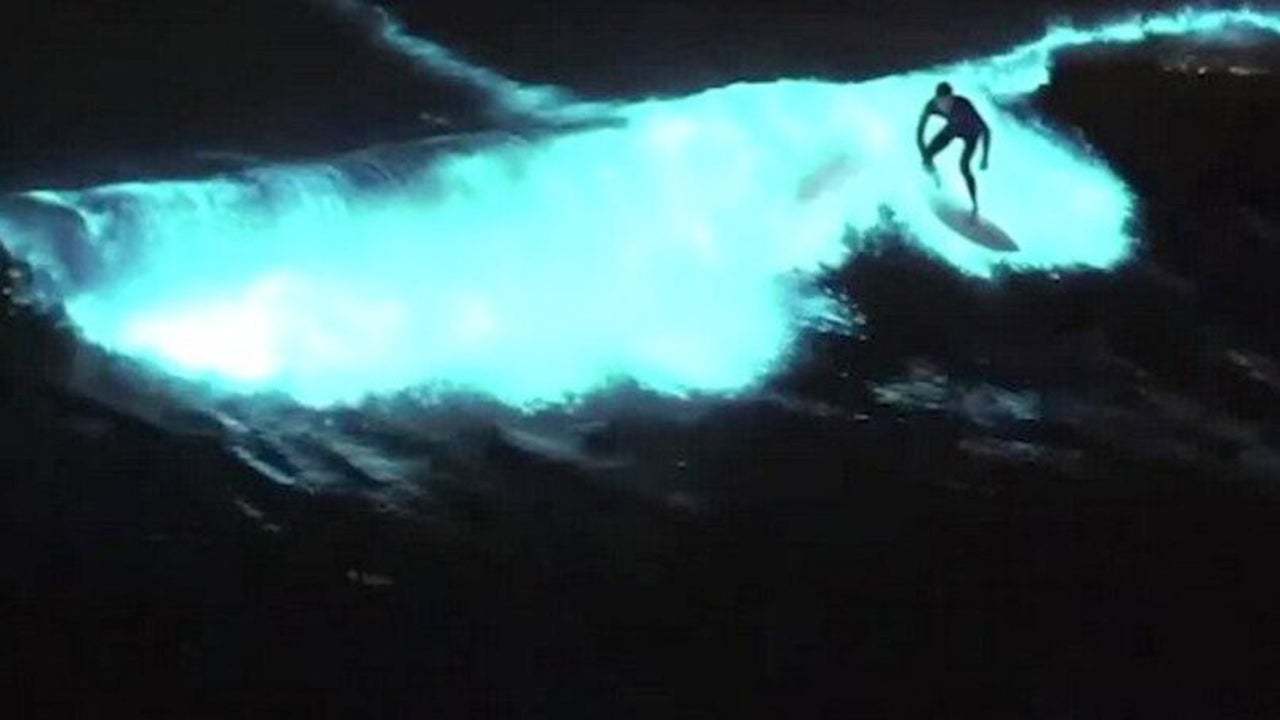 A red tide is the result of a large bloom of phytoplankton (counts can range from thousands to millions of cells per liter of seawater), a natural phenomenon that gets exacerbated by nutrient runoff and warming waters. The type of phytoplankton that makes up red tide blooms varies by region and toxicity. While most species of phytoplankton are harmless, and actually essential to the Earth's oxygen production and marine ecosystem, some can be notably harmful to humans and marine life. Read more about the impacts of red tides in coastal communities across the US in this beachapedia article.
While these recent red tides are composed of phytoplankton that are considered to be less toxic than other red tide culprits (like Karenia brevis off Florida and species that produce Domoic acid off the West Coast) there have been anecdotal reports of respiratory symptoms developing after L. polyedra exposure for years. Other current red tide-forming plankton can release a slime that harms marine life, especially marine birds.
To help track instances of human health impacts and collect more targeted anecdotal reports of respiratory symptoms, Surfrider worked with SCCOOS and Scripps Institution of Oceanography to develop this questionnaire. The goal is to use this anecdotal information in future publications and to support future research efforts to track potential adverse health impacts of certain red tide exposure.
Help us collect important information by filling out the questionnaire today!
Help protect marine life by reporting sitings of beached birds to International Bird Rescue, Southern California: 310-514-2573.