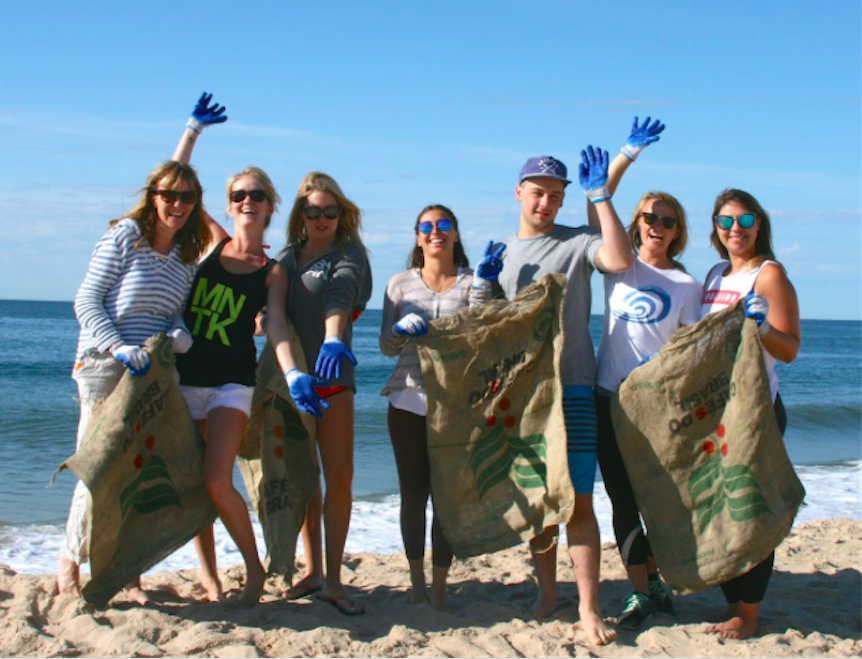 When and why did you get involved with Surfrider Foundation?
Growing up, I spent summers floating in the waters of Long Island, New York. I always had a passion for the outdoors and marine biology. I went to school across the country to study Environmental Science at Santa Clara University. I was fortunate enough to study marine ecology in the Galapagos, and after returning back home to Eastern Long Island I sought a summer job related to marine conservation. I was put in contact with Surfrider, and began a summer internship with the Blue Water Task Force in June of 2015. During my first summer, I monitored water quality at seven new sampling sites in Eastern Long Island. As time went on, I became much more involved with outreach by organizing community workshops and weekly beach cleanups, creating information sheets about toxic algae blooms and clean beaches, and I have incorporated many more Surfrider initiatives into my day-to-day life. I'm even helping my family to make our yard an Ocean Friendly Garden. My morals just align with Surfrider, and I am eager to see how I will continue to be engaged in days to come!
What issues are you most passionate about in your community?
The biggest thing that I preach is respect for our natural surroundings. We live in a community that is 100% surrounded by water. We depend on our beaches for our livelihood, recreation, and future, so it is essential that we respect it. In my opinion, the easiest way to reduce the pressure we place on marine ecosystems is to deny single-use products (plastic water bottles, bags at the grocery store, coffee cups, straws, etc). This summer, I organized weekly beach cleanups to motivate community members to help reduce marine debris. If you foster habits within people, they will be more mindful about their resource use and subsequent impact on their surroundings. A lot of times, people don't fully understand their impact, but just simply investing in reusable products and picking up any bit of litter on the beach, adds up to a huge impact. Plus, you're setting an example for everyone around you.
What has been the highlight of your Surfrider experience (i.e., campaign, program, victory)?
The highlight of my Surfrider Experience to date would be the Two Coasts, One Ocean national fundraiser in Montauk, NY. Events like these require a lot of planning, but I was only present to help set-up and with the event itself. It was extremely motivating seeing so many passionate Surfrider staff and community members come together to protect our common ground. We raised enough money to fund extremely important initiatives and also educated the community and Surfrider members about our current actions. It was great to meet the faces behind so many names I have heard during my two years with Surfrider. And the event was a blast. Well done, team!
Where is your favorite beach and why?
My all-time favorite beach is called Tortuga Bay. It's on the southernmost side of Santa Cruz Island in the Galapagos. Its empty waves and miles of white sand require a 45-minute hike in through cacti growing to the size of trees. The edges of Tortuga Bay are lined with mangle (mangrove forest), that serve as a nursery for hammerhead sharks. All and all, it is a magical place that speaks to the beauty of the whole Galapagos archipelago.
What is the most important thing you tell others about Surfrider?
Surfrider members come from all walks of life. We are simply a community of individuals with something in common: a love for the ocean. No matter where you come from, what you do with your day- schoolteacher, gardener, or banker – your values are important to us. Many of our coasts are in danger, and there is definitely urgency for action. If you are passionate about any of our initiatives (beach access, plastic pollution, clean water, coastal protection, ocean friendly gardens), or even something new, share it with your local chapter. We could always use more pairs of hands. Remember, one drop of water creates a ripple effect.
Get involved with Surfrider's Blue Water Task Force or find your nearest chapter at surfrider.org/chapters!