Meet Kris Baker with the Space Coast Chapter
Kris has been volunteering with the Space Coast Chapter over the last few years, and has served as the chapter's Blue Water Task Force (BWTF) Coordinator for about a year. On top of that, she has most recently taken on the role as Chapter Chair as well! Since becoming the BWTF Coordinator, Kris has switched the chapter's lab over to using reusable glassware and has expanded their water quality sampling sites. When not volunteering, Kris can be found painting, gardening, or spending time in the ocean.
Q: What is your current role with Surfrider Foundation?
My current role with the Space Coast Chapter is a volunteer, activist, environmentalist, conservationist, Chapter Chair and Blue Water Task Force Chair.
Q: Why and when did you get involved with the Surfrider Foundation?
I have always been involved with the environment and conservation. I'm very passionate about our planet's health; air, land, and especially water. After settling a few years ago in Melbourne, Florida, I went to a Space Coast Chapter meeting and I was hooked and eager to get involved.
Q: What are some environmental issues that are affecting your local community?
The Space Coast Chapter covers Brevard County, with 45 miles of beaches, the Indian River, and connecting estuaries for water sports enjoyment. Our area of Florida has several environmental issues. Our lagoon and the estuaries that lead into it are not healthy. Our BWTF volunteers collect water samples from 10 sites. Partner organization Marine Resource Council (MRC) collects and tests another 10 sites for us. Most of the 20 sites are in the red, which means the water is high in enterococcus bacteria.
Our beaches constantly need to have trash picked up. Erosion is another issue, which will only get worse with each storm and with climate change rising. We are also involved with municipalities to pass no smoking legislation at our beaches. And, we are working hard to educate the public about the impacts of single-use plastic and foam.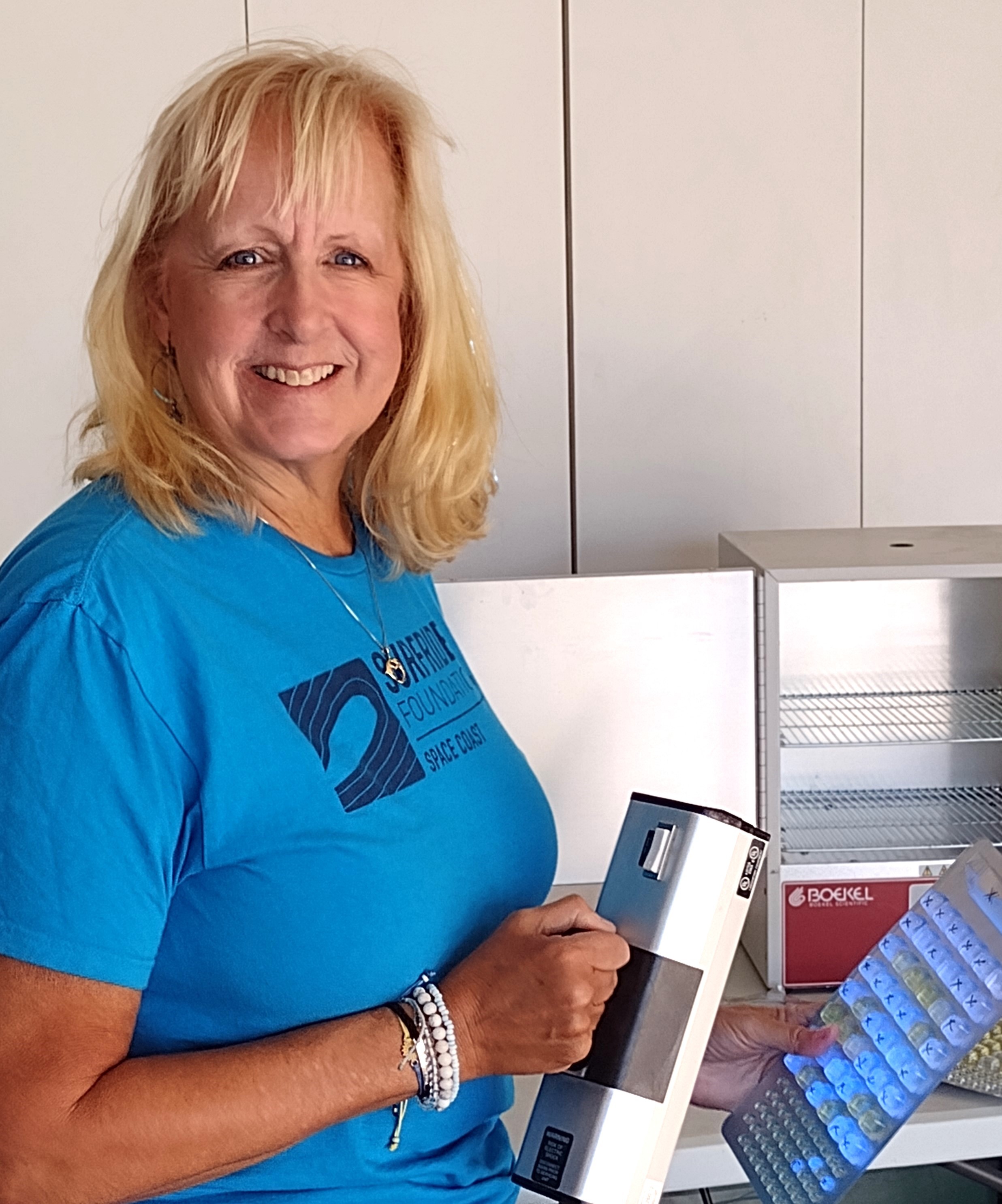 Q: What Surfrider projects have you worked on?
I've done beach cleanups, including our Adopt a Highway on A1A in Sebastian, Ocean Friendly Gardens (OFG), planted sea oats and natives in my own yard, networked with municipalities for the No Butts on Beaches campaign, brainstormed with our Ocean Friendly Restaurants (OFR) to highlight them and invite other restaurants to learn how it can be done, connected with local colleges and students, and educated the public at tabling events about how everyone can make a difference to help our community.
Q: Are there any specific projects that you have worked on which benefited your community?
All the projects benefit our community. Blue Water Task Force is my passion project. Healthy water is extremely vital for all living things, humans, animals and plants. If we don't have healthy water, we all die. We have a wonderful BWTF volunteer team that is just as passionate about the environment as I am; collecting water samples rain or shine. I also enjoy the lab testing part. I hold my breath, reading site results, always hoping that no cells will be lit up!
Q: What has been the highlight of your Surfrider experience?
The BWTF has grown with funding from grants, has currently expanded to testing 10 sites, and will be using glass instead of single-use plastics for testing. Other highlights include our water testing collaboration with Cocoa Beach, Florida Department of Environmental Protection (DEP), testing specific sites, and planning for future independent source-specific testing.
Q: Do you have any campaigns that you're passionate about where the social justice and environmental movements have intersected?
Implementing No Butts on the Beach in our municipalities is a huge goal we have for the Space Coast. We are currently speaking with Commissioners at monthly meetings, expressing the importance of "No Butts" for health and litter reasons. Single-use plastic is also another campaign we are working on moving forward in our community. This has been a very empowering experience.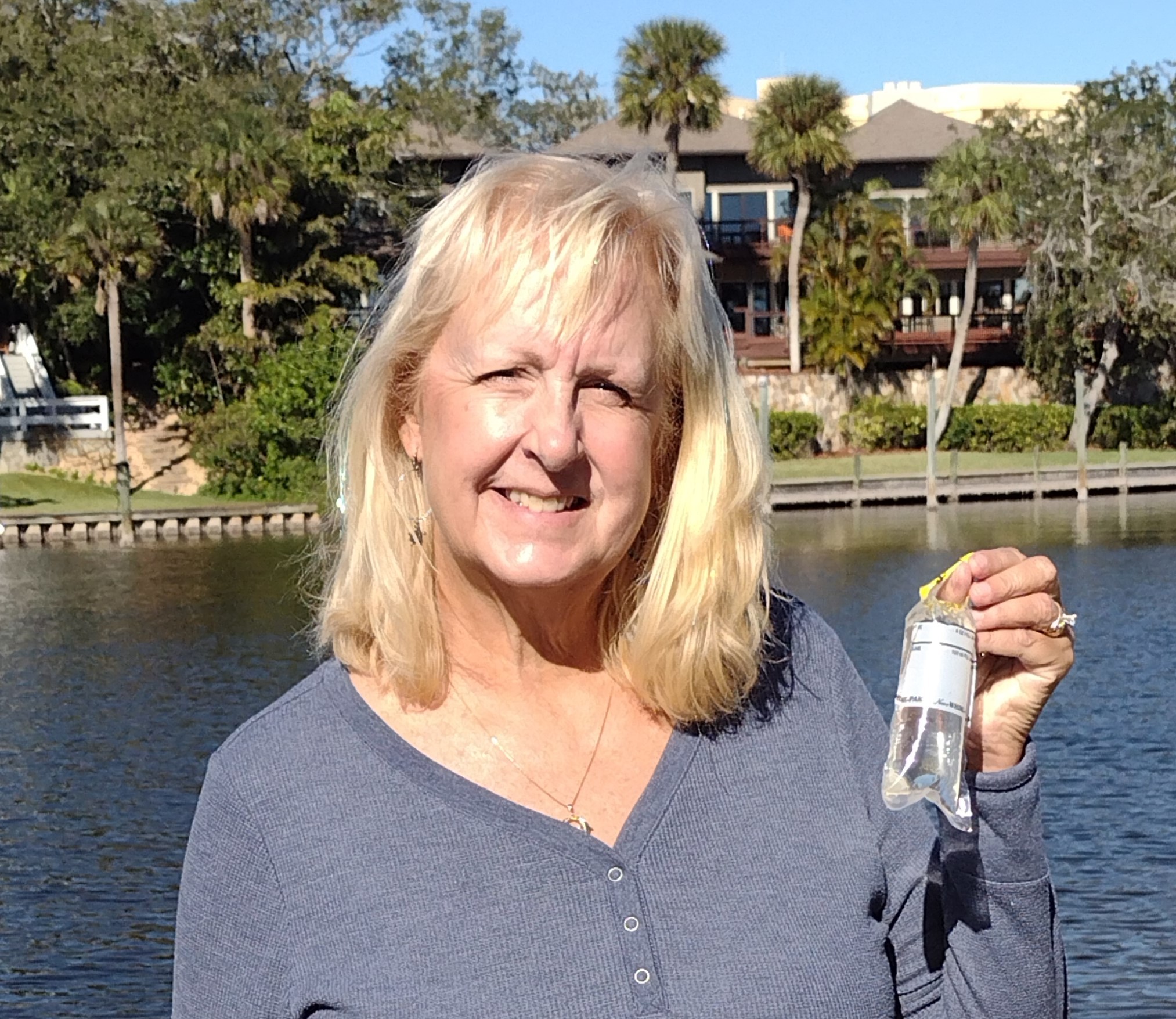 Q: What is Surfrider doing to foster an inclusive and welcoming experience?
The Space Coast Chapter is a group of friendly, passionate people who are dedicated to all of our projects. I love how we all care about our water and the environment. We all come together for the same cause. It's not an effort to talk about what you believe in. Conversation flows easily and everyone's enthusiasm is clear. It also feels safe. The Space Coast is so diverse with Florida locals, newcomers and snowbirds. Participants include all ages, from youth to seniors, and all life experiences and backgrounds. Tabling at events, we often connect with members of the public who share our concerns about the environment. We are a committed community here, with no boundaries to what we can accomplish!
Q: What is the most important thing you tell others about Surfrider?
You don't have to surf to participate in Surfrider! I'm not a surfer; however, I am a sailor, swimmer, rower, paddler, boater, snorkeler, beach and sun worshiper! Also, we don't just do beach cleanups. We do so much more!
Q: Why is being a part of the Surfrider ocean conservation community important to you?
Wherever I've lived, whether in Florida, New England, Minnesota, Maryland, New Jersey, and Pennsylvania, I have always been involved with conservation! My family lives the conservation lifestyle as best we can. We need to care, now and for our future. It takes a village… a Space Coast Surfrider team!
Q: Anything else?
I am a college graduate, wife, and mother of three grown boys. In addition to volunteering with Surfrider, I enjoy playing pickleball, gardening, painting favorite subjects, volunteering with marine mammal rescue, water aerobics, and will always honor and cherish our Veterans. My appreciation for the natural world inspires my paintings and feeds my passion to protect and preserve the environment. To email me about my artwork, contact me at krisbakerartwork@gmail.com!