02.08.21
Blue Water Task Force Results Demonstrate Importance of California's 72-hour Rule
By Colleen Henn
Cover image courtesy of Anita Zamani of the Los Angeles Chapter. Image shows a "stew" of stormwater runoff and debris in the Pico Kenter Storm Drain in Santa Monica.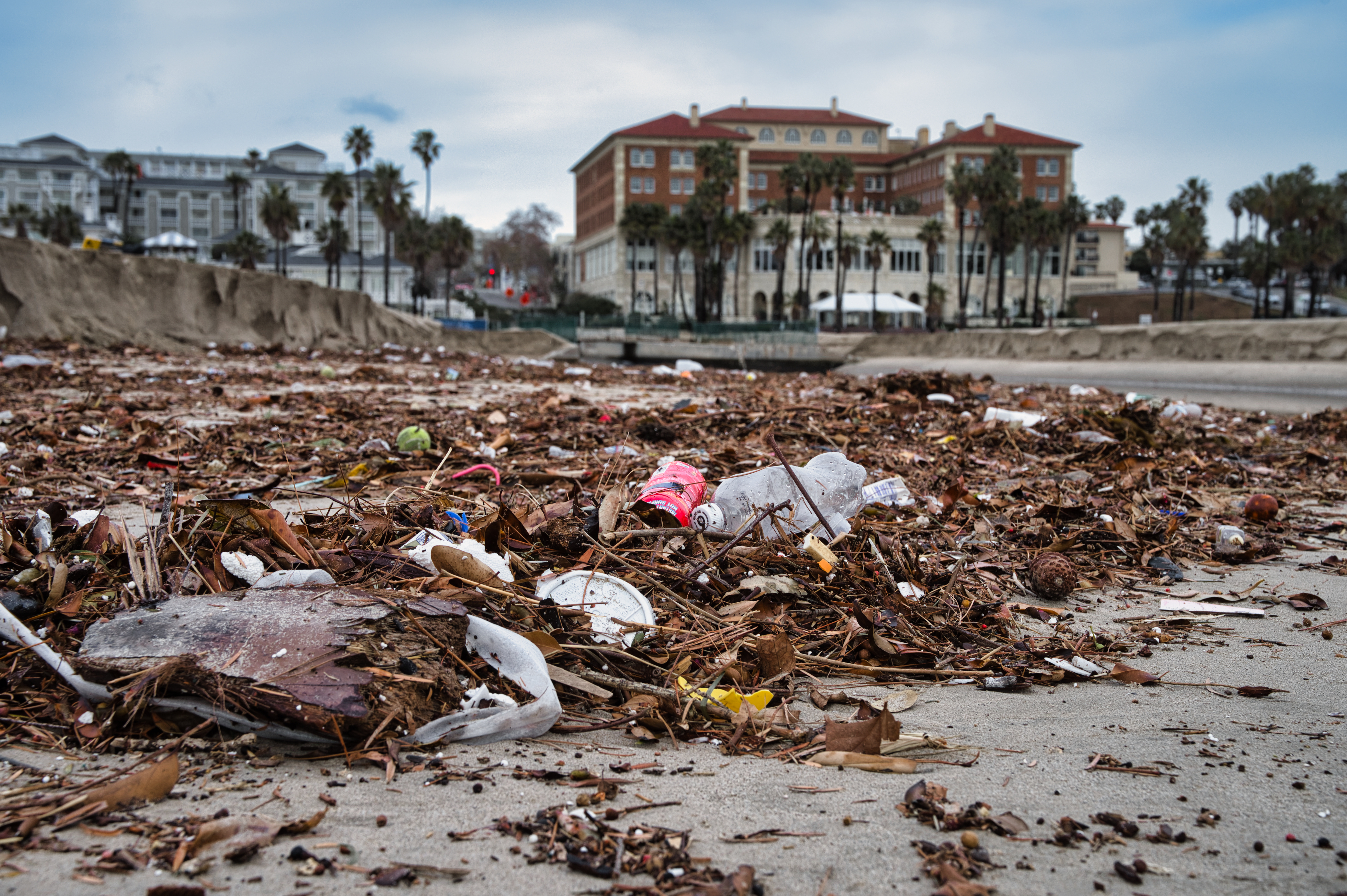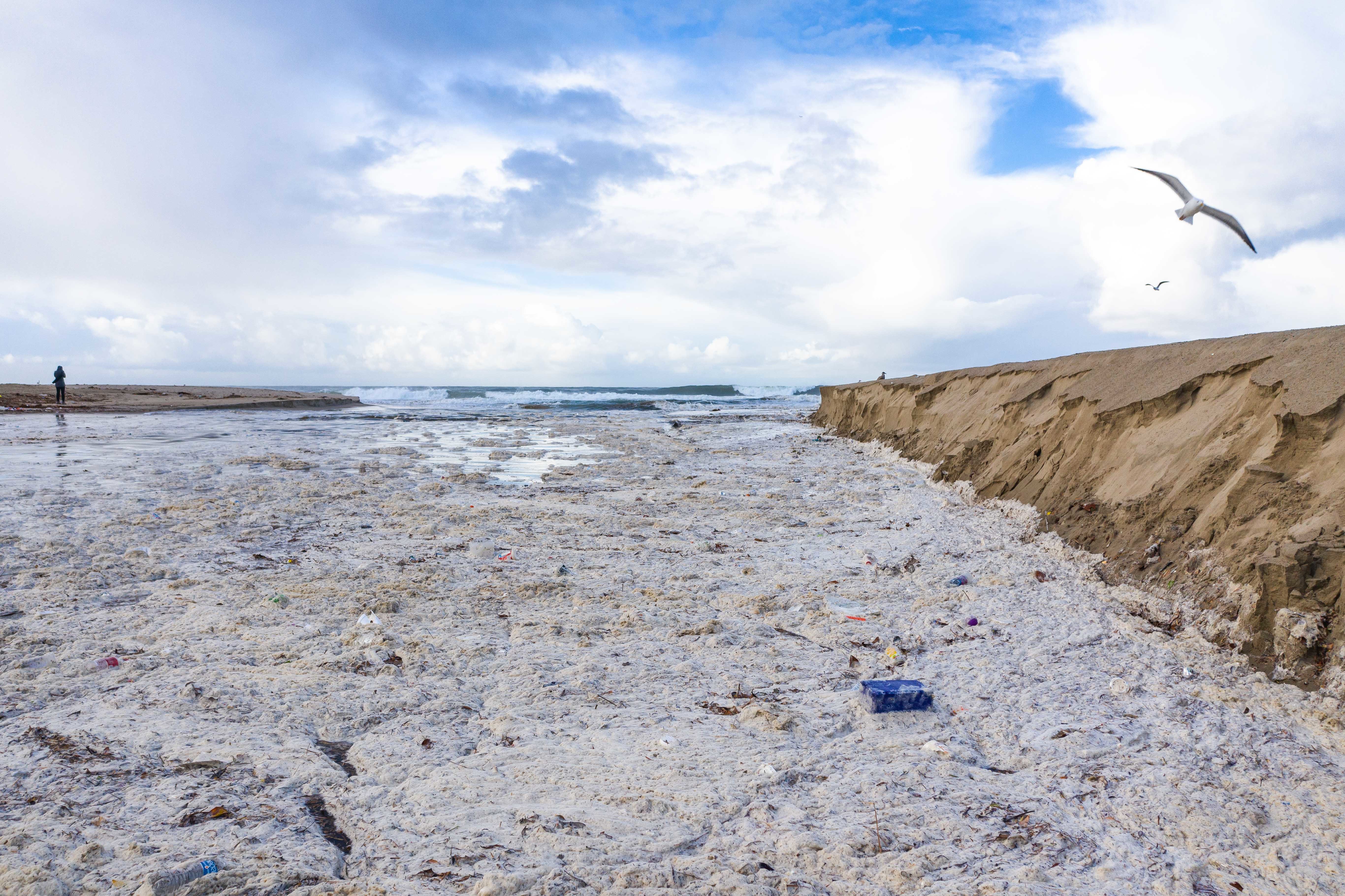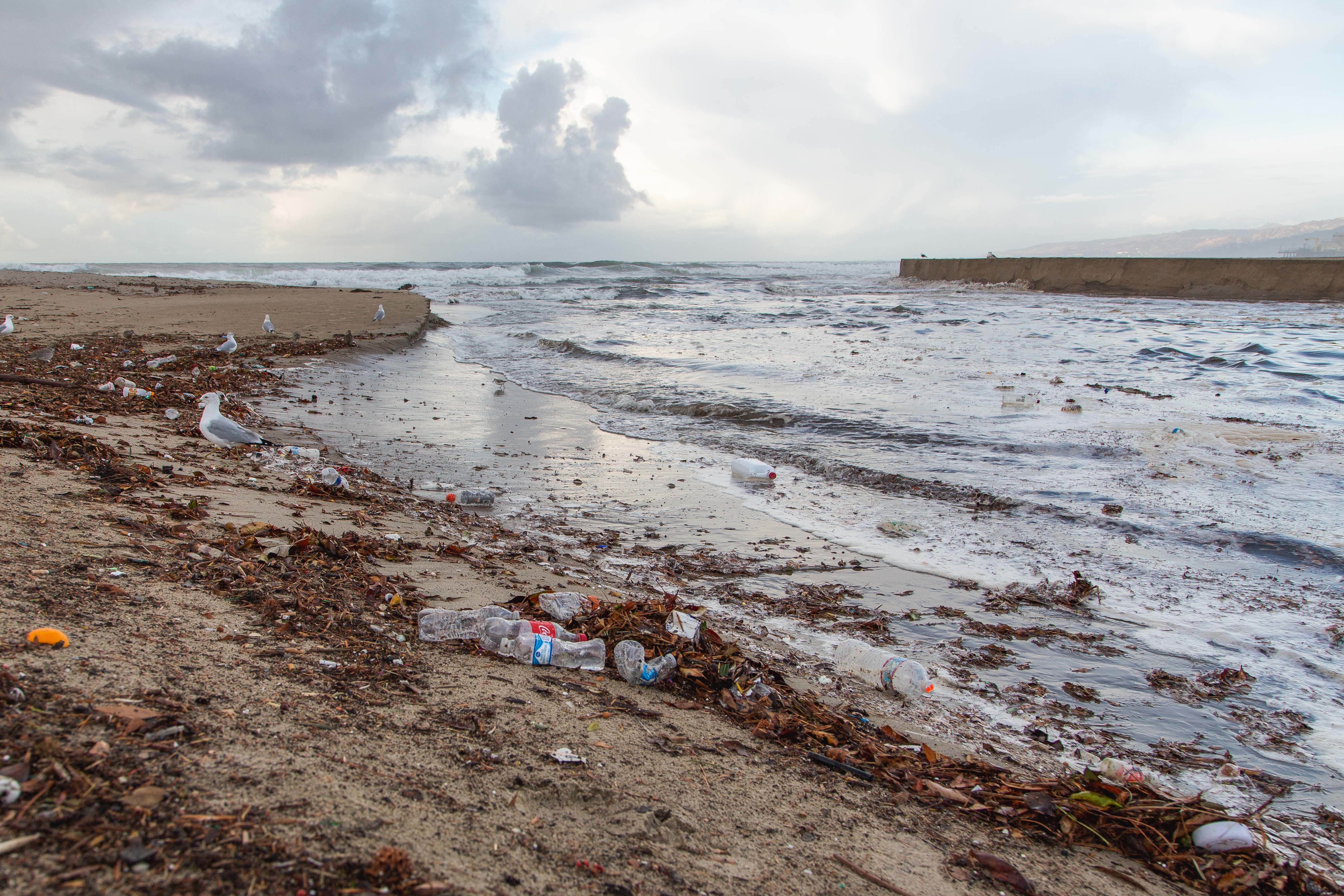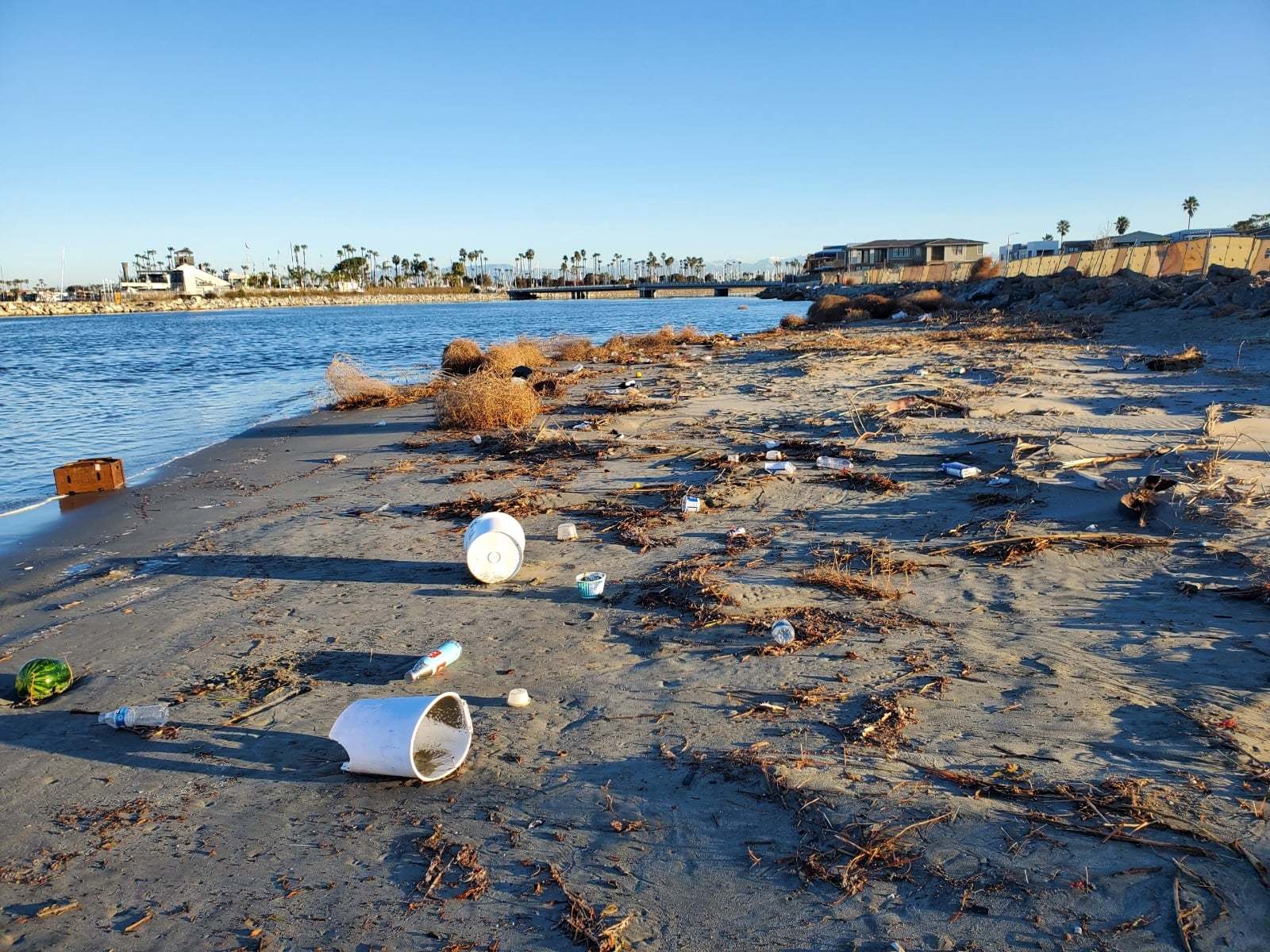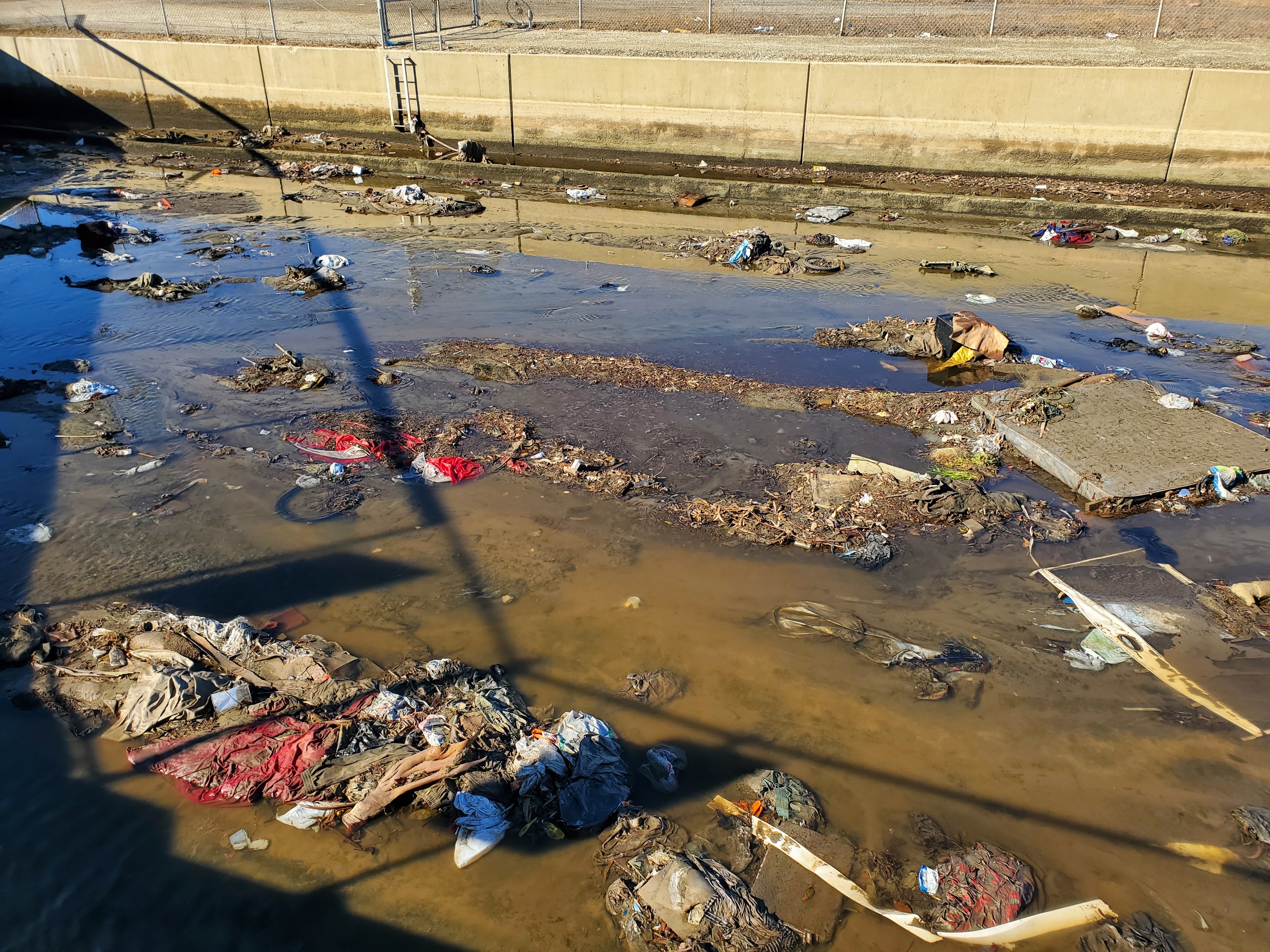 The photographs above speak for themselves; after heavy rain, California beaches are a mess.
After a week of on-and-off rain in California, there are a few unwelcome visitors in coastal watersheds. Some of which remain invisible to the eye, others extremely hard to miss.
Rain falling on impermeable surfaces like roofs, roads, and concrete river beds, picks up everything with it. So, after a big rain in California, you may find shopping carts, flip flops, cigarette butts, toothbrushes, food wrappers, bottle caps, and millions of small expanded polystyrene foam pieces on the beaches. You name it!
But, what could potentially be even more dangerous are the pollutants that remain invisible to the eye: bacteria from animal waste, pesticides, fertilizers, oil, road dust, heavy metals, and even sewage that discharge to the ocean at creeks, river mouths, outfall pipes, and lagoons, like those pictured below.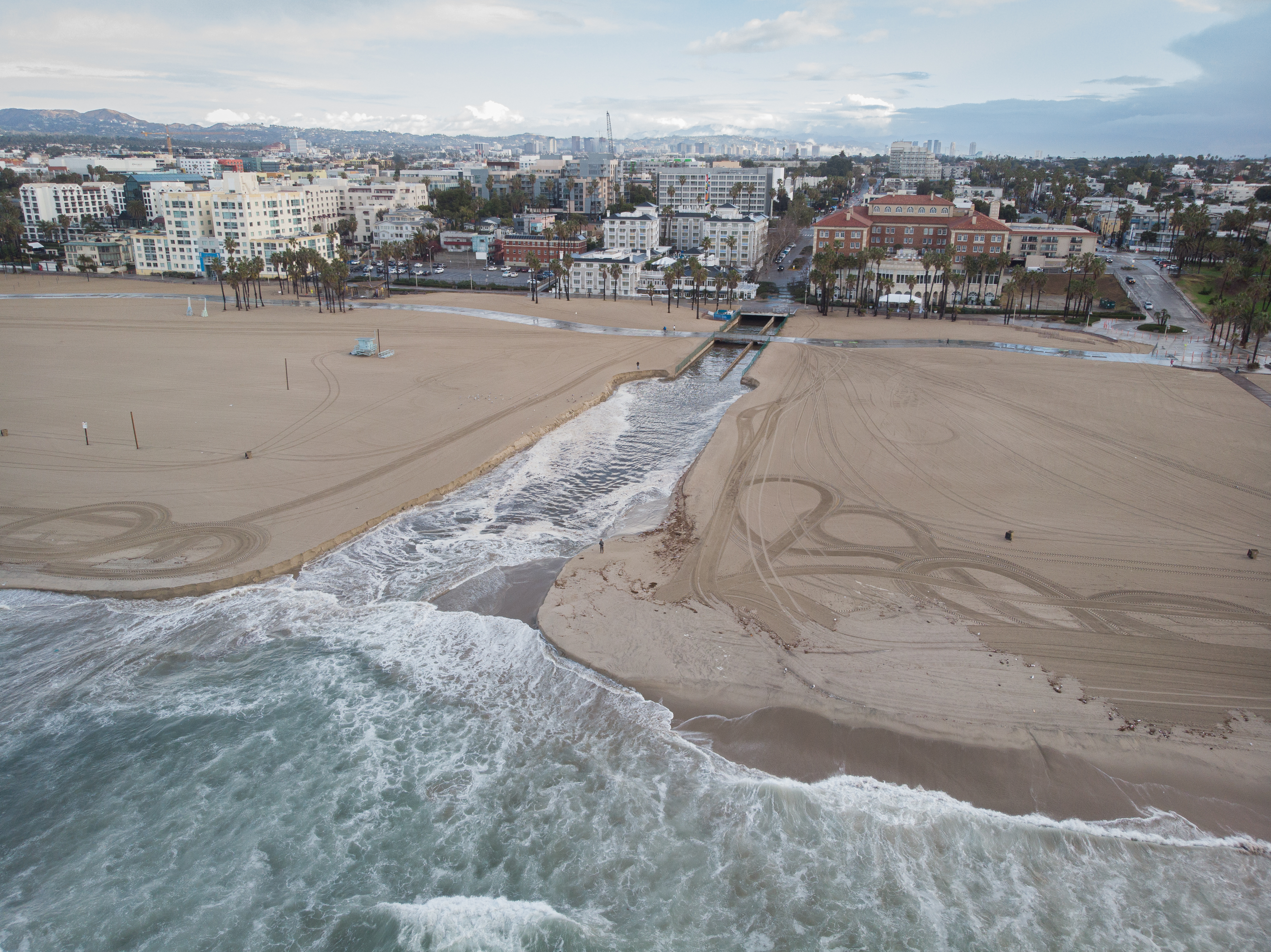 To protect beachgoers from waterborne illness, the California EPA advises people to abide by the "72-hour rule," to not get in the water during and for 3 days after a rain event.
For years now, our Blue Water Task Force program has been measuring high bacteria levels at the beaches in California after rain events, and the results are staggering. This year, several of our California-based programs serendipitously were all out sampling within a few days of this heavy rain, clearly demonstrating the impacts of stormwater runoff on our local beaches. Check out the results on this statewide map, and on each lab's results, listed from north to south.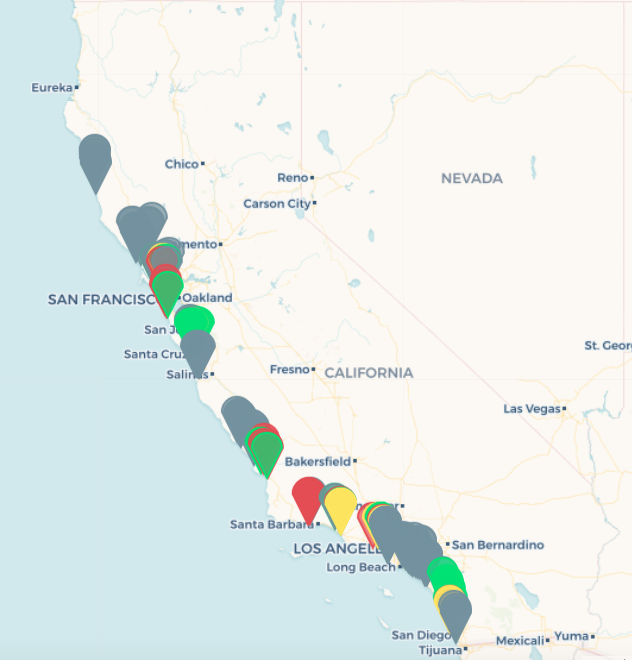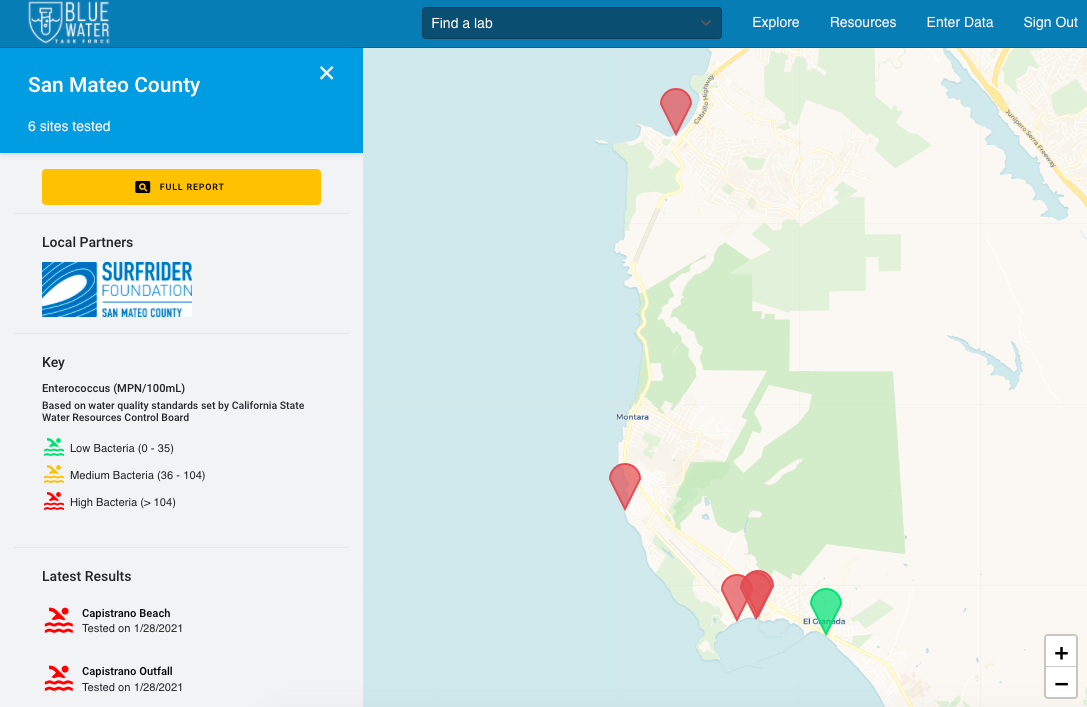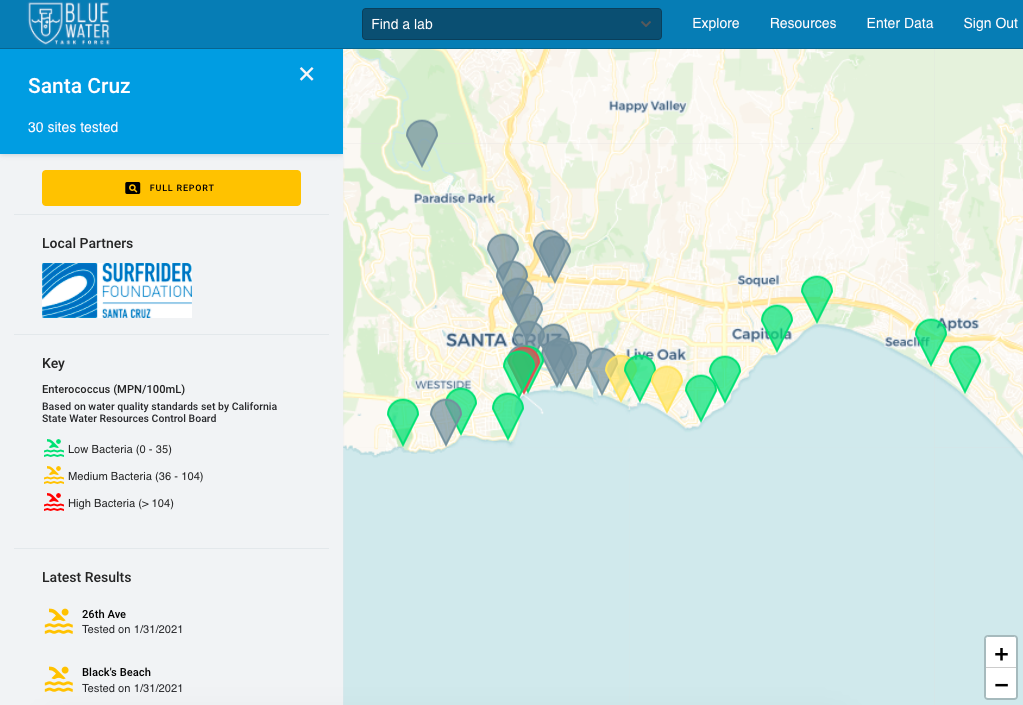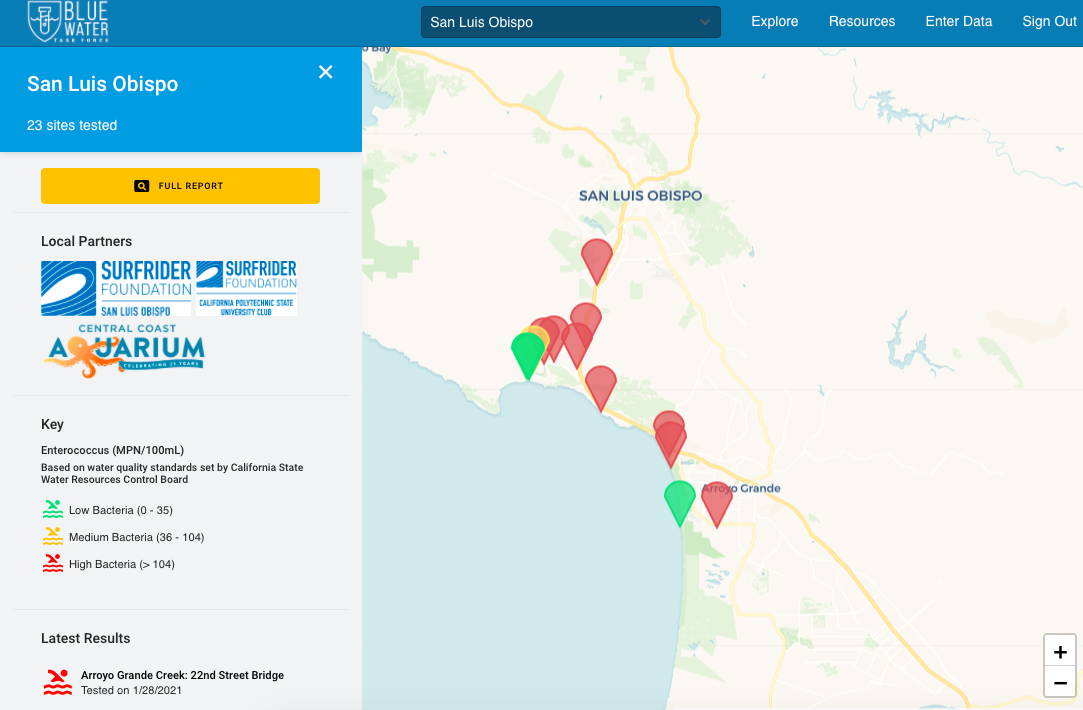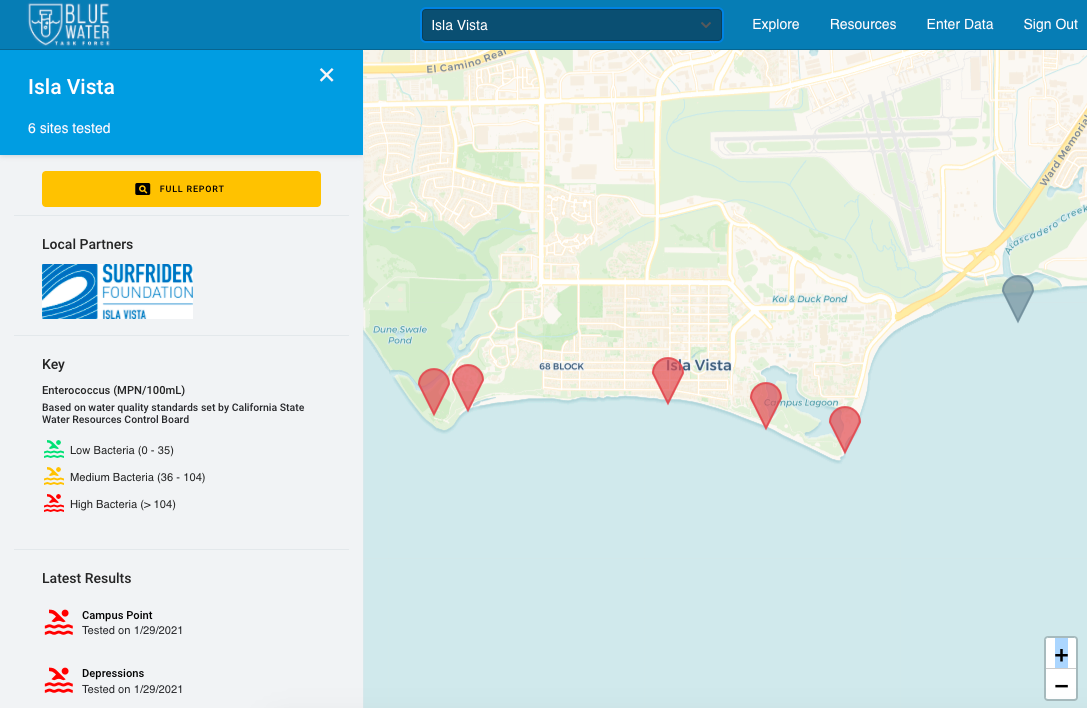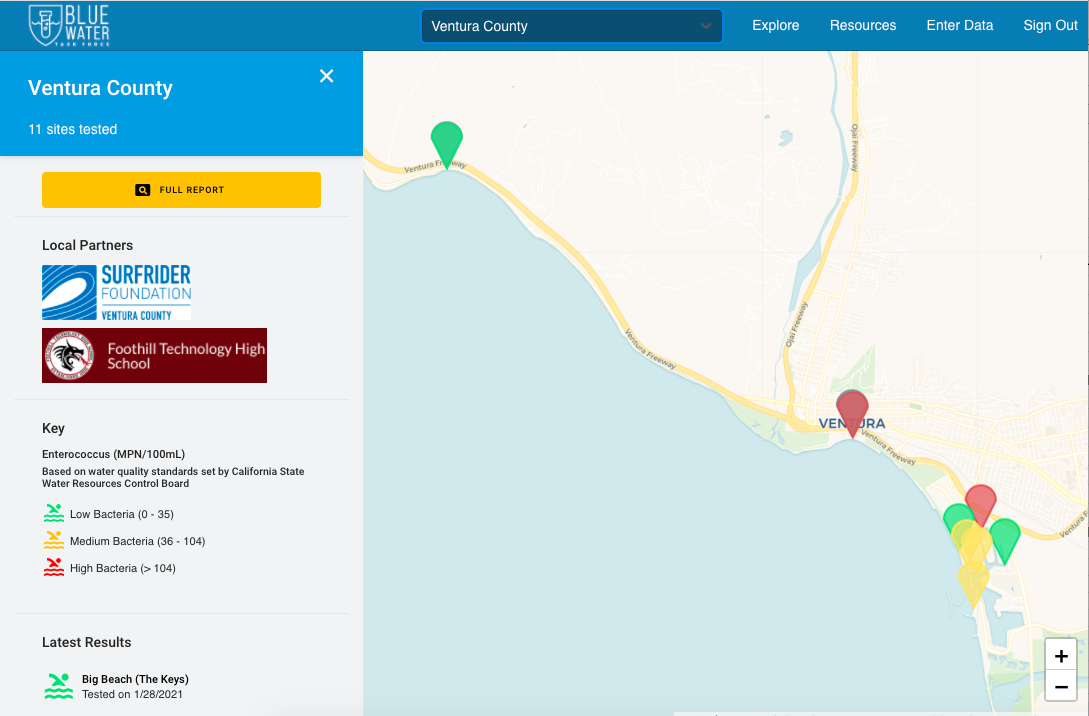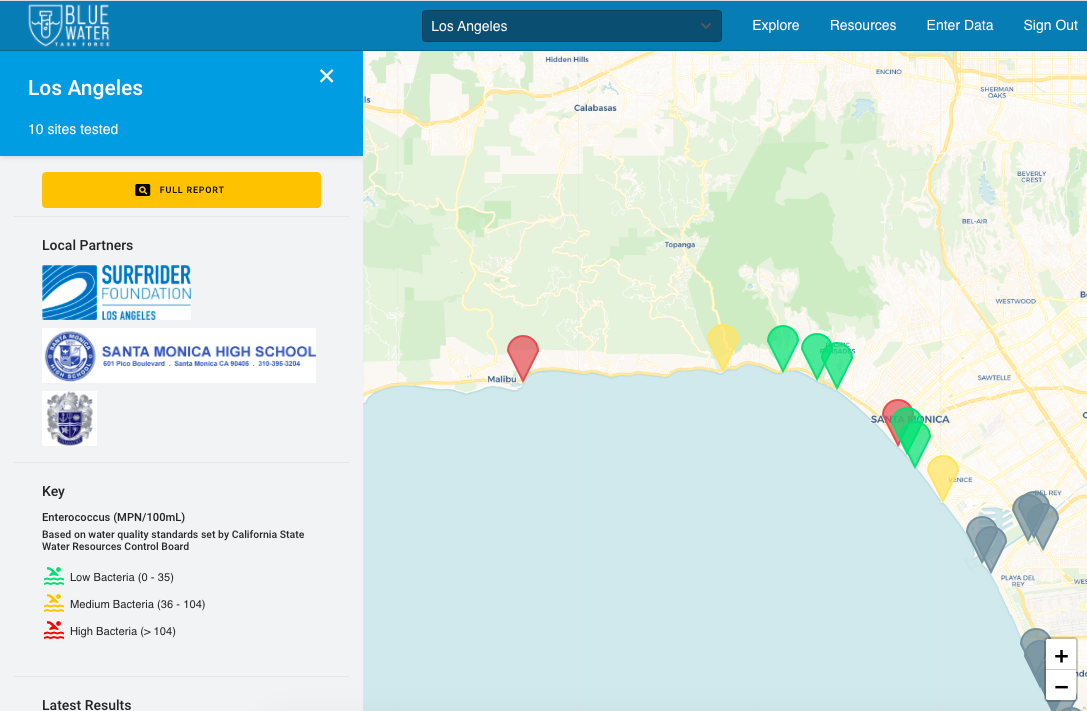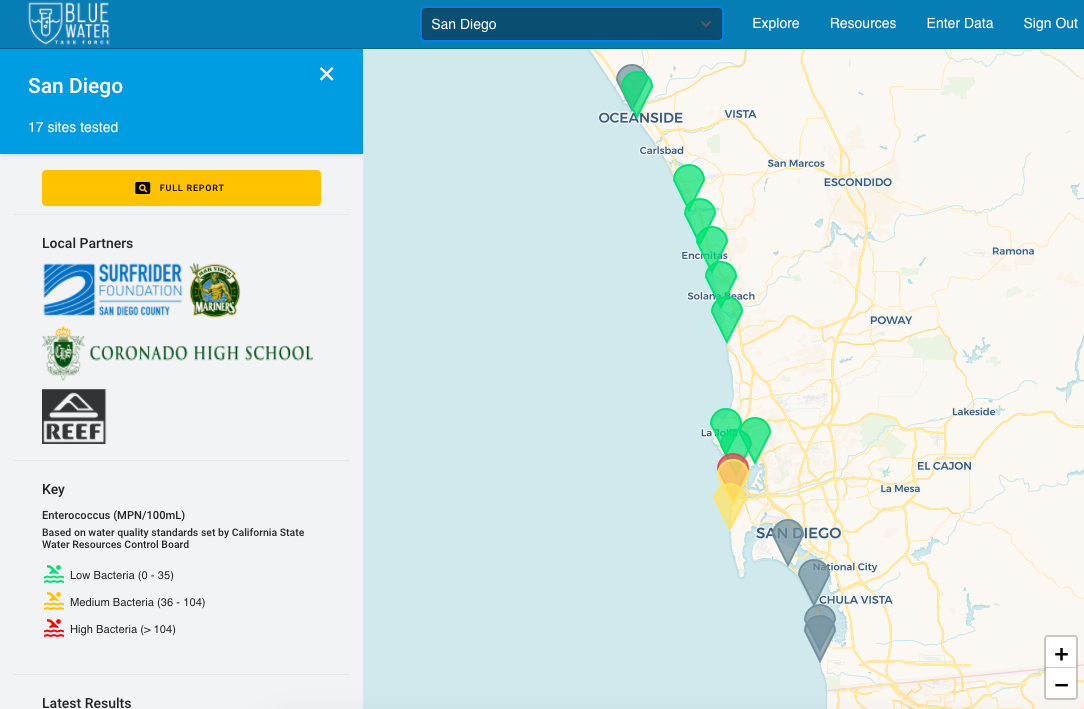 Surfrider Foundation's Blue Water Task Force collects samples at local beaches and tests them for the presence of enterococcus, a fecal bacteria that indicates the presence of human or animal waste in the water. Elevated levels increase the likelihood that other potentially harmful bacteria, pathogens, and protozoa may be present.
Water quality results are compared to State standards set to protect public health. On the above map, the green, yellow, and red pins indicate low, medium, and high bacteria levels, respectively. The red pins indicate bacteria levels that exceed health standards (>104 cfu/100mL* enterococcus), per the California State Water Resources Control Board.
*cfu/100mL = colony forming units of enterococcus per 100mL sample
It is important to note that on a typical dry day, many regularly sampled ocean beaches would yield low bacteria levels. These Blue Water Task Force results make the impact of stormwater runoff on our beaches glaringly obvious.
So what does this all mean?
It has been said before, and our data re-assures that it is best to wait at least 3 days, 72 hours, after a rain event to get in the water to prevent recreational water illnesses. You are more likely to get sick swimming or surfing during or after rain, than in dry weather. For more information, please check out resources below, where you can learn about the impacts of rain on water quality in California, and the potential health threats.
Extending Beyond California…
This rule applies well beyond California. It is always best, no matter where you are, to avoid going in the water after rain events. In less-urbanized areas, or in areas where it rains more frequently, you may not have to wait a full three days. It is also important to note that waters can be polluted even in dry weather. That is why it's best to check the water quality before you get into the water, to swim away from storm drains, and to always rinse off afterwards with fresh water.
Thanks to our partners, Dragon Alliance and House of Marley for their national support of the Blue Water Task Force!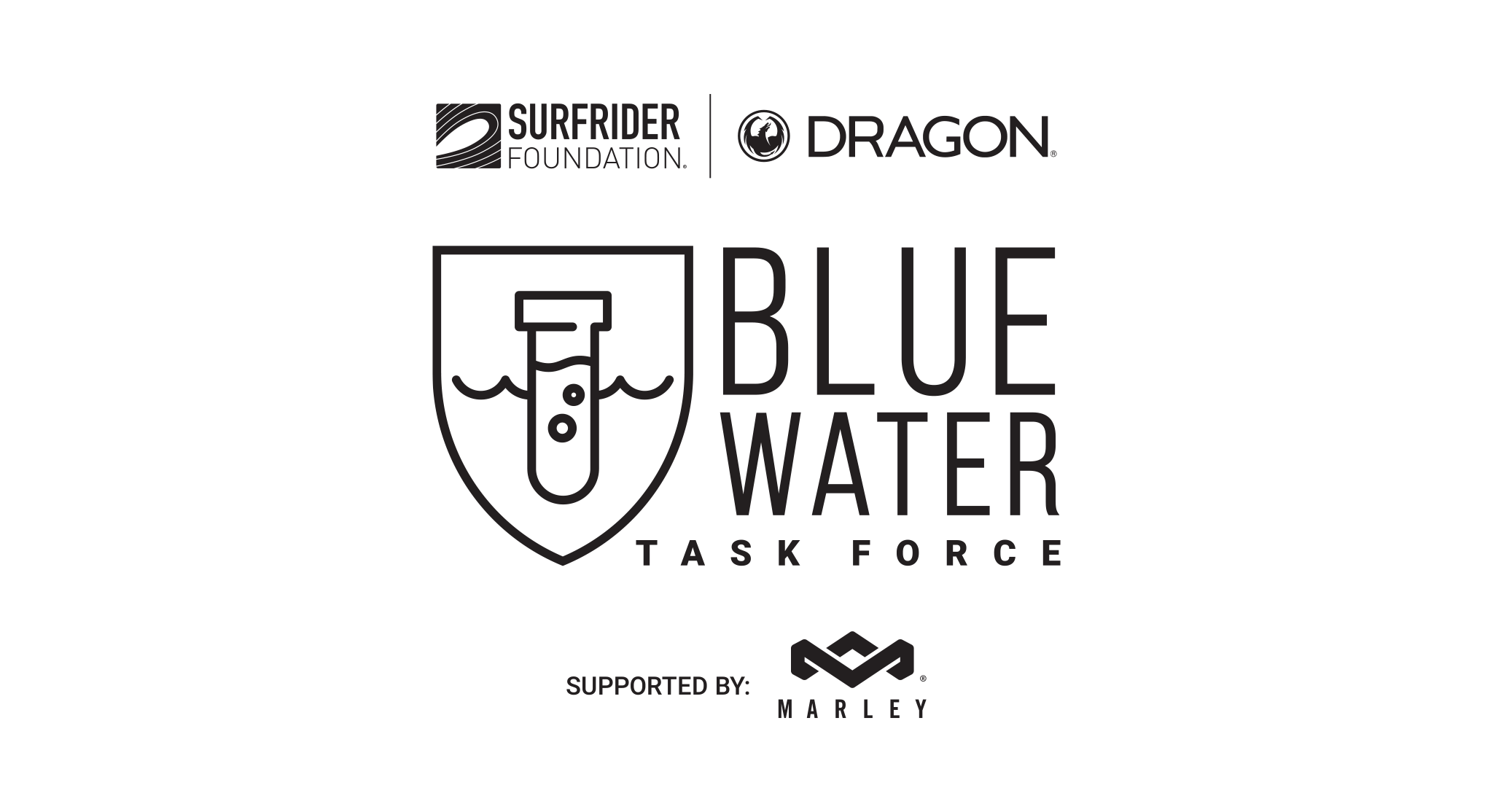 Photo credit in order: Cameron Venti // Anita Zamani, Pico-Kenter Drain in Santa Monica // Jake Olson, Pico-Kenter Drain in Santa Monica // Huntington Beach Chapter, Seal Beach River Jetty // Laura Oergel, Ormond Beach Lagoon in Oxnard // Ruiz Maxime