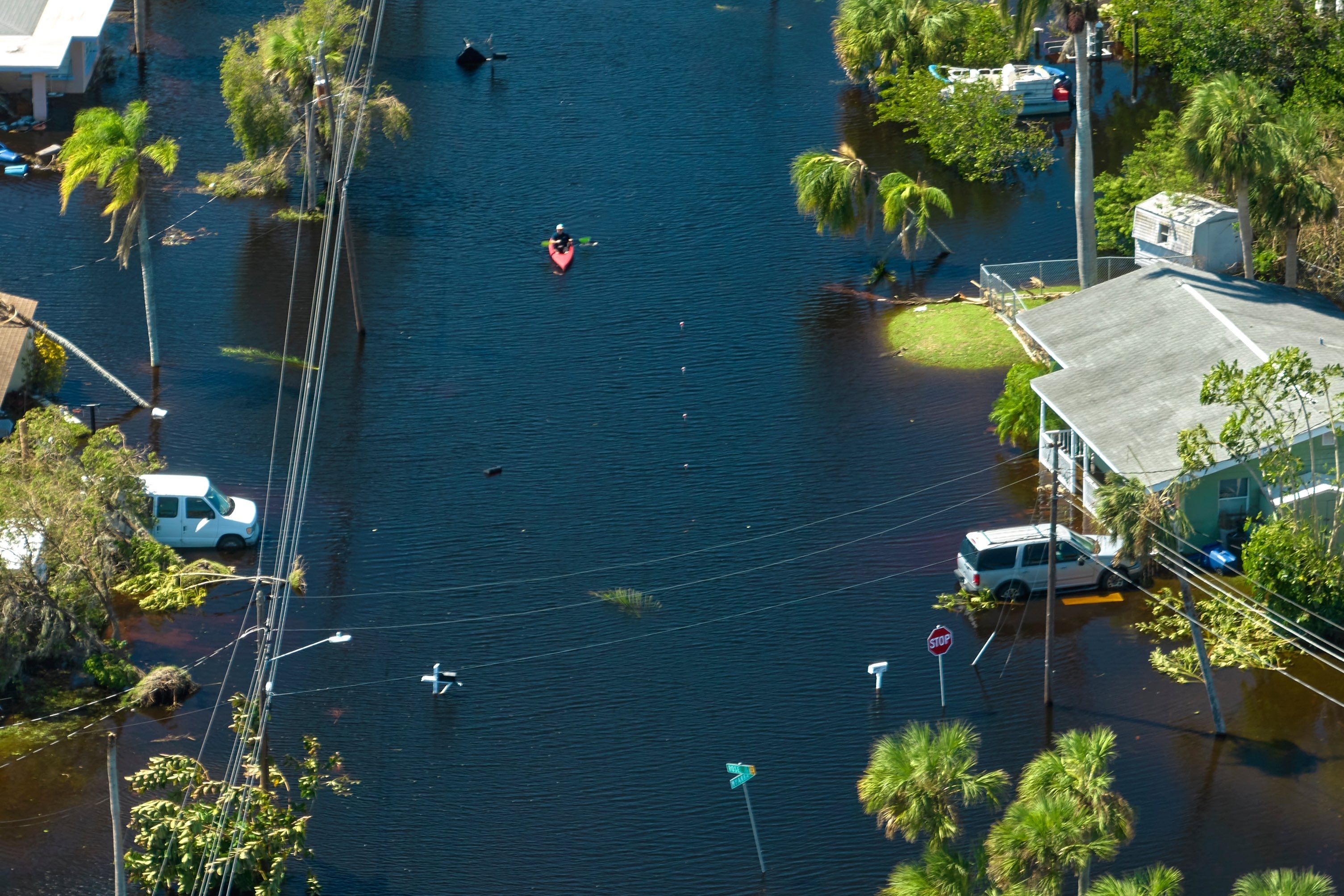 05.18.23
Florida: Advocating for clean water and a resilient future in the Sunshine State
By Emma Haydocy
Known as the Sunshine State, Florida enjoys 825 miles of sandy beaches and more than 8,000 miles of coastline. Every year, more than 122 million visitors flock from around the world to enjoy the state's treasured beaches and coastal environments, contributing to an annual, statewide tourism economy valued at more than $101 billion. However, Florida's vital water resources are threatened by an increasingly lethal cocktail of chronic pollution from failing wastewater infrastructure and runoff, persistent harmful algal blooms, increasing ocean temperatures, and rising seas that threaten to upend entire communities, economies and ecosystems across the state. With public and environmental health at risk, Surfrider's chapter network in Florida is working to implement programs and enact policies at local, state and federal levels to ensure clean water for all people.
With a population of nearly 22 million, Florida's pollution woes are inextricably linked to explosive growth and poorly-planned development. Failing and inadequate wastewater infrastructure, including overburdened and eroding sewers and more than 2.6 million septic tanks across the state, leech and spill untreated sewage into local waterways and the ocean. These discharges contain pathogens that put public health at risk. Large inputs of nutrients, such as nitrogen, from sewage discharges also trigger harmful algal blooms, including blue-green algae in freshwater and red tides at the coast. Stormwater and agricultural runoff contribute additional nutrients into already impaired waterways.
Photo credit: Copernicus Sentinel/Sentinel Hub/Pierre Markuse. Brown water containing sewer and septic overflow and stormwater runoff flows into the Gulf of Mexico after Hurricane Ian passed over Southwest Florida in September, 2022.
The threats to water quality and Florida's wastewater infrastructure are further intensified by climate change. These threats range from flooding caused by increasingly stronger and wetter hurricanes to the less visible, yet harmful, impacts of saltwater intrusion caused by sea level rise. These devastating impacts were clearly illustrated after Category 4 Hurricane Ian made landfall in Southwest Florida in September 2022. The region's sewers and more than 100,000 septic systems could not stand up to the nearly 14 feet of storm surge and 20 inches of rainfall brought by the storm. As a result, millions of gallons of raw and poorly-treated sewage spilled into local waterways and the ocean, making it dangerous for people to come into contact with flood waters, let alone swim in the ocean. Alarmingly, in the counties where Hurricane Ian first made landfall, Florida recorded the highest number of cases of Vibrio vulnificus in the state's history and 17 people lost their lives as a result. As ocean temperatures rise, the environment becomes more hospitable for the proliferation of these life-threatening bacteria.
The influx of nitrogen from sewage spills during Hurricane Ian also triggered a red tide to develop along the Gulf Coast of Florida last fall. Toxins released by this harmful algal bloom cause respiratory issues and other symptoms in humans, and have resulted in fish kills, other animal mortalities and declines in local seagrass beds. Unfortunately, warming ocean temperatures caused by climate change will only amplify the risks of harmful algal blooms like these on coastal communities and ecosystems worldwide.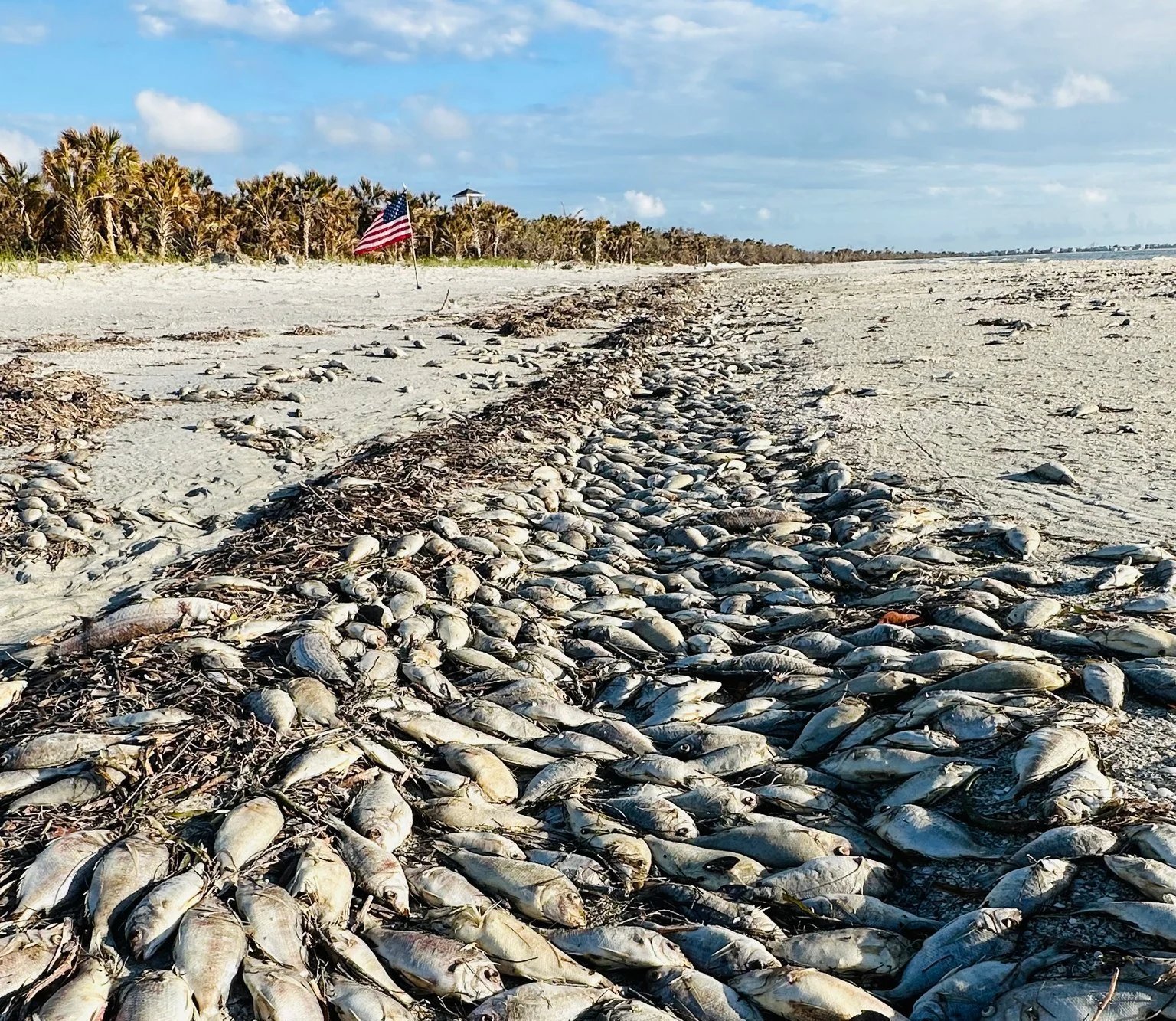 Above photo by Lucia Baskerville shows the devastatign impacts of a red tide event in SW Florida after Hurricane Ian slammed into the coast durign the fall of 2022.
As Florida experiences the compounding impacts of climate change and chronic pollution, it is urgent that the state's beaches and waterways are subject to rigorous water quality testing and adequate public notification to ensure beachgoers truly know when it is safe to surf and swim. Unfortunately, the state cut funding to its beach water quality monitoring program in 2011. Subsequently, Florida's beaches are tested less frequently, in fewer locations, and for shorter seasons year after year. As climate pressures mount, the significant gaps in testing and notification leave more people vulnerable to getting sick than ever before from recreating at the beach in coastal waters.
To address these gaps, the Surfrider Foundation is taking a multi-pronged approach to protect clean water and public health in Florida. At the federal level, we are seeking to fund critical water quality programs at the Environmental Protection Agency (EPA). This includes the BEACH Act grants program, which is urgently needed in Florida given the state's reliance on these federal dollars to fund its beach water quality monitoring program. Surfrider is also advocating for significant federal investments through the Clean Water State Revolving Fund to address the backlog of more than $18 billion in wastewater infrastructure upgrades that currently exists in the Sunshine State. At the state level, we are working to strengthen laws that govern beach water quality testing and public notification requirements and are seeking additional funding to pay for these important programs. These complementary campaigns aim to address the root causes of the state's water quality issues, while protecting the public health, safety and welfare of everyone who recreates in Florida's beach waters.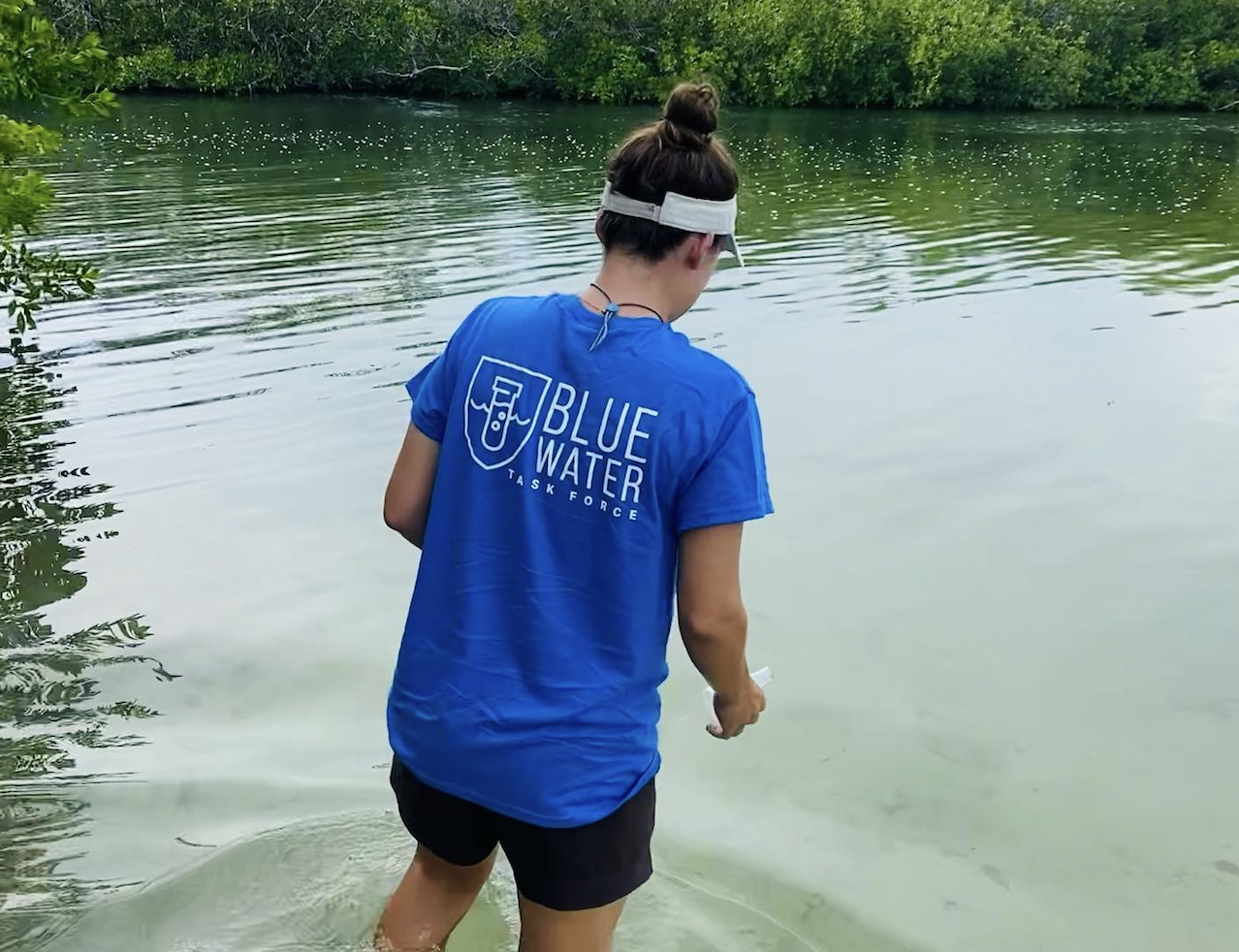 Above photo shows a Florida Keys BWTF volunteer taking a water quality sample.
Surfrider's chapter network is also helping to fill in the gaps of the state's beach testing program through the Blue Water Task Force (BWTF) program. With eight labs testing over 60 locations statewide, Surfrider volunteers are providing critical public health information to inform safe recreation at the beach and in coastal waterways. The chapters have established their sampling schedules to complement the state's schedule and to test in locations that are not otherwise protected, such as kayak and standup paddleboard (SUP) launch sites in the intercoastal waterway and other areas that are favored by local families. See where the BWTF is testing in Florida and view all data at bwtf.surfrider.org.
Surfrider chapters are also running Ocean Friendly Gardens programs to put nature-based solutions to work to protect clean water locally. The Space Coast Chapter has the longest-standing program in Florida and is transforming both private yards and public spaces into Ocean Friendly Gardens to reduce polluted runoff and restore resilient coastlines throughout the Indian River Lagoon watershed.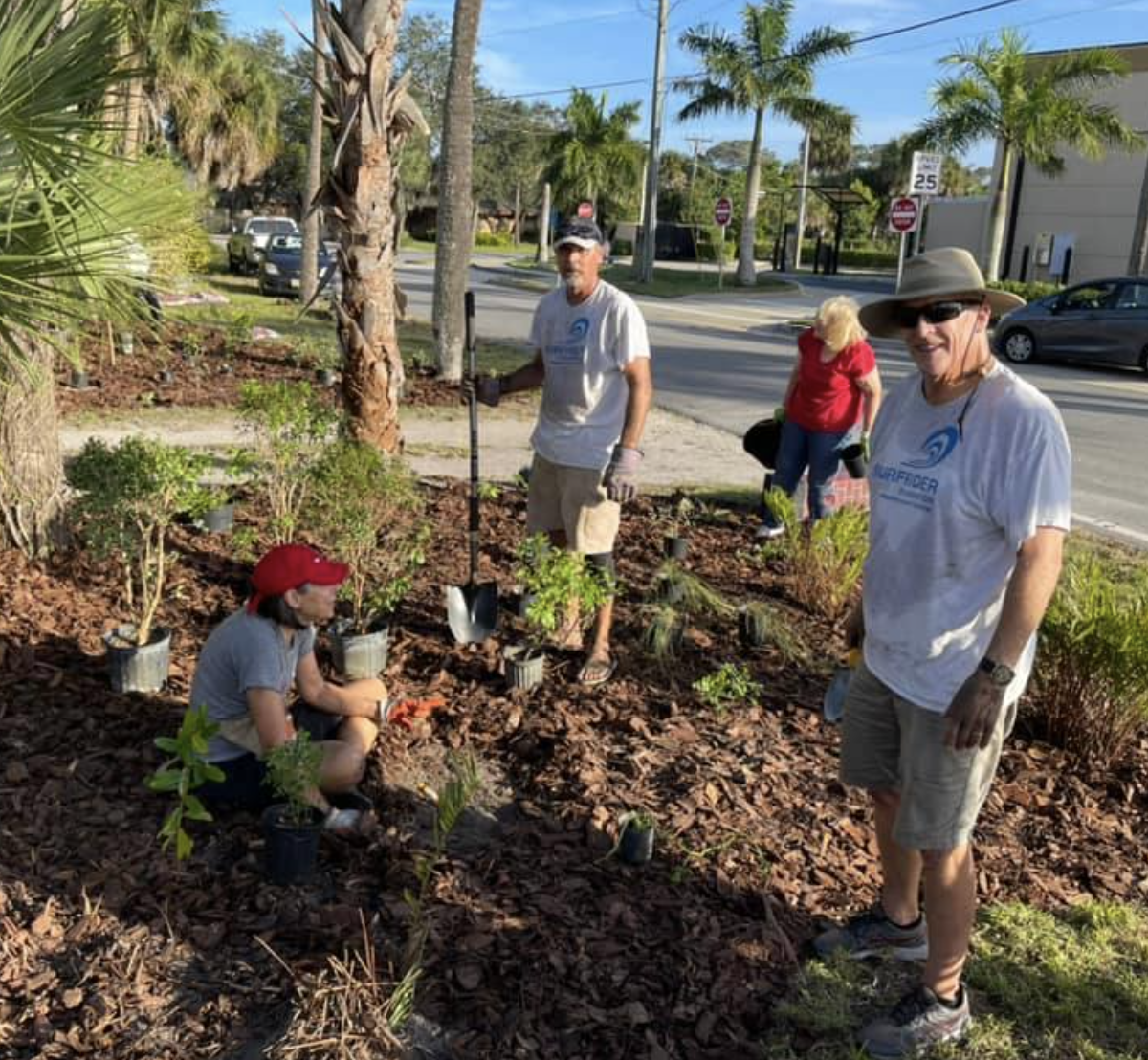 Photo above showing Space Coast Chapter volunteers installing native plants in an Ocean Friendly Garden at the Green Gables historic home in Melbourne, Florida.
Florida has long struggled with chronic water pollution problems and now finds itself sitting on the front lines of a rapidly changing climate that will only exacerbate these existing problems. Surfrider is working strategically to protect public health and implement solutions to Florida's climate and clean water emergencies. Through our time-tested campaign planning (and victories), technical expertise, rigorous programming and grassroots network mobilization, Surfrider is building a more resilient future for Florida's ocean, waves and beaches for all people.