In a quick turnaround not typically seen in policy-making, Los Angeles City, California, passed a foodware accessories upon request ordinance in less than five months on May 3, 2021. This ordinance will require takeout "extras" such as single-use plastic utensils, straws, napkins, condiments to be available only upon request for takeout, delivery, and third-party delivery apps.
Most Americans have a drawer in their house brimming with unused plastic utensils, plastic straws, and condiments. Currently, most restaurants automatically add these items into takeout and delivery food orders. The problem with this is that there is a cost to not only restaurants but the environment, even though foodware items are often unwanted. COVID-19 has made things worse as restaurants struggle to stay open and turn to takeout and delivery to stay afloat. This has led to a dramatic increase in the use and disposal of single-use plastics.
The foodware ordinance is a commonsense solution - restaurants save money, consumers avoid getting what they don't want or need, and it helps to reduce single-use plastic waste that pollutes our communities, gets incinerated, or goes to the landfill (very little is actually recycled). Everybody wins.
LA City Councilmembers Koretz and Krekorian introduced a motion to draft a foodware accessories upon request ordinance on January 13, 2021. The ordinance was drafted and introduced in March to LA City Council. After passing a committee, it was voted unanimously in favor by the City Council and headed to the Mayor 's desk for final approval where it was signed on May 3, 2021.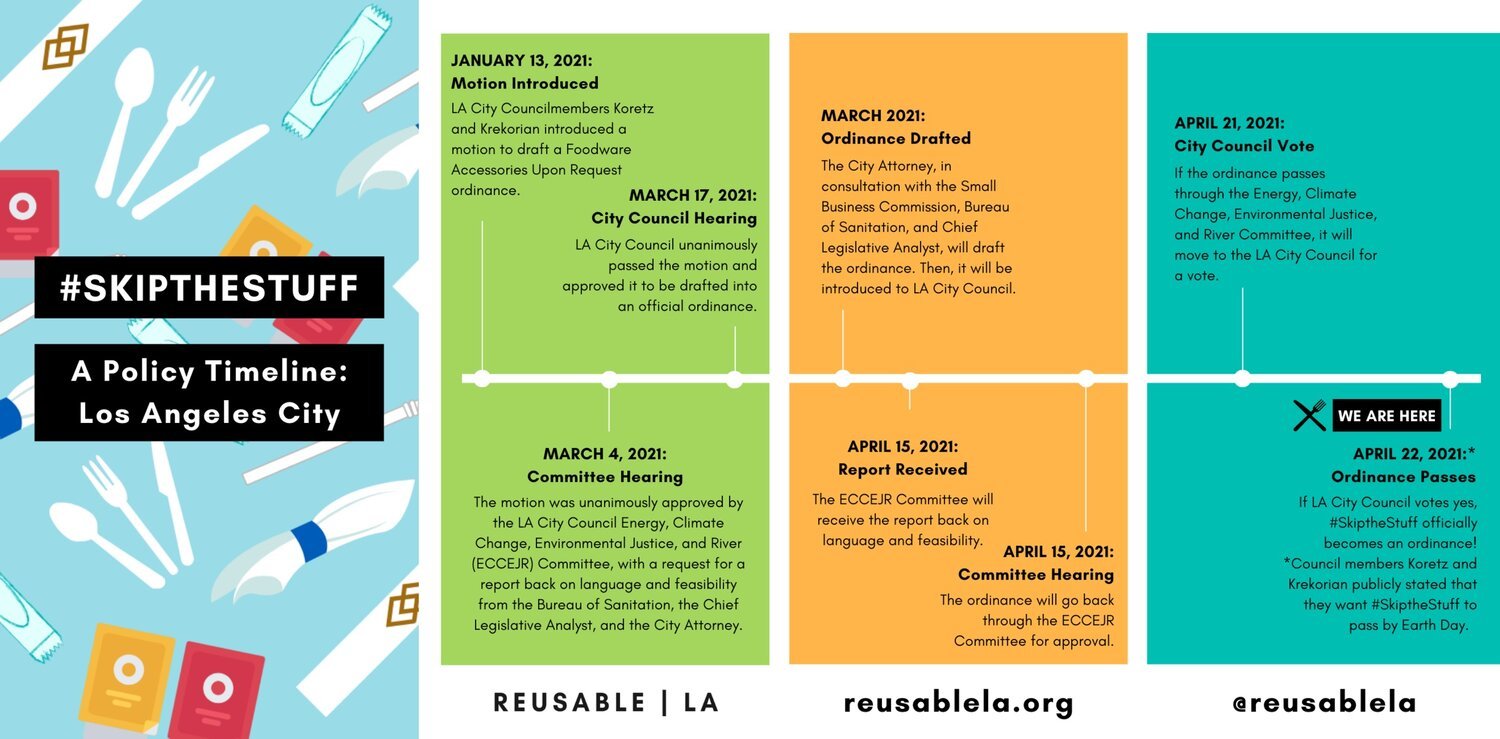 The Los Angeles and South Bay Surfrider Chapters were heavily involved with supporting this #SkiptheStuff campaign through the ReusableLA coalition. ReusableLA has been collectively working to address LA's plastic pollution by "championing a reusable culture and empowering other cities to do the same."
"We know that plastic pollutes at every point in its lifecycle. As a fossil fuel byproduct, it pollutes when oil or gas is extracted from the ground. It pollutes during the manufacturing process, during the transportation process, and most obviously during the consumer/disposal process," says Graham Hamilton, LA Chapter Manager.
From local successes like this one, there is momentum gaining to pass similar legislation at both the local and state level. LA County is also looking to adopt similar legislation and California is considering AB 1276, which would require reusables for dine-in on top of requiring foodware accessories upon request.
Read the press release from ReusableLA here and learn more about foodware ordinances in Surfrider's Comprehensive Foodware Policy Toolkit.