At 1:30am on Monday, February 28, a coastal home at the famed Rocky Point on the North Shore of Oʻahu collapsed onto the sandy beach nearly 20 feet below. This is the first time that a private residence has fallen into the ocean on Oʻahu in fifty years, marking a crucial point for coastal zone management in the Hawaiian islands and a warning for other coastal communities.
There is ample data warning about the impacts of climate change and sea level rise, particularly in hot spot areas in Hawaiʻi such as Rocky Point. Chronic coastal erosion is exacerbated by sea level rise, increased storm events, and annual King Tides. Studies show that without long-term management plans, 40% of Oahu's beaches could disappear over the next 30 years. Loss of sandy beaches not only impacts coastal property, but also threatens public beach access. In addition to threatening public and private property, climate change and coastal erosion increase the likelihood that sewage systems, soils laden with pesticides, synthetic fertilizers and other harmful substances will enter the ocean.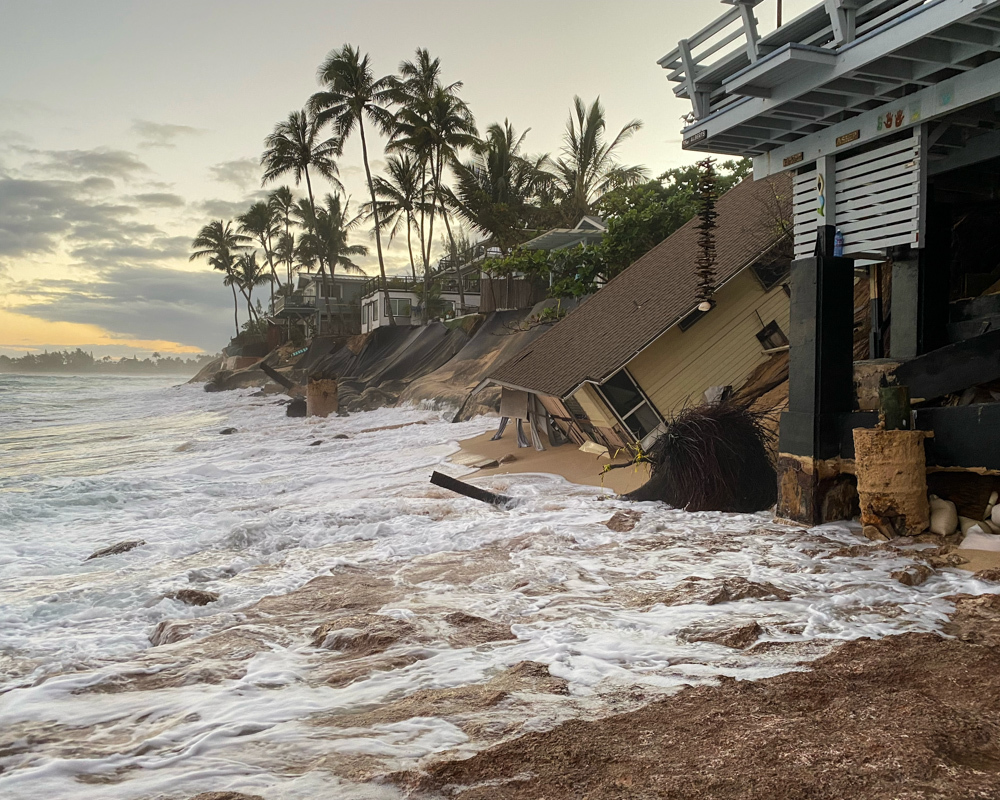 The loss of property at Rocky Point stands as a stark warning that we must immediately develop proactive management plans and a resiliency strategy not only for Hawaiʻi, but for vulnerable shorelines and properties across coastal states. In many cases, this will likely require private and public property to move back from the shoreline.
Other short-term, proactive steps include analyzing local sediment budgets, thoughtful beach replenishment or dune restorations to help buy time, and evaluating other adaptation measures, including raising homes and relocating vulnerable private and public property that is in harm's way. In addition to houses and roadways, sewage systems, soils laden with pesticides, synthetic fertilizers and other harmful substances are at heightened risk of entering the ocean.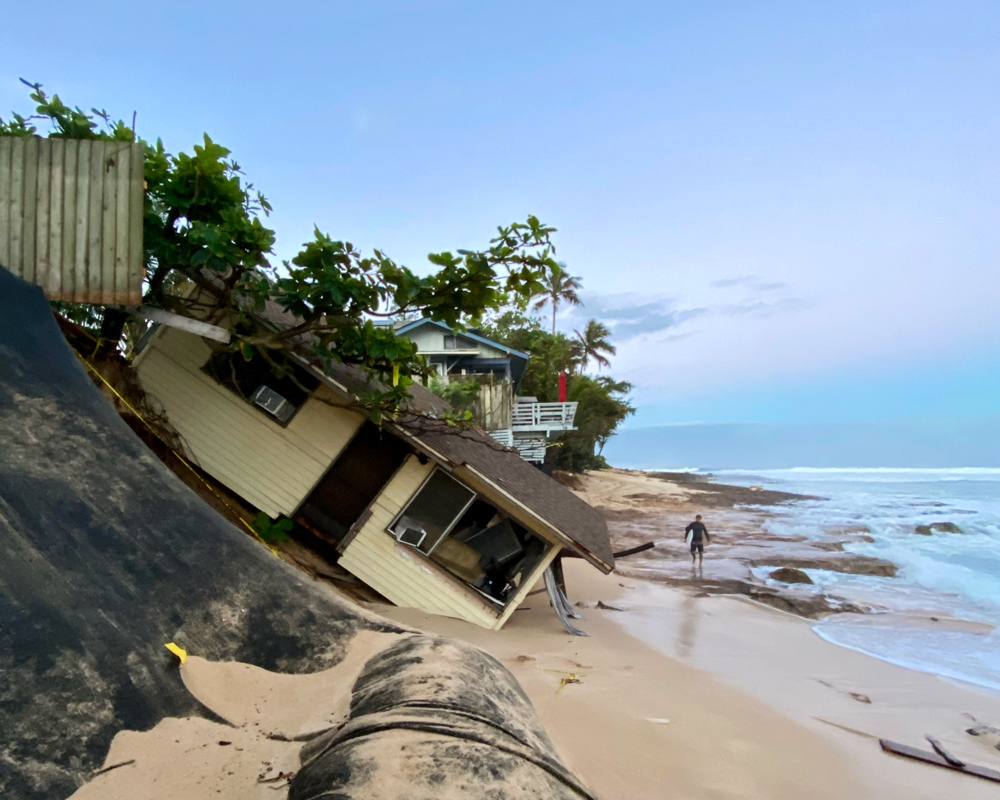 The Surfrider Foundation's Coastal Preservation Initiative protects our shorelines. We proactively address threats like coastal development, sea walls and other types of shoreline armoring and beach dredge and fill projects to ensure the protection of our coast. Our network of volunteers work with community planners to make informed and responsible decisions on coastal development and to address the effects of rising sea levels.
In Hawaiʻi, Surfrider Foundation Oʻahu Chapter co-founded the community-based North Shore Coastal Resilience Working Group in Summer 2021. The group is composed of local community members, state agencies, academia and other stakeholders working together on short and long-term sustainable solutions for addressing coastal erosion challenges specifically along the North Shore.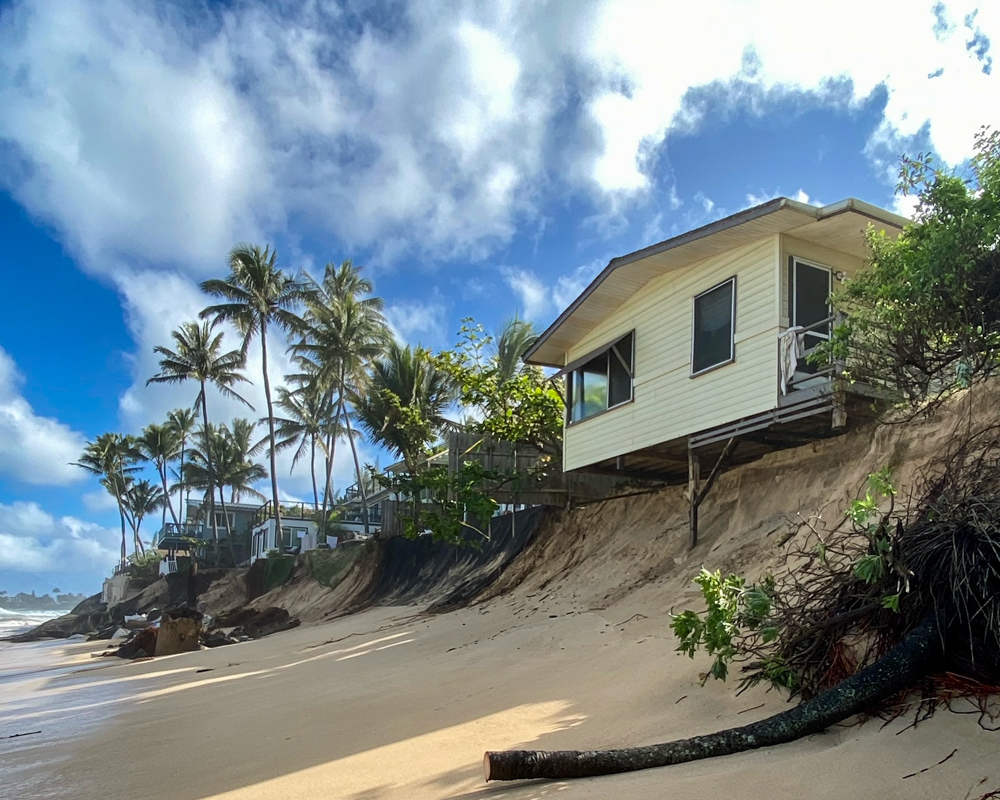 Surfrider Foundation is championing similar resilience strategies elsewhere in the country. In Florida, local chapters have played an active role in dune restoration projects for many years. Resilient dunes help buffer sea level rise and extreme weather. In 2022, Surfrider Foundation kicked off the year by planting 2,000 sea oats on dunes in Cocoa Beach. Florida chapters additionally helped work on legislation that would require sea level rise analysis for publicly-owned infrastructure.
In Washington, Surfrider Foundation has been working to protect the beaches along the out coast of the state for years by advocating to update the local Shoreline Master Plans to include sea level rise. At the state level, we are also advocating for legislation that would incorporate sea level rise into general land use planning.
Climate change is not coming - it's already here. As the events at Rocky Point highlight, we desperately need funding, tools and mechanisms at both the state and local levels that will enable agencies to support vulnerable properties in adapting to, or retreating from, a shifting shoreline. The actions on behalf of our elected officials and coastal agencies must therefore be immediate and address these glaring gaps in coastal management. As surfers, beachgoers, and ocean advocates, we also have the opportunity to help protect our ocean and coasts from the climate crisis by ensuring decision makers are improving coastal management practices and actively planning for sea level rise impacts.
In addition to statewide legislation, communities can proactively get ahead of these types of tragedies with the help of the federal government. Urge your elected officials to pass the Ocean Based Climate Solutions Act that will help local communities in the face of climate change.