Header image: A February 4 drone photo shows portions of the Norfolk Southern Railroad freight train that derailed in East Palestine, OH. (Gene J. Puskar, AP)
Even nearly two months after the derailment of train cars filled with vinyl chloride in the small town of East Palestine, Ohio, many unanswered questions remain surrounding the current and future safety of its residents and first responders, the economic stability of the town and the impacts on the environment. What is known is that this disaster is yet another unfortunate reminder of the urgent need to transition towards systematic, meaningful and just solutions that curtail plastic production.
Vinyl chloride is a highly unstable, toxic chemical used primarily to create polyvinyl chloride (PVC) and is widely used in automotive parts, packaging products, pipes, construction materials, furniture and other vinyl products. It has also been linked to a rare form of liver cancer, leukemia and lung cancer.
A preliminary report by the National Transportation Safety Board found that the train derailment was caused by a hot axle that heated one of the train cars carrying polypropylene plastic pellets. After the derailment, responders burned over 100,000 gallons of vinyl chloride to avoid an explosion creating massive black plumes of smoke. Residents who faced mandatory evacuations and have since returned have reported symptoms such as headaches and skin irritations. The Ohio Department of Natural Resources reported that over 38,000 minnows and approximately 5,500 other species including small fish, crayfish, amphibians and macroinvertebrates were killed due to the train derailment.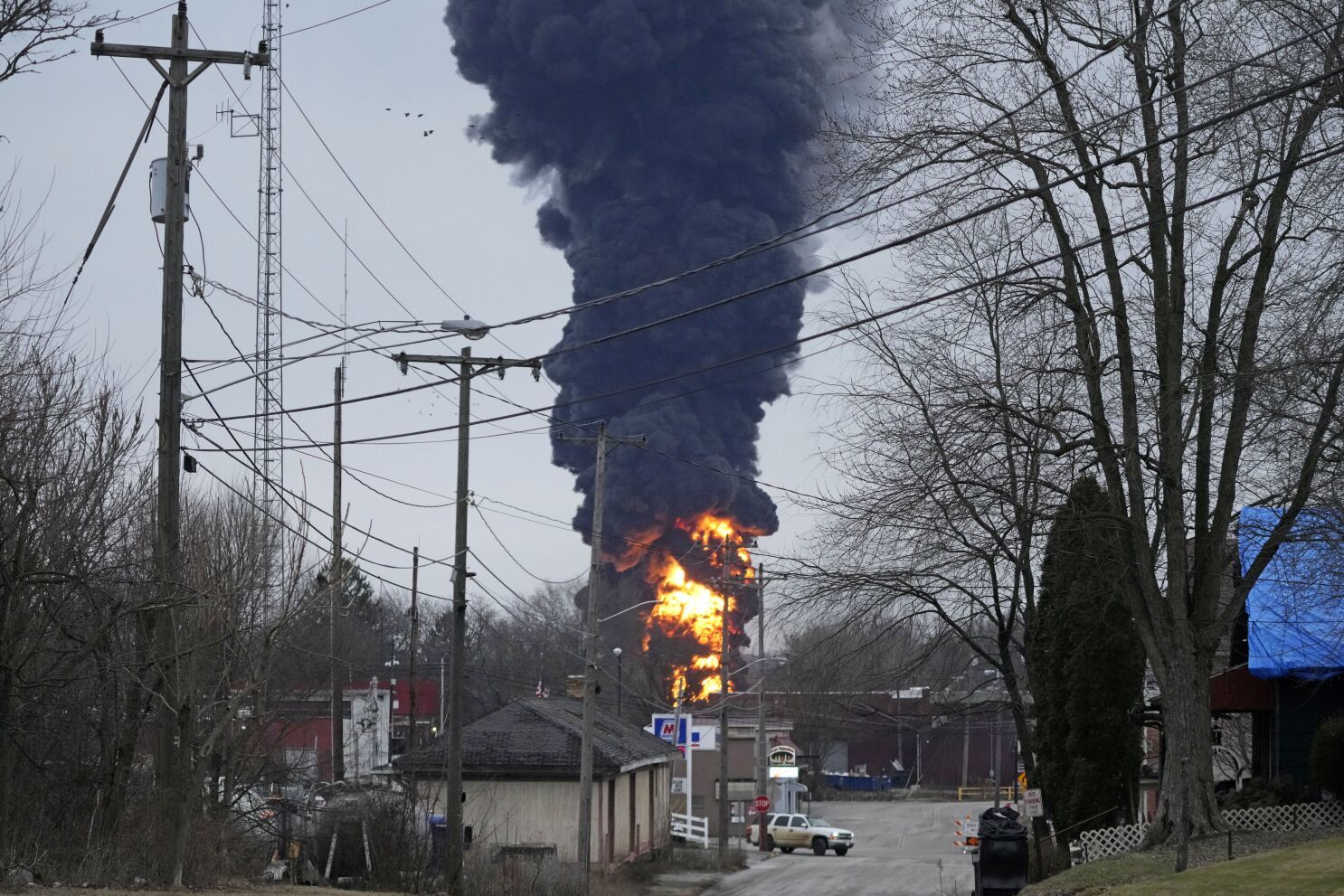 A plume rises over East Palestine, Ohio, as a result of a controlled detonation of a portion of the derailed train. (Gene J. Puskar/AP)
Furthermore, there are plans to inject toxic waste from the derailment along Houston Ship Channel communities. Fenceline Watch, a Houston-based environmental justice organization, released a statement saying "fenceline communities are forced to absorb the deadly costs of these toxic disasters. Communities from the Gulf Coast to Appalachia subsidize the cost of cheap disposable plastic at the fenceline of oil rigs, petrochemical plants, and incinerators."
More sustainable alternatives to plastics – including PVC – exist, so why are they not mainstream, and why are PVC and other toxic chemicals that harm our communities and the environment not banned? Together, we can and must create a different future that shifts away from plastics and the toxic chemicals required to make these products. Now is the time.
How You Can Support
Support River Valley Organizing
River Valley Organizing is helping organize community meetings, environmental quality testing and legal and mental health support for people in East Palestine and surrounding communities.
Support Clean Air Council's Direct Relief Fund
Through their direct relief fund, Clean Air Council is working to limit chemical exposure within the homes of impacted residents by providing whole-home HEPA-rated activated carbon air purifiers.
Ensure Safety for Residents in OH & PA
People over Petro Coalition and River Valley Organizing launched this petition to demand Governor DeWine (OH) and Governor Shapiro (PA) provide medical monitoring, independent environmental testing, and meet with residents regularly to share answers. Groups on the ground are demanding action and support so residents can feel safe in their homes and get the clear answers they need on the pollution they face.
Urge the EPA to Ban Vinyl Chloride
Sign Beyond Plastic's petition urging the EPA to take the critical first step in banning toxic vinyl chloride preventing disasters like this from happening again.