Surfrider is joining the Northern Chumash Tribe in urging NOAA to designate a new national marine sanctuary off the central coast of California
In 2015, the Northern Chumash Tribal Council along with Surfrider's San Luis Obispo Chapter, the Sierra Club and other partners nominated the Chumash Heritage National Marine Sanctuary to become a national marine sanctuary. The area proposed stretches from Santa Rosa Creek in Cambria to the Gaviota Creek in Santa Barbara, encompassing marine habitat along some 140 miles of coastline. Supporters of the proposal are anticipating a potential sanctuary designation announcement by the federal government in the next several months.
The waters off central California are among the most productive, biologically diverse and culturally significant on the West Coast. Outstanding features include Chumash sacred sites, world class fish diversity, feeding grounds for 13 species of whales and dolphins, sea otter population, thriving kelp forests, and pinniped spawning areas. The San Luis Obispo coast also offers outstanding recreation including beach going, surfing, paddling, diving and wildlife viewing. Yet, these invaluable resources are highly vulnerable to human impacts, including potential offshore drilling and other harmful activities.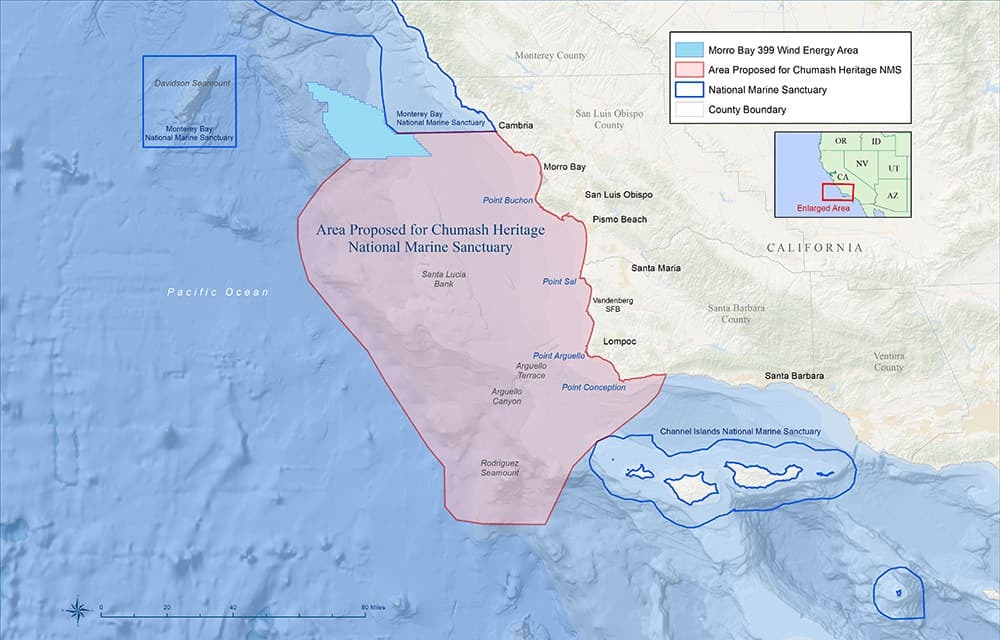 A national marine sanctuary designation would help to conserve these natural and cultural resources, while promoting scientific research and public education. National Marine Sanctuaries are a type of marine protected area that is managed by the National Oceanic and Atmospheric Administration (NOAA). While sanctuaries allow for a range of human activities including sustainable fishing, a primary management goal is to conserve the marine environment. Accordingly, national marine sanctuaries include management measures to conserve ecological and human resources.
The Chumash Heritage Sanctuary would also be the first sanctuary to focus on indigenous culture and history as a primary core value along with protection of ocean habitat. The Chumash Tribe's understanding and respect for nature comes from their long and profound cultural relationships with coastal marine ecosystems. The Tribe's effort to create a sanctuary is currently led by Violet Sage Walker, the Chairwoman of the Northern Chumash Tribal Council. Learn more in the short video below
Over the last decade, pressure on California's marine environment has only increased with the threats of offshore drilling, plastic pollution and climate change. Meanwhile, emerging uses like offshore wind farms will create new stressors. With the designation of this sanctuary, the Tribe and local communities could work with federal and state partners to protect this vital stretch of coastal and marine waters, and stimulate marine research, education, stewardship, recreation and tourism.
The Chumash sanctuary proposal has enjoyed growing public support since the original nomination in 2015. The current list of supporters includes numerous elected officials, tribal nations, community groups, conservation groups, environmental justice organizations and educational institutions. During NOAA's last official public comment period in 2021, thousands of people expressed support for a Chumash sanctuary, comprising the vast majority of comments submitted. Such continued support will be needed as the process moves forward.
A strong showing of public support for the Chumash sanctuary proposal will be critical in the next official comment period expected to launch this spring.
Please stay tuned for upcoming announcements regarding the Chumash Heritage National Marine Sanctuary. This spring, NOAA is expected to release draft designation documents and open an official 60-day public comment period. Surfrider will be encouraging our supporters to submit comments urging NOAA to proceed with the designation process.
Learn More
Proposed Chumash Heritage National Marine Sanctuary