06.21.22
Surfrider Fights to Stop Amplify Energy Pipeline Responsible for Southern California Oil Spill
By Pete Stauffer
Surfrider is partnering with congressional leaders, environmental groups and Native Nations to call on the federal government to conduct a full environmental review.
On October 2nd, 2021, disaster struck the Southern California coast when an offshore drilling pipeline ruptured, releasing an estimated 24,696 gallons of crude oil off Huntington Beach, also known as the lands and waters of the Tongva and Acjachemen Peoples. The 13 square mile oil slick wreaked havoc on both the environment and communities, harming marine life, damaging sensitive habitats, triggering beach closures, and washing as far south as Mexico. Now, the San Pedro Bay Pipeline, which is operated by Amplify Energy, may be re-started pending an upcoming decision by the federal government.
The Surfrider Foundation is part of a coalition that is fighting to prevent the reopening of the San Pedro Bay Pipeline. The coalition includes the Center for Biological Diversity, Sacred Places Institute, O.C. Coastkeeper and other partners, and features collaboration with congressional leaders to address offshore oil pollution. On June 14th, the coalition submitted a letter to the Bureau of Ocean Energy Management and other federal agencies to conduct a full environmental review of the San Pedro Bay Pipeline repair project, which we expect will result in denial of the permit. This would reverse an Army Corps of Engineers plan for fast-track authorization under Nationwide Permit 12.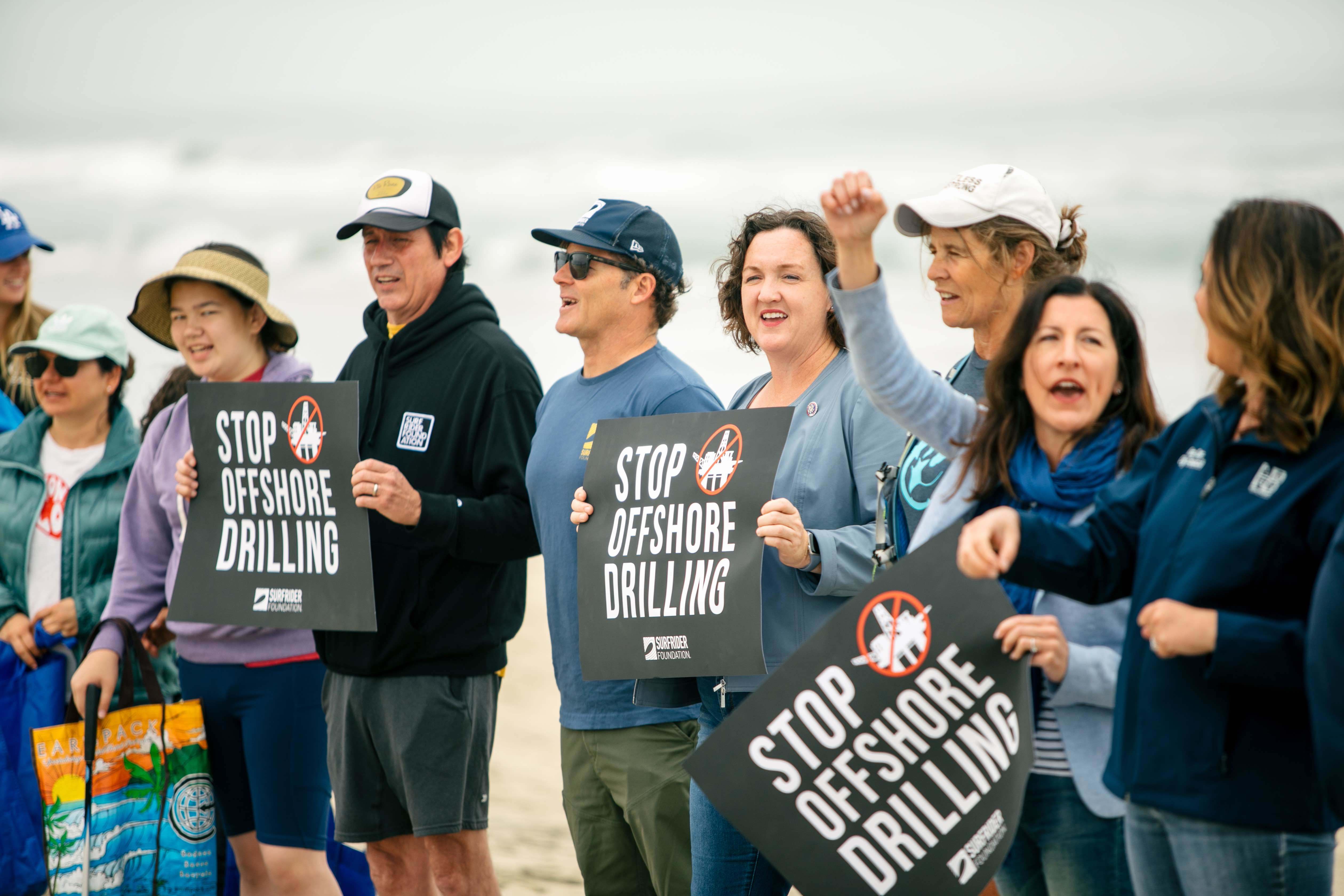 Elected leaders and coastal advocates attend Hands Across the Sand in Huntington Beach last month
The potential re-start of the San Pedro Pipeline is particularly concerning given the aging infrastructure involved. The 41-year-old, 17-mile-long Pipeline 00547 connecting Platform Elly to shore in San Pedro Bay ruptured abruptly in October and spewed crude oil into a large area of the Pacific. Oil tarballs were documented north of Los Angeles and south to Mexico with many miles of beaches in Orange County directly oiled by the slick. It is well documented that utilizing oil infrastructure past its intended design life will result in increased spills; that is the case for this 41-year-old pipeline and it must be retired.
California's federal leaders are also speaking out against the potential reopening of the San Pedro Bay pipeline. On June 7th, eight Congressional members from California wrote a letter to federal agencies expressing alarm about the pipeline restart plan and urging full environmental review and public comment. The letter notes that all Californians benefit greatly from our coastal economy, which brings an estimated 150 million visitors to the region annually and generates billions of dollars in economic revenue. The potential restart of the pipeline without a full environmental review puts those benefits at risk.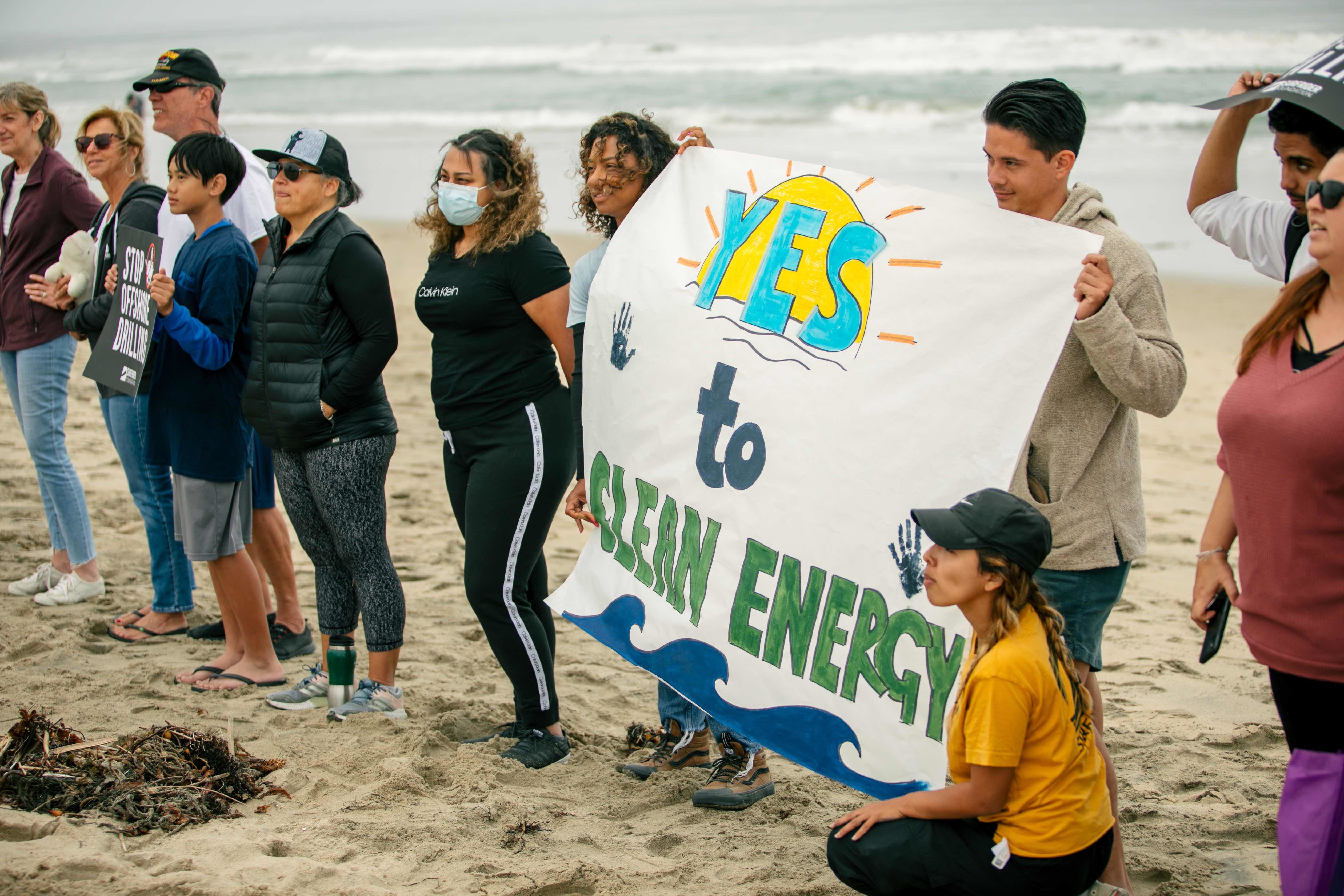 The Amplify Energy oil spill has also spurred community opposition to offshore drilling, with Surfrider's grassroots network and other advocates pushing for change. On May 21st, Surfrider's Huntington/ Seal Beach Chapter hosted a Hands Across the Sand event to raise awareness about the threat of offshore drilling and to promote a clean energy future. Speakers included Congresswoman Katie Porter, Assemblywoman Cottie Petrie-Norris, Huntington Beach City Councilwoman Kim Carr, Senator Min's Legislative Staff, Surfrider CEO Dr. Chad Nelsen, Grant Bixby from BAPPC, and Lexi Hernandez from OC Climate Action. Participants formed a line across the beach in solidarity with dozens of synchronized events across the U.S.
Surfrider's efforts to stop the reopening of the San Pedro Bay Pipeline are part of a larger campaign to safely retire oil rigs off California and stop new offshore drilling in U.S. waters. Surfrider and our partners are advocating for the swift decommissioning of existing offshore oil and gas operations off California through engagement with state and federal governments. Surfrider is also asking the Biden administration to protect our nation's coastal resources and communities from future spills by finalizing a 5-year year offshore drilling plan that includes no new lease sales.
Please take action to ask your federal representatives to prohibit new offshore drilling in U.S. waters!
Stay tuned for updates on the San Pedro Pipeline and Federal 5-Year Offshore Drilling Plan.