01.09.23
Surfrider Foundation Europe Files Suit Against Danone to Fight Plastic Pollution
By Angela Howe
The international Surfrider Foundation affiliate, Surfrider Foundation Europe, along with Zero Waste France, and ClientEarth, filed a lawsuit today in French court against Danone over its global plastic pollution. The court action against the French company, which famously makes yogurt as well as bottled water, utilizes the French "duty of vigilance" law to demand that the company assess and prevent the environmental and human rights impacts of their operations via a "vigilance plan."
Surfrider Foundation Europe ardently contends that the only way to avoid serious and irreversible damage from plastic pollution is for companies to "deplastify" or act to reduce their plastic footprint. They note that Danone is one of the largest users of plastic packaging worldwide. The company is only increasing the amount of overall plastic used for packaging its products, claiming that it is using more "recyclable" plastic. However, environmental groups have been advocating for years that we cannot recycle our way out of the plastic pollution crisis. The global recycling rate for plastics is less than 9%, and it is reportedly less than 6% in the United States. Surfrider Europe notes that Danone has the unique distinction of becoming the #1 polluter in Indonesia, Spain and Tunisia in 2022.
In September 2022, the groups formally put Danone on notice, giving the company the opportunity to rectify its "vigilance plan" to address the rampant plastic pollution. The company has failed to adequately address these concerns. Danone's "vigilance plan" is completely silent on plastics. Yet the company is among the top 10 biggest plastic polluters globally. In 2021, Danone used more than 750,000 tonnes of plastics for its packaging – the equivalent of almost 75 Eiffel towers.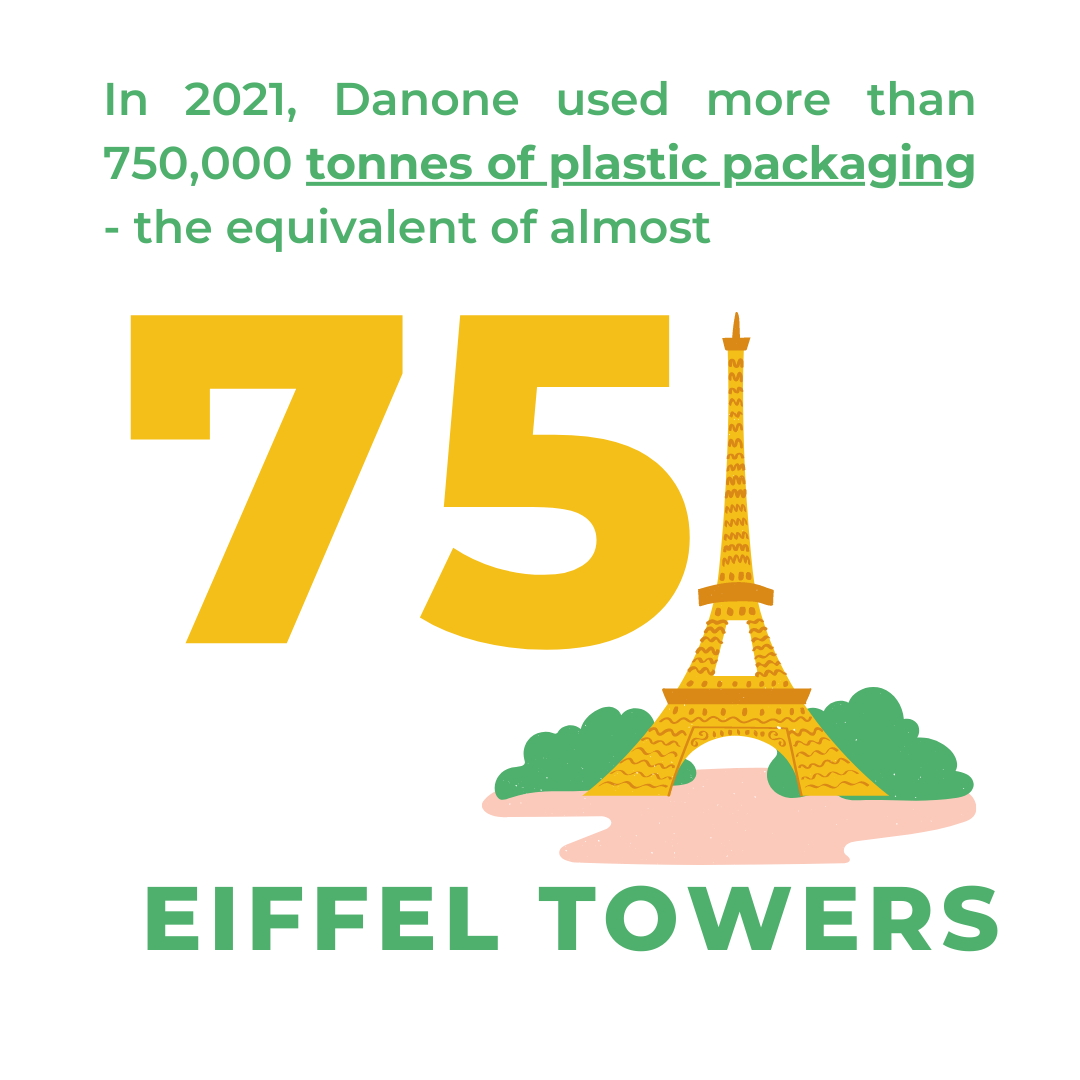 ClientEarth plastics lawyer Rosa Pritchard said, "Danone is trudging ahead without a serious plan to deal with plastics, despite clear concern from climate and health experts and consumers, and a legal obligation to face up to the issue."
There is no U.S. law equivalent to the French Duty of Vigilance. This French law, which passed in 2017, requires that large French companies and their subsidiaries take an assessment of how much plastic they produce and put into the marketplace as part of an analysis of social and environmental risks related to their activities throughout the value chain of their products.
In the U.S., the Surfrider Foundation has been focusing on passing proactive legislation that will reduce single-use plastics and require solutions to plastic pollution. For instance, on the federal level, Surfrider supports the Protecting Communities from Plastic Act. This legislation is designed to stop plastic pollution at the source, reduce climate change and halt the harm that plastic production is causing communities adjacent to petrochemical, plastic production and waste incineration facilities. It was introduced by Senator Cory Booker and Representative Jared Huffman in December 2022. The Surfrider Foundation is also very supportive of strong plastic reduction provisions in the current Global Plastics Treaty negotiations.
Solutions for reducing plastic in the food sector include eliminating unnecessary packaging, rethinking product design and shifting to reusable and refillable packaging models. According to Surfrider Foundation Europe's lead spokesperson Antidia Citores, "[w]e hope that the judge will order Danone to publish a new vigilance plan, including a deplastification trajectory with quantified and dated objectives within six months, on penalty of a fine, and that the ecological damage caused by the group's inaction will cease."
The French environmental groups which brought the suit expect the court to hold an initial hearing in the next couple of months.