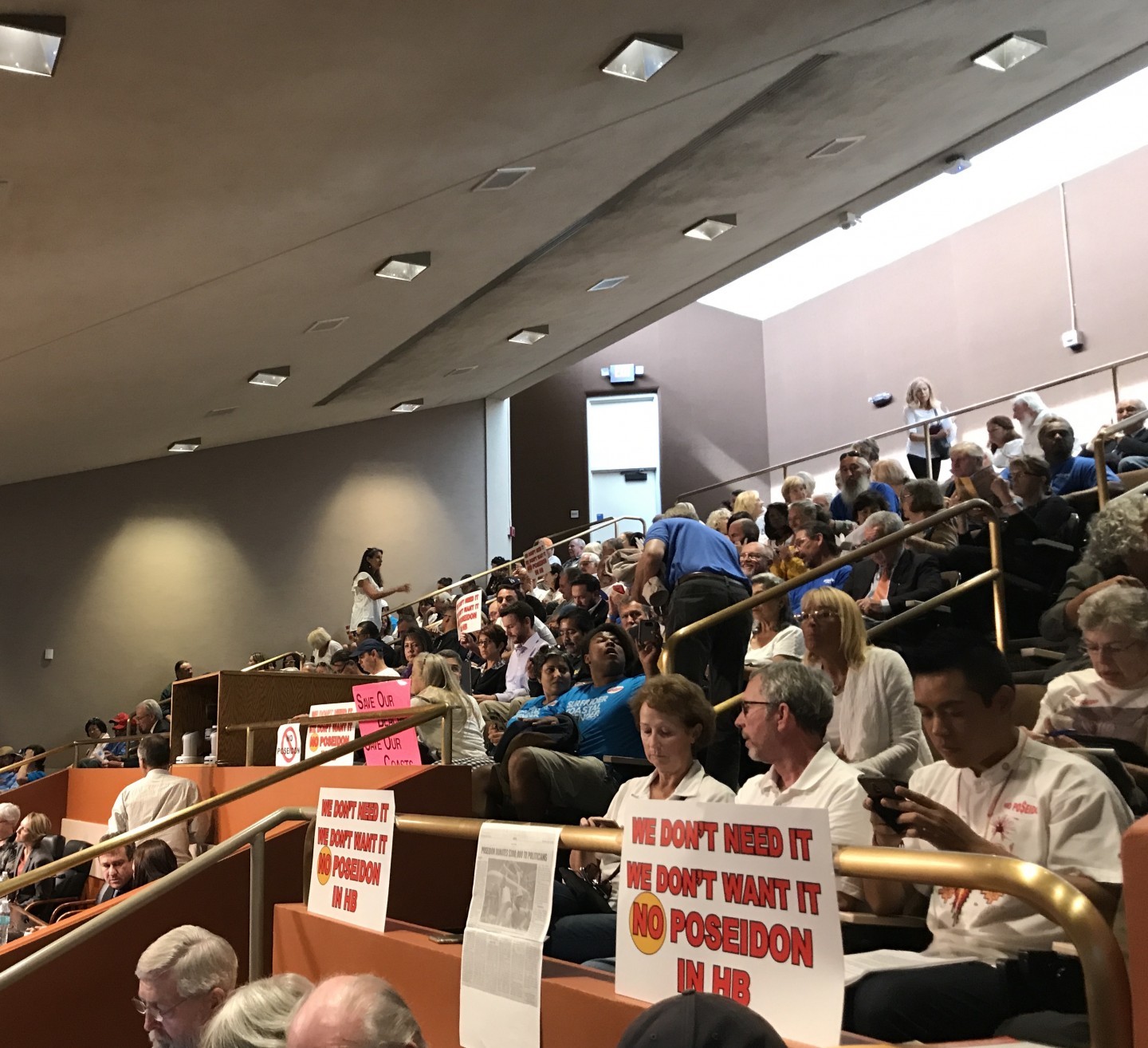 10.24.17
Surfrider Foundation Opposes Lease for Huntington Beach Desalination Project.
By Staley Prom
Despite strong opposition from the Surfrider Foundation and many other organizations, including the Natural Resources Defense Council, Residents for Responsible Desalination, California Coastal Protection Network, and the California and Orange County Coastkeepers, the California State Lands Commission approved a lease amendment and certified an environmental review document for a massive desalination project in Huntington Beach, California last week. Over 150 activists rallied outside Huntington Beach City Hall to oppose the project and many testified in front of the Commission to voice their concerns.
The Surfrider Foundation expressed concern during the public hearing (see testimony around 3:15) and in written comments over the significant energy use and greenhouse gas impacts the 50 million gallon per day (MGD) Poseidon desalination plant is anticipated to produce, as well as the impacts to marine resources expected from drawing in 100+ MGDs of seawater, and dumping 50+ MGDs of effluent, including concentrated brine, back into the ocean. We also drew attention to the troubled Carlsbad plant, which Poseidon operates down the coast, and has been cited for at least two dozen chronic toxicity violations and at least 9 deficient monitoring violations. And as Surfrider Foundation emphasized, these anticipated impacts are unnecessary and unwarranted, since Poseidon hasn't shown and the State Lands Commission hasn't properly evaluated a need for the giant project, which would tie for the largest plant in the U.S., with Poseidon's Carlsbad plant. The nation's next largest desalination plant, in Tampa, Florida, is only half the size and rarely runs at capacity due to the cost of the water.
Surfrider and other environmental organizations were particularly disappointed that the State Lands Commission approved the lease amendment to allow Poseidon to utilize an open ocean intake pipeline with wedgewire screens, instead of using subsurface intakes preferred under California's recent Ocean Plan Desalination Amendment. The lease further allows Poseidon to utilize a brine diffuser on the project's outfall pipe, instead of comingling brine with treated wastewater, as also preferred by the California Desalination Amendment. Essentially, the State Lands Commission approved inferior technologies without a requisite showing that the preferred technologies, which are more protective of public trust resources, are infeasible.
Therefore, Surfrider Foundation believes granting this lease fails to protect the public trust resources off of Huntington Beach. However, the project still requires additional approvals from two more California agencies – the Santa Ana Regional Water Quality Control Board, and the California Coastal Commission. Surfrider will continue engaging in these agencies' permitting processes and fighting against the significant impacts that the proposed project would create. We encourage you to stay tuned for the next opportunity to participate and make your voice heard. To learn more about why Surfrider opposes costly desalination projects and instead advocates for water conservation strategies first in order to meet California's water supply needs, visit https://www.surfrider.org/campaigns/desalination-plant-huntington-beach and https://www.californiadesalfacts.org.