Surfrider is supporting the campaign to fully protect 30% of the world's ocean and land by 2030 to protect life on planet earth and provide resilience to climate change.
As an organization made up of coastal recreation users, the Surfrider Foundation has a direct stake in the protection of our ocean. Our community benefits greatly from a healthy marine environment and we are a critical voice in conversations around how to protect this resource for now and the future. That's why Surfrider is committed to supporting additional protections for the ocean through education, advocacy and stewardship.
It's no secret that the natural world is disappearing at an alarming rate. From coastal watersheds to coral reefs to the Amazon rainforest, human activities are devastating the world's ecosystems. This damage to our environment is threatening clean air and water, wildlife populations, and the well-being of human communities. The collapse of nature is even contributing to new infectious diseases such as the COVID-19 pandemic.
For these and other reasons, scientists across the globe are calling on world leaders to set aside natural areas for conservation. These calls for habitat protection have coalesced around a simple but ambitious goal: to protect 30% of the world's ocean and land by the year 2030. With science underpinning the need for bold action, the initiative is supported by an increasing number of organizations, stakeholder groups, and government leaders around the world.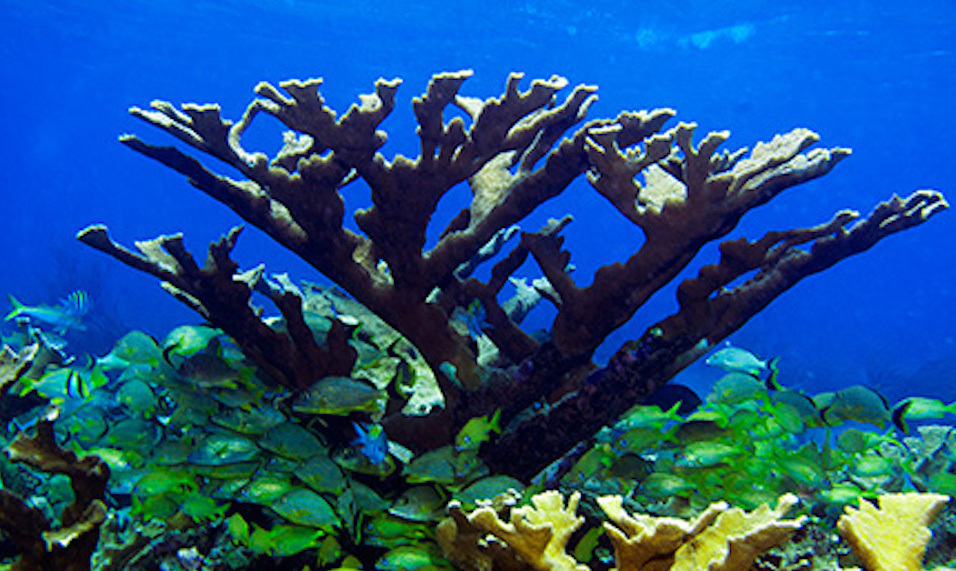 The Tres Palmas Marine Reserve in Puerto Rico
For the ocean, habitat protection is a proven but underutilized management approach. The establishment of marine protected areas (MPAs) including fully protected reserves provides safe havens for marine life where the ocean can restore itself. Scientific research shows that MPAs are an effective way to sustain ecosystems, including the rich diversity of animals and plants found in the ocean. Protected areas also help marine ecosystems withstand the impacts of climate change, pollution, overfishing and development, providing benefits that extend beyond their boundaries.
Marine protected areas provide important benefits to human communities as well. A healthy ocean delivers immense value to people through recreation, fisheries, tourism, cultural values, and aesthetics. MPAs can help ensure these benefits will be sustainable for the long term. It's imperative that affected communities be involved in the planning and management of MPAs. Surfrider has developed a Policy on MPAs which emphasizes the importance of community engagement to the success of designations.
As a grassroots organization of coastal recreation users, Surfrider Foundation is committed to advancing habitat protections for the ocean through active participation in community, state, federal and global efforts to designate marine protected areas.
To advance the goal of fully protecting 30% of the ocean by 2030, Surfrider Foundation's network is working at all levels to raise awareness and drive action. Globally, Surfrider is partnering with Surfrider Foundation Europe in support of the We Are One Ocean campaign led by World Surf League PURE. This effort will drive international support for 30x30, and urges world leaders to fully protect at least 30% of the global ocean by 2030 and strengthen conservation of the remaining 70%. We recognize the need for a global strategy for ocean protection and are proud to join many partners in this important effort.
Here in the United States, Surfrider is supporting the Thirty by Thirty Resolution to Save Nature that has been introduced in both the Senate and House of Representatives. You can learn more here about the campaign which emphasizes locally driven conservation, equity and inclusion, and the sovereignty of tribal nations. Surfrider is also a strong champion of National Marine Sanctuaries and Marine Monuments that protect our nation's federal waters. Our current priorities include defending existing MPAs from rollbacks, as well as continuing to advocate for new designations and the expansion of existing sites.
Surfrider is also supporting numerous efforts in U.S. states and territories to protect ocean habitat. From California to Puerto Rico to Oregon, Surfrider has a long history of helping establish and implement MPAs in nearshore waters. With states such as Hawaii and South Carolina already moving forward with 30x30 initiatives, we look forward to continued participation in public efforts to protect marine habitats.
Learn More and Take Action