03.30.21
The Surfrider Foundation Releases Interactive Map of U.S. Plastic Reduction Policies
By Jennie Romer
Surfrider is proud to debut the beta version of our Plastic Reduction Policy Map, the most comprehensive tool of its kind in the United States.
Drawing on the efforts of Surfrider's grassroots chapter network, we have compiled a dataset that includes over 1,000 U.S. plastic reduction laws. This map is the first visualization of our dataset and currently features bag, polystyrene, and straw laws. These items are among the top items found at our beach cleanups. The next version of Surfrider's U.S. map, expected late this summer, will include even more policy types and details.
Adopting local plastic reduction policies in the U.S. is vital to stopping this flow of plastic into the ocean. Surfrider already offers policy guidance through our extensive plastic pollution reduction policy toolkits. Our map is another valuable resource in this effort, especially given that it's important to know the details of what laws are already in place when moving forward with drafting new legislation. The map allows our chapters, as well as other activists and policymakers, a streamlined way to research existing policies — and helps pave the way for more comprehensive plastic reduction legislation.
How many plastic policies are in your backyard? Tag us on social media (@Surfrider) and tell your legislators!
[Scroll down for a table of these policies by state.]
Using This Map:
For the above map - click on the open icon with the arrow to the top left to show all the layers. Click the icon on the top left to show all the layers. Select and deselect layers of the map to show state and/or local laws for each product type: bags, polystyrene, and straws.

Click on an icon for specifics about that law.
Note: the main limitation of this mymaps visualization is that if an original and amendment have been adopted for the same jurisdiction and product type, only one law will be visible. We are working to correct that.
Corrections to the Map:
This map is a work in progress. If we are missing any laws, please let us know by filling out Surfrider's corrections form! We also encourage you to use the corrections form to provide missing or incorrect details on laws currently in the dataset. We are specifically working on:
Adding missing laws.

Fixing broken hyperlinks to laws, and replacing ecode links with bill links when possible.

Capturing the year adopted and year implemented for all laws.
Table of Bag, Straw, and Polystyrene Laws By State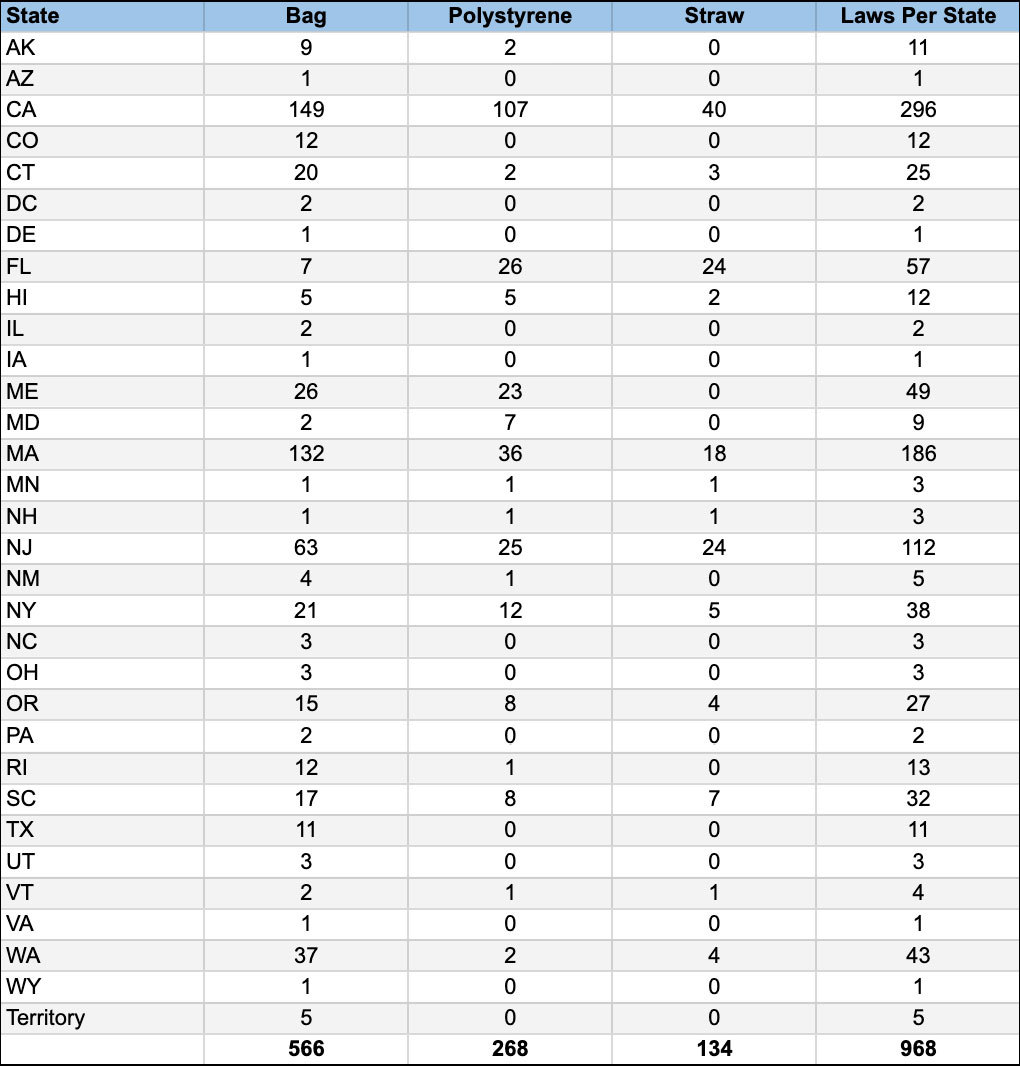 Notes: Some laws include more than one product type, policies for other product types bring the total number of laws in the dataset to over 1,000.
Statewide Preemption of Plastic Pollution Reduction Laws
The Surfrider Foundation's U.S. dataset and map shows laws that have been adopted, but some of these laws may have been preempted or repealed. Preemption is when a state government takes the power to regulate a certain area away from the local governments. Surfrider has partnered with Preemption Watch to track preemption laws related to plastic pollution reduction laws, more information can be found here.
Acknowledgements
Surfrider's U.S. dataset was developed in partnership with Plastic Pollution Coalition (PPC) as part of the Global Plastics Reduction Legislative Toolkit. The dataset is based on information from (and cross-checked with) other datasets maintained by NGOs, academic journal articles, commercial websites, and information crowdsourced from Surfrider's chapter volunteer network. We would like to specially acknowledge Excel consultants Excel Rain Man and mapper Korin Tangtrakul for their expert pro bono assistance in organizing and visualizing this data. We would also like to thank our team of chapter volunteers who are responsible for meticulously entering policies into the dataset.