As families across the country get ready to head to the beach for the Memorial Day holiday weekend, the Surfrider Foundation is pleased to release the 2021 Clean Water Report. This comprehensive annual report highlights the successes of our Blue Water Task Force (BWTF) and Ocean Friendly Gardens (OFG) programs in 2021, and features case studies of chapters leveraging these clean water programs to help pair local pollution problems with solutions.
Download Surfrider's Clean Water Report
Surfrider Foundation believes that everyone should have access to clean water to surf, swim, and play in. Hundreds of millions of people visit and recreate at U.S. beaches every year. The pursuit and enjoyment of safe, outdoor, recreational opportunities has driven up beach use even further since the onset of the COVID-19 pandemic, making it even more important that people have access to the water quality information they need to keep their families safe at the beach.
In 2021, the Blue Water Task Force, Surfrider's volunteer water quality monitoring program processed a record breaking 8,532 water samples collected from nearly 500 beaches across the country. Now approaching full operating capacity after COVID-19 health and safety considerations halted all testing in March of 2020, the BWTF has nearly 50 active labs providing critical information to protect public health at beaches and in recreational waters where no one else is testing.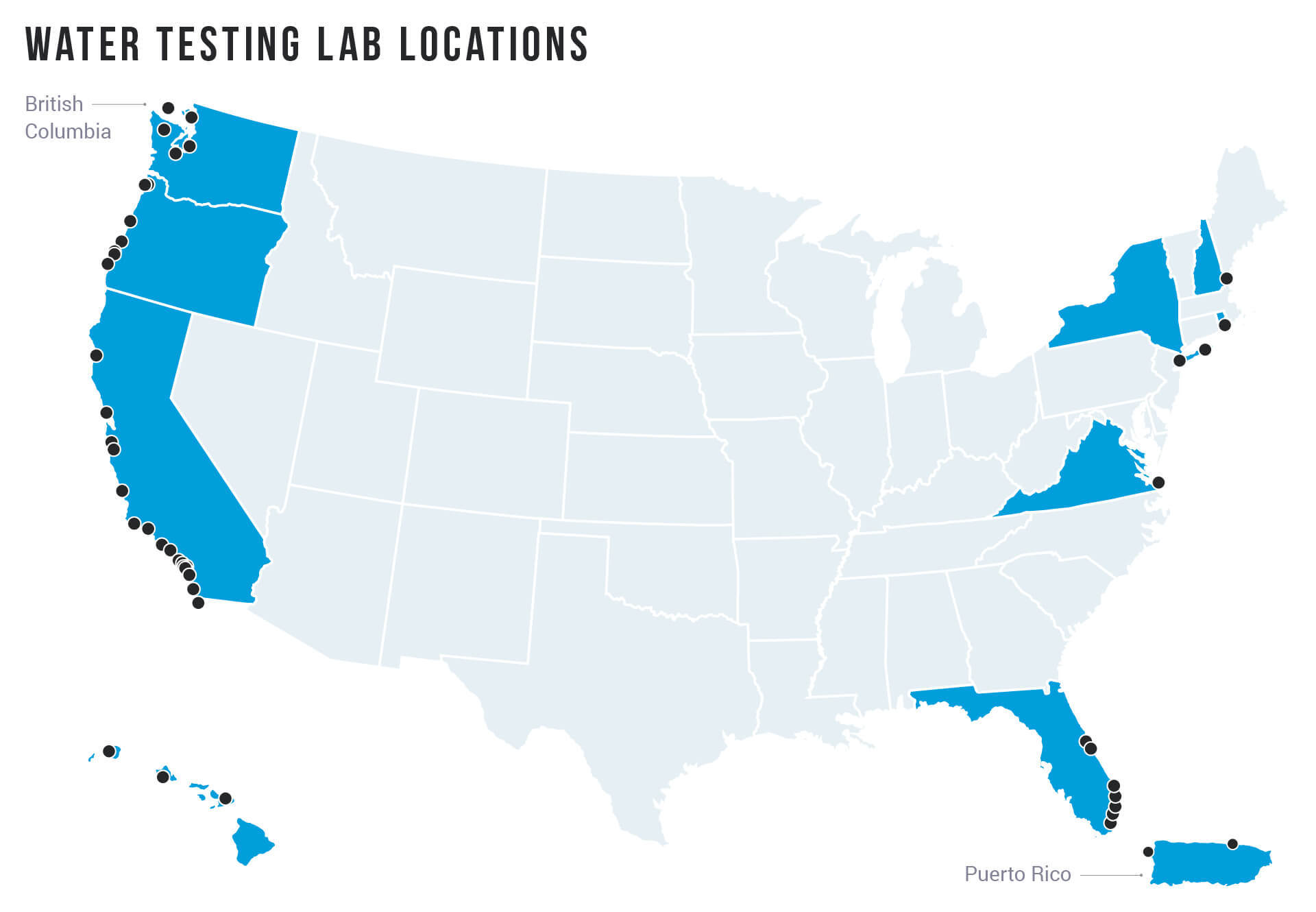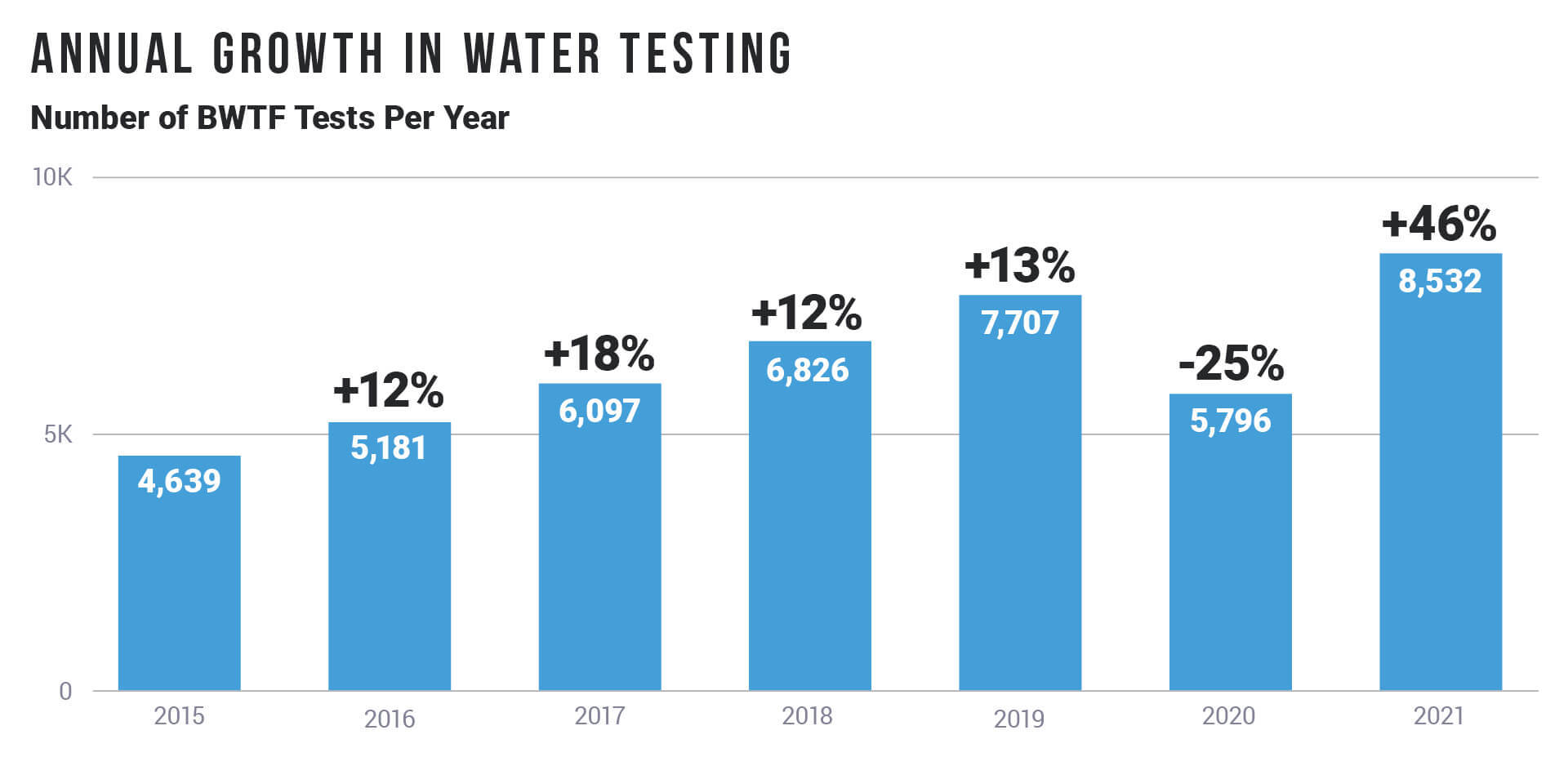 Chapter water testing programs are designed to fill in the gaps and extend the coverage of state and local agency beach programs. Surfrider Foundation volunteers test beaches that are not covered by agencies, and also monitor potential sources of pollution such as stormwater outlets, rivers, and creeks that discharge onto the beach. The Blue Water Task Force operates year-round, providing public health protection through the off-season when lifeguards leave the beach and health officials stop collecting water samples.
Surfrider's data is also revealing chronic pollution problems and helping to focus local efforts to restore clean water. The 2021 Clean Water Report features ten priority beaches from the East Coast, West Coast, Puerto Rico and Hawaiʻi where Surfrider Foundation chapters are consistently measuring high bacteria levels that exceed state health standards for recreational water. These priority beaches represent a variety of recreational waters and access points that are important to local communities, yet water quality conditions could be putting public health at risk.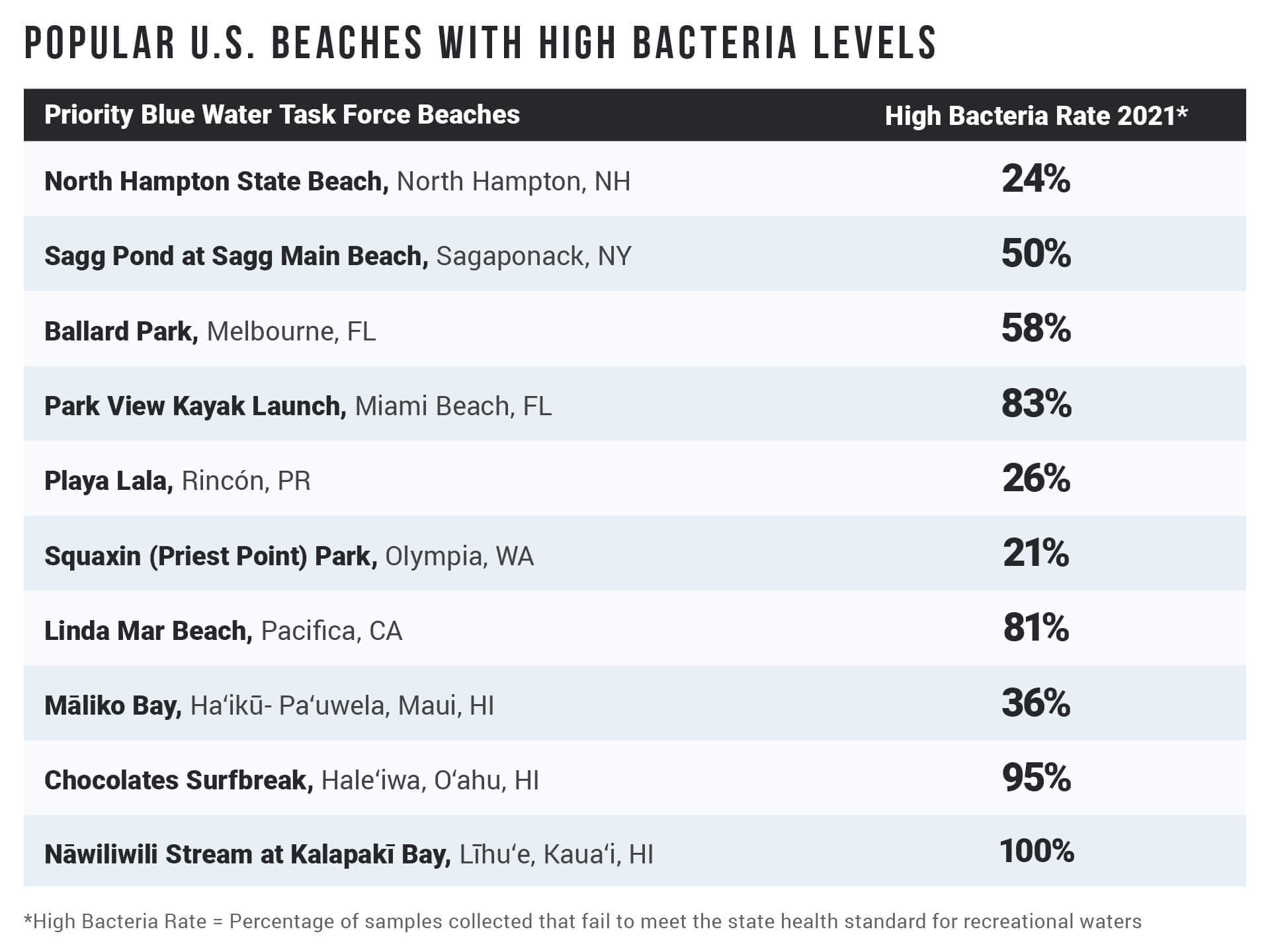 At each of these beaches, the local chapter's Blue Water Task Force program is working hard to build awareness of the pollution problems and to provide their communities with critical public health information.The ultimate goal is to find and fix the sources of pollution and to restore clean water locally.
Upstream, Surfrider chapters are digging into their Ocean Friendly Gardens programs to help solve the water quality problems caused by stormwater and urban runoff. Chapters use this sustainable landscaping and educational program to connect how we care for our yards and public spaces with the resulting health of our local waterways and beaches.
Through their grassroots campaigns and programs, Surfrider is working hard to ensure that the beach and ocean are clean and safe for all people to enjoy for generations to come. Learn more about how Surfrider's national network of coastal advocates are fighting at local, state and federal levels to protect clean water in the 2021 Clean Water Annual Report. Case studies feature:
Florida - The Space Coast chapter is working with community partners to protect safe recreation and reverse the trend of worsening water quality that is devastating the Indian River Lagoon and Florida's manatee population
Hawai'i - See how our chapters on O'ahu, Kaua'i and Maui are working together to build and advocate for a more equitable beach monitoring program, so all communities are warned of the potential health threats posed by stormwater, cesspools and sewage spills.
California - Read how the South Bay Chapter in Los Angeles is providing meaningful opportunities for local high school students to engage in hands-on science projects in the field which have been in short supply during the COVID pandemic.
Anyone can join Surfrider in our fight for clean water by participating in this action alert calling on Congress to invest in fixing our nation's wastewater infrastructure to stop the flow of sewage pollution into local waterways and into the ocean. Just click here to send your email.