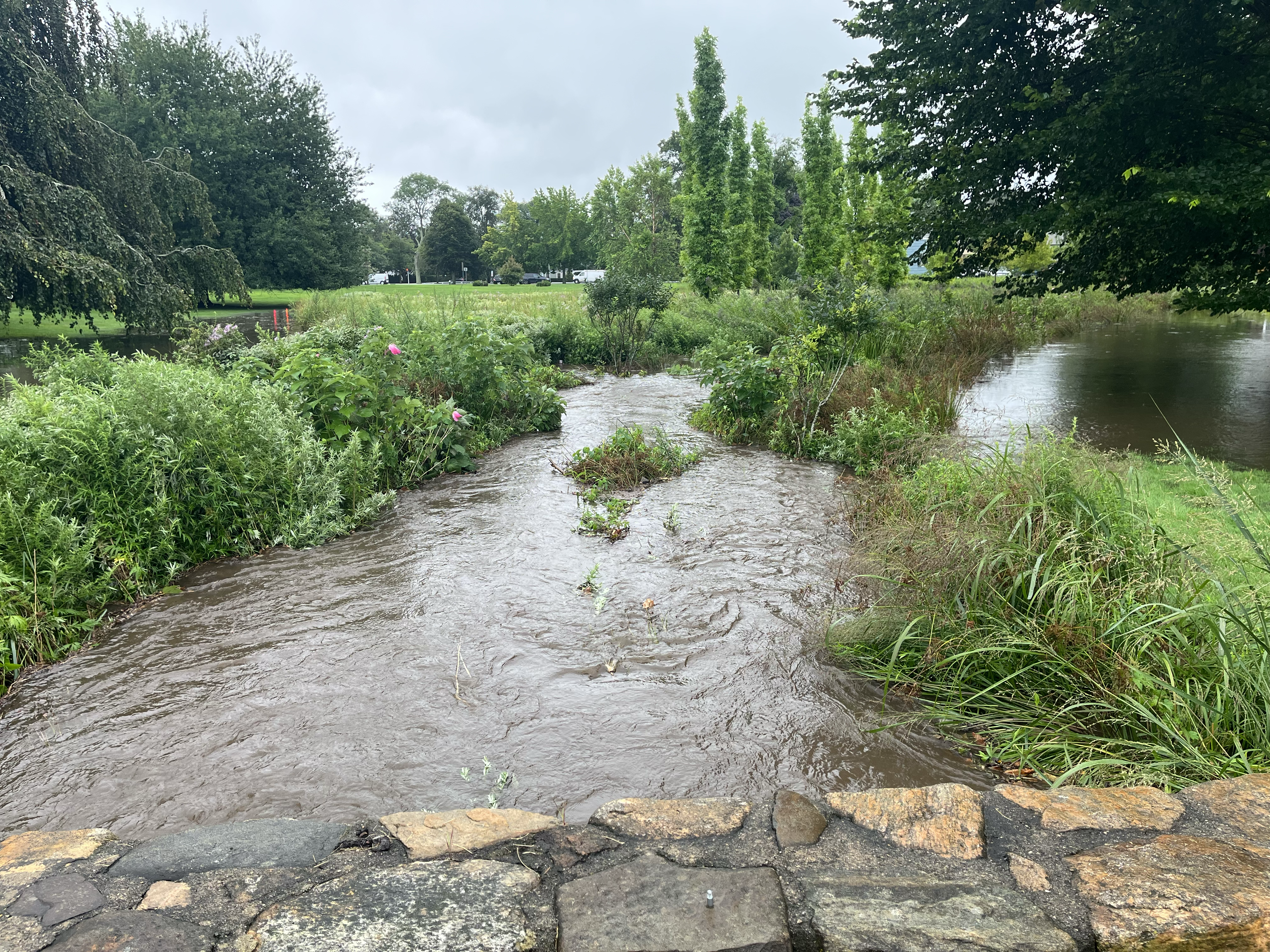 Weather headlines this past summer were dominated by reports of extreme heat waves, impacts of wildfires, and often unexpected, intense downpours that caused localized flooding in many parts of the country.
According to the National Oceanic and Atmospheric Administration, this past July was officially the warmest month in the Earth's recorded history. Several U. S. cities experienced record breaking heat this summer such as Phoenix, AZ which had 31 consecutive days over 110°F. Plant City and Fort Meyers in Florida both had over a hundred 90-plus degree days this year, even more than in Phoenix. This heat was not only uncomfortable, but can threaten human health and safety. Prolonged heat waves caused hospitalizations and even heat-associated deaths, especially in urban areas where relief can be hard to find.
Meanwhile, similarly alarming trends were recorded in surface ocean water temperatures globally. During the last week of July, sea surface temperatures in the Florida Keys topped 101 degrees Fahrenheit!
Warm air and ocean temperatures work together to create conditions that build and support large, wet storms. A warming ocean surface allows more water to escape into the atmosphere, which likewise is able to hold more water as it warms. Along the eastern seaboard, this phenomenon is typically most obvious during the fall hurricane season, but this summer many cities were hit with unexpected and unprecedented extremely heavy rainfall that lead to flooding and risks to personal safety, property and public infrastructure. From July 10th through July 11th, 2023 Vermont received anywhere from 3-9 inches of rain, exceeding rainfall amounts brought by Tropical Storm Irene in many communities. The intense and heavy rainfall caused flooding that damaged homes, businesses, roads, sewers and farm crops.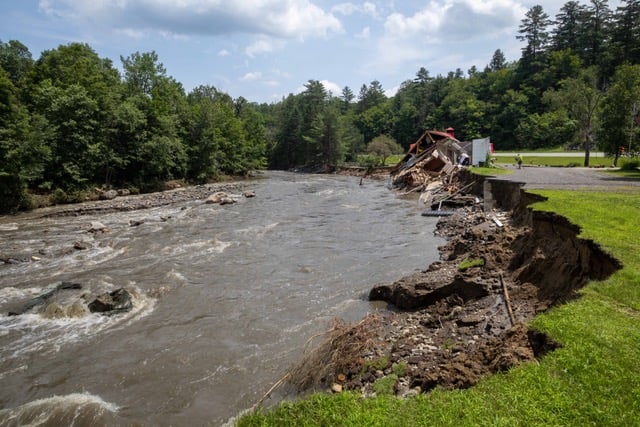 With many communities settled close to the river edge throughout Vermont, the summer storms in July washed out roads, homes, & businesses
On the last Friday of September, the New York metro area was also slammed with torrential rain that caught many off-guard and stranded as businesses, schools, roads, and other modes of transportation were flooded out. Over 7 inches of rain fell in less than 24 hours, while some areas received up to 2.5 inches of rain per hour during the peak of the storm.
Even Southern California was surprisingly soaked with nearly 10 inches of rain over 2 days in August as Hilary became the first tropical storm to make landfall on this coast since 1939. Arid areas such as Palm Springs and Death Valley received more rain during this storm than they typically see over six months to a year, causing flooding, landslides, and road closures.
Some good articles that help explain climate impacts on rainfall and flooding include these by the Washington Post and Vox.com.
Ocean Friendly Gardens provide nature-based solutions to help curb impacts of climate change
While it is easy to get overwhelmed and feel powerless in the face of climate change, the good news is there are ample opportunities to work with nature (aka Nature Based Solutions) to help reduce the impacts of climate change and support resiliency in your community.
Soaking up the Rain
Ocean Friendly Gardens are shaped to receive and slow down the flow of water when it rains. Healthy, biologically-active soils and the extensive root systems of native plants help these gardens become sponges to soak up rain and filter pollutants from runoff. On August 8th, the Town of East Hampton, New York received an extremely heavy downpour during the morning rush hour. Close to three inches of rain fell in less than two hours. People trying to get to work were surprised by flooded streets and many had a chance to witness the large Ocean Friendly Garden installed by the Eastern Long Island Chapter do its thing to slow-down and absorb massive amounts of stormwater flowing through the watershed. Before this garden was installed in 2021, a small amount of rain would have resulted in a large mud puddle on-site with standing water for days if not weeks. Now, most water is soaked up by the Methodist Lane Bioswale Ocean Friendly Garden in 24 hours or less!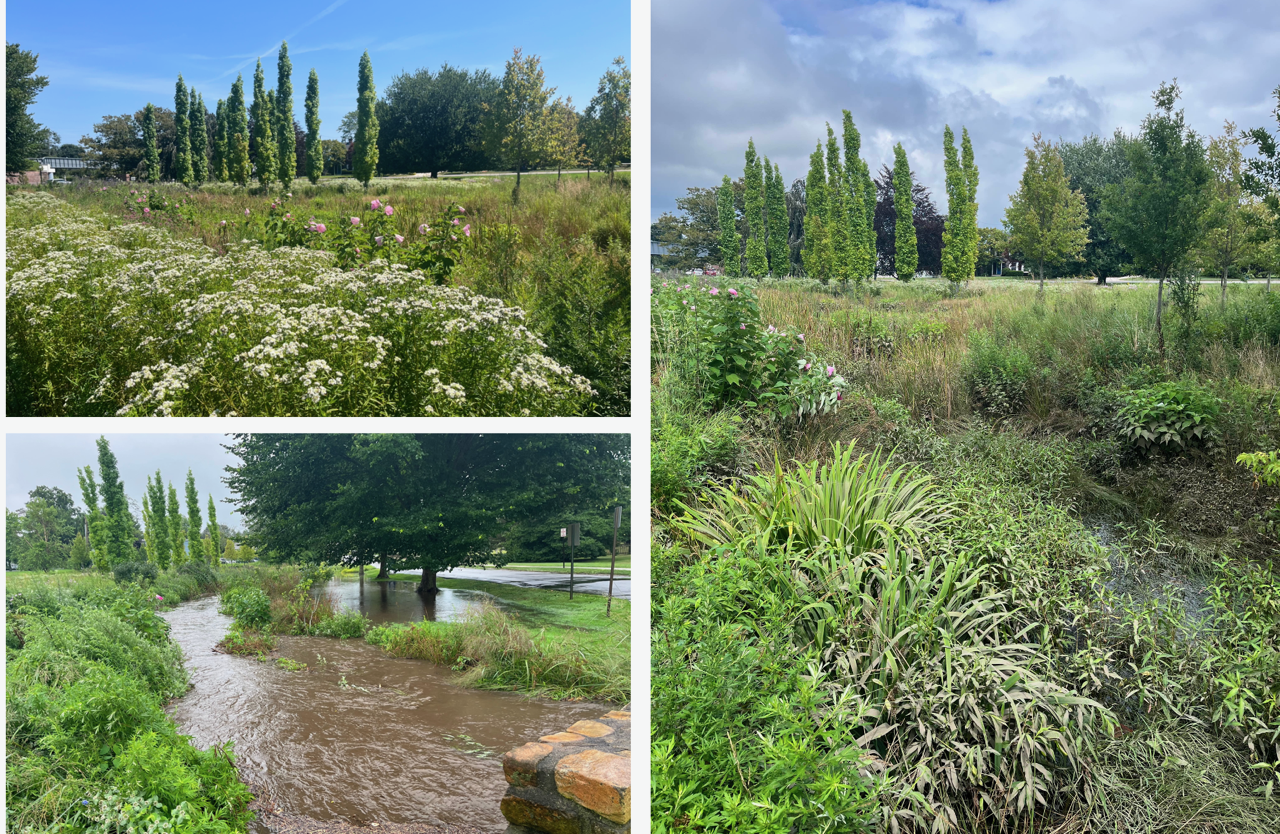 Counterclockwise from top left, the Methodist Lane Bioswale before, during, and 5 hours after the rain in early August
Watch videos of the bioswale in action here.
Reducing Urban-island Heat Effect
Buildings, roads, and development all contribute to hotter surroundings. As our climate reaches new extremes, our built surroundings retain heat and intensify already hot conditions, creating an urban heat island effect. Areas that are developed with buildings and roads can be 1–7°F hotter during the day and 2–5°F higher at night compared to natural counterparts.
Greening our neighborhoods and communities can make a big difference in restoring resilience and providing relief from blazing temperatures. Trees and layers of plant canopy can filter and deflect sunlight, offer valuable shade, and reduce surrounding air temperatures an average of 7 degrees. Plants also release moisture to the air in a process called evapotranspiration, which acts as a natural air-conditioner.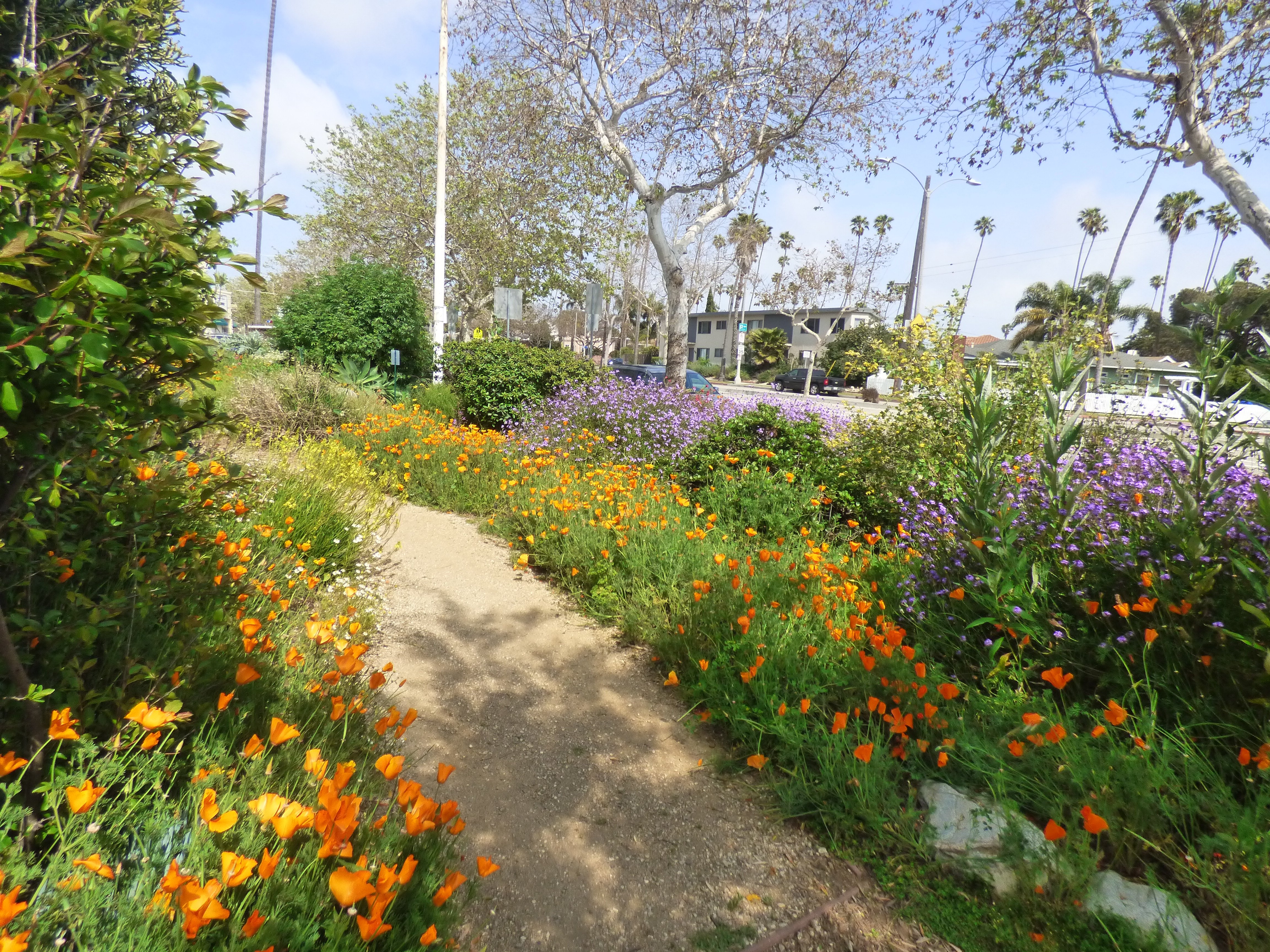 An Ocean Friendly Garden planted by the Los Angeles Chapter provides shade and refuge along a busy street
Planting the right trees and plants matters while we work to green our cities and create resilience to extreme heat. Recent reassements of ornamental palm trees in California are one example of the need to rethink our landscaping choices in a changing climate. If the plants we plant do not provide shade, habitat, stormwater retention, and can even increase fire risk, we need to reimagine how we do business as usual. Many municipalities are beginning to offer native street trees that can provide relief from heat while capturing stormwater, storing carbon, and restoring local biodiversity.
Our Ocean Friendly Gardens program is working to boost access and availability to green spaces to counteract the urban heat island effect. Underserved communities are often more susceptible to the effects of extreme heat waves, have less tree and plant coverage, and may not have equitable access to parks or costly cooling devices like air conditioners.
Through the Ocean Friendly Gardens program, chapters are collaborating with community partners to reclaim underutilized spaces to benefit more people and wildlife. This provides multiple benefits to the community while empowering residents with the resources and skills to green their communities.
Learn more about Surfrider's Ocean Friendly Gardens program and how you can make your own yard more Ocean Friendly to support clean water and resilient communities. Even renters can take action and get involved!