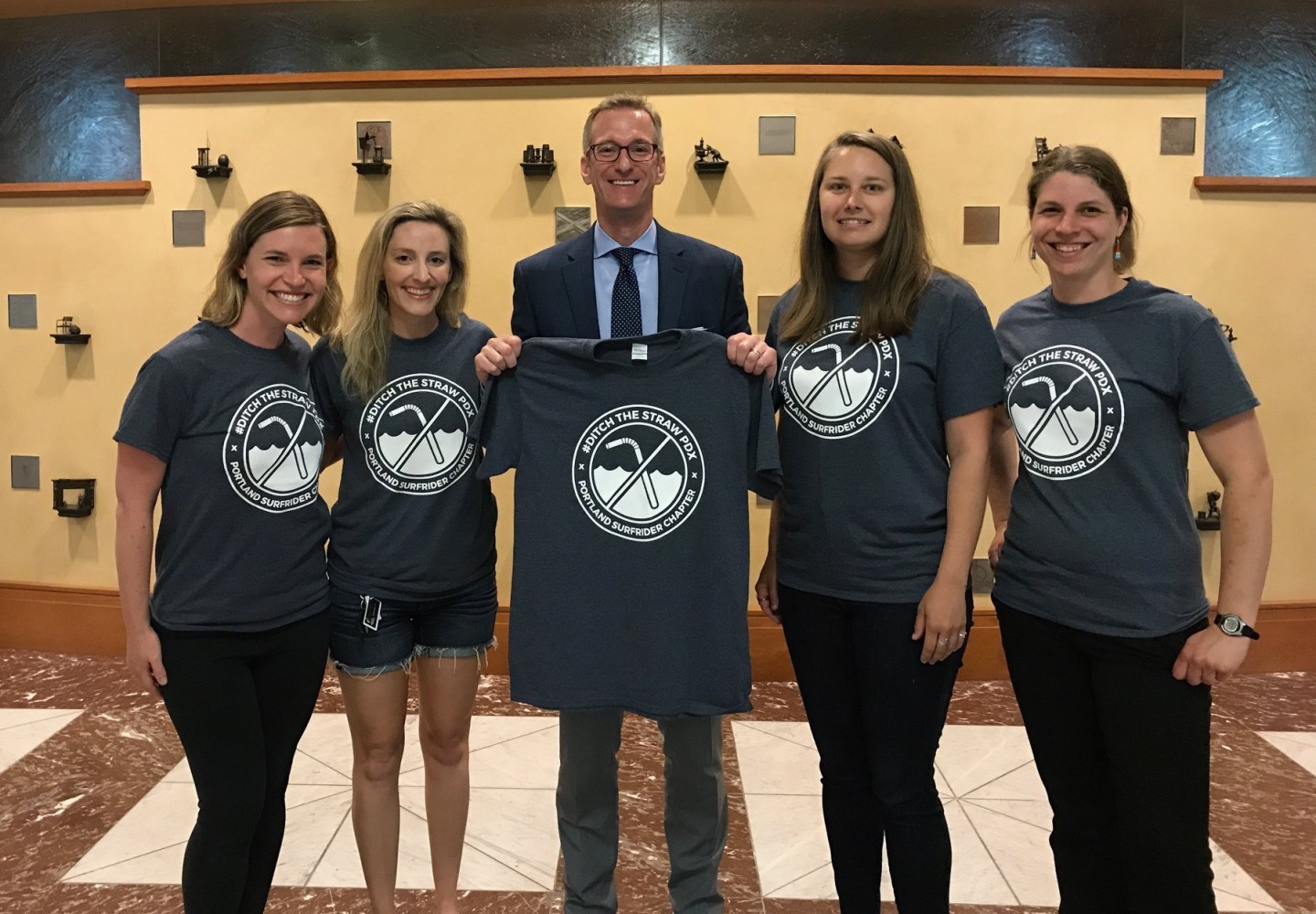 12.05.18
Victory! The Portland Chapter Helps the City Pass a Unique Plastic Reduction Policy
By thodges
Today, the city of Portland passed an ordinance entitled Prohibitions and Restrictions on Single-Use plastic which combines their plastic bag ban (which also passed thanks to the Portland chapter), the polystyrene foam ban, and new prohibitions focused on reducing the use of plastic utensils, condiment packages, plastic straws and stirrers. Once this law is implemented, plastic straws, utensils, condiments, and stirrers will only be available on request for dine-in restaurants and fast food establishments will be required to "ask first" before providing plastic serviceware.
This victory is a true testament to the power of the Surfrider grassroots model and how our business-friendly approach is working. Recognizing that plastic straws were polluting Portland's streets, waterways, and landfills, the chapter created the #DitchTheStrawPDX movement with the goal of getting Portland businesses to transition from plastic straws to a naturally biodegradable or reusable alternative and to only give straws on request. In turn for their participation, restaurants are recognized by Surfrider with a promotional sticker, listed on the chapter's website, and rewarded with media promotion. Utilizing the strategy outlined in the Plastic Straws Suck Activist Toolkit, the chapter transitioned this successful program to a Surfrider campaign that lead to this policy outcome.
While this exciting new policy in Portland is not a ban, it is one of the first cities of its size to implement an "on request" policy for utensils, straws, and condiment packaging that includes fast food establishments. While several other Surfrider chapters and local cities have passed plastic straw and cutlery bans, they tend to be smaller municipalities with less takeout and fast food restaurants. However, the city of San Francisco did recently pass a comprehensive plastic ordinance that bans plastic and bioplastic straws and requires plastic utensils to be served on request. This ordinance has yet to be implemented, but demonstrates that Portland may consider taking a stronger stance in the future.
As the mayor of Portland Ted Wheeler thanked the Surfrider Foundation for its leadership during the city council hearing, he also hinted that this ordinance may not solve the issue completely explaining this is the "first step of many, but it is an important, necessary and well measured first step."
At the beginning of the year, Surfrider predicted that our network would make huge strides in restricting harmful single-use plastics like straws and chapters have delivered. With 49 plastic pollution victories just in 2018, our grassroots direct action is moving this country and the entire world towards solutions that stop plastic at the source. Thanks to the diligent work of the Portland chapter, the conversation about what is possible in plastic reduction policy is evolving and their business friendly approach shows how ocean protection and eating out can go hand in hand.