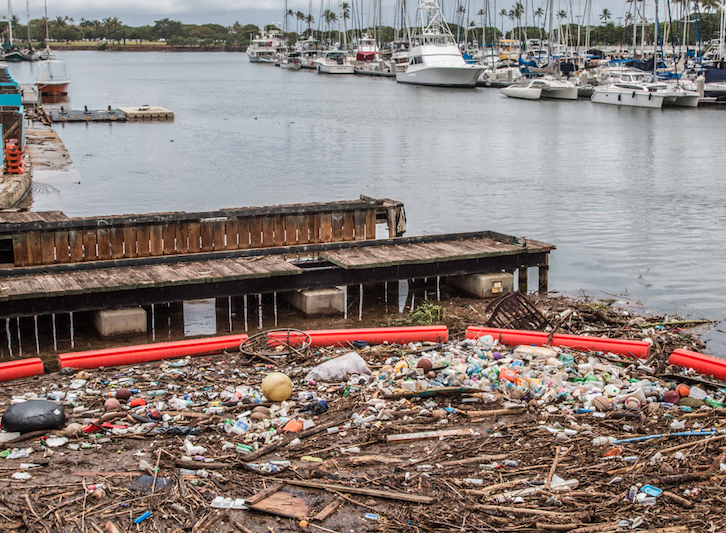 08.27.15
Waikiki Beaches Re-opened after Sewage Spill but Brown Water Advisory Remains in Effect Statewide
By Mara Dias
UPDATE: More Rain, More Sewage Spilled, More Beach Closures.
Thursday, only 1 day after Waikiki beaches re-opened, a million gallons of partially-treated wastewater was discharged from the East Honolulu Wastewater Treatment plant, closing Sandy Beach and its surroundings. The state Department of Health (DOH) released a statement advising the public to stay out of the waters from Halona Blow Hole to Erma's Beach on Oahu's southeast shore until further notice. Current health advisories are posted here. Again heavy rains were to blame for causing infrastructure to fail. More details on this spill and the other rash of spills across Oahu here:
Meanwhile the City is facing criticism for not testing the water at Waikiki beaches on Monday, immediately after the Ala Moana spill occurred. On Tuesday, one day later the City was directed by the DOH to sample for bacteria on Waikiki beaches but there is no record available of how bad the contamination may have been in the water where people were swimming, surfing and playing on Monday.
On Wednesday, two days after nearly 400,000 gallons of sewage bubbled out of manholes onto the street and down to the ocean, the Hawaii Department of Health (DOH) deemed bacteria levels to be safe and re-opened Waikiki and Ala Moana beaches. Although water quality data is not yet available to the public online, the DOH states that bacteria levels have dropped significantly since the spill first occurred. KHON 2 reports here.
Signs will remain posted at the Ala Wai Small Boat Harbor and Kewalo Basin telling the public to keep out. A Brown Water Advisory also remains in effect across the state, and with more rain on the way from Hurricane Ignacio it is probably best to stay out of the water for a few more days. The Department of Health recommends…
The public is advised to stay out of flood waters and storm water runoff due to possible overflowing cesspools, sewer, manholes, pesticides, animal fecal matter, dead animals, pathogens, chemicals, and associated flood debris. Not all coastal areas may be impacted by runoff. However, if the water is brown stay out.
Stormwater, especially after a significant dry spell like Hawaii has been experiencing lately, can bring all sorts of garbage, debris, and toxic contaminants that we can't even see but that can make us sick if we swim in it. Surfers are especially susceptible to developing ocean illness symptoms, as we spend more time in the water than most ocean users and typically ingest more water too. Plus, it's after the rains that the surf is generally good. Learn more about the potential health threats from polluted coastal waters on Beachapedia.
If you are going to go into the water and you are uncertain if it is safe or not, it is always best to stay away from river mouths and stormwater discharges after heavy rains. Also, make sure you wash off well with soap and water after swimming or surfing at beaches with unknown water quality. If the unfortunate happens, and you do get sick with a skin rash, eye infection, or gastro-intestinal condition make a record of your illness using Surfrider's crowd-sourced illness reporting tool: sickatthebeach.crowdmap.com