07 • 28 • 2021
Pocomoke Middle School Club Launches Surfrider Summer Camp
Our Pocomoke Middle School Surfrider Student Club, located near Ocean City, Maryland, wrapped up their first ever, week-long "Surfrider Summer Camp" this July which featured hands on learning opportunities about composting, plastic pollution, aquaculture and sharks research. This amazing experience was organized and run by club advisor Karen McCabe.
Day One: Students toured GoGreenOC, a composting facility that works with local restaurants in Ocean City to keep food waste from being driven to Pennsylvania for incineration. Here they learned about how organic waste decomposes anaerobically into methane at municipal waste facilities, and how by diverting organic waste from the landfill and allowing it to decompose in the presence of oxygen through composting, one can reduce the amount of methane that their community contributes to the atmosphere and its subsequent contribution to global ocean warming!
Next, they headed to the famous Ocean City Boardwalk for some lunch and a cleanup hosted by the local Ocean City Surfrider chapter. Chapter leaders Marina Feeser (chair) and Mandi Wells (secretary) gave a presentation about the importance of reducing single use plastics and addressing pollution in our oceans and then the crew set out for an afternoon cleanup.
Day Two: For the second day of Surfrider Camp, the students headed to Chincoteague, Virginia where they spent the morning with a ranger from the Chincoteague National Wildlife Refuge looking at water quality indicators and keystone/indicator species in Tom's Cove. In the afternoon they headed to Tom's Cove Aquaculture to see oyster and clam farming and learn about its connection to clean water. Club members looked at clams that were small enough to be viewed under a microscope, at various phases of growth in the waters of Tom's Cove, and then being sorted, bagged and shipped to New York for consumption.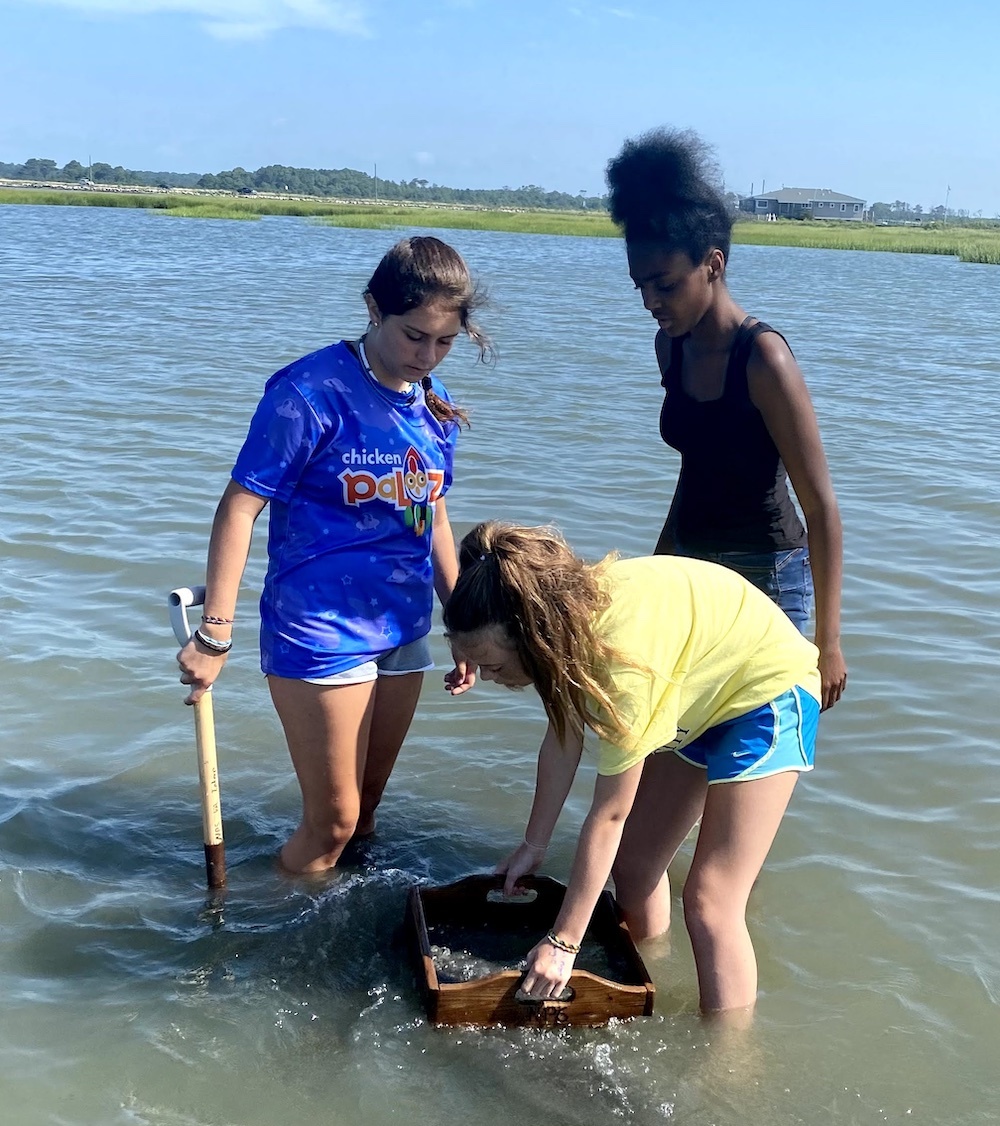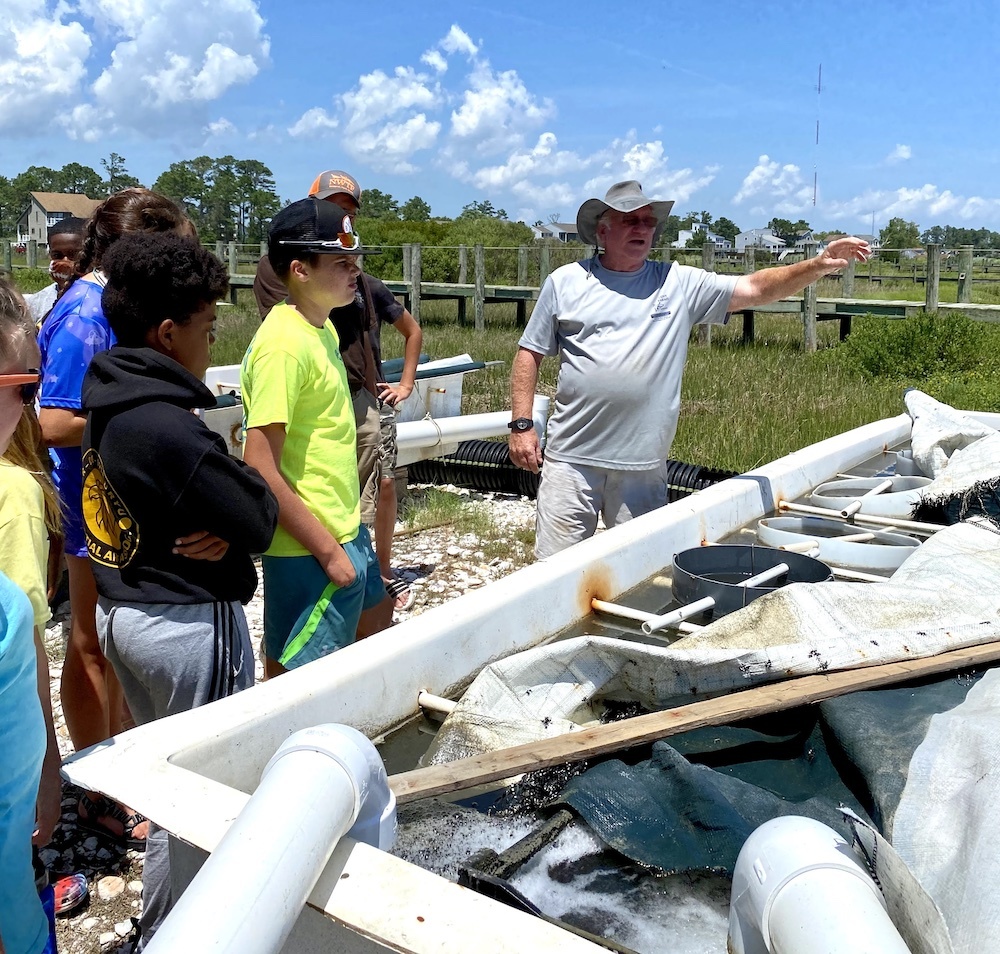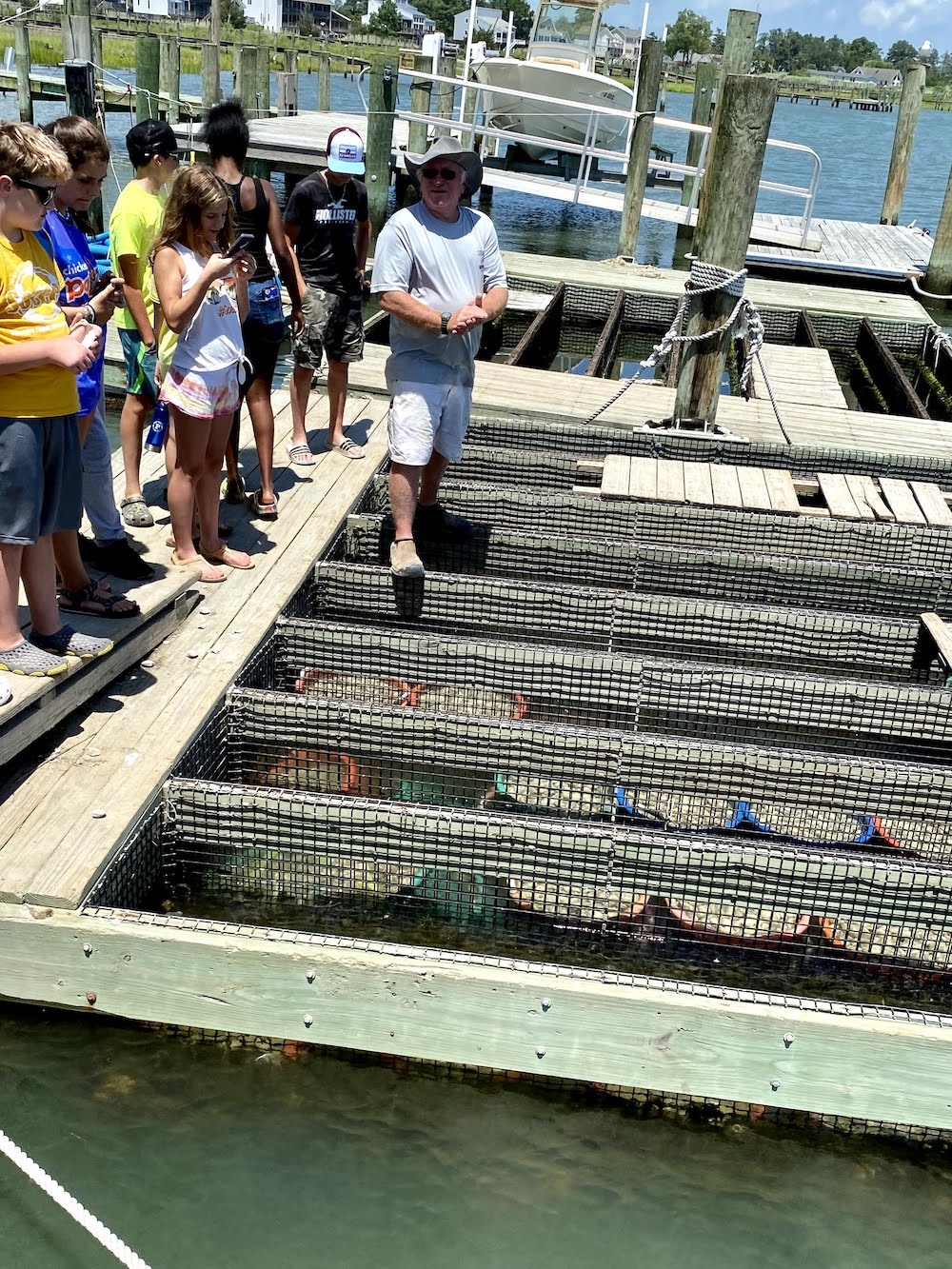 Days Three & Four: For days 3 and 4, half of the club went fishing with Captain Mark Sampson aboard The FishFinder while the other half of the club assisted on a restoration project with the Lower Shore Land Trust, restoring a native garden on the banks of the Pocomoke River. The Olive Lippoldt Tidal Wetland Garden was originally installed in 1995 in honor of a local elementary school teacher who passed away from cancer.
During the fishing expedition the club was able to land one small sandbar shark which was measured, tagged with a small spot tag and injected with a spinal dye to study growth from year to year. They also caught a southern ray and were able to examine the similarities and differences of these members of this class of organisms (Chondrichtyes). Captain Sampson and his mate, Conner, run "Shark School" trips all summer and work with several governmental agencies and universities to collect data for shark population studies. On Day 4, they caught caught several 7-8 foot sand tigers including one that was too large to bring onboard!
"This is when being a teacher is like being a farmer. Planting is done, waiting to see what grows" - Karen McCabe, Pocomoke Middle School Surfrider Club Advisor