In mid-March, during Surfrider Foundation Coastal Recreation Hill Day, Surfrider representatives met with the federal government agency in charge of all government purchasing, the General Services Administration ("GSA"), to advocate for a strong reduction of single-use plastic in their purchasing decisions. This has been a top request made in Surfrider Foundation's past advocacy, including the number one recommendation of the Presidential Plastics Action Plan. The federal government is the single largest purchaser of goods and services in the United States, spending more than $450 billion per year. This is a huge opportunity to not only reduce demand for single-use plastics but to also drive the markets toward reusable and other sustainable materials, instead of the polluting plastic products and packaging that Surfrider Foundation volunteers find all too often on our beaches.
This past July, the GSA put out an Advanced Notice of Proposed Rulemaking to seek public feedback on their Acquisition Regulations for Single-Use Plastics and Packaging, to which they received over 65,000 comments. Most of these comments were positive and constructive. Surfrider Foundation signed on with other NGOs to encourage a broad scope of the reusable procurement policy by GSA, including elimination of single-use plastics in all government buildings and events. We also called attention to the excellent comments made by the Attorney Generals of eleven states calling for the GSA to ban the procurement of single-use plastics in government purchasing by 2032 or sooner.
But there is no hard and fast deadline for when the single-use plastic reductions will be made by GSA or what changes may happen first. Surfrider Foundation has the most experience with assisting the restaurant industry to reduce their single-use plastic products and packaging, so we were able to share our Ocean Friendly Foodware Guide and offer assistance from our OFR leaders, like Jocelyn Pierce of the MayFlour bakery on the coast of Massachusetts, who attended the meeting and shared her best practices. Surfrider also discussed the public health effects associated with chemical additives of plastics, especially in food packaging, and the effects on environmental justice communities through the pollution caused by the rampant production of plastic.
Surfrider Foundation has encouraged GSA to prepare a strong rulemaking with metrics to assess the effectiveness of their single-use plastic reductions. We also plan to follow up with best practices from states in the U.S., like California's new plastics reduction law, and around the world, including the progress spurred by our affiliates at Surfrider Foundation Canada and Surfrider Foundation Europe. If you would like to get involved, stay up to speed with Surfrider's plastic pollution initiative and/or check out GSA federal acquisition policies directly here.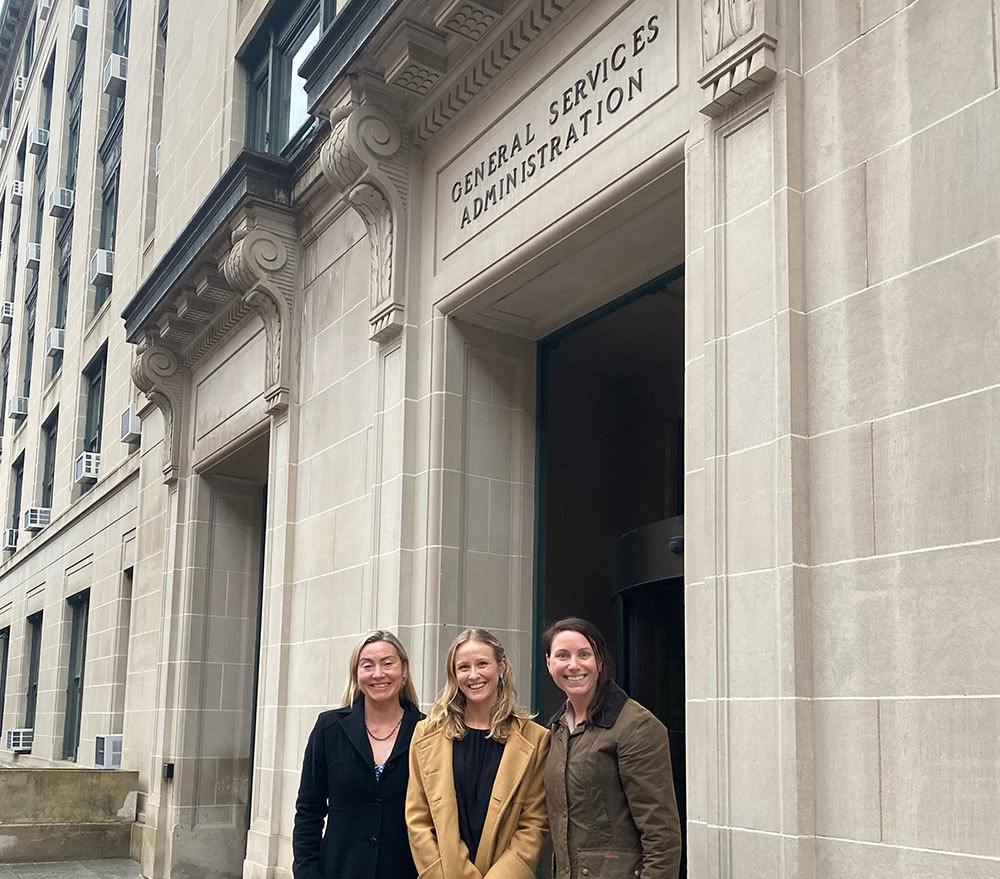 Angela Howe, Senior Legal Director; Katie Day, Environmental Science and Policy Manager; and Joceyln Pierce, Proprietress of MayFlour met with GSA leadership on Mar 10, 2023
"It was wonderful to hear the GSA already has this top of mind and was interested in our feedback and support. I think the most important work for us going forward is participating in their open meetings, holding them accountable to their goals, and encouraging an aggressive timeline," stated Jocelyn Pierce, Surfrider Foundation Ocean Friendly Restaurant leader, summing up the meeting.