02.16.23
Plastic Pollution Initiative Update: An Inspiring Time at the CA Chapter & Club Conference
By Surfrider Humboldt
Surfrider's activist network is central to our mission, a fact exemplified during last weekend's California chapter and club conference. The gathering took place in Ventura – with a bird's eye view of the C Street break and a short walk from Surfer's Point – bringing together more than 150 California chapter activists and club members from as far north as Humboldt County and as far south as San Diego.
The entire Plastic Pollution Initiative team took part in the conference, sharing an overview of the initiative, along with specific program and policy happenings, and hearing from chapter volunteers about their needs, campaigns and on-the-ground operations. Of particular note, San Francisco chapter chair Nina Atkind demonstrated the gap between neighborhoods most suffering from pollution of all sorts and neighborhoods where Surfrider's efforts are focused: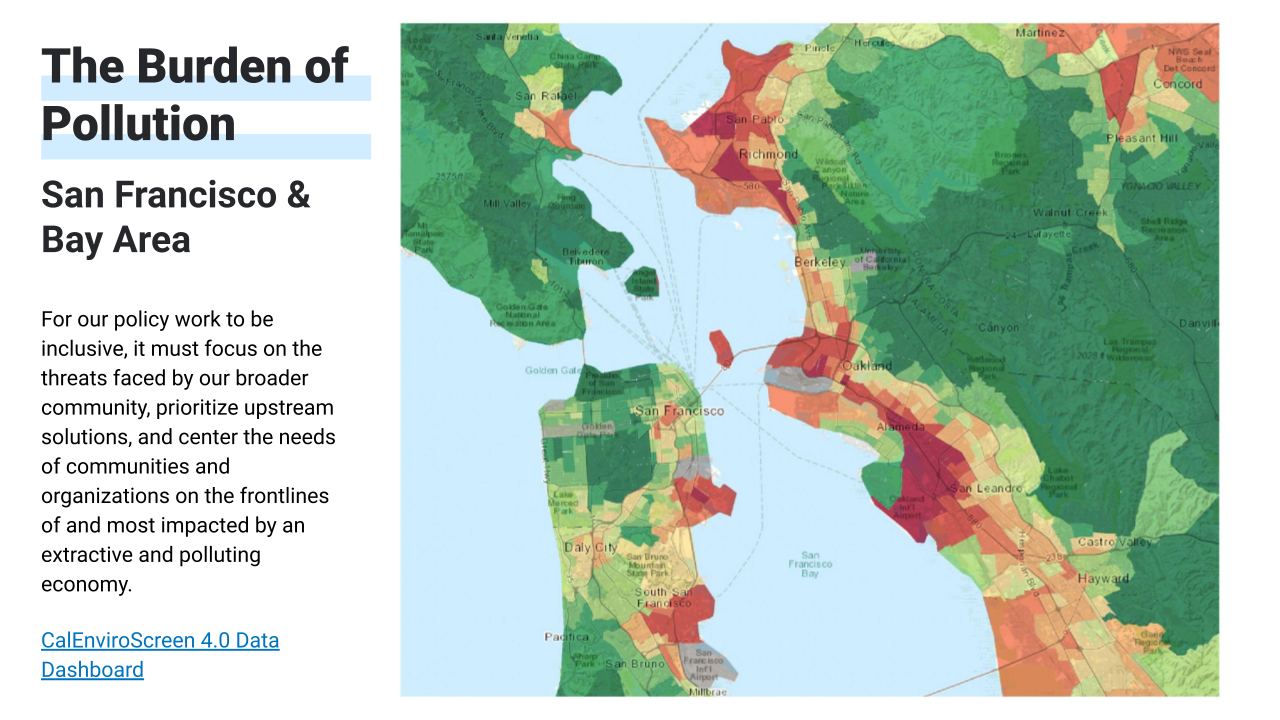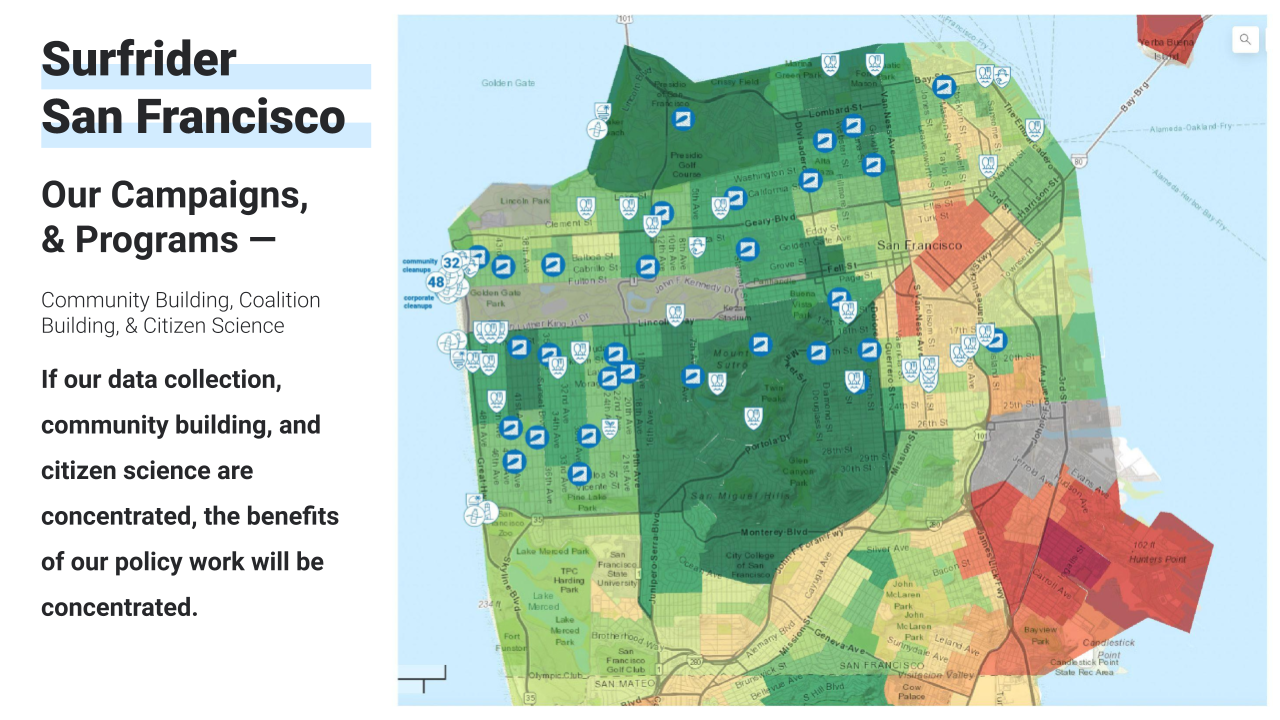 Understanding this disparity has led the SF chapter to broaden their geographic presence and seek out ways to support ongoing, established environmental efforts including joining regional coalitions.
Healthy Beaches data & Ocean Friendly expansion
In addition, Healthy Beaches Program Manager Jenny Hart led a robust discussion with volunteers about the importance of collecting data at chapter beach cleanups and Surfrider's efforts to make doing so easier for volunteers. On the Ocean Friendly front, OF Programs Manager CJ O'Brien shared updates about the OFR Program – see the latest from San Diego here – and ways in which we hope to expand "Ocean Friendly" to more industries. (Chapter leaders can find more information and resources on ChapterNet or reach out directly via email to Plastic Pollution Initiative staff.)
California policy priorities
Surfrider's Plastic Pollution Policy Manager Miho Ligare highlighted the implementation of California's landmark plastic reduction bill, SB 54, as a significant priority in the coming year.
The bill calls for:
25% source reduction by 2032

100% of plastic packaging recyclable or compostable by 2032

Expanded polystyrene must meet 25% recycling rate by 2025 (de facto ban)

$500 M/year mitigation funds, with 60% of the funding to benefit low-income and disadvantaged communities or rural areas
While the bill language is cause for optimism, how the requirements are implemented will determine its ultimate success. Surfrider continues to work closely with the state legislature, agencies and partners to ensure the legislation fulfills its promise.
Surfrider is also one of the key organizers for California Ocean Day, which brings together ocean activists, legislators and scientists to encourage the protection of California's coast. Interested? Find out more and sign up here!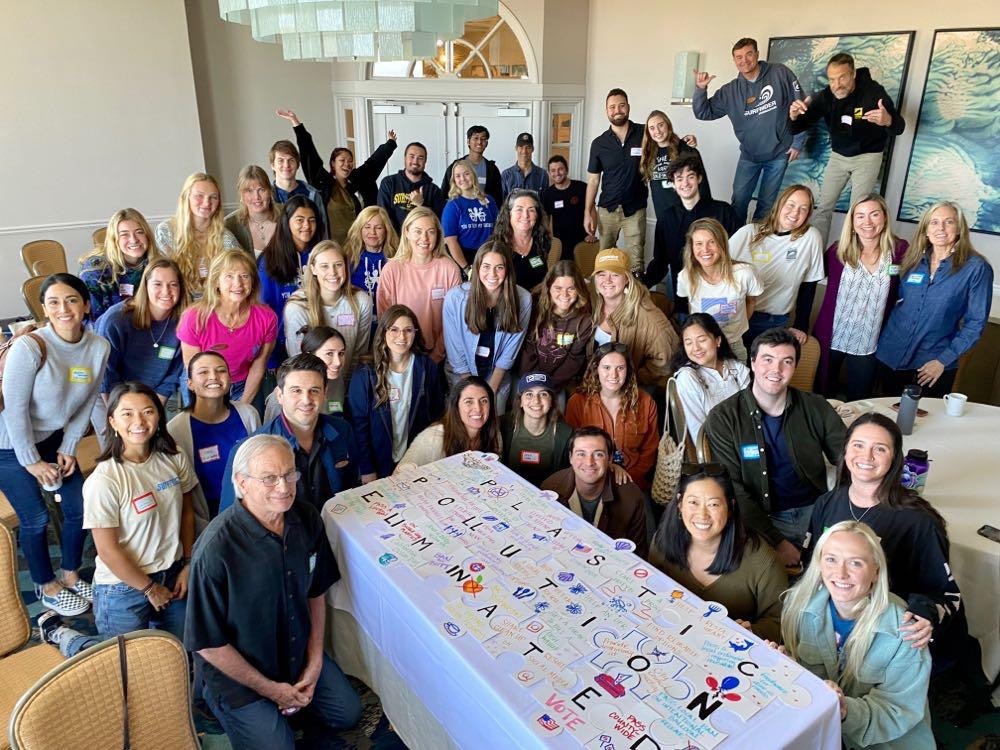 'Breaking Up With Plastic'
More than two hundred activists joined a Valentine's Day workshop, "States are Breaking Up with Plastic," hosted by Surfrider and coalition partners to discuss how states are leading the charge in ending our toxic relationship with plastic. Surfrider's Plastic Pollution Policy Manager Miho Ligare moderated the event, which also featured California Attorney General Rob Bonta as keynote speaker. Bonta has been leading efforts to hold plastic companies accountable for polluting our communities. The webinar included experts from Oregon – Surfrider's Oregon Policy Manager, Charlie Plybon! – Washington, Illinois, Tennessee, New York, New Jersey and Massachusetts highlighting their legislative priorities. If you missed it, check out the recording here!