With the beginning of the Atlantic hurricane season less than two weeks away, Florida is already experiencing unprecedented rainfall and flooding. This, as the state recovers from the 2022 season that devastated Southwest Florida with Category 4 Hurricane Ian and battered the Atlantic Coast with Category 1 Hurricane Nicole. The Florida state legislature continues to pass hurricane recovery, relief and funding measures to restore communities and coastlines across the state.
This week, South Florida experienced record-breaking rainfall that flooded the region, stranding residents in homes, closing a major airport and local schools, and disrupting critical infrastructure and services. Nearly a foot of water fell over a matter of a few hours, with nearly 26 inches of rain falling in less than 24 hours in Fort Lauderdale. Dubbed as a '1-in-1000 year event' by the National Weather Service, Broward County saw more than a month's worth of rainfall in one day. While no hurricane, this climate-fueled weather event saturated communities throughout the region, flushing pollution and runoff into coastal waterways.
As flood waters began to recede, Surfrider's dedicated Miami Chapter Blue Water Task Force (BWTF) volunteers set out to sample local waterways to measure public health risk and water quality after this unprecedented event. During their April 13th sampling event, the Miami BWTF measured high bacteria levels at 7 of their 20 sites, all within Biscayne Bay. The highest result was at North Biscayne Bay: Haulover Sandbar N, measuring 1,287 MPN/100mL. For reference, Florida's state health standard for recreational waterways is 70 MPN/100mL.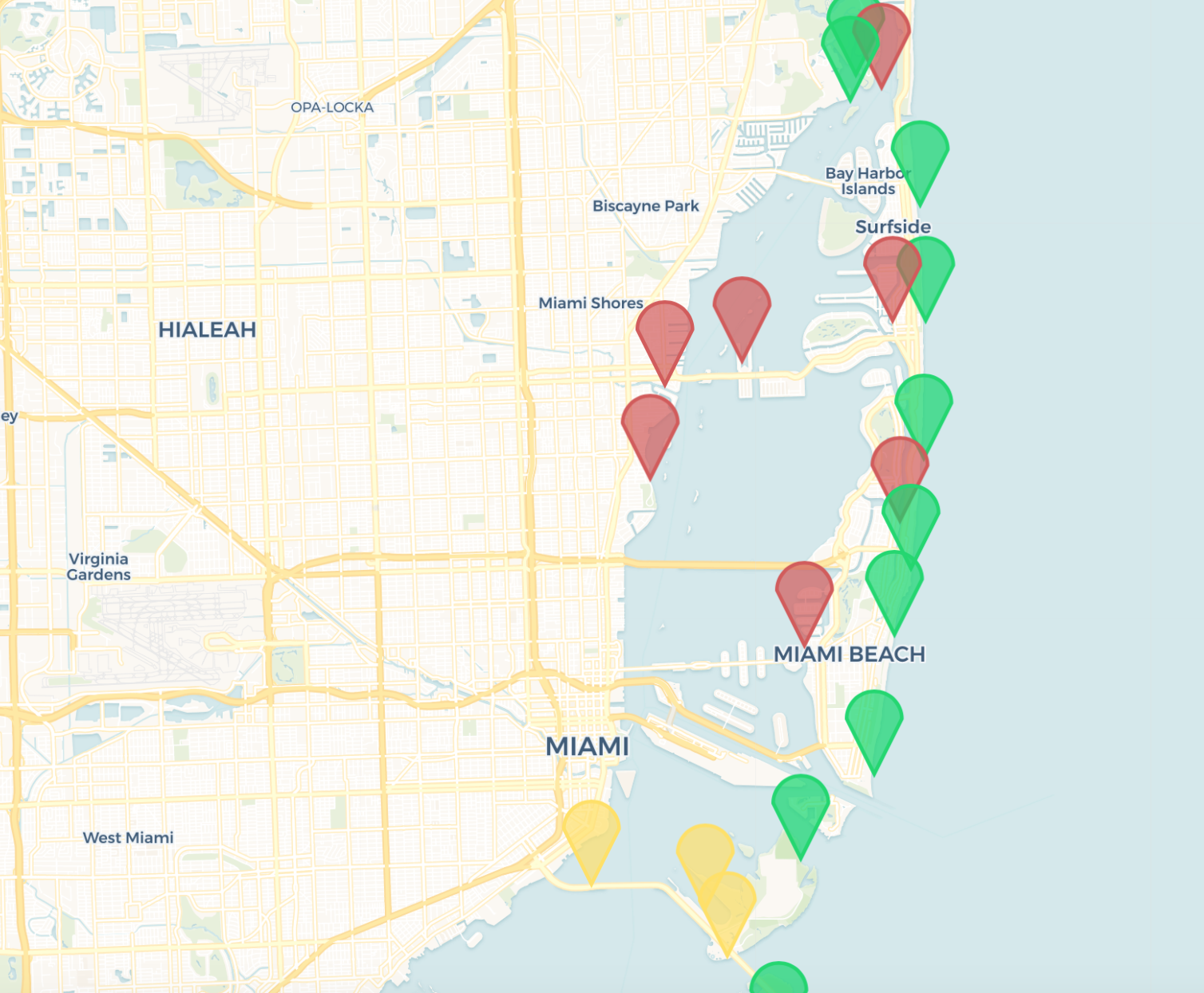 4/13/2023 test results from the Miami BWTF.
While Miami did not see rainfall and flooding to the extent of Fort Lauderdale, the rainfall flushed pollution and nutrients from urban runoff and failing wastewater infrastructure into nearshore waters and triggered water quality advisories. Clearly, as our BWTF data illustrates, inland waterways such as Biscayne Bay are particularly susceptible to polluted stormwater runoff during extreme weather events. Water quality in Biscayne Bay has long been impaired due to its position on the receiving end of urban runoff and leaching wastewater from area septics in Miami-Dade County. These water quality emergencies underscore the gravity of the existing sewage pollution crisis in Florida and urgency of upgrading the state's wastewater infrastructure.
Wastewater systems were not the only critical infrastructure impacted by this rainfall event. The flooding inundated and closed the Fort Lauderdale Hollywood International Airport on Thursday, stranding some passengers. South Florida's high speed rail service shut down and local schools were closed for several days. Perhaps most disruptive were sporadic fuel shortages felt acutely from Palm Beach County to the Florida Keys. Heavy rains flooded roads into Port Everglades, preventing fuel companies from transporting gasoline and diesel from port to local stations.
While forecasters are predicting a weaker 2023 hurricane season, warmer than average ocean temperatures and the recent rain event are telling a different story. As climate impacts to Florida grow, we can expect to see more climate-driven rainfall events and changes to weather patterns, including stronger hurricanes and subsequent flooding. It is clear that climate change is already impacting water quality, which will only accelerate and exacerbate existing issues with runoff and pollution throughout the region.
The flooding and rains in South Florida are a stark reminder of the risks of climate-fueled weather events ahead of the Atlantic hurricane season, which officially starts May 1. While these climate emergencies are daunting, Surfrider is working on the local, state and federal level to implement solutions. From testing local water quality to fill in gaps in agency programs to streamlining nature and ocean-based climate solutions to advocating for federal funding for wastewater infrastructure improvements, Surfrider's network is taking action on climate and clean water in Florida.
Join Surfrider's efforts to stop sewage pollution at the source by sending an email to your members of Congress to ask them to invest in repairing and upgrading our nation's water infrastructure.
If you live in or plan on visiting Florida, check out Surfrider's BWTF website to see where we are testing and check local water quality conditions.